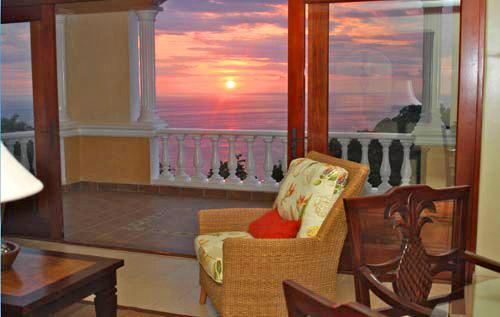 3 bedrooms
3 bathrooms
Sleeps 6
Apartment
Description from the owner
Crowning the jade green hills of Manuel Antonio, the Pacifico Colonial sets a new standard for luxury condominiums-and the jewel of this crown is the Pacifico Colonial. Within walking distance are numerous sensational restaurants, shops, supermarkets, banks, bars and spas. Just a few minutes drive takes you to the beach, or Quepos, or Manuel Antonio national park.
About the owner
Melissa & Kevin Klassen
Response time

A few hours

Calendar updated

4 weeks ago

Overall rating

5.0

/ 5.0

based on 118 reviews and 3 properties
Map
Pacifico Colonial 2 or 3 Bedroom Luxury Condo

Manuel Antonio National Park, Puntarenas, Costa Rica
What's Nearby:
Additional Location Information
More About This Location
Beach or lakeside relaxation, Warm winter getaways, Waterfront
Getting There
Car is not necessary
Availability
Last updated on February 03, 2015
Amenities
Pet friendly - no
Smoking allowed - no
Suitable for children - ask
Suitable for the elderly - yes
Wheelchair accessible - yes
What Past Guests Are Saying
100% of guests would stay again
---
Overall Rating
Excellent
61
Very Good
3
Average
0
Below Average
0
Poor
0
Christine and Tom
Ohio

Loved our stay!

Left on

01/27/2014

for a stay in December 2013

| Christine and Tom

We chose Pacifico Colonial because our friends stayed there. It was a great place and a great stay!. Melissa, Eilyn and Joanna were immediate in their responses to the millions of questions we had before we arrived and once there were ever so helpful with questions and change of plans. The condo was spacious - it will be hard to stay in a regular hotel room again! It was clean, had everything we needed and we loved having a washer and dryer. Also the condo was a walking distance to grocery and many great dinner spots. A short cab ride could get you to the beach and other great restaurants. No doubt you will love your stay here. Pura Vida!

A FlipKey verified reviewer
Montreal

Gorgeous Full amenities Condo in Breathtaking CR Rainforest

Left on

01/19/2014

for a stay in October 2013

| A FlipKey verified reviewer

We heard of Pacifico Colonial and Manuel antonio through a friend and have now been twice. The condo features such comfort, luxury and relaxation: walk-in glass showers, a jacuzzi, a full kitchen with fridge, rangetop, oven, microwave, etc. There's cable TV, but you'll rarely use it, because you'll probably be sitting on the full balcony stretching from one end of the condo to another to watch the wildlife, sunrises, or sunsets. Groceries, and restaurants from wood-fired pizza to fish and chips and fancier nearby. You will never know a time so removed from hustle/bustle, and if you have birdwatchers or nature lovers in your group, you are right in the middle of it. Highly reccommended! Melissa, Eilyn and their staff can book outings concierge-style, and the housekeeepers are fast and friendly. We have not stopped talking about this slice of paradise since our return. Idyllic, comfortable, and--from the context of a Canadian winter--otherworldy in all the best ways.

CDC
CT

Paradise Found

Left on

01/08/2014

for a stay in December 2013

| CDC

From the moment we met Eilyn we knew we were in good hands and found a hidden gem! Our room was plenty big enough for our family of four and much larger than we needed. There were two bedrooms, two bathrooms, laundry room, a very large living space and kitchen with an expansive terrace to enjoy the beautiful sunsets every night. We would definitely stay here again. Our boys loved the small pool and PC was centrally located. Eilyn always had a smile on her face and was helpful with booking activities and dinners for us. We took cab to beach but could walk to many of the restaurants. You do hear some road traffic but not too bad. Again great find and reasonable. There is no food service so either you can cook your own in the large kitchen or go out to eat at all the local spots.

A FlipKey verified reviewer
San Francisco

Amazing Stay at Pacifico Colonial!

Left on

01/01/2014

for a stay in December 2013

| A FlipKey verified reviewer

My family and I just spent 5 amazing days in Manuel antonio at Pacifico Colonial and would highly recommend a stay here. A few highlights -

Condo - Extremely clean with upscale furnishings, luxury appliances and even an in unit washer / dryer. There was even a jacuzzi in one of the bedrooms. The views were gorgeous and you don't have to leave the condo to see the sunset!

Service - The ladies at the front desk were an absolute joy to work with and they went way above and beyond to make our stay comfortable. We were not the easiest bunch to work with but they were so nice and helped us with all our requests even when we changed our minds multiple times!

Neighborhood - Very walkable and accessible to a number of fun restaurants and bars that we took full advantage of. Note that there is no beach access here but it was a quick bur or taxi ride down to the Manuel antonio beach. I actually enjoyed not being right by the beach because the traffic and congestion got a little crazy.

Area for improvement - The only thing I can think of is it would be really great if they could heat the pool!

Overall, an amazing place and would definitely go here again.

Mr and Mrs J F Berard
Florida

this has been the most amazing vacation we have ever taken.

Left on

11/18/2013

for a stay in June 2013

| Mr and Mrs J F Berard

The accommodations are absolutely excellent five star and the price is very reasonable. The concierge service provided in house is truly a must have. we had a new adventure every morning, from deep sea fishing to zip lines trips, all within minutes from this amazing place. I give the Pacifico Colonial a a+ Read more

Response from Melissa & Kevin Klassen -

11/18/2013

Owner's response:

Owner

Thank you so much for your a+ review. We loved having you and hope to see you again soon. Have a wonderful Thanksgiving! Warmly, Melissa & Eilyn.

A FlipKey verified reviewer
Cleveland

Trip of a lifetime

Left on

05/19/2013

for a stay in April 2013

| A FlipKey verified reviewer

Our family cannot say enough wonderful things about our stay at Pacifico Colonial and the level of service we received from Melissa and Eilyn. They were both wonderful from the moment we booked our trip until the moment we left. They scheduled, and rescheduled, our activities, arranged for a wonderful driver to take us to and from the condo, and were there to answer any of our questions, and there were many. The condo was exactly as it was pictured, very clean and spacious with view to die for. We spent our evenings on the balcony eating diner, reading our books and watching the sunsets. The monkeys were so fun to watch in the mornings, which is the real reason we choose Costa Rica in the first place. They will come and drink from the pool and play in the trees right off of the balcony. We were in walking distance to the grocery store and some very good restaurants. The only negative is that you need to take a cab to the beach but it was really not a big deal. We will definitely come back and stay there again, the only question is when.

wkim
Virginia

Uncompromising attention to Detail

Left on

04/10/2013

for a stay in March 2013

| wkim

We were getting tired of having to rent two rooms at a resort with a family of five. Pacifico Colonial was the first condo rental we tried out so we knew going into the trip we won't have all the resort amenities at our fingertips. Didn't matter! The Colonial staff made our stay feel as though we were home. The staff recommended and set up the excursions we went on and were the perfect compliment to our trip. The view from our third floor (street level) condo were simply spectacular, although the trucks and motorbikes speeding down the road in the mornings were a little bothersome. The condo itself is well appointed with a beautiful kitchen with full sized appliances. The stained glass showers and windows were a nice touch. The location is very convenient to restaurants and the grocery. The local bus picks up right in front of the Colonial and can take you down the hill to the beach and shopping. My three girls loved the pool especially when the monkey's came and visited. The property is gated with a guard to let tenants come in and go as they please. There is no bar on the property so hit the duty free on your way there. Being somewhat of a foodie, don't expect a Michelin starred restaurant, but the local grilled seafood, beans and rice was really good. If I were to go back to Costa Rica in the Manuel antonio area, I would definitely recommend the Pacifico Colonial.

Bob A
BC Canada

If you are looking for excellence - look no further

Left on

09/20/2012

for a stay in September 2012

| Bob A

What a fantastic experience it was to stay at the Pacifco Colonial. I was never a fan of 1 week vacations, but after staying here and having to never think where to go or how to get there I am hooked. They take care of you the minute you get there till the minute you leave. The rooms are simply amazing (along with the views) and the staff are always there to make your stay more than enjoyable. They can fully customize your vacation to your specific needs through various tours and events and I would highly recommend you take them up on this as they know the best places to go. Staying at Pacifico Colonial is something you just won't ever regret!

czuniga
GA

Absolutely Breathtaking!

Left on

08/22/2012

for a stay in February 2012

| czuniga

I married my husband in Manuel antonio in February, and my entire family stayed at Pacifico Colonial. The two penthouse condos were also the place where my bridesmaids and I got ready before the ceremony. We could not have been more impressed with the spaciousness of the living space and the truly breathtaking views of these condos! My photographer was in heaven taking pictures of us and my dress with that backdrop - its to die for!

I can also say with complete confidence (we have stayed in a lot of places in Manuel antonio!) that Pacifico Colonial is among the most luxurious accommodations the area has to offer. We have family members who had visited Manuel antonio in the past and felt that there was no place to stay that holds to american standards - Pacifico Colonial totally changed their minds! It wasn't just the comfortable accommodations that made this place luxurious- it was the service. Melissa tended to each guest, planning tours, recommending restaurants, arranging transportation and catering... pretty much assisting us in every possible way!

I could not be happier with my experience with Pacifico Colonial and would highly recommend it!

A FlipKey verified reviewer
Texas

The best views and hospitality .

Left on

05/29/2012

for a stay in March 2012

| A FlipKey verified reviewer

Luxury condo with excellent views and privacy! More than we expected
In hospitality. Very personable staff --accommodating and helpful.
Quiet yet accessible to restaurants and shops.

A FlipKey verified reviewer
Suburban Washington DC

Trip of a lifetime!

Left on

04/29/2012

for a stay in April 2012

| A FlipKey verified reviewer

The Pacifico Colonial was awesome. Once we booked our dates, we had many quesrions and the staff answered them all, happily. Ellyn and Melissa were great once we were there, as well.
Ellyn helped us book tours which was extremely helpful because she chose only insured companies and we were booking in advance, from the states.
The apartment was clean, beautiful and had a full kitchen if we wanted to cook or have meals in.
The premises were all clean and well kept and secure. The staff were extremely friendly and accommodating. The location is great, very close to the supermarket, which we would run up to at the drop of a hat. We took the local bus to Quepos, a town very close by, to the beach...all very easy as the bus stop is right outside the condo. There was a small pool for the kids at the end of the day and every apartment faced the ocean. We had a beautiful time.

CW & Pat Houghton
VA

Three nights at this fantastic place

Left on

03/28/2012

for a stay in February 2012

| CW & Pat Houghton

Flawless! This has got to be unsurpassed as far as luxury condo goes. Fantastic views, lots of privacy, secure parking and easy access to resturants in the area. Certainly the most lavish digs we stayed in during our month in Costa Rica in February.

A FlipKey verified reviewer
Augusta

Fantastic!!

Left on

02/16/2012

for a stay in February 2012

| A FlipKey verified reviewer

Fabulous condo with all the extras. Unbelievable view from the balcony. Great location. Short bus ride to National Park. Very friendly and helpful staff. Very private and peaceful.

Vogel Family
NY

Great location, great activities, wonderful wildlife, very helpf

Left on

01/16/2012

for a stay in December 2011

| Vogel Family

We loved our stay at the 3 bedroom unit at Pacifico Colonial. The two people at the front desk, Eilyn and Diego were always smiling and very helpful with recommendations and reservations. We went to Manuel antonio Park the first day, atv touring and ziplining the third day and kayaking in the mangroves the fifth day. On the other days, and in our free time we went to the public beach or the beach in Manuel antonio. The supermarket is within walking distance and we had breakfast and some dinners in the condo. We loved the outdoor patio and could watch the birds and monkeys that came very close. We rented a car and driving from the airport and to and from the beach was very easy. The beaches were great with warm water and wonderful waves to play in. A very relaxing and slow paced vacation. Spacious accommodations and convenient location for dining and activities.

The Blalocks
Georgia

Fantastic paradise!!!

Left on

09/15/2011

for a stay in August 2011

| The Blalocks

This is our second time staying at this fabulous place! I can't say enough good things about the staff at Pacifico Colonial- they go out of their way to see to your every need. The view is the best in all of Costa Rica. We plan on staying there again next year! We give it 5 stars all the way.

Jerry and Beth
FL

Pura Vida

Left on

09/08/2011

for a stay in August 2011

| Jerry and Beth

Our Stay in the Pacifico was great. We rented one of the wo bedroom units and had plenty of space for two adults and two teens. The condo was clean and beautiful with lots of special touches. We were on the second floor which was right on the canopy so the view and "wild life" was great. Can't wait to return to this piece of paradise.

Bob & Janet
Illinois

Relaxing time in a very beautiful place

Left on

07/28/2011

for a stay in March 2011

| Bob & Janet

This is the 3rd time we have stayed at Pacifico Colonial - 3rd year in a row. This is by far the best location in Manuel antonio & the most secure, with secure parking and security provided. We stayed in the penthouse for the first time and it was fantastic. The sunset views are spectacular. Not only is the the best location, it's the best value. It is very reasonable compared to staying at hotels and the units are very spacious. I would buy if I could afford it ! ! :)

A FlipKey verified reviewer
Florida

Amazing 2nd experience there

Left on

06/22/2011

for a stay in June 2011

| A FlipKey verified reviewer

If you want a nice relaxing fun comfortable place with a great view, then this is your place. I have stayed twice and I cannot begin to tell you the benefits of staying there. It's close to everything and they are always willing to do anything to help you make your vacation easier. I will stay again soon for sure!

Carlos and Annie
TX

A Paradise within the Paradise!!!

Left on

05/10/2011

for a stay in March 2011

| Carlos and Annie

Casa Sonidos Del agua made the perfect place for our entire family, which included two young girls, to have the best of times in Costa Rica. Prior to leaving we spend time admiring the amazingly beautiful design of Casa Sonidos del agua and couldn't wait to be there in person, but, to see it 'in person' and feel it fully surpassed our already high expectations. To see is one thing, to feel is quite yet another. Casa Sonidos del agua became instantly the most beautiful home away from home for all eight of us. Whoever decorated the place must be commended for the way the made this house comfortable, elegant and artistic all at the same time. Of course, the house couldn't really be what it is without the care and attention of Melissa Klassen and her staff at Tropical Sun Villas. They literally opened the doors to the house from the first e-mail correspondence we ever had with them. Talk about attention to detail and all in a timely manner. With their help with travel and tours for the entire family we arrived to the house ready to fully enjoy ourselves. Being in the house anytime of the day and night feels magical since the house so naturally blends with the environment. We, not just ourselves but everyone in our family, have travelled extensively throughout the world and have never been in a place that, while being at home, kept us so in touch with the beautiful nature that surrounds the Casa. Being there is nothing short of inspiring!!! One of the nights we had anna come and prepare a delicious dinner for the entire family. Boy, was that a wonderful evening that extended into the early hours of the following morning. A perfect way to be together as a family, enjoying our own company while eating deliciously prepared food. At the end of our stay, everyone of us agreed that this was the best vacation we had all had and would come back to do it again as soon as we could. Thank you Casa Sonidos del agua and all at Tropical Sun Villas!!!

Paul B
NE

Comfortable luxury condo with a great view

Left on

05/04/2011

for a stay in March 2011

| Paul B

Spent 10 days in Manuel antonio, Costa Rica. Our stay at Pacifico Colonial could not have been more wonderful. Situated on a hill overlooking the ocean the views were outstanding. Having the balconies all face west made for perfect sunset views. There is a road right in front of the Condos, but I never heard any traffic. There is a bus that stops right in front and made for very easy transportation to the main beach - for only 45 cents each way! The amenities were perfect for what we needed. 3 large and comfortable bedrooms - a full-length balcony - 3 baths and a full kitchen. One of our highlights of the trip was the private chef Renzo that Melissa (property manager) arranged for us. The people at Pacifico Colonial were wonderful and always went out of their way to make sure we were happy with our condo, our excursions (that they arranges) and our entire experience. I would highly recommend Pacifico Colonial and their staff.

Robert, Alison, Meagan and Davis
AL

The Most Incredible Vacation

Left on

04/27/2011

for a stay in March 2011

| Robert, Alison, Meagan and Davis

To say that we had the most incredible vacation is an understatement. It all started with a call to Christine on a Saturday night. Somewhat on the fly we booked our stay at Pacifico Colonial for Spring Break 2011. Little did we know that Christine would help us to make our stay so exciting. Cristine booked all of our excursions. We each had our favorite. My wife loved Jet Skiing in the ocean. Her favorite part was seeing a school of dolphins playing is the water less than 100 yards from us. My daughter (17) loved the zip linig. Her favorite part was the good lloking guide. My son (16) and I loved the fishing. His favortite part was catching a bigger Mahi than I did. My favorite part was seeing the majestic sailfish dance across the water - any fisherman's dream! Wait! I almost forgot. Each of absolutely loved having a private chef. Our meal was delicious and at the last minute Chef anna added our fresh Mahi to the menu.

The entire staff at Pacifico Colonial helped us make unforgetable memories! We cannot wait to go back!

Marianne
AZ

An absolutely incredible week!

Left on

04/24/2011

for a stay in March 2011

| Marianne

Our family of 10 spent an incredible week at El Cantico in March. It was all we expected and hoped for, but much, much more. Our congenial and skilled driver,Abraham,had nary a complaint about the 3 different pickups or the mountain of luggage he had to load into the van.
Upon catching our first glimpse of El Cantico we were struck with the beauty of the structure itself as well as the grounds.
As we stepped inside we were rendered speechless at the luxurious accommodations: bedrooms each with a private balcony, paired spiral staircases to the upstairs, and the floor to ceiling windows. Many ammenities were included and I can't attest to all of them as we were so busy pursuing outdoor activities. The well-equipped electronics room was one we never used.
It was the staff that made our stay. No words can describe the gourmet meals our chef, Renzo, put out. His pleasant personality added to the joy of our mealtimes. He did his work in an unobtrusive manner, never minding if one of us wanted to look over his shoulder and get ideas. His assistant, Anna, was also good at what she did.
Roquel, our capable maid, arrived each morning and went about keeping the villa sparkling and the beach towels freshly laundered, even doing personal laundry if requested.
We found that Christine had done an excellent job planning and arranging the activities we wished, and everyone enjoyed.
Of course this awesome week would not have been possible were it not for the outstanding job Melissa and Kevin did orchestrating everything. Their stellar job and graciousness
were indescribable. It was easy to end the week loving them for their warm and accommodating demeanor.
Having planned for this celebration for 2 years, gave me pause that something would go awry, but I should not have worried for the incredible dedication each of these staff members had making our week at El Cantico so enjoyable and memorable.

Janelle
MI

Amazing place to stay in Manual antonio.

Left on

04/20/2011

for a stay in March 2011

| Janelle

Pacifico Colonial was an excellent place to stay. The staff was incredibly helpful, and the accomodations were spacious, beautifully decorated, and centrally located. The view was amazing.

We traveled with two young children and my parents and the layout fit our needs perfectly. There was enough space to have your own independence while still being together. And watching birds and monkeys every morning while eating breakfast on the veranda was fantastic.

It is withing walking distance to a grocery store that stocks many american brands. It is also a short drive to the beach.

I've stayed at other houses/apartments and none have been so well stocked with incidentals/kitchen items as this was.
We can't wait to return!

A FlipKey verified reviewer
houston

Wonderful place!

Left on

01/28/2011

for a stay in December 2010

| A FlipKey verified reviewer

The unit was just wonderful and so is Manuel antonio. My daughter and I stayed here for five days and couldn't have enjoyed the unit or area anymore. The concierge went above and beyond to make sure every detail of our trip went smooth. The restaurant and events she recommended were perfect for us. I could have sit on the balcony the whole time and enjoyed the view including the monkeys that were playing in the trees and all the birds flitting around but there is so much to see there you can't sit still long. The location is perfect and I would definitely stay there again and hope to spend lots more time in Manuel antonio in the future.

presbuff47
Florida

Family Vacation 2010

Left on

01/27/2011

for a stay in December 2010

| presbuff47

We enjoyed our stay at Pacifico Colonial the Condo was Great, the service the condition and the location was top notch. The staff went out of their way to make us comfortable and arrange trips we made. We had one day 10 monkeys on our porch at the same time. It was total relaxation and the weather was great. I highly recommend the Pacifico Colonial Condos you will not be sorry. And the condos were even better than the pictures...

A FlipKey verified reviewer
Denver Colorado

excellent accommodations and service

Left on

09/27/2010

for a stay in September 2010

| A FlipKey verified reviewer

The condo was beautiful, well equipped, very clean. The best part was the deck over looking the ocean. Concierges was wonderful. They arranged everything for us daily and had great recommendations for dinners, a great pina colada place, they checked on us doing a rain storm even! Amazing
The only recommendation I would make is better linens on the beds, a higher quality. one more comment, if you are coming from Denver Colorado, the television stations are local for us!

Ocean lovers
Spain

Amazing views, luxury!

Left on

09/02/2010

for a stay in July 2010

| Ocean lovers

The best luxury condo in all Manuel antonio! This place is a must to relax and appreciate the views of the ocean. Excellent service, 24 hour security, covered parking, luxurious amenities. We saw monkeys, a loth, all in the grounds!!!

Clean beautiful beaches, we will certainly be back for a longer stay.

Justin
The Netherlands

Great apartments with views in Manuel antonio

Left on

08/31/2010

for a stay in July 2010

| Justin

we were fortunate to get a discount rate as we turned up in Manuel antonio due to change in our schedule.
We really enjoyed the luxury and comfort of these apartments.

A FlipKey verified reviewer
scootsdale AZ. USA.

It was a blessing , most excellent

Left on

08/17/2010

for a stay in July 2010

| A FlipKey verified reviewer

After 10 days in the mission field of Costa Rica & Nicarauga it was a great blessing to rest in peace comfort in paridice. Thank you so much Melissa & Christin for making our stay with you all at Pacifico Colonial one I will remember. God bless you Hope to see you all soon. Cris. from aZ USa

cooki1268
GA

Gorgeous views, 5-star accomodations, exceptional service

Left on

08/15/2010

for a stay in August 2010

| cooki1268

When we entered the unit, we were just in awe how gorgeous everything was. It was late, and we could not see the view. The next morning we were blown away by the view. This was our second trip to Manuel antonio but the first time in Pacifico Colonial. The staff was top notch and very friendly. They assisted us with places to eat and gave great directions for our return trip. The unit itself, a two bedroom, was unbelievable. It was very comfortable with all the amenities of home including a washer and dryer, cable (or satellite not sure which) television for those rainy nights, internet access, etc. The beds were very comfortable. There was daily maid service, and they kept the unit impeccable.

Sara D.
MA

A perfect stay in Manuel antonio

Left on

08/13/2010

for a stay in July 2010

| Sara D.

We couldn't be more pleased with our experience. Even before we arrived, the service was fantastic and the staff went above and beyond by helping us plan our trip, and activities and giving us detailed directions from La Fortuna. The condo was even more beautiful than the pictures on the website and the location was perfect. The wildlife that was visible from our balcony was just an added bonus. It was just perfect!

Bob & Janet
IL

There's no better place to stay in Manuel antonio

Left on

08/05/2010

for a stay in July 2010

| Bob & Janet

This was our second stay at Colonial Pacifico and it was every bit as good as the first one. It's difficult to place a value on this place - the staff are very accomodating and helpful, the condo itself is immaculate and is the most luxurious place we have ever stayed. Great value for the money. The view of the ocean and jungle are outstanding - we saw several sloth on a tree about 50 yards away and occasionally you can see a monkey. The location is good - just a few hundred yards from the local convenience store, which is well-stocked (although not inexpensive). The beach is about a 20 minute walk or a 6-7 minute drive. Beaches are the nicest I have ever seen. There are half a dozen local restaurants within a 5 minute drive. We can't wait to return next year ! ! !

Gail & Rick
Washington

Perfect!...great view, great location, great service

Left on

07/31/2010

for a stay in July 2010

| Gail & Rick

"Oh my gosh. This looks gorgeous!", were the words I said to my husband when I saw the pictures of the Pacifico Colonial Condominiums on the internet. And, "Oh my gosh. This is gorgeous!" were the words of my entire family when we checked into our room. My husband and I spent 16 hours researching the top 25 places to stay in Manuel antonio. Pacifico Colonial...the perfect choice!

The condominium is beautiful and the views are fabulous. The pictures on the internet are not staged. The condo is as beautiful as it looks in the pictures. In fact, the pictures on the internet can't quite capture the gorgeous view. My family spent time every day on the deck enjoying the peaceful mornings, watching the monkeys play in the trees below, and enjoying beautiful sunsets. We spent 5 nights in this location, and would've loved to have had a couple more!

Since this was our first time traveling to Costa Rica, we did a lot of research to find the perfect location...should we stay up on the hill with a view? Or should we stay closer to the beach and Manuel antonio Park? No question...Stay on the hill with the view. You are about a 5 minute drive to the beach and ma park and you are close to all kinds of restaurants, a grocery store, and aTM. Every day we just walked to get breakfast, lunch, and dinner. If you don't have a car, a bus stops right outside the condo. Also, since the sun sets about 6 pm every day, we were thankful to have a beautiful condo to return to every afternoon instead of "just a room" close to the beach.

And finally, you will be greeted by Christine, Trini and Melissa, the concierges, who are helpful beyond belief! Christine helped us to find a rental car, helped us with our itinerary while we were there, and helped us with excursions. They are geat about returning your e-mails if you have any questions.

So, if you are pondering at all where to stay in ma - quit! Book this place! It's fabulous!

Kelly Palmer
CA

Great Place -- Stay there often!

Left on

07/31/2010

for a stay in June 2010

| Kelly Palmer

I've stayed in Manuel antonio many, many times and this is my favorite place to go. Large, luxurious Villas with incredible views and a great location. It's not a "resort" experience (no restaurants and only a very small pool), but there are lots of great restaurants nearby and the beach is very close. Wireless internet and flat screen TVs help with the evening entertainment and feeling connected. I highly recommend it and have stayed there several times.

Tim Squyres
Texas, USA

The best family vacation ever!

Left on

07/21/2010

for a stay in July 2010

| Tim Squyres

The property we were in was perfect... large, comfortable, clean, new, well located and with exceptional views. We had monkeys, sloths and iguanas right outside our balcony!

What really made this stay the best vacation ever were the people. This being our first trip to Costa Rica, we left the decision about our activities up to the concierges, Trini and Christine. They booked first class for every activity, and their restaurant recommendations were spot on. Everything just sang beautifully, for us, and for our children, age 22 down to age 9. Thank you, guys!!! We will be back!

A FlipKey verified reviewer
San Jose Costa Rica

An unforgettable holiday which the whole family enjoyed.

Left on

07/21/2010

for a stay in July 2010

| A FlipKey verified reviewer

These well equipped and comfortable condos are great for small groups or families travelling with young children. Conveniently located close to restaurants, cafes and the local supermarket.

Bullen Family
LA

Luxury, Location and... a Sloth

Left on

07/21/2010

for a stay in July 2010

| Bullen Family

We were very late coming in and Christine waited for us to ensure we were able to get settled. We felt cared for before even arriving. When we awoke the next morning... Wow... what a view from a beautifully comfy patio. Our kids were captivated by the iguanas until the sloth stole the show. Everything was so comfortable and the service was over the top helpful. Thank you for a wonderful stay. Next time, we will hope to stay much longer.

A FlipKey verified reviewer
United States

The best place to stay in Costa Rica

Left on

06/12/2010

for a stay in June 2010

| A FlipKey verified reviewer

Unfortunately, we arrived in ma the night of the worst storm to hit the area in at least 10 years. The power was knocked out, and we cut our 3 day stay to 2 days because the park was closed and the area was really a mess. Even though we didn't have aC, use of the washer/dryer, hot water, or stove, we had lights at night and the refrigerator thanks to the generator. It was kind of nice to have no TV or wifi because we spent some real quality time together as a family with no distractions. Trini and Kristine did their best to make us comfortable - I know it was a stressful time for them. Everything abou the condo was perfect! It was beaurtiful, spacious, emaculately clean, and they even made up air beds for us! The view off the back patio was beautiful and we spotted a sloth and an iguana in a tree. I would love to stay there again if we ever get back to Costa Rica. Kristine was so wonderful to help me before we came to Costa Rica - answering questions and giving me helpful advice. We have never travelled internationally and I had a lot of questions. Trini helped me with the rental car also. I felt like I had a friend helping me prepare for the trip. That meant a lot to me.
I appreciated you making adjustments on the cost of the condo. It make us feel a little better about the disappointments we encountered. I was grateful to have such a nice place to stay during the storm. It would have been much worse to be stuck in a little hotel room.
Thank you so much for everything!!
Pura vida!!!

L&B
United States

Loved it!

Left on

04/12/2010

for a stay in March 2010

| L&B

Everyone was so helpful! Christine really helped us in finding the best zipline and wonderful places to eat. She was always looking out for us and answering our questions. Helping to make our stay more enjoyable. Antonio was also great in helping us! We would return again!!

We loved the condo. It was beautiful. I loved looking out at the ocean. It was new and clean and well maintained. It was the nicest place in the area. I loved that we could drive into a garage. Within walking distance to great restaurants.

amberallen
TX

Unforgettable

Left on

04/01/2010

for a stay in March 2010

| amberallen

Manuel Antonio and the condo itself was absolutely incredible. Not only was the condo even more luxurious than the pictures but the people who work there (Christine, Melissa, and Trini) made the stay even more enjoyable. They started work early and stayed late to answer any and every question about where to go, what to eat, and what to do. Melissa even helped us set up a wonderful driver (Abraham) from the airport to the condo right after our plane landed. The bus stop is right outside the condo so there is really no need for a rental car. Everything in the condo is top quality and the views are priceless. It is the best vacation we have ever been on and we will definitely be back to enjoy this condo.

kd.landers
TX

Can't wait to return!

Left on

03/22/2010

for a stay in March 2010

| kd.landers

My husband and I recently visited this condo with some friends of ours for Spring Break and I will have to say it couldn't have been a better experience. The condo was always kept very well by the outstanding cleaning ladies and Christine and Trini were amazing! They knew all of the inside scoop on where to go and where to eat. They were always willing to help at all hours of the night to ensure we were comfortable and enjoying our stay. It is a wonderful fit for adults and kids alike, and we are already planning on returning in the near future. I would definitely recommend this established to anyone visiting the area.

mnixon
MI

Better than we ever could have imagined!

Left on

03/21/2010

for a stay in February 2010

| mnixon

My husband and I got married in Quepos a month ago
so we rented 3 different condos at the Pacifico for
some of our guests and for ourselves to stay in the
week before the wedding. We choose the Pacifico
because it was close to our other accommodations
for our other guests and the wedding location. We
couldn't believe how absolutely gorgeous the condos
were! All of our guests were amazed by the
experience. The views were amazing, with gorgeous
sunsets and tons of wildlife! The staff went above
and beyond to accommodate us. They were always
extremely friendly and willing to help in any way
possible. Cristina and Trini were phenomenal, with
everything from translating for us to making dinner
reservations. They were both amazing and a pleasure
to work with. Not only was the Pacifico gorgeous,
the experience was indescribable!

A FlipKey verified reviewer
Indiana

Great time at Pacifico Colonial

Left on

03/21/2010

for a stay in March 2010

| A FlipKey verified reviewer

My friend and I just spent two nights at Pacific Colonial 2 bedroom luxury
condo, and we were completely thrilled with the experience! All of the other
reviewers are right on: beautiful accomodations, perfect location,
accomodating owner, all the amenities. Two days are too short. It was so, so
difficult coming back to the Midwest! I cant wait to return! I would definitely
recommend Pacifico Colonial to anyone who is looking to have a perfect
getaway.

MCW2010Wedding
CA

Home away from Home....

Left on

02/17/2010

for a stay in May 2009

| MCW2010Wedding

This is our 2nd time that we stayed here and once again the stay was magical. Definitely one of our favorite places to escape whether for a week or a long weekend. Trini and Melissa are great at accommodating all of our needs and desires! The condo is elegantly decorated and modern at the same time. On both trips we were celebrating birthdays...which were so memorable given our personalized chef, menu and personal musician. We especially loved the monkeys at the pool below us!!! You can make this trip easily peaceful or fun depending on the activities you get the team to set up for you.

The team can always count on us coming back!!!

Hugs and kisses,
Cindya & Marcus, Los Angeles, CA

P.s. Trini and Melissa, Marcus and I got engaged on New Year's eve '09...so next time we'll come back Pacifico as husband and wife :-)

Costa Rica fans
CA

What a balcony, what a view, what wonderful people

Left on

02/04/2010

for a stay in January 2010

| Costa Rica fans

This is our 4th visit to Manuel Antonio. This was a fantastic place. Spacious, elegant, spotless, and everything worked. I loved that it had easy access to restaurants, and beaches.

Not only was the place perfect but the managers were helpful, kind and patient. We had a flat tire and they even inflated it so we could drive to the gas station. They also arranged for an appt. with the tire repair man.

The housekeeping staff could not have been more professional. They paid attention to details like flowers and personal needs.

My husband and I plan to return and recommend Pacifico Colonial to our friends.

RoseC44
VA

Absolutely amazing!!

Left on

01/28/2010

for a stay in January 2010

| RoseC44

From our initial experience dealing with property manager Melissa Klassen over email (she was extremely patient and kind, working with us and our ever-changing dates of stay!), I had a feeling this place was special. Boy was I right!

Everything about Pacifico Colonial is amazing. We have visited many beaches and rented many condos over the years in Costa Rica, and this place definitely beats them all. The location is perfect, it's within walking distance to fabulous restaurants, a bank, and grocery store. To get to the beach you either have to drive, taxi or bus it, but it's only a few minutes away and that's true for the majority of Manuel Antonio's resorts.

The condo itself was an architect and interior designer's dream. Beautiful furnishings, high quality fixtures, GORGEOUS view off of the large balcony...you can't beat it. We had the very spacious 3BR on the second floor, and it was perfect because we had a great spot from which to watch monkeys making their way through the jungle in front of the building.

The pool, while small, still had a nice sundeck for laying out (in case you tired of the beautiful beaches down the street), and was very refreshing to jump into at the end of a long hot day.

The restaurants and bars that we tried and enjoyed were Barba Roja, Karola's, Agua Azul, Billfish (Byblos resort), and El Avion (the latter two just for drinks). We also ate pizza for lunch on the last day at the pizza place at Byblos resort. All were within easy walking distance of the condo.

I honestly can't say enough good things about this place. The property managers (Melissa and Kevin, as well as Christina), the security guards, the cleaning crew...everyone was so friendly and helpful. My only regret is that we stayed there only 3 nights...next time it will be for much longer!

Jeff and Val
Ontario, Canada

Great stay

Left on

01/24/2010

for a stay in January 2010

| Jeff and Val

We had the good fortune to stay on 4North for two nights and enjoyed it very much. We were able to bird watch from the balcony and of course the view of sunsets was awesome! The kitchen was great, even though we visited restaurants for dinners. The suite "fit" us perfectly, as we have two sons age 12 and 14. The security staff was pleasant and responsible, and the cleaners were great. Thank you for helping us to have a memorable stay in paradise! Jeff and Val

Zhanna
NY

Best Place in Costa Rica

Left on

01/21/2010

for a stay in January 2010

| Zhanna

I absolutely loved your home and so did all of my friends. When my friends and I were in Costa Rica - we stayed in five different hotels over the course of six nights. Pacific Colonial was definitely the best by far and we had the best time there. The apartment had all the things we needed and more. Moreover, the view on the ocean was stunning and so was the apartment layout. I would recommend this place to anyone who is thinking of visiting Costa Rica.

A FlipKey verified reviewer
Germany

a beautiful place to relax

Left on

01/12/2010

for a stay in January 2010

| A FlipKey verified reviewer

The service was excellent and we really liked the home and the great view. The location is very good,the best was the interior.

Jodie
CO

Beautiful home, gorgeous views!

Left on

01/08/2010

for a stay in December 2009

| Jodie

Our family of 5 spent a wonderful week in Manuel Antonio. We were lucky enough to stay in Pacifico Colonial in a beautiful 2 bedroom condo. It exceeded our expectations in every way. The main living area was beautiful with a wrap around deck and a view to die for. The kitchen had beautiful granite countertops. The master suite had a beautiful, comfortable bed. When we arrived we were greeted by a gorgeous fresh flower bouquet. The condo was well equipped with everything we needed.
The condo is in walking distance of a grocery store and several coffee shops and restaurants. The staff at Pacifico Colonial was so wonderful and helpful. The housekeeping staff was so accommodating to our schedule they worked around us everyday. They even did our laundry for us! Trini, the concierge was a lifesaver. He speaks English perfectly and helped us so much! He arranged tours for us, helped us make phone calls home, gave us directions, answered questions etc.
We had a wonderful vacation. Everything was perfect thanks to Melissa and Pacifico Colonial. We highly recommend and would go back in a minute!

A FlipKey verified reviewer
Maryland

Fabulous views! Comfortable accommodations!!

Left on

01/07/2010

for a stay in December 2009

| A FlipKey verified reviewer

We stayed at Pacifico Colonial in December, 2009 for 6 nights. We enjoyed our
stay completely. The pictures on the website are exactly what the condos look
like. Our condo was 1N and it was spacious and comfortable. The porch
overlooked the trees where the monkeys played and the ocean in the distance.
It was peaceful.
The perk that is included in your condo rental is Trini, who was helpful in
arranging dinner plans, planning your day trips, going to the market to stock
your refrigerator before arrival, or even to knock on your door to alert you that
the monkey's are outside!
I highly recommend Pacifico Colonial!

A FlipKey verified reviewer
New Jersey

Amazing

Left on

01/07/2010

for a stay in January 2010

| A FlipKey verified reviewer

Pictures do not describe the gorgeous 2 bedroom condo at Pacifico Colonial. The condo was fully staffed with coffee maker, blender, pots, dishes, soap, towels, washer & dryer, etc. The staff were exceptional and daily housekeeping was a treat. Pacifico Colonial is centrally located between the beach and great restaurants. Watching the sunset on the porch each evening was what we liked best. What we liked least was having to leave! Will definitely come back.

david.elkin
PA

Thanks For A Great Vacation!!

Left on

01/03/2010

for a stay in December 2009

| david.elkin

Dear Melissa,

Thanks to you and your staff for the great vacation we just had in Manuel Antonio! The Pacifico Coloniol 3 BR was absolutely perfect for our family of 5. It was very spacious, clean and modern with an outstanding balcony. We all spent many hours on the balcony reading books over morning coffee, enjoying a late afternoon cocktail or watching the monkeys in the trees. Special kudos to Trini. He was simply terrific(he even called us one morning to tell us it was "monkey time" by the pool so that our kids wouldn't miss the action!). Mariella and her team were so pleasant and kept the condo in perfect shape. We looked forward to coming back at the end of the day to see the beautiful and creative animal figures that Mariella would form .... using bath towels! It really was a special touch!. Thanks again to all of you and we look forward to staying with you again on our next trip to CR. David Elkin

BB
IL

Amazing Family Vacation Made Possible by Pacifico Colonial

Left on

01/03/2010

for a stay in August 2009

| BB

Our well traveled family which includes my husband, 6 year old daughter, 4 year old son and I vacationed in Costa Rica and got much more that we expected when we decided to stay at the Pacifico Colonial. We travel extensively and appreciate new or well maintained, optimally equipped, safe and comfortable accommodations which Pacifico Colonial not only met but exceeded in our expectations. In addition, what we came to appreciate most was the service provided by the owner and her staff which took our great vacation to the level of being an amazing one. We finalized our travel plans at the last minute and were able to rely on the staff at Pacifico Colonial to make all our arrangements-including airport transfers, yoga class, tours, excursions, restaurant reservations, in room massage and chef services. This was all done in the most friendly and professional of ways. This was a trip loved by adults and kids alike and we are so appreciative to the Pacifico Colonial owner and staff for making it possible. When we return to Costa Rica this is the spot we will be returning to.

Addicted2Travel
FL

Heaven on Earth!

Left on

11/05/2009

for a stay in October 2009

| Addicted2Travel

am so happy I stumbled across Pacifico Colonial while searching for a hotel online! My family of 4 adults & 1 child stayed in condo 2 North from October 27-30th & the condo was more than we could have ever expected! The location is perfect & the spacious living area, rooms, kitchen, & balcony make you feel as if you're in the presidential suite of a 5 star hotel. There are great restaurants, a supermarket, bank, & bus stop all within a 5 minute walk from Pacifico Colonial as well. I recommend eating at Café DeSilva which is a 2 minute walk just south of the property. The property manager Melissa was extremely helpful & she acted as our own personal concierge. Melissa can also arrange for a private chef to come & cook your family a meal at a very reasonable cost.

If you need a little more room, check out Pacifico Colonial's 3 bedroom room floor plan or the 4 bedroom penthouse. Melissa was nice enough to show us these for next time we come & the view from the penthouse is well worth it. If you have a large group, Melissa also has a house to rent right around the corner. Check out the pictures at www.pacificocolonial.com/gallery.html. Take my advice & book this place! I guarantee you won't regret it!

A FlipKey verified reviewer
Colorado

Pacifico Colonial - Best In Manuel Antonio

Left on

09/08/2009

for a stay in July 2009

| A FlipKey verified reviewer

We have stayed at the Pacifico Colonial 3 times in 2009. We will be back in 2010 as well.

we stayed in the 3 bedroom / 2,800 s.f villa. Not totally sure about the square feet. But, it is large with a great ocean view and large deck.

For a family who needs 2-3 bedrooms this is a better value than 2 hotel rooms.

My wife Lynn loved the large gourmet kitchen as we like to cook our own food instead of going out to eat. But, if you like to eat out there are plenty of places within walking distance of the villas.

Melissa ad all the other staff will treat you right !!

It is an awesome place to stay that will be a real treasure for you.

Jim and Lynn McHood
Colorado

Barke Family
Alberta, Canada

Worry Free Vacation , Friendly Professional Staff, and First Cla

Left on

08/31/2009

for a stay in August 2009

| Barke Family

The level of service Melissa Klassen and her team provided throughout our
stay was outstanding.

Our family enjoyed an extended stay in Costa Rica (almost 6 weeks) whereby
our primary objective for traveling to Costa Rica was to study Spanish. We
booked our accommodations through VRBO. Since this was our first time
using VRBO we were somewhat apprehensive about what to expect when we
arrived. We arrived in Quepos late in the evening not knowing where to go
and uncertain as to how everything was going to turnout. We called
Melissa's cell number to let her know we were approaching Quepos. She
immediately left the comfort of her home to come meet us at the condo to
ensure everything went as planned. When we arrived we were pleasantly
surprised, the quality of the accommodations exceeded our expectations.

Throughout our entire stay Melissa and her team were always there to help
us out, no matter how large or small the request. Melissa's knowledge of
the area allowed us to enjoy experiences that we otherwise would have
never found on our own not to mention her shopping tips saved us money.
If you are traveling to Manuel Antonio, booking your accommodations
through Melissa is a must if you want a care free vacation.

The Barke Family,
Calgary, Canada

A FlipKey verified reviewer
Chicago

Incredible

Left on

08/31/2009

for a stay in March 2009

| A FlipKey verified reviewer

This was an absolutely incredible vacation. Aside from the fact that the Manuel Antonio area was beautiful and speaks for itself. I do not think we would have enjoyed ourselves as much as we did without having stayed at the Pacifico Colonial. Melissa was instrumental in arranging all the details of our trip. Her honesty, knowledge of the area and simply just listening to the things that my group wanted made this trip!!
We were orginally booked The Quepos Ocean Club for 4 friends. A few months before the vacation Melissa informed me that she didn't think that the construction on the pool, which I already knew about before booking, was going to be completed. I very much appreciated her honesty and based on all of our conversations/emails in booking the Ocean Club she knew that our party would be happier at the Pacifico and gave us that option. I had researched the Pacifico during our original booking but thought the Ocean Club would be better for our group. Was I wrong. The Pacifico was the perfect place for us!! Walking distance to Cafe Milagro for coffee in the morning. As well as some of the best Restuarants in Manuel Antonio. It allowed us to have the freedom to do what we wanted and not have worry about each other and getting to and from our condo. So for us it was about the location.
With that being said, I am sure the Quepos Ocean Club is great. It sure looked beautiful when we took our walk down to the beach and passed it. So if you want a quick walk to the beach and a little more seclusion, the Quepos Ocean Club is for you.
Finally, I just wanted to say how fantastic Melissa and her entire staff were. They helped us book excursions, make dinner reservations, ensured our safe pick-up and drop-off at the airport and even went and found a baking pan so we could make a cake for our friends birthday. We couldn't have been happier and would defintitely come down again. I highly recommended the Pacifico to others. Thanks so much for everything!!

A FlipKey verified reviewer
cape coral florida

best part of our Costa Rica Vacation

Left on

08/29/2009

for a stay in June 2009

| A FlipKey verified reviewer

The condo was amazing. It had everything we could possibly need. We traveled with our children 8, & 11. Trini even loaned them boggie boards for the beach. We were called when monkeys were in the trees outside, because they knew we had been looking. The location was perfect. There were grocery stores and restaurants within easy walking distance. We are looking forward to a return visit.

zmantzoor
Fl

Most amazing view, real Luxury

Left on

08/28/2009

for a stay in December 2008

| zmantzoor

most likely located at one of the best view of Manuel Antonio, real luxury apartment, we stayed at the first floor, however, the view was great, the stuff is very helpful and the place is very secure. the pool is small but we came to Costa Rica to enjoy the forest,the wild life and the great activities around.

A FlipKey verified reviewer
Costa Rica

At home away from home

Left on

08/28/2009

for a stay in December 2008

| A FlipKey verified reviewer

When it comes to hotels in Costa Rica, the most difficult is a holiday condo where you can experience western standard level of comfort and at the same time experience the country's natural beauty. Pacifico Colonial offers the above and more!
Our stay at Pacifico Colonial was unforgettable, the views were fantastic and with so much space for the family we felt at home.

Oh1039
Fla.

Top Shelf

Left on

08/25/2009

for a stay in August 2009

| Oh1039

The condo and Melissa's staff were both excellent.

The staff was quite helpful in booking tours, arranging transportation, etc. All our questions were answered with a smile. The condo itself is well located, with several restaurants and a grocery store within walking distance and a taxi stand less than a block away.

We had a panoramic view of the ocean from our living room as well as the master bedroom. The furnishings were very nice and the condo is quite spacious and has a great balcony for chilling. The HD TVs came in handy on those rainy summer afternoons. The only negative is that the condo is not on the beach, so you need to walk down a steep hill or drive, tho that is typical of most places in the area.

Our only regret was that we didn't have more people in our party to enjoy the accomodations.

A FlipKey verified reviewer
USA

Great Condo!

Left on

08/15/2009

for a stay in February 2009

| A FlipKey verified reviewer

Huge, comfortable condo with great view and location. Melissa and her staff were very helpful. The highlights were the tour of the National Park and the dinner served in our unit, all arranged by Melissa. Can't wait to return.

The Freelands
MO

Awesome experience at Pacifico Colonial in Manuel Antonio

Left on

07/22/2009

for a stay in July 2009

| The Freelands

It's hard to put into words how much we enjoyed our Costa Rica experience. Thanks to Melissa and her staff at Pacifico Colonial, our vacation will go down as one of our best. Although our Continental flights were a nightmare, once we met our transfer in San Jose, everything seemed to turn around. The beautiful condo was spacious and well equipped. The massive balcony, with comfy furniture was the perfect place to relax after an excursion (conveniently arranged by Melissa or Trini)or a day at the beach. The zip lining and rafting were a blast! A short walk in the morning to Cafe' Milagra was the perfect way to start the day. Make a point of visiting Jim across the street at the Latino Lounge for good food and drinks, and put Kapi Kapi on your list for a special dinner. We can't wait to go back!
Also Consider
FlipKey has rentals in over 11,000 destinations around the world: