Previous

Next

property
$175
3 BR / 6 BA / Sleeps 10
$175
Book
3 BR
/
6 BA
/
Sleeps 10
|

Quick view
Casa Daniel 3 Bedrooms - 6 full baths - Sleeps 10 On the Beach, Pochomil - Masachapa, Nicaragua This 4000 square foot home sits on 1/3 of an acre directly on the beach in Pochomil. The 3 1/2 year old house was built in 2010 and is constructed from beautiful hardwoods indigenous to Nicaragua which give it a warm, …
Waterfront

Ocean or water views

Internet Access

Outdoor Dining Area

Patio
Pet friendly

Suitable for children

Suitable for the elderly

Wheelchair accessible
Previous

Next

property
$150
5 BR / 3 BA / Sleeps 10
$150
Book
5 BR
/
3 BA
/
Sleeps 10
|

Quick view
This property is such a joy to stay in, it's always hard for us to come back home after a visit. There are several large terraces throughout, so there's plenty of room for groups to hang out together, or for people to get some quiet time and relax. It sits above a wonderful beach catching refreshing breezes.
Ocean or water views

Wireless Internet

Outdoor Dining Area

Porch

Parking
Pet friendly - ask

Suitable for children
Wished we could stayed longer!
Left on Mar 19, 2015 for a stay in February 2015
I would like to say thank you to the owners and the staff for all their great care and service.

The house is roomy and has great views, we were told the house is a work in progress and new in the vacation rental market, but truth be told, once we unpacked our bags and saw the view of the beach we forgot to notice. We stayed for two nights and we were sad we couldn't stay for longer. the …
Previous

Next

property
$240
3 BR / 3 BA / Sleeps 8
Inquire
3 BR
/
3 BA
/
Sleeps 8
|

Quick view
If you are looking to spend a fabulous vacation right on the beach and close to the town then please read on. This incredible new modern villa in a lovely residential complex of luxury homes offers privacy and relaxation at an affordable price. The home is almost new, nicely furnished with spacious en-suite bathrooms…
Pet friendly - ask

Suitable for children

Suitable for the elderly

Wheelchair accessible
Amazing Stay!
Left on Mar 09, 2015 for a stay in February 2015
We spent 10 days at Masachepa Beach Villa in February and couldn't have asked for a more relaxing vacation! From the start, the property manager, Christine, was very responsive to my emails and always replied immediately. This was the case while we were at the house, too! She was also very nice and did some pre-arrival grocery shopping for us since we arrived late at night and all grocery stores …
Previous

Next

property
$250
4 BR / 3 BA / Sleeps 12
$250
Book
4 BR
/
3 BA
/
Sleeps 12
|

Quick view
You will enjoy sitting in the hammock on the front terrace and having the sand right at your doorstep. Steps away from the water, pick shells, walk to the rock waterfalls (Las Cortinas) and drench in the ocean's splash. Private miles of virgin beaches to the north and south, beautiful walks into the sunset. Exercise …
Waterfront

Ocean or water views

Internet Access

Housekeeping Optional

Outdoor Dining Area
Pet friendly - ask

Suitable for children

Suitable for the elderly

Wheelchair accessible
Previous

Next

property
$343
4 BR / 4 BA / Sleeps 11
Inquire
4 BR
/
4 BA
/
Sleeps 11
|

Quick view
Quinta Mar y Estrellas in Huehuete, a unique vacation destination accommodating up to 11 people in two separate houses of recent construction. The main house allows for splendid views from each room as well as unforgettable sunsets from the rancho overlooking the beach. Built entirely of exotic hardwoods, the house …
Waterfront

Ocean or water views

Wireless Internet

Housekeeping Optional

Washing Machine
Suitable for children

Suitable for the elderly - ask
Previous

Next

property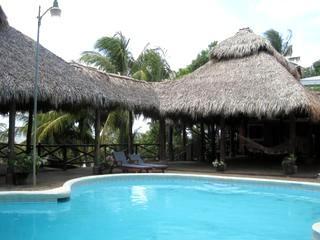 $280
5 BR / 4 BA / Sleeps 10
Inquire
5 BR
/
4 BA
/
Sleeps 10
|

Quick view
This Tahitian style BEACHFRONT home is located in the seaside town of MASACHAPA and only two miles from the well known FIVE STAR Hotel BARCELO with its many amenities such as Casino,Disco,pharmacy etc and which is open to visitors in the area..MASACHAPA is the closest seaside beachtown from Managua airport and …
Waterfront

Ocean or water views

Internet Access

Housekeeping Optional

Outdoor Dining Area
Smoking allowed - ask

Suitable for children

Suitable for the elderly

Wheelchair accessible
Previous

Next

property
$400
5 BR / 5 BA / Sleeps 12
Inquire
5 BR
/
5 BA
/
Sleeps 12
|

Quick view
Description to property coming soon
Ocean or water views

Hot Tub/Jacuzzi

Internet Access

Washing Machine

Clothes Dryer
Smoking allowed - ask

Suitable for children

Suitable for the elderly

Wheelchair accessible - ask
Heaven
Left on Jan 28, 2014 for a stay in January 2014
The Villa Vilmar was an absolute treat! We stayed at this lovely house for 10 days with our extended family (total of 12 people) and small children (ages 7 months to 7 years). The house was large, with various sitting areas and lots of useful space. Each couple/family had their own rooms with their own bathroom. The pool was the perfect size for the house. It was shallow enough to stand in …
Previous

Next

property
$500
4 BR / 4 BA / Sleeps 10
$500
Book
4 BR
/
4 BA
/
Sleeps 10
|

Quick view
Casa Mallen is guarded by a large awl surrounding the property with security available onsite. There is plenty of parking for multiple cars inside the gated wall as well as in front of the house off the street. Once you enter the center courtyard you get a feel for the charm of this home. Beautiful stone work, large …
Waterfront

Ocean or water views

Wireless Internet

Washing Machine

Outdoor Dining Area
Pet friendly - ask

Smoking allowed

Suitable for children - over five

Suitable for the elderly - ask

Wheelchair accessible - ask
Previous

Next

property
$175
4 BR / 3 BA / Sleeps 9
$175
Book
4 BR
/
3 BA
/
Sleeps 9
|

Quick view
BellaVista del Mar is a wonderful place to relax and enjoy yourself on the west coast of Nicaragua. The home is unique in every way, and we are positive you will enjoy your stay. It is a romantic rustic-style two level home situated directly on the beach front with soft warm sand and the best waves around. The …
Waterfront

Ocean or water views

Housekeeping Optional

Washing Machine

Outdoor Dining Area
Suitable for children

Suitable for the elderly - ask
A great Weekend with my friends
Left on Jan 29, 2012 for a stay in January 2012
I´m very glad I had the chance to visit the house, specially because I was celebrating my B-day with a group of friends. It was all great! I had a good comunication with the owner since the beginning. The road to get to the house is in well conditions and aprox. 45 min away from managua, which is very cool. The house is well equipped, the rooms are comfortable and big enough.. every single …
Previous

Next

property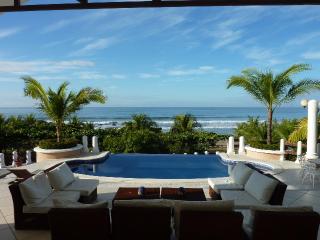 $390
4 BR / 16 BA / Sleeps 10
$390
Book
4 BR
/
16 BA
/
Sleeps 10
|

Quick view
Stunning beachfront estate home built on a private bay with only 12 other estate homes. Over 5000 sq ft (500mts) in main buildings, more than 10000 sq ft of terraces (1000 mts), lower level Day Use Rancho with wet bar next to beach hidden in a mini forest of a palm, mango, papaya, and almond trees. The property is …
Waterfront

Ocean or water views

Wireless Internet

Housekeeping Optional

Washing Machine
Smoking allowed - ask

Suitable for children
Previous

Next

property
$100
2 BR / 2 BA / Sleeps 4
$100
Book
2 BR
/
2 BA
/
Sleeps 4
|

Quick view
The home is located on a private gate guarded beach community. It has 4 miles of coastline and tide pools. It is approximately 250 yards from the water with a ocean view. The home has fruit trees in the yard. Mango and papaya trees are plentiful in the community. The home has flat screen TVs with dish network and…
Waterfront

Shared outdoor pool (unheated)

Internet Access

Housekeeping Optional

A/C or climate control
Pet friendly - ask

Suitable for children

Suitable for the elderly

Wheelchair accessible
Previous

Next

property
$475
5 BR / 5 BA / Sleeps 30
$475
Book
5 BR
/
5 BA
/
Sleeps 30
|

Quick view
Rent the Pochomil beach house and get a FREE DAY OF CAR RENTAL* during your stay. BOGO: April 11-May 28, Rent 1 Day at Regular Price, get second day 50% off This beach front spanish style 4 year old 600 sq. mt. (6,900 sq. ft) home in an acre land with 100 ft beach front is the largest property in Pochomil Viejo, a 1.…
Waterfront

Ocean or water views

Internet Access

Housekeeping Optional

Washing Machine
Suitable for children

Suitable for the elderly

Wheelchair accessible
We found paradise
Left on Aug 08, 2011 for a stay in April 2011
When we traveled to Nicaragua, our expectations were not that high, after all, it is the poorest country in Latin america (Excluding Haiti) but boy, were we wrong!!! People are very friendly and honest.

They had a car and driver waiting for us at the airport who took us to the supermarket for supplies and then straight to the beach. Wow, Paradise is nothing compared to this. Can you imagine a …
Previous

Next

property
$240
4 BR / 3 BA / Sleeps 8
$240
Book
4 BR
/
3 BA
/
Sleeps 8
|

Quick view
Come enjoy a spacious, beautiful beach house set a few steps from the coast and stone's throw away from the Barcelo Montelimar Hotel Beach Resort. This modern fully equipped, beautifully decorated beach house will take your breath away. New construction, this home offers luxurious amenities including a gourmet …
Ocean or water views

Internet Access

Housekeeping Optional

Washing Machine

Clothes Dryer
Smoking allowed - ask

Suitable for children

Suitable for the elderly

Wheelchair accessible
---
---