Previous

Next

property
$111
2 BR / 1 BA / Sleeps 8
$111
Book
2 BR
/
1 BA
/
Sleeps 8
|

Quick view
The villa is surrounded by beautiful fields, in the middle of vineyards and the orchards. There are two bedrooms. Bedroom 1 is with a super king size bed. Bedroom 2 is with two sofa beds and a standard bunk bed (2 single beds). A modern built-in kitchen with refrigerator, deep freezer, classical oven, dishwasher, …
Mountain Views

Internet Access

Fireplace

Washing Machine

Outdoor Dining Area
Pet friendly

Smoking allowed

Suitable for children

Suitable for the elderly

Wheelchair accessible
peaceful place
Left on May 14, 2012 for a stay in May 2012
The house was very comfortable and in a great location. The person who managed it was accomodating and always there when we needed him.
Previous

Next

property
$39
1 BR / 1 BA / Sleeps 6
$39
Book
1 BR
/
1 BA
/
Sleeps 6
|

Quick view
Our apartment offers guests all the comforts of home; including a fully equipped kitchen, air conditioning, TV, Wi-Fi internet connections, a stylish bathroom and modern furnishings. Conveniently located just five minutes walk from the Old Bridge and and the Old Town. Situated in one of Mostars central neighborhoods…
Internet Access

Washing Machine

Clothes Dryer

Outdoor Dining Area

A/C or climate control
Pet friendly - ask

Smoking allowed - ask

Suitable for children

Suitable for the elderly

Wheelchair accessible
Amazing!!!
Left on Sep 13, 2013 for a stay in August 2013
The apartment had all the necessary amenities for my stay. The location is amazing the neighbourhood is friendly. Owners are more than helpful. I have enjoyed my stay.Thank you Maja!!! See you again!!!
Previous

Next

property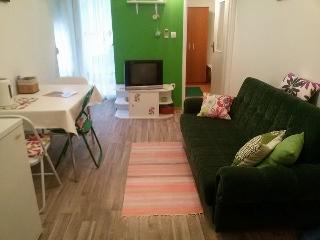 $33
1 BR / 1 BA / Sleeps 3
$33
Book
1 BR
/
1 BA
/
Sleeps 3
|

Quick view
Apartment Mana is placed in the center of Mostar, only 200 m distance from the Old Town and the Old Bridge.
Wireless Internet

A/C or climate control

Parking

Garden

Towels Provided
Smoking allowed

Suitable for children - over five

Suitable for the elderly - ask

Wheelchair accessible - ask
Previous

Next

property
$67
5 BR / 5 BA / Sleeps 14
$67
Book
5 BR
/
5 BA
/
Sleeps 14
|

Quick view
Welcome to the "Cardak" Pension The Cardak Pension is a family guest house, situated in the Old town of Mostar , about 100 m from the Old Bridge, inscribed in the UNESCO list of the protected monuments. Renovated in 2014. A COMBINATION OF MODERN AND TRADITIONAL It is surrounded by a peaceful atmosphere and away …
Suitable for children

Suitable for the elderly
Great Hosts , Excellent location
Left on Aug 10, 2014 for a stay in June 2014
Suzana and her husband were the most accommodating hosts you could wish for. They parked our car, helped us in with our luggage,and had lovely home made lemonade and fruit waiting for us. We ate at one of the restaurants they recommended and were blown away by the food and staff at the restaurant. The closeness of the old bridge and the old city were also a huge advantage as we didn't use out …
Previous

Next

property
$167
4 BR / 4 BA / Sleeps 14
$167
Book
4 BR
/
4 BA
/
Sleeps 14
|

Quick view
Villa For You is located at the entrance to the Old Town. One minute walk away from the Old bridge and 50 meters from the beach under the famous bridge. New, airily and beautifully decorated rooms and apartments. This private accommodation is located in historical part of Mostar, at the entrance in Unesco-zone, 100m…
Smoking allowed - ask

Suitable for children

Suitable for the elderly
Excellent Value
Left on Apr 29, 2014 for a stay in April 2014
This excellent guest house offers exceptional value for money. I booked through a well known booking site not expecting much for the money but actually I'm really pleased with the room. The staff are incredibly friendly and helpful; going out of their way to ensure that we found our way. The location couldn't be better 2 minutes walk from the bridge and main sights. Very impressed. I would book …
Previous

Next

property
$117
3 BR / 1 BA / Sleeps 7
$117
Book
3 BR
/
1 BA
/
Sleeps 7
|

Quick view
APARTMENT SANJA - Situated in one of Mostars central neighborhoods, close to cafe's, restaurants, supermarkets, pharmacies, banks, parks, mosques and churches, parking facilities are also available to guests. Our property offers fully equipped apartment with 7 beds in all, including kitchen, one bathroom, living and…
Ocean or water views

Mountain Views

Internet Access

Washing Machine

A/C or climate control
Pet friendly - ask

Smoking allowed - ask

Suitable for children

Suitable for the elderly - ask

Wheelchair accessible - ask
Previous

Next

property
$67
3 BR / 1 BA / Sleeps 6
$67
Book
3 BR
/
1 BA
/
Sleeps 6
|

Quick view
The apartment has 3 room with one bathroom and a kitchen. There are two bedrooms with king size beds and a living room with a bed sofa. The living room is also equipped with a TV and air-conditioning unit. Kitchen has a fridge, freezer, oven, hob and all other basic kitchen equipment. The bath room is equipped with …
Internet Access

Housekeeping Optional

Washing Machine

A/C or climate control

Balcony or terrace
Pet friendly - ask

Smoking allowed - ask

Suitable for children

Suitable for the elderly - ask
Superb Pension
Left on May 26, 2011 for a stay in December 2010
Very good pension, lovely family running this pension - good close to Mostar - clean, cheap very lovely to stay -

we will come again.

Pinni
---
---