Previous

Next

property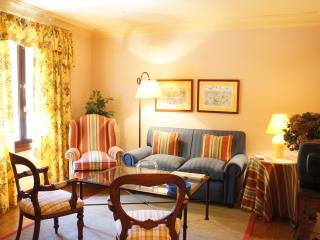 $146
8 BR / 7 BA / Sleeps 18
$146
Book
8 BR
/
7 BA
/
Sleeps 18
|

Quick view
Casavillena is a unique two-story building completely refurbished, from where visitors can enjoy magnificent views of the walled city of Segovia and its major monuments, at the foot of the Alcazar. Located in an area of ​​exceptional quality Villena strict environ House has managed to integrate into the landscape …
Internet Access

Housekeeping Optional

Central heating

Balcony or terrace

Towels Provided
Pet friendly - ask

Smoking allowed

Suitable for children

Suitable for the elderly - ask

Wheelchair accessible - ask
Previous

Next

property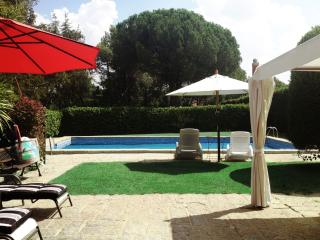 $162
3 BR / 2 BA / Sleeps 8
$162
Book
3 BR
/
2 BA
/
Sleeps 8
|

Quick view
House in the countryside only 20 minutes far away from down town Madrid with 2000m2 garden and private pool. Ideal ror travelers who are looking for complete peace and quiet in pristine nature. Has ability to accommodate from 6-8 people, 3 bedrooms 1 dressing room, 2 bathrooms, a large lounge, dining room and kitchen…
Mountain Views

Internet Access

Housekeeping Optional

Washing Machine

Outdoor Dining Area
Pet friendly

Smoking allowed

Suitable for children

Suitable for the elderly

Wheelchair accessible
Previous

Next

property
$162
2 BR / 2 BA / Sleeps 4
$162
Book
2 BR
/
2 BA
/
Sleeps 4
|

Quick view
Apartment in Rascafría town located 100 km from the capital, in the Guadarrama National Park. This is a ground floor apartment which has 2 double rooms with bath, one with double bed and one with two single beds. It also has a lounge and fully equipped kitchen with a breakfast bar, well equipped. Within Rascafría …
Smoking allowed

Suitable for children

Suitable for the elderly

Wheelchair accessible
Previous

Next

property
$54
2 BR / 1 BA / Sleeps 4
$54
Book
2 BR
/
1 BA
/
Sleeps 4
|

Quick view
This is really an apartment for the lovers of nature and or history (roman and heraldic). Located in the exceptional "Guadarrama Natural Park" this apartment has a lot to offer in a "magical radious". In the high of the mountain you will find an sky station located just 200 meters but also the surroundings offer a…
Smoking allowed - ask

Suitable for children
Previous

Next

property
$65
1 BR / 1 BA / Sleeps 5
$65
Book
1 BR
/
1 BA
/
Sleeps 5
|

Quick view
We rent an apartment in a lovely house next to the mountains and very near Madrid Segovia Avila El Escorial , Its prepared for 5 people and it has very good comunications to Madrid. If you want to spend your holiday in a lovely place but near Madrid , this is the correct option. Also if you like skiing we are just 15…
Pet friendly

Suitable for children

Suitable for the elderly
Previous

Next

property
$189
4 BR / 3 BA / Sleeps 8
$189
Book
4 BR
/
3 BA
/
Sleeps 8
|

Quick view
Independent villa with all the amenities to enjoy a getaway in the Segovia Mountain, just an hour from Madrid at from the airport. It features Wi-Fi, stereo, television (2), TV, DVD, two double bedrooms and two singles with two extra beds, two bathrooms, a toilette, fully equipped kitchen with oven, microwave, …
Mountain Views

Internet Access

Washing Machine

Central heating

Balcony or terrace
Pet friendly - ask

Smoking allowed - ask

Suitable for children

Suitable for the elderly - ask
Casa Rural con encanto y con alma
Left on May 03, 2013 for a stay in March 2013
Cuando ves la Casa Rural en fotos te parece bonita, pero cuando llegas se hace realidad y parece incluso más bonita. Es ideal para descanso (no hay ruidos externos) Para hacer una ruta a los castillos o bodegas de los alrededores. Para disfrutar con tus amigos, para cambiar de aires y al mismo tiempo de gozar de una casa que a todos nos gustaría poseer...

Me imagino que si quisieramos tener…
Previous

Next

property
$140
3 BR / 2 BA / Sleeps 6
$140
Book
3 BR
/
2 BA
/
Sleeps 6
|

Quick view
Please note these Check-in Day Requirements for this property: Jul 26 - Aug 01 : Sunday, Monday, Tuesday, Wednesday, Thursday, Friday and Saturday check-out required.; 4-room house 225 m2, with sloping ceilings, practical furnishings: living/dining room with open fireplace, TV and DVD. Exit to the garden, to the …
Fireplace

Washing Machine

Balcony or terrace

Garden

Grill
Smoking allowed

Suitable for children

Suitable for the elderly - ask

Wheelchair accessible - ask
Previous

Next

property
$154
2 BR / 2 BA / Sleeps 6
$154
Book
2 BR
/
2 BA
/
Sleeps 6
|

Quick view
** Please note that we have converted primarily to a Bed & Breakfast butl still rent the villa on occasion. Currently, we have the following dates available: March 30-April 5 (3 night minimum including weekend) May 20-June 1 (1 week minimum) June 19 & 20 (2 night minimum) At Camino de Soto, you can to …
Ocean or water views

Mountain Views

Internet Access

Housekeeping Optional

Washing Machine
Smoking allowed - ask

Suitable for children

Suitable for the elderly

Wheelchair accessible
Outstanding...
Left on Dec 08, 2010 for a stay in November 2010
An experience never to be forgotten. This is a home from home. The villa has the wow factor and i will most definately be visiting again. The views are spectacular. We both felt safe and relaxed. Final word to sum things up amazing!!!
Previous

Next

property
$216
3 BR / 2 BA / Sleeps 6
$216
Book
3 BR
/
2 BA
/
Sleeps 6
|

Quick view
Design cottage just 100 km from Madrid, 15 min from Segoviain the Natural Park of Guadarrama. In the middle of the nature, secluded and silent but very close to cultural musts sees and culinary delights. Ski, golf, biking and hicking are delightful here
Suitable for children

Suitable for the elderly - ask
Previous

Next

property
Inquire for rates.
4294967295 BR / 0 BA / Sleeps 0
N/A
Private Pool

Internet Access

A/C or climate control

Satellite or cable TV

DVD Player
Pet friendly - ask

Smoking allowed - ask

Suitable for children - ask

Suitable for the elderly - ask

Wheelchair accessible - ask
---
---