Previous

Next

property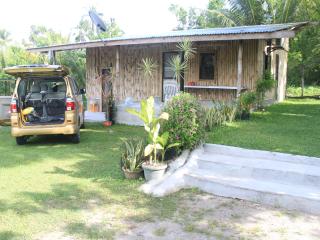 $25
1 BR / 1 BA / Sleeps 2
$25
Book
Negros cottage
1 BR
/
1 BA
/
Sleeps 2
|

Quick view
A farmhouse...bright and sunny...cool mountain breeze...wide expanse...picturesque view...Let all these revitalize your senses. The farm is just the right place to relax and unwind. At night, let the chilly wind and the sweet songs of the cicadas lull you to sleep while bright stars watch over you. Let your energy be…
Mountain Views

Internet Access

A/C or climate control

Porch

Parking
Pet friendly - ask

Smoking allowed

Suitable for children - ask

Suitable for the elderly - ask

Wheelchair accessible - ask
Previous

Next

property
$38
4294967295 BR / 1 BA / Sleeps 6
$38
Book
Cebu studio – 17.1 mi away
1 BA
/
Sleeps 6
|

Quick view
Studio at a private beach. The studio is one big space which fits 3 double beds accommodating 6 persons. Extra matrasses possible for fitting more persons. Kitchen, toilet and shower is separate building only few steps away. Friendly,hospitable,peaceful neighborhood. Close by whale shark diving and waterfalls. Close …
Waterfront

Wireless Internet

A/C or climate control

Balcony or terrace

Parking
Pet friendly

Smoking allowed

Suitable for children

Suitable for the elderly

Wheelchair accessible
Previous

Next

property
$60
2 BR / 1 BA / Sleeps 4
$60
Book
Bacolod house
2 BR
/
1 BA
/
Sleeps 4
|

Quick view
The bungalow is newly built with garden lawn located in a secured subdivision near shopping malls, resorts & govt center. Access to public transport is available. Security guard on duty. Near super market and school . ten minutes ride to SM and Robinson malls.25 mins to team park with zip line, swimming pool and …
Waterfront

Internet Access

Washing Machine

Outdoor Dining Area

A/C or climate control
Previous

Next

property
$70
1 BR / 1 BA / Sleeps 2
$70
Book
Dauin house
1 BR
/
1 BA
/
Sleeps 2
|

Quick view
This stunning beach villa is located in Villa waterfront beach resort & residences Dauin. The villa is part of a two hectares beach development that provides quality vacation houses for rent in the resorts town of Dauin, Negros oriental. The villa is newly constructed in 2014 and is available for short or long term …
Waterfront

Ocean or water views

Mountain Views

Internet Access

Housekeeping Optional
Suitable for children

Suitable for the elderly

Wheelchair accessible
Previous

Next

property
$60
2 BR / 1 BA / Sleeps 5
$60
Book
Bacolod house
2 BR
/
1 BA
/
Sleeps 5
|

Quick view
A cozy and newly built 2 BR Bungalow with garden lawn located in a secure & quiet subdivision near super market, school, resorts , theme park and gov't center. Accessible to public transport like taxi and jeepney. For added convenience, In-house private transport is also available. Near major shopping malls like …
Internet Access

Washing Machine

A/C or climate control

Grill

Linens Provided
Pet friendly - ask

Suitable for children
Previous

Next

property
$80
6 BR / 4 BA / Sleeps 12
$80
Book
Bacolod house
6 BR
/
4 BA
/
Sleeps 12
|

Quick view
Cozy and spacious spanish style bungalow located in a very secure subdivision right in the heart of City of Smiles - Bacolod City, Negros Occ., Philippines near entertainment center and malls. Perfect for the whole family and guests who prefer extended stay in city. with big lawn for outdoor cooking
Wireless Internet

Washing Machine

Outdoor Dining Area

A/C or climate control

Balcony or terrace
Pet friendly - ask

Suitable for children

Suitable for the elderly - ask

Wheelchair accessible
Previous

Next

property
$60
2 BR / 1 BA / Sleeps 4
$60
Book
Bacolod condo
2 BR
/
1 BA
/
Sleeps 4
|

Quick view
Two bedrooms, one toilet and bath. Fully furnished with a kitchenette, dining and receiving room. The area is security guarded 24/7. Within the building is a convenience store, a chicken roaster and pizza parlor. It is situated in a residential area, so it is quite yet accessible to malls, recreation areas, schools…
Previous

Next

property
$72
2 BR / 2 BA / Sleeps 4
$72
Book
Dumaguete City house
2 BR
/
2 BA
/
Sleeps 4
|

Quick view
This 82 sq.m. two bedroom beach house is located in Villa waterfront beach residences in Dauin, Dumaguete. The house is built to western standards and provide all modern comfort needed for short or long term vacation. The master bedroom has its own bathroom with bathtub, the fully equipped modern kitchen has a …
Waterfront

Mountain Views

Internet Access

Outdoor Dining Area

A/C or climate control
Suitable for children

Suitable for the elderly
Previous

Next

property
$83
2 BR / 2 BA / Sleeps 2
$83
Book
Dauin house
2 BR
/
2 BA
/
Sleeps 2
|

Quick view
This beautiful ocean view beach house has a total floor area of 106 sq.m. and is located in Villa Waterfront beach Residences in Dauin, Negros Oriental, Philippines. The beach house is set on a 450 sq.m. tropical landscaped plot providing privacy and stunning views of the ocean and the beach front development. This …
Waterfront

Ocean or water views

Mountain Views

Internet Access

Housekeeping Optional
Pet friendly - ask

Smoking allowed - ask

Suitable for children

Suitable for the elderly
Previous

Next

property
$15
8 BR / 8 BA / Sleeps 18
$15
Book
Bacolod house
8 BR
/
8 BA
/
Sleeps 18
|

Quick view
Its a value for money type of accommodation for 1 or more people. We are located very close to the city center and only a a few minutes to the interesting tourism cites of Bacolod City including bus terminals
Suitable for children

Suitable for the elderly

Wheelchair accessible
Previous

Next

property
Inquire for rates.
1 BR / 1 BA / Sleeps 2
Inquire for rates
Book
Dauin villa
1 BR
/
1 BA
/
Sleeps 2
|

Quick view
This stunning beach villa is located in Villa waterfront beach resort & residences Dauin. The villa is part of a two hectares beach development that provides quality vacation houses for rent in the resorts town of Dauin, Negros oriental. The villa is newly constructed in 2014 and is available for short or long …
Waterfront

Ocean or water views

Internet Access

Housekeeping Optional

Outdoor Dining Area
Suitable for children - ask

Wheelchair accessible
---
Looking for more rentals?
We're showing only results that match your dates and preferences.
See all 11 Negros rentals, all 270 Visayas rentals, or start a new search.
---