Previous

Next

property
$109
2 BR / 2 BA / Sleeps 8
Inquire
2 BR
/
2 BA
/
Sleeps 8
|

Quick view
This two bedroom condo is just minutes from the beach, in the South Forest Beach area. It is located on the third floor, accessible by elevator. With modern decor and upgrades throughout, this condo features two living rooms with ample seating space. New stainless appliances, stylish furniture, new bedding and flat …
Shared outdoor pool (unheated)

Balcony or terrace
Pet friendly - ask

Smoking allowed - ask

Suitable for children - ask

Suitable for the elderly - ask

Wheelchair accessible - ask
Previous

Next

property
$110
2 BR / 2 BA / Sleeps 6
Inquire
2 BR
/
2 BA
/
Sleeps 6
|

Quick view
Wonderful lagoon views await you at this lovely 2 bedroom ocean walk villa. Located on the second floor, 162 Colonnade comes fully equipped for all of your Hilton Head Island vacation needs. The living area is furnished with a sleeper sofa and HDTV. A sliding glass door from this room takes you to a lagoon-side …
Shared outdoor pool (unheated)
Pet friendly - ask

Smoking allowed - ask

Suitable for children - ask

Suitable for the elderly - ask

Wheelchair accessible - ask
a wonderful week
Left on Aug 25, 2011 for a stay in July 2011
The place was easily accessible, clean, comfortable and very close to the beach and everything one might need. The owners obviously took pride in their home and encouraged personal response with a book/diary left unobtrusively with a personal message, useful information, detailed personal info on restaurants, things-to-do. A great experience
Previous

Next

property
$119
2 BR / 2 BA / Sleeps 7
Inquire
2 BR
/
2 BA
/
Sleeps 7
|

Quick view
This two bedroom condo is just minutes from the beach, in the South Forest Beach area. It is located on the second floor, accessible by elevator. With upgrades throughout, this condo features two living rooms with ample seating space. The kitchen has slate counter-tops, new appliances and tile flooring. The dining …
Shared outdoor pool (unheated)

Balcony or terrace
Pet friendly - ask

Smoking allowed - ask

Suitable for children - ask

Suitable for the elderly - ask

Wheelchair accessible - ask
Smoked-filled Environment Made it Uncomfortable
Left on Jun 05, 2014 for a stay in April 2014
Everything about this place was perfect -- EXCEPT the fact that it smelled like a Cigarette Smoker who owned a dog had just left and there was no way to remove the smell. We woke up to smoking and went to bed to the same. We did not know that the units were shared with regular renters. We would not have considered this if we'd known.

However, it was close to the beach. It was spacious …
Previous

Next

property
$110
2 BR / 2 BA / Sleeps 6
Inquire
2 BR
/
2 BA
/
Sleeps 6
|

Quick view
This non-smoking first floor unit located in Shipyard Plantation is perfect for a quiet getaway. 161 Colonnade Club is a two bedroom, two bath ocean walk villa with a great lagoon and golf course view. The living room is furnished with a sleeper sofa, loveseat, chair, TV, VCR, DVD and stereo with CD player. The living…
Suitable for children - ask

Suitable for the elderly - ask

Wheelchair accessible - ask
Relaxing and restful
Left on Apr 25, 2012 for a stay in April 2012
One week was not enough. We will stay longer next time
Previous

Next

property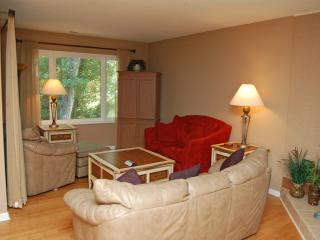 $130
3 BR / 4 BA / Sleeps 8
Inquire
3 BR
/
4 BA
/
Sleeps 8
|

Quick view
Golfmaster is conveniently located in Shipyard Plantation. Overlooking the golf course these ocean walk villas have a pool on-site.This beautiful three-bedroom villa is the perfect for your next getaway. With all new furnishings and décor, the living room features a leather sofa, leather loveseat, a wonderful …
Shared outdoor pool (unheated)

Garage
Pet friendly - ask

Smoking allowed - ask

Suitable for children - ask

Suitable for the elderly - ask

Wheelchair accessible - ask
Previous

Next

property
$119
2 BR / 2 BA / Sleeps 8
Inquire
2 BR
/
2 BA
/
Sleeps 8
|

Quick view
This two bedroom condo is just minutes from the beach, in the South Forest Beach area. It is located on the fifth floor, accessible by elevator. With upgrades throughout, this condo features two living rooms and two balconies. The kitchen has been recently updated with new appliances, granite counter-tops, cabinets …
Shared outdoor pool (unheated)

Balcony or terrace
Pet friendly - ask

Smoking allowed - ask

Suitable for children - ask

Suitable for the elderly - ask

Wheelchair accessible - ask
Nice Vacation
Left on Jul 21, 2014 for a stay in July 2014
We had a great time on vacation. The master bed in the condo was a bit low to the ground. Over all ok
Previous

Next

property
$150
3 BR / 3 BA / Sleeps 8
Inquire
3 BR
/
3 BA
/
Sleeps 8
|

Quick view
Golfmaster is conveniently located in Shipyard Plantation. Overlooking the golf course these ocean walk villas have a pool on-site. 25 steps lead you to the entrance of this beautifully decorated villa. The modern kitchen comes fully equipped and features an eat-in bar for 3. The living room is furnished with two …
Pet friendly - ask

Smoking allowed - ask

Suitable for children - ask

Suitable for the elderly - ask

Wheelchair accessible - ask
Quiet, relaxing, spacious and luxurious.
Left on Jul 20, 2011 for a stay in July 2011
To our pleasant surprise, our condo was larger than expected, and the pictures don't do it justice. It was very peaceful and quiet and relaxing. Late check-in was not a problem. It was stocked with plenty of dishes and cooking utensils. All together, this was one of the best vacations we've ever had.
Previous

Next

property
$150
3 BR / 3 BA / Sleeps 8
Inquire
3 BR
/
3 BA
/
Sleeps 8
|

Quick view
Golfmaster is conveniently located in Shipyard Plantation. Overlooking the golf course these ocean walk villas have a pool on-site. You'll feel right at home in this three-bedroom Hilton Head villa. This first floor residence opens to a dining area that seats six with hardwood floors throughout. The eat-in kitchen …
Pet friendly - ask

Smoking allowed - ask

Suitable for children - ask

Suitable for the elderly - ask

Wheelchair accessible - ask
Previous

Next

property
$250
3 BR / 3 BA / Sleeps 8
$250
Book
3 BR
/
3 BA
/
Sleeps 8
|

Quick view
Immaculate 2,000 square foot split level, 3BDR, 2.5 bath townhouse Fazio villa, refined decor, and all the comforts of home, tee off 18th Fazio golf view from a private, end unit spacious shaded deck in beautiful gated ocean community Palmetto Dunes in Hilton Head Island. The villa is just renovated, new carpets, new …
Shared outdoor pool (unheated)

Internet Access

Fireplace

Housekeeping Optional

Washing Machine
Suitable for children

Suitable for the elderly
Previous

Next

property
$75
2 BR / 2 BA / Sleeps 5
Inquire
2 BR
/
2 BA
/
Sleeps 5
|

Quick view
A home away from home, this 2 bedroom townhome is nestled in a quiet, private community in the Forest Beach area. This condo has all the comforts of home, but is located in a beautiful island vacation setting. There is a fully equipped kitchen, with new granite counter tops, cooking equipment, dishes, microwave, …
Internet Access

Washing Machine

Clothes Dryer

A/C or climate control

Central heating
Suitable for children - ask

Suitable for the elderly - ask
Previous

Next

property
$220
3 BR / 3 BA / Sleeps 8
$220
Book
3 BR
/
3 BA
/
Sleeps 8
|

Quick view
Resort with golf package and Tennis Pkg \. TripAdvisor award-winning Hilton Head Island vacation resort, just two blocks from the beach. Waterside resort features one of the largest aquatic facilities on Hilton Head Island and is also 2 blocks from the Atlantic Ocean. Walk to the beach or hop on the shuttle. Dry off …
Hot Tub/Jacuzzi

Sauna

Internet Access

Washing Machine

Clothes Dryer
Suitable for children

Suitable for the elderly - elevator access

Wheelchair accessible
---
---