Previous

Next

property
$274
5 BR / 6 BA / Sleeps 12
1 / 15
(13)
" Excellent "
$274
Book
Navarra house – 17.7 mi away
5 BR
/
6 BA
/
Sleeps 12
|

Quick view
Eighteenth century restored farmhouse and cottage in 2007 and located in a small village in Navarra (Spain), surrounded by meadows and forests. It has 5 double rooms, all with bathroom, one of which is adapted to persons with disabilities, living room with fireplace, fully equipped kitchen, terrace, 1,500 square …
Mountain Views

Wireless Internet

Fireplace

Washing Machine

Central heating
Pet friendly

Suitable for children

Suitable for the elderly

Wheelchair accessible
Expectacular
Left on Jun 26, 2011 for a stay in December 2010
Casa rural con muchisimo encanto, con una decoración fantastica . Las habitaciones son muy acogedoras.- Fuimos un grupo de 10 personas y todas salimos encantadas.- El entorno es precioso, bosques, montañas y tan solo a 30 mn de las ciudades de San Sebastián y Pamplona.- además de la tranquilidad y serenidad que da la estancia.-

Todos los elementos de la casa están al detalle, cocina …
Previous

Next

property
$129
2 BR / 1 BA / Sleeps 6
$129
Book
Puente la Reina condo – 12.9 mi away
2 BR
/
1 BA
/
Sleeps 6
|

Quick view
Apartment situated right in the heart of the Camino de Santiago, for up to 6 people Newly built is located in the historic center of town. Clean and quiet for strattegic descansar.Punto for Nortea south of Navarra, good road. You can Romanesque routes, wine routes. For anyone who is making the way to Santiago…
Internet Access

Housekeeping Optional

Washing Machine

Patio

Linens Provided
Suitable for children

Suitable for the elderly

Wheelchair accessible - ask
Previous

Next

property
$129
1 BR / 1 BA / Sleeps 3
$129
Book
Pamplona condo
1 BR
/
1 BA
/
Sleeps 3
|

Quick view
Lovely apartment, at the heart of Pamplona , large double bedroom ( 2 single beds) , 1 sofa Bed fully equipped kitchen, Bathroom, etc. In excellent condition. Fully furnished, wooden floors, all mod cons, TV dvd, washing machine etc Only serious people need apply. NO PARTYING AT ALL Available july 1- 20 €250 per …
Washing Machine

Central heating

Balcony or terrace

Linens Provided

Towels Provided
Smoking allowed

Suitable for children
Previous

Next

property
$537
1 BR / 1 BA / Sleeps 2
$537
Book
Pamplona condo
1 BR
/
1 BA
/
Sleeps 2
|

Quick view
Modern duplex attic in the heart of Pamplona. One large room, very well equiped. Air conditioning in bedroom and sitting room. Next to the Saint James way. Nearby all touristic, shopping, resturants and bars. Very well connected
Internet Access

Housekeeping Optional

Washing Machine

A/C or climate control

Balcony or terrace
Pet friendly

Smoking allowed - ask

Suitable for children

Suitable for the elderly - ask
Previous

Next

property
$54
3 BR / 2 BA / Sleeps 8
1 / 43
(1)
" Excellent "
$54
Book
Artazu house – 15.3 mi away
3 BR
/
2 BA
/
Sleeps 8
|

Quick view
REGISTRE NUMBER: UVT-00368 The accommodation     Excellent newly built house fully furnished , perfect for a small family vacation and also available for longer stays . Includes full kitchen with table , living room of almost 40 meters with TV , bathroom with shower, one car garage , private garden and wooden …
Ocean or water views

Housekeeping Optional

Washing Machine

Clothes Dryer

A/C or climate control
Pet friendly

Smoking allowed

Suitable for children

Suitable for the elderly - ask
Perfecta
Left on Apr 22, 2014 for a stay in January 2014
La casa es nueva, es grande, perfecta para pasar unos días en familia o con amigos ya que se encuentra en pleno centro de Navarra.
Pudimos desplazarnos a toda la región ya que está comunicada por autovía casi desde la puerta.
A la noche no se oye nada.
Tiene un porche espectacular y un jardín muy cuidado.
Para mi fué perfecto, además la atención del muchacho es buenísima
Previous

Next

property
$161
3 BR / 2 BA / Sleeps 10
$161
Book
Salinas de Ibargoiti house – 11.9 mi away
3 BR
/
2 BA
/
Sleeps 10
|

Quick view
Spacious and comfortable for up to 10 people, located near the pediment and the village playground. It has a games room with foosball, large patio with barbecue, table and chairs, lounge-kitchen with fireplace, two bathrooms and three bedrooms. Casa amplia y confortable con capacidad para 10 personas, ubicada …
Washing Machine

Central heating

Balcony or terrace

Linens Provided

Towels Provided
Pet friendly - ask

Smoking allowed

Suitable for children

Suitable for the elderly - ask

Wheelchair accessible - ask
Previous

Next

property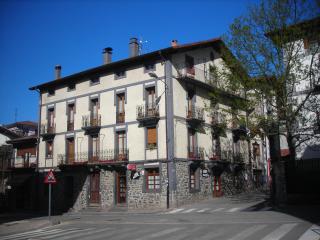 $161
2 BR / 1 BA / Sleeps 7
$161
Book
Pamplona condo
2 BR
/
1 BA
/
Sleeps 7
|

Quick view
Arritxenea house is located in the village of Leitza. The balcony of the house is facing the town square and nearby the ancient PLAZAOLA ANCIENT RAILWAY. The building is according to the local architecture and was built around 1880.The apartment is the old attic of the house which has been fully restored in 2010. …
Mountain Views

Hot Tub/Jacuzzi

Internet Access

Fireplace

Washing Machine
Smoking allowed

Suitable for children

Suitable for the elderly - ask
Previous

Next

property
$74
4 BR / 3 BA / Sleeps 12
1 / 21
(13)
" Excellent "
$74
Book
Pamplona B&B
4 BR
/
3 BA
/
Sleeps 12
|

Quick view
Palacio de Riezu is an authentic 16th century building, certified and protected by 'The Institute of Príncipe de Viana', situated in the green heart of Navarra. As far back as five hundred years ago, the nobility and descendants of the Navarran kings knew and appreciated this region for its temperate climate, vast …
Ocean or water views

Mountain Views

Wireless Internet

Fireplace

Washing Machine
Pet friendly

Smoking allowed - ask

Suitable for children

Suitable for the elderly - ask
Beyond expectations!
Left on May 26, 2013 for a stay in July 2012
Our stay was really value for money. We were welcommed by a nice family in a beautifull house, a real Palacio with tastfully appointed rooms and a quiet garden in a authentic little village. Because we were there with the whole family (10 persons), we've seen allmost all the rooms, each room is named after a taste so not 1 room looks the same, but they're all cozy.

Stef knows a lot about the …
Previous

Next

property
$86
1 BR / 1 BA / Sleeps 2
Located in the heart of Navarra in Garinoain, Valdorba Valley (Spain). 3 storey house renovated in 2013 located 15 minutes south of Pamplona. It has 5 bedrooms, 4 bathrooms, large living room, kitchen, 2 terraces, a large porch, garden, pool and garage. Ideal for rest and tranquility, total privacy.
Previous

Next

property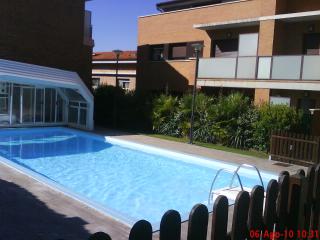 $97
1 BR / 1 BA / Sleeps 3
$97
Book
Navarra condo – 3.9 mi away
1 BR
/
1 BA
/
Sleeps 3
|

Quick view
A charming apartment located in a very quiet place called Olloki, close to Pamplona (5 km.). The apartment has a heated indoor swimming pool and a very nice garden. With a capacity for three persons, the apartment it's self is in a great condition. it includes a double bedroom and other extra bed into the living room…
Mountain Views

Internet Access

Balcony or terrace

Parking

Garage
Pet friendly

Smoking allowed

Suitable for children

Suitable for the elderly

Wheelchair accessible - ask
---
---