Previous

Next

property
$163
2 BR / 2 BA / Sleeps 6
$163
Book
2 BR
/
2 BA
/
Sleeps 6
|

Quick view
A sunny apartment in the second floor of an historical house of the 15th century in the very centre of the medieval city of Alghero, with a fantastic terrace in front of the port and three windows on the "Piazza Civica", the square where Emperor Charles V° said "todos caballeros" to the people of Alghero. Two …
Waterfront

Ocean or water views

Housekeeping Optional

Washing Machine

Outdoor Dining Area
Pet friendly

Suitable for children

Suitable for the elderly
beautiful apartment in sardinia
Left on Feb 08, 2011 for a stay in October 2010
Our family (girls of 8 and10) had a great stay in the beautiful apartment in the old town, perfectly situated above the square, with views from the generous terrace towards the harbour at the back. The restaurants were good but not as good as shopping at the market and cooking in the well equipped kitchen. The only downside was poor TV reception. We would gadly return, it was far lovlier to stay …
Previous

Next

property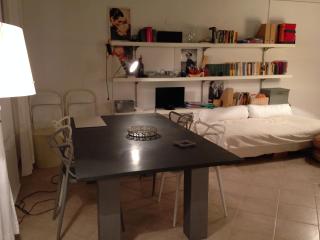 $54
2 BR / 1 BA / Sleeps 4
$54
Book
2 BR
/
1 BA
/
Sleeps 4
|

Quick view
Apartment in the historical old town of Alghero, just at the heart of the old town! peculiar for his ancient fresco ceiling and contemporary design furnishing. Very silent and well-lighted apartment: 3 windows for a nice view, small "piazzetta" from living-room and campanile from bedroom. A dining-living area with …
Internet Access

Housekeeping Optional

Washing Machine

Books

Linens Provided
Pet friendly

Smoking allowed - ask

Suitable for children
Great place to stay
Left on Jun 07, 2012 for a stay in May 2012
Nice, clean, modern apartment in the middle of alghero. Easy access to everything from beaches to supermarkets and all the lovely restaurants.

The apartment is very well equipped, especially if you want to cook your own food.

I'd definitely recommend staying and here and Franca the owner was very nice and easy to deal with.
Previous

Next

property
$65
2 BR / 1 BA / Sleeps 6
$65
Book
2 BR
/
1 BA
/
Sleeps 6
|

Quick view
Featuring a swimming pool and free Wi-Fi, Residence Eucalipti offers apartments with a balcony right on the seafront in Alghero. Refurbished in 2011, it is well connected by a seaside walk or bus to the centre. Each apartment is air conditioned and includes a lounge and a small kitchen with a fridge and hob. Bathrooms…
Waterfront

Shared outdoor pool (unheated)

Internet Access

Housekeeping Optional

A/C or climate control
Pet friendly

Smoking allowed

Suitable for children

Suitable for the elderly

Wheelchair accessible - ask
Convenient
Left on Oct 06, 2014 for a stay in August 2014
A great location. Our apartment definitely needed a revamp but would have been fab otherwise. Please update kitchen area. If this was done would come back. Wifi a bit dodgy in places. Reception staff helpful.
Previous

Next

property
$43
1 BR / 1 BA / Sleeps 2
$43
Book
1 BR
/
1 BA
/
Sleeps 2
|

Quick view
Alghero è una graziosa cittadina sulla riviera di corallo,con un bellissimo centro storico,spiagge stupende ( il Lido, Maria Pia, Lazzareto,le Bombarde,la Speranza,Porticciolo,Portoferro....)raggiungibili a piedi,in bici,in macchina e con i mezzi pubblici. LIDO di Alghero. Il nuovo ed elegante palazzina, locale …
A/C or climate control

Balcony or terrace

Local Guides/Maps

Refrigerator

Satellite or cable TV
Pet friendly

Smoking allowed

Suitable for children

Suitable for the elderly - elevator access

Wheelchair accessible - ask
Previous

Next

property
$163
2 BR / 2 BA / Sleeps 5
$163
Book
2 BR
/
2 BA
/
Sleeps 5
|

Quick view
Alghero, close to the Old Town (5 minutes walking) and the sea (2 minutes walking), a new apartment composed by: a living room with kitchen, a double bed, a second bedroom, two bathrooms, living balcony, second balcony, storage space, car parking, water reserve, air conditioning system, satellite tv, washing machine. …
Housekeeping Optional

Washing Machine

A/C or climate control

Balcony or terrace

Parking
Pet friendly

Smoking allowed - ask

Suitable for children

Suitable for the elderly - ask

Wheelchair accessible - ask
Previous

Next

property
$65
1 BR / 1 BA / Sleeps 2
$65
Book
1 BR
/
1 BA
/
Sleeps 2
|

Quick view
If you want walk out the door and be on the beach, stay at La Playa apartment, located just few minutes walking from the Lido. Composed by: one double-bedroom (king size bed), bathroom with shower, fitted kitchen with all mod cons, living room area with digital Tv, sofa and a small terrace. Lido is Alghero's own …
Washing Machine

A/C or climate control

Central heating

Balcony or terrace

Grill
Pet friendly

Suitable for children

Suitable for the elderly - ask
Previous

Next

property
$125
3 BR / 2 BA / Sleeps 6
$125
Book
3 BR
/
2 BA
/
Sleeps 6
|

Quick view
Flat for rental located in historical centre of Alghero, Sardinia, Italy. Piazza Civica n. 19, very very closed to the old port. Third floor with lift, see view, one queen bedroom with bathroom, one bedroom with bunk bed, other little room, other bathroom, living room with sofa bed (bed for two persons), kitchen. For …
Waterfront

Ocean or water views

Washing Machine

Grill

Freezer
Pet friendly

Smoking allowed

Suitable for children

Suitable for the elderly

Wheelchair accessible
Previous

Next

property
$76
2 BR / 1 BA / Sleeps 4
$76
Book
2 BR
/
1 BA
/
Sleeps 4
|

Quick view
This apartment is located within a complex comprising four buildings, all of which look out over the white, sandy beaches of the Lido at Alghero (Sardinia), offering a panoramic view across the bay of this Italo-Catalan city. A walk along the enchanting seafront makes it possible to admire the multi-coloured sites of …
Pet friendly

Suitable for children

Suitable for the elderly
Previous

Next

property
$65
1 BR / 1 BA / Sleeps 4
$65
Book
1 BR
/
1 BA
/
Sleeps 4
|

Quick view
The Residence offers comfortable apartment accommodation right in front of the sandy beaches of the Alghero coastline. The establishment is near city centre (1500 metres) and close to the airport. The apartment is situated on a main road and there is a bus stop only 300 metres away, providing connection to the railway…
Ocean or water views

Shared outdoor pool (unheated)

Internet Access

Balcony or terrace

Parking
Pet friendly

Suitable for children

Suitable for the elderly
Previous

Next

property
$81
2 BR / 1 BA / Sleeps 6
$81
Book
2 BR
/
1 BA
/
Sleeps 6
|

Quick view
The apartment "Eucalipti" is located inside a holiday apartment complex comprising four buildings, all of which look out over the white, sandy beaches of the Lido at Alghero (Sardinia), offering a panoramic view across the bay of this Italo-Catalan city. A walk along the enchanting seafront makes it possible to …
Waterfront

Shared outdoor pool (unheated)

A/C or climate control

Balcony or terrace

Parking
Pet friendly

Suitable for children

Suitable for the elderly
Previous

Next

property
$73
2 BR / 1 BA / Sleeps 6
$73
Book
2 BR
/
1 BA
/
Sleeps 6
|

Quick view
The apartments are in a complex consisting of four buildings, each of which overlook the white sandy beaches of Lido di Alghero (Sardinia), which offers a panoramic view over the bay of this Catalan city. A lovely walk along the promenade you can admire the breathtaking sights of the harbor and the old town, which is …
Waterfront

Shared outdoor pool (unheated)

Internet Access

A/C or climate control

Balcony or terrace
Pet friendly

Suitable for children

Suitable for the elderly
Previous

Next

property
$43
4 BR / 4 BA / Sleeps 16
$43
Book
4 BR
/
4 BA
/
Sleeps 16
|

Quick view
L 'farm Sa Pedra is a farm located in unspoilt countryside where peace reigns and nature. The property covers 40 hectares and features that make it ideal for production of high quality fruit and vegetables. The farm includes 20 hectares of forest, the only forest of oak trees in the area where you can visit through …
Pet friendly

Suitable for children

Suitable for the elderly

Wheelchair accessible
---
---