Previous

Next

property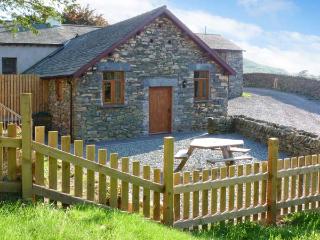 $114
1 BR / 1 BA / Sleeps 2
Inquire
1 BR
/
1 BA
/
Sleeps 2
|

Quick view
This barn conversion cottage is located close to Torver in the Lake District and can sleep four people in two bedrooms. Yew Tree Cottage is a barn conversion cottage in a tranquil location near to Torver and Coniston Water in the Lake District National Park. The cottage sleeps two people and has a four poster double …
Hot Tub/Jacuzzi

Washing Machine

Linens Provided

Towels Provided

Dishwasher
Pet friendly

Suitable for children

Suitable for the elderly - ask

Wheelchair accessible - ask
A touch of luxury in beautiful, tranquil surroundings
Left on Feb 11, 2014 for a stay in February 2014
This is a beautifully appointed, luxury cottage set off-the-beaten-track in the rugged Cumbrian landscape.

The accommodation itself is spacious and of excellent quality; we particularly enjoyed the cosy underfloor heating, wood burner, luxury bathroom, modern kitchen and, of course, the amazing private hot tub. Although we'd seen pictures before we arrived, we were still surprised at how …
Previous

Next

property
$91
2 BR / 1 BA / Sleeps 4
Inquire
2 BR
/
1 BA
/
Sleeps 4
|

Quick view
This terraced cottage in Coniston sleeps four people in two bedrooms. Miner's Cottage is a quality terraced cottage in an elevated position in Coniston, with wonderful views over Consiton Water. The cottage has a king-size double room and a twin, a family bathroom, a kitchen with dining area and a sitting room with …
Internet Access

Washing Machine

Linens Provided

Towels Provided

Dishwasher
Pet friendly

Suitable for children

Suitable for the elderly - ask

Wheelchair accessible - ask
100% Perfect - Spectacular Views
Left on Jun 19, 2013 for a stay in June 2013
We stayed at Miner's Cottage in June 2013, and from the moment we entered the property we felt at home and relaxed. The owners have thought of everything. The cottage is spacious and spotlessly clean. There are pubs etc within a five minute walk of the cottage, we ate in the Sun, Black Bull and Yewdale Hotel, the food was good in all three. We would recommend staying at Mines Cottage, we've …
Previous

Next

property
$121
2 BR / 2 BA / Sleeps 4
Inquire
2 BR
/
2 BA
/
Sleeps 4
|

Quick view
This barn conversion cottage is located close to Torver in the Lake District and can sleep four people in two bedrooms. Copper Beech Cottage is a barn conversion cottage in a tranquil location near to Torver and Coniston Water in the Lake District National Park. The cottage sleeps four people and has two double …
Hot Tub/Jacuzzi

Washing Machine

Linens Provided

Towels Provided

Dishwasher
Pet friendly

Suitable for children

Suitable for the elderly - ask

Wheelchair accessible - ask
fantastic cottage
Left on Aug 08, 2014 for a stay in August 2014
Copper beech cottage is exactly as described, the cottage is down the end of a track that is only used by the farm behind. The views from the upstairs living area are lovely looking over the farm land. It is well situated for travelling around the lakes and there is a lovely pub in torver if you don't fancy cooking.

The kitchen is well equipped and everything was lovely and clean.

We have and …
Previous

Next

property
$103
2 BR / 2 BA / Sleeps 5
Inquire
2 BR
/
2 BA
/
Sleeps 5
|

Quick view
This semi-detached cottage situated a ten minute walk from Coniston Water sleeps five people in two bedrooms. Farmstead is a semi-detached cottage situated within walking distance of Coniston Water, six miles from the village of Coniston in the Lake District National Park. This cottage sleeps five people in two …
Wireless Internet

Washing Machine

Linens Provided

Towels Provided

Dishwasher
Pet friendly

Suitable for children

Suitable for the elderly - ask

Wheelchair accessible - ask
lovely peaceful tranquil
Left on Jun 01, 2014 for a stay in May 2014
very nice old cottage. loads of character - thick walls etc - probably goes back 250 years or so.

Furnishings and traditional stone floors were nice. Wood burner was OK (ish) - needs some TLC.

Bedrooms and bathrooms very nice. No noise from traffic.

Can walk from front door.

Next door cottage is being refurbished - but this will not disturb a stay here at all.

Only slight negative is - lack …
Previous

Next

property
$77
3 BR / 2 BA / Sleeps 5
Inquire
3 BR
/
2 BA
/
Sleeps 5
|

Quick view
This immaculately-presented, Victorian terraced cottage is set in the hamlet of Torver, just 2.5 miles from Coniston, sleeping five people in three bedrooms. Bethany's Cottage is an immaculately-presented, Victorian terraced cottage, set in the hamlet of Torver, just 2.5 miles from Coniston, and can sleep five …
Internet Access

Washing Machine

Linens Provided

Towels Provided

Dishwasher
Pet friendly

Suitable for the elderly - ask

Wheelchair accessible - ask
Previous

Next

property
$68
1 BR / 1 BA / Sleeps 2
Inquire
1 BR
/
1 BA
/
Sleeps 2
|

Quick view
This quirky, ground floor, semi-detached cottage was the former railway station for the hamlet of Torver, just 2.5 miles from Coniston and can sleep two people in one bedroom. The Ticket Office is a quirky, semi-detached cottage, the former railway station for the hamlet of Torver, just 2.5 miles from Coniston and …
Washing Machine

Linens Provided

Towels Provided

Dishwasher

Refrigerator
Pet friendly

Suitable for children

Suitable for the elderly - ask

Wheelchair accessible - ask
Previous

Next

property
$115
3 BR / 3 BA / Sleeps 6
Inquire
3 BR
/
3 BA
/
Sleeps 6
|

Quick view
This wonderful, single-storey cottage is situated half a mile from Coniston Water, near Coniston and sleeps six people in three bedrooms. Underwood is an immaculately presented, single-storey cottage with a private hot tub and spectacular views and is half a mile from Coniston Water and just two miles from Coniston …
Hot Tub/Jacuzzi

Wireless Internet

Washing Machine

Linens Provided

Towels Provided
Pet friendly

Suitable for children

Suitable for the elderly - ask

Wheelchair accessible - ask
Excellent
Left on May 09, 2014 for a stay in February 2014
We really enjoyed our stay at Underwood, a lovely cottage with great facilities in a great location. The hot tub is a welcome addition after a day out walking. We will definately stay here again.
Previous

Next

property
$60
3 BR / 1 BA / Sleeps 6
Inquire
3 BR
/
1 BA
/
Sleeps 6
|

Quick view
Beautifully furnished and with stunning views, this cottage boasts three bedrooms able to sleep a total of six people, whilst the cosy sitting room with inviting open fire and spacious kitchen with dining area provide a comfortable living space. Just two minutes walk from the centre of Coniston, this modern terraced …
Wireless Internet

Washing Machine

Linens Provided

Towels Provided

Dishwasher
Pet friendly

Suitable for children

Suitable for the elderly - ask

Wheelchair accessible - ask
Holiday with children
Left on Nov 11, 2010 for a stay in September 2010
We enjoyed our stay at Low House. The cottage was clean with a good amount of space. One thing that could improve things would be to provide a travel cot and highchair, we had to take ours and it was a squeeze in the car. I think this would put me off booking somewhere that doesn't provide these in future.
Previous

Next

property
$83
3 BR / 1 BA / Sleeps 6
Inquire
3 BR
/
1 BA
/
Sleeps 6
|

Quick view
This semi-detached cottage is located on a working farm near to Coniston in the Lake District and can sleep six people in three bedrooms. Low Arnside is a detached barn conversion cottage on a working farm near to Coniston in the Lake District. The cottage sleeps six people and has two double bedrooms and one twin …
Linens Provided

Dishwasher

Refrigerator

Television
Pet friendly

Suitable for children

Suitable for the elderly - ask

Wheelchair accessible - ask
a place of perfect peace and tranquility with stunning views
Left on Sep 24, 2012 for a stay in March 2012
Oh, this cottage is all I ever imagined a Lakeland retreat should be!

Situated in an elevated, scenic position, enveloped by the beauty of the surrounding fells, this cottage is chocolate box Lakeland.

I felt I was living a little piece of Lakeland history. Even with the wind and rain, it still felt cosy and authentic. I could just sense, and perhaps catch a tiny glimpse of what life …
Previous

Next

property
$210
6 BR / 6 BA / Sleeps 12
Inquire
6 BR
/
6 BA
/
Sleeps 12
|

Quick view
This quality single-storey cottage near Coniston overlooks Coniston Water and sleeps twelve people in six bedrooms. Browside is a detached single-storey cottage with superb views towards Coniston Water. The cottage has six bedrooms, two king-size doubles, two doubles and two twins, five of which have en-suites. There…
Hot Tub/Jacuzzi

Wireless Internet

Washing Machine

Linens Provided

Towels Provided
Pet friendly

Suitable for children

Suitable for the elderly - ask

Wheelchair accessible - ask
Previous

Next

property
$84
3 BR / 2 BA / Sleeps 7
Inquire
3 BR
/
2 BA
/
Sleeps 7
|

Quick view
This delightful detached cottage sits close to Coniston Water, 5.5 miles from Coniston in Cumbria, sleeping seven people in three bedrooms. Lingmell is a delightful, detached cottage, set in six acres of shared grounds, close to Coniston Water in the Lake District National Park. Set across two floors, with three …
Wireless Internet

Washing Machine

Linens Provided

Towels Provided

Refrigerator
Pet friendly

Suitable for children

Suitable for the elderly - ask

Wheelchair accessible - ask
Fantastic place to stay with high specification
Left on Dec 31, 2013 for a stay in December 2013
Stayed at Lingmell for 4 nights from 27 Dec. The house is beautiful and everything is very high specification. Great decor. Fab kitchen and open plan living and dining room. It was quite warm for time of year, so did not actually use the open fire. Great bathroom and powerful shower upstairs and downstairs. Everything is provided and really is a home from home.

Two good pubs/restaurants, the …
Previous

Next

property
$74
2 BR / 1 BA / Sleeps 5
Inquire
2 BR
/
1 BA
/
Sleeps 5
|

Quick view
Formerly the railway station for the hamlet of Torver, this spacious, ground floor, semi-detached cottage is just 2.5 miles from Coniston and can sleep five people in two bedrooms. Station Master's House, formerly the railway station for the hamlet of Torver, is a spacious, semi-detached cottage, just 2.5 miles from …
Wireless Internet

Washing Machine

Linens Provided

Towels Provided

Dishwasher
Pet friendly

Suitable for children

Suitable for the elderly - ask

Wheelchair accessible - ask
---
---