Previous

Next

property
$341
5 BR / 5 BA / Sleeps 10
$341
Book
5 BR
/
5 BA
/
Sleeps 10
|

Quick view
The house is 200 square meters. and is part of a two-family house free on three sides, has a large garden and carport for No. 4 machines . E ' consists of 5 bedrooms and 5 bathrooms spread over 4 levels: • at the ground floor we have a kitchen-dining - living room, TV lounge, which opens out onto a beautiful covered…
Hot Tub/Jacuzzi

Internet Access

Housekeeping Optional

Washing Machine

Clothes Dryer
Pet friendly

Smoking allowed

Suitable for children
Previous

Next

property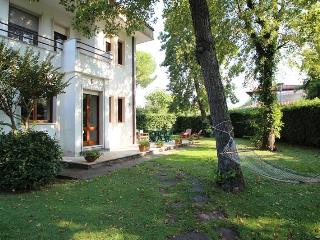 $195
3 BR / 2 BA / Sleeps 6
$195
Book
3 BR
/
2 BA
/
Sleeps 6
|

Quick view
Forte dei Marmi is one of the most exclusive towns in Italy, It started in the 60 years with Agnelli and some artists who have purchased their summer residences here and gave the first cut to the village. Later came many other, so Forte dei Marmi became luxury stronghold - just now, because it looks so simple - …
Washing Machine

Outdoor Dining Area

Central heating

Balcony or terrace

Garden
Pet friendly

Smoking allowed

Suitable for children

Suitable for the elderly
Previous

Next

property
$908
6 BR / 5 BA / Sleeps 11
Inquire
6 BR
/
5 BA
/
Sleeps 11
|

Quick view
Beautiful villa in Forte dei Marmi 650 mt from the beach Splendid seaside villa rental just meters from the beach. This recently restored 6 bedroom holiday home is situated on a sprawling stretch of garden property in the heart of Forte dei Marmi. A well known and elite seaside establishment situated between the …
Waterfront

Ocean or water views

Hot Tub/Jacuzzi

Internet Access

Fireplace
Pet friendly

Smoking allowed - ask

Suitable for children

Suitable for the elderly - ask

Wheelchair accessible - ask
Previous

Next

property
$120
3 BR / 1 BA / Sleeps 5
Inquire
3 BR
/
1 BA
/
Sleeps 5
|

Quick view
Villa Endalina is a quiet independent apartment on the first floor of the building, conveniently located close to the Vittoria Apuana town centre of Forte di Marmi. The comfortably furnished, air-conditioned villa houses a total of three bedrooms; one single bedroom, one double bedroom and one twin bedroom. It also …
Washing Machine

Parking

Garden

Linens Provided

Dishwasher
Previous

Next

property
$153
3 BR / 1 BA / Sleeps 6
Inquire
3 BR
/
1 BA
/
Sleeps 6
|

Quick view
This large and well-lit vacation rental has been recently renovated and refurbished to offer you a stay of wonderful comfort and tranquillity. The single-floor villa rental contains the living and dining area with a lovely open fireplace, a spacious well equipped kitchen, two double bedrooms, a twin bedroom and a …
Washing Machine

Parking

Garden

Linens Provided

Dishwasher
Previous

Next

property
$227
2 BR / 3 BA / Sleeps 4
$227
Book
2 BR
/
3 BA
/
Sleeps 4
|

Quick view
Forte dei Marmi newly renovated duplex for rent for the summer season as follows: Ground floor: living room, kitchen with access to terrace with table for 6 persons, 1 bathroom, closet, boiler room with washing machine and dryer. First floor: .1 Cabinets Room,double room with bathroom with shower and terrace, 1 …
Mountain Views

Internet Access

Washing Machine

Clothes Dryer

Outdoor Dining Area
Pet friendly

Smoking allowed

Suitable for children

Wheelchair accessible
Previous

Next

property
$454
4 BR / 4 BA / Sleeps 11
$454
Book
4 BR
/
4 BA
/
Sleeps 11
|

Quick view
The Villa is situated in the famous Roma Imperiale area, inside the unique and exclusive naturalistic context of the Versiliana pinewood, just 2 minutes far from the seaside and 5 minutes from the center of Forte dei Marmi. Surrounded by a private park of about 3.000 sq. m. with secular pines and oaks, flowerbeds of …
Internet Access

Fireplace

Housekeeping Optional

Washing Machine

Outdoor Dining Area
Pet friendly

Suitable for children

Suitable for the elderly - ask
Previous

Next

property
$649
5 BR / 4 BA / Sleeps 10
$649
Book
5 BR
/
4 BA
/
Sleeps 10
|

Quick view
The property is located in one of the most fascinating and uncontaminated areas of Versilia, the famous marine area of Forte dei Marmi. Sea and culture are the two characteristics of Forte dei Marmi, one of the most famous tourist centers along the Tuscan shore. The property is located on the cost and the distance …
Mountain Views

Internet Access

Housekeeping Optional

Washing Machine

Outdoor Dining Area
Pet friendly

Smoking allowed

Suitable for children

Suitable for the elderly
Previous

Next

property
$249
4 BR / 4 BA / Sleeps 11
Inquire
4 BR
/
4 BA
/
Sleeps 11
|

Quick view
Modern-design villa situated in "Roma Imperiale", Forte dei Marmi, one of the most exclusive areas of the Versilia coastline. This property is only 900 meter from the beaches and allows easy access to numerous beach resorts. Outside guests can enjoy use of a large garden furnished with gazebo, table, chairs and …
Pet friendly

Smoking allowed

Suitable for children

Suitable for the elderly - ask
Previous

Next

property
$142
2 BR / 1 BA / Sleeps 4
$142
Book
2 BR
/
1 BA
/
Sleeps 4
|

Quick view
The house is located at the seaside in Tuscany – in Forte dei Marmi – 10kms from Viareggio – 30 kms from Lucca – 30 from Pisa- 100 kms from Florence.The house is part of a group of 10 apartments.The house has two bedrooms , one bath , a living room , a kitchen and an outside veranda. It is located at the …
Pet friendly

Smoking allowed

Suitable for children

Suitable for the elderly
Previous

Next

property
$454
3 BR / 4 BA / Sleeps 5
$454
Book
3 BR
/
4 BA
/
Sleeps 5
|

Quick view
Charming brick house in the centre of Forte dei Marmi, the most glamourous seaside location in Italy. Few steps from the sandy equipped beach and the luxury shopping boutiques area. The house has a nice garden with bbq facilities, original marble stairs brings you to the apartment composed by 3 bedrooms, 4 bathrooms…
Ocean or water views

Internet Access

Housekeeping Optional

Washing Machine

Outdoor Dining Area
Pet friendly

Smoking allowed

Suitable for children
Previous

Next

property
Inquire for rates.
6 BR / 5 BA / Sleeps 10
Inquire
6 BR
/
5 BA
/
Sleeps 10
|

Quick view
Villa Marmi sits on a fantastic position just 50 meters from the sea and 100 meters from the Forte Di Marmi center. The villa has a wonderful external view and the lawn at both sides of the villa gives a greater appeal the villa. The alfresco dining area in the terrace with view of the garden is a great place to relax…
Internet Access

Fireplace

Washing Machine

Balcony or terrace

Parking
Pet friendly

Wheelchair accessible
---
---
There are no more results in Forte Dei Marmi.
Top of page