Previous

Next

property
$150
3 BR / 2 BA / Sleeps 10
$150
Book
3 BR
/
2 BA
/
Sleeps 10
|

Quick view
Keep your party together, be my Guest! Furnished and fully equipped rental property available for any occasions. 2 Bedroom property is located in the heart of Louisville, Brownsboro area. Huge (1600 Sq. ft) open space combines kitchen, living and dining rooms to bring your party together. Fully equipped …
Internet Access

Fireplace

Washing Machine

Clothes Dryer

A/C or climate control
Pet friendly

Suitable for children
Highly recommended...
Left on Jul 29, 2013 for a stay in July 2013
Do yourself a favor and take advantage of this great rental. Everything, including games, were provided. The location was perfect to take advantage of everything going on in Louisville. The listing tells you everything you need to know about the place and is very accurate. But, what it doesn't say is that Yana goes out of her way to make sure everything is provided and ready and taken care of …
Previous

Next

property
$60
1 BR / 1 BA / Sleeps 2
$60
Book
1 BR
/
1 BA
/
Sleeps 2
|

Quick view
1 Bedroom Condominium, walking distance to Norton Hospital, Movie theater, many restaurants, Joseph Spa and medical offices. Sleeping arrangement for 2-3 people. Furnished and fully equipped kitchen, TV and Internet provided. First Floor, small patio, swimming pool. Rental Provides: TV Iron Blender Stove …
Internet Access

Washing Machine

A/C or climate control

Porch

Parking
Pet friendly

Suitable for children

Suitable for the elderly

Wheelchair accessible
Great Location and Great Price.
Left on Dec 05, 2014 for a stay in November 2014
Great location. Very close to restaurants, movie theater, grocery store, freeways and hospitals. My wife and I were at the condo for 33 days. It was in a building with 6 other units. It was very quiet. The neighbors were friendly. Nice laundry room very close to the condo. The unit was a one bedroom on the first floor with a parking space right outside the building. We were able to bring …
Previous

Next

property
$150
2 BR / 3 BA / Sleeps 10
$150
Book
2 BR
/
3 BA
/
Sleeps 10
|

Quick view
Keep your party together, be my Guest! Newly furnished and fully equipped rental property available for any occasions. 1600 Sq.Ft - 2 Bedroom property is located in the heart of Louisville, Brownsboro Rd area. Huge open space combines kitchen, living and dining rooms to bring your party together. Fully …
Internet Access

Washing Machine

Clothes Dryer

A/C or climate control

Central heating
Pet friendly

Suitable for children

Suitable for the elderly - ask
Great location-Close to downtown
Left on May 18, 2014 for a stay in April 2014
My wife and I and another couple booked this rental on short notice. Yana responded within hours. We were really thankful as we could not confirm the other arrangements we had made and were flying from California in three days!

This is one of a two unit townhouse with very spacious rooms. It is perfect for two couples but can accommodate more.

Excellent dining less than two miles away. Be …
Previous

Next

property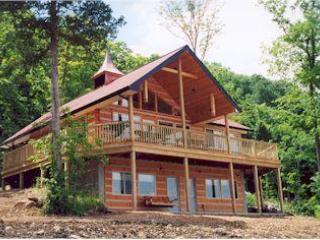 $220
3 BR / 2 BA / Sleeps 18
Inquire
3 BR
/
2 BA
/
Sleeps 18
|

Quick view
Colucci Log Cabins on the Ohio River located just 50 minutes outside of Louisville The "Bonnie Pearl" has no steps walking into the main floor. Featuring wide doorways and a handicap bath, the fully equipped kitchen is part of the Great Room, consisting of two queen Sleeper Sofas, TV with DVD & VHS. Your dining room …
Waterfront

Ocean or water views

Hot Tub/Jacuzzi

Washing Machine

Clothes Dryer
Pet friendly

Suitable for children

Suitable for the elderly

Wheelchair accessible
Amazing Vacation
Left on Aug 30, 2011 for a stay in August 2011
We stayed in the Bonnie Pearl for our 40th wedding anniversary and it was amazing. The Views of the river and the cabin itself was the most relaxation we had in a long time. The cabin and all the rooms were beautiful. When they say all you have to bring is your food and drinks it is totally true. We hope to go back next year and for years to come. You feel like you have another family. I would …
Previous

Next

property
$99
1 BR / 1 BA / Sleeps 6
$99
Book
1 BR
/
1 BA
/
Sleeps 6
|

Quick view
Floydwood Vacation Rental In Victorian Community (apartment 2 (1st floor)) Our private guesthouse provides all you need to enjoy a home away from home! Tasteful decor, 3 comfy new beds (sleeps 5-6), 3 TVs, WiFi/Cable, Washer/Dryer & centrally located in Victorian community! Great outdoor space! Max guest 5-6 …
Internet Access

Washing Machine

Clothes Dryer

A/C or climate control

Central heating
Pet friendly

Suitable for children
Previous

Next

property
$360
6 BR / 1 BA / Sleeps 4
$360
Book
6 BR
/
1 BA
/
Sleeps 4
|

Quick view
Keep your party together, be my Guest! Newly furnished and fully equipped rental property available for any occasions. 2 Bedroom property Duplex is located in the heart of Louisville, Brownsboro Rd area. Huge open space combines kitchen, living and dining rooms to bring your party together. Fully equipped …
Internet Access

Fireplace

Housekeeping Optional

Washing Machine

Clothes Dryer
Pet friendly

Suitable for children - ask

Suitable for the elderly - ask
Previous

Next

property
$100
1 BR / 1 BA / Sleeps 3
Inquire
1 BR
/
1 BA
/
Sleeps 3
|

Quick view
Close to everything! 2.5 miles to churchill downs, airport, fourth street live, yum center, the original highlands, museum row, theater district, papa johns stadium! This place is an amazing private guest house/studio apartment(nobody on the other side of your walls!) that is very private, with an awesome outside …
Internet Access

Washing Machine

Clothes Dryer

A/C or climate control

Central heating
Pet friendly

Suitable for children - ask

Suitable for the elderly - ask
Previous

Next

property
$220
3 BR / 3 BA / Sleeps 12
Inquire
3 BR
/
3 BA
/
Sleeps 12
|

Quick view
Colucci Log Cabins on the Ohio River located just 50 minutes outside of Louisville The "Heron's Nest" is a Beautiful, new Log Home on the Ohio River's edge, surrounded by the Hoosier National Forest. This is truly a Nature Lovers Paradise of peace and tranquility. The "Heron's Nest", brand new for 2001, is a …
Waterfront

Ocean or water views

Washing Machine

Clothes Dryer

Outdoor Dining Area
Pet friendly

Suitable for children

Suitable for the elderly - ask
Colucci Cabins and The Smiths
Left on Jul 31, 2011 for a stay in April 2010
We stayed at Heron's Nest in april 2010. It was our second stay at Colucci Cabins, after first visiting in april 2009. I don't think that you could ask for more in a vacation home than what Bud has sitting down there on the Ohio River. The scenery and views are spectacular... the barges that travel the river are very interesting and not a loud offense by any means... waking up in the morning to …
---
---