Previous

Next

property
$59
2 BR / 1 BA / Sleeps 6
$59
Book
2 BR
/
1 BA
/
Sleeps 6
|

Quick view
1 MINUTE DRIVE TO PLAYA GRANDE BEACH! FREE WIFI, PET FRIENDLY, HOT SHOWERS, NEW FLAT SCREEN, We spent over $50,000 remodeling the interior and exterior of the house We pay extra for HIGH SPEED INTERNET and FREE CABLE TV! PLUS YOU HAVE YOUR OWN PERSONAL WASHER AND DRYER! We recently redecorated the outdoor patio …
Mountain Views

Shared outdoor pool (unheated)

Internet Access

Housekeeping Optional

Washing Machine
Pet friendly

Smoking allowed - ask

Suitable for children

Suitable for the elderly
Excellent vacation
Left on Jul 23, 2014 for a stay in July 2014
Great place to stay with your family or friends, super clean and it has everything you need. Definitely we'll be returning back someday
Previous

Next

property
$80
1 BR / 1 BA / Sleeps 4
Casa Loco is a quiet stand alone house in the private gated community of Palm Beach Estates. Totally self contained it has everything you need as well as minutes walk from the sand... Casa Loco is a perfect couples retreat. Quiet and secluded you can feel you are away from it all with nature surrounding you. …
Internet Access

Washing Machine

A/C or climate control

Grill

Linens Provided
Pet friendly

Suitable for children - ask

Suitable for the elderly - ask

Wheelchair accessible - ask
Perfect
Left on Jan 25, 2015 for a stay in January 2015
My spouse, myself, our to children ( 18 and 21 years old ) and 2 of their friends spent 9 beautiful days in a gated community called Palm Beach Estates in playa grande.

The kids stayed in casa loco for 3 nights and did love those 3 days.

Located in a very quiet area, surrounded by nature, this house is perfect for 2, very good for 3, maybe a little tight for 4 if you need privacy and intimacy…
Previous

Next

property
$120
2 BR / 2 BA / Sleeps 4
$120
Book
2 BR
/
2 BA
/
Sleeps 4
|

Quick view
Casa Colores is located in the private gated community of Palm Beach Estates. With several restaurants and a minisuper in this quiet and nature orientated beach community you have it all. Turtle sightings, spectacular surfing, quiet beach walks, idyllic sunsets....The house itself owned by an artist and her husband …
Internet Access

Washing Machine

A/C or climate control

Grill

Linens Provided
Pet friendly

Suitable for children - ask

Suitable for the elderly - ask

Wheelchair accessible - ask
Previous

Next

property
$40
1 BR / 1 BA / Sleeps 2
$40
Book
1 BR
/
1 BA
/
Sleeps 2
|

Quick view
Casa Camaleon is located in a quiet area of Palm Beach Estates which is an exclusive private community of Playa Grande. We are steps from the world famous surf break Playa Grande as well as several other popular surf beaches. Casa Camaleon is a small group of private, self contained apartments, owner run with specific…
Internet Access

Washing Machine

A/C or climate control

Grill

Linens Provided
Pet friendly

Smoking allowed - ask

Suitable for children - ask

Suitable for the elderly - ask

Wheelchair accessible - ask
Previous

Next

property
$65
2 BR / 1 BA / Sleeps 4
$65
Book
2 BR
/
1 BA
/
Sleeps 4
|

Quick view
<p>Casa Camaleon is located in a quiet area of Palm Beach Estates which is an exclusive private community of Playa Grande. We are steps from the world famous surf break Playa Grande as well as several other popular surf beaches.</p> <p>Casa Camaleon is a small group of private, self contained …
Internet Access

Washing Machine

A/C or climate control

Grill

Linens Provided
Pet friendly

Smoking allowed - ask

Suitable for children - ask

Suitable for the elderly - ask

Wheelchair accessible - ask
Previous

Next

property
$65
2 BR / 1 BA / Sleeps 4
$65
Book
2 BR
/
1 BA
/
Sleeps 4
|

Quick view
Casa Camaleon is located in a quiet area of Palm Beach Estates which is an exclusive private community of Playa Grande. We are steps from the world famous surf break Playa Grande as well as several other popular surf beaches. Casa Camaleon is a small group of private, self contained apartments, owner run with specific…
Internet Access

Washing Machine

A/C or climate control

Grill

Linens Provided
Pet friendly

Suitable for children - ask

Suitable for the elderly - ask

Wheelchair accessible - ask
Previous

Next

property
$270
5 BR / 4 BA / Sleeps 12
$270
Book
5 BR
/
4 BA
/
Sleeps 12
|

Quick view
Completed in February 2007, this Spanish Mediterranean-style house is located in Palm Beach Estates in Las Baulas Marine National Park in Guanacaste. The house is a 5-minute walk to Playa Grande beach, the seasonal nesting grounds of the endangered leatherback turtle and an internationally famous surfing beach, and …
Shared outdoor pool (unheated)

Internet Access

Housekeeping Optional

Washing Machine

Clothes Dryer
Pet friendly

Suitable for children

Suitable for the elderly

Wheelchair accessible - ask
Previous

Next

property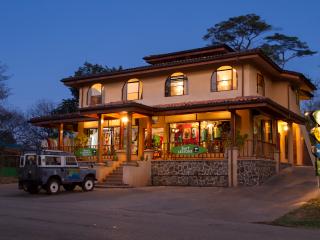 $150
2 BR / 2 BA / Sleeps 5
$150
Book
2 BR
/
2 BA
/
Sleeps 5
|

Quick view
Family fun, secure, safe, convenient, personal concierge and vacation planning assistance.... we offer it all! Combine both apartments for a wonderful multi-family vacation, while you maintain some family privacy! Comfortable for up to 10 total guests. One of Playa Grande, Costa Rica's best appointed vacation …
Mountain Views

Shared outdoor pool (unheated)

Internet Access

Housekeeping Optional

Washing Machine
Pet friendly

Suitable for children

Suitable for the elderly - ask
Previous

Next

property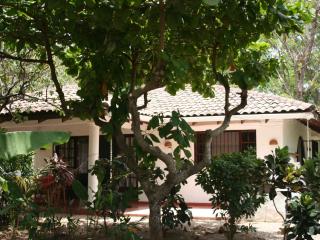 $100
2 BR / 1 BA / Sleeps 6
$100
Book
2 BR
/
1 BA
/
Sleeps 6
|

Quick view
Relax in this 2 bedroom bungalow in a quiet, gated laid-back beach community on Playa Grande, Costa Rica - a local's surf favorite, pristine sand of Las Baulas National Park, a leatherback turtle nesting site and national reserve. Restaurants, bars, convenience groceries, swimming pool, king beds, air …
Shared outdoor pool (unheated)

Internet Access

A/C or climate control

Grill

Linens Provided
Pet friendly

Smoking allowed - ask

Suitable for children - ask

Suitable for the elderly - ask

Wheelchair accessible - ask
Previous

Next

property
$55
1 BR / 1 BA / Sleeps 2
$55
Book
1 BR
/
1 BA
/
Sleeps 2
|

Quick view
Casa Camaleon is located in a quiet area of Palm Beach Estates which is an exclusive private community of Playa Grande. We are steps from the world famous surf break Playa Grande as well as several other popular surf beaches. Casa Camaleon is a small group of private, self contained apartments, owner run with specific…
Internet Access

Washing Machine

A/C or climate control

Grill

Linens Provided
Pet friendly

Smoking allowed - ask

Suitable for children - ask

Suitable for the elderly - ask

Wheelchair accessible - ask
Great value for $
Left on Nov 29, 2011 for a stay in November 2011
If you are looking for value for $ this is a great place to stay. Close to the beach (3 minute walk) clean fresh decor set amongst natural surroundings. Easy living at an affordable price. Sit on the front verandah listening to the birds doing my internet with enough $ for a cold beer!
Previous

Next

property
$175
3 BR / 4 BA / Sleeps 6
$175
Book
3 BR
/
4 BA
/
Sleeps 6
|

Quick view
Casa Mariposa is a spacious home with a beautiful private garden overlooking the private pool alongside the estuary whilst still only a few minutes walk to the beach sand. It is set amongst huge Guanacaste trees that are on the path of the famous howler monkeys. You will see hummingbirds, butterflies, fireflies, …
Shared outdoor pool (unheated)

Internet Access

Washing Machine

A/C or climate control

Linens Provided
Pet friendly

Smoking allowed - ask

Suitable for children - ask

Suitable for the elderly - ask

Wheelchair accessible - ask
Wonderful, Wonderful, Wonderful!
Left on Apr 23, 2013 for a stay in January 2013
We had a great vacation!
My wife and I lived in Mariposa from Mid January 2013 till april 2013. Our families, 2 adults/ 4 kids, and 3 adults / 4 kids visited us on 2 seperate occassions. We never felt crowded. All of the bedrooms and attached bathrooms are large and the comon area is perfect to accomodate all. The pool and deck areas are pleasant places to spend quiet hours soaking, reading or …
Previous

Next

property
Inquire for rates.
5 BR / 6 BA / Sleeps 10
Inquire
5 BR
/
6 BA
/
Sleeps 10
|

Quick view
Casa Muy Grande is a gorgeous former bed and breakfast located in the gated community of Palm Beach Estates Playa Grande that is now rented out to large groups only. The property has 5 gorgeous suites and sleeps 10, but what makes this property particularly unique is all of the extras. There is a full time staff for…
Waterfront

Shared outdoor pool (unheated)

Internet Access

Housekeeping Optional

Washing Machine
Pet friendly

Smoking allowed - ask

Suitable for the elderly - ask
Our 60/40 vacation to Paradise
Left on Apr 08, 2010 for a stay in July 2009
My family of 9 spent an incredible week at Casa Muy Grande in July 2009. The layout was perfect for our family. It provided adequate space for everyone including 2 four year olds...and still we had the privacy we needed. The beach was great, the poolside was very relaxing. The hammocks were a daily hit. We felt pampered by Jose and Maria and safe at night with a patrolling night watchman. It was …
---
---