Previous

Next

property
$184
3 BR / 1 BA / Sleeps 6
Inquire
3 BR
/
1 BA
/
Sleeps 6
|

Quick view
Beautiful, traditional Pembrokeshire farmhouse with panoramic views over St.Brides Bay and inland to the historic St.Davids Cathedral. Nestling comfortably in the lee of Clegyr Boia Rock, the site of an iron age fort. Situated just 1 mile from St.Davids, home of David , Patron Saint of Wales and 1/2 mile from the …
Waterfront

Ocean or water views

Wireless Internet

Fireplace

Washing Machine
Pet friendly

Suitable for children

Suitable for the elderly
A great place to stay in exactly 500 characters!
Left on Mar 25, 2010 for a stay in October 2009
All the other cottages run by Jan and her husband were occupied by 'returning guests' the week that we visited Clegyr Boia. Within 5 minutes of arriving at their newest holiday home it was easy to see why.

This cottage is equipped, furnished and renovated to the highest of standards providing its visitors with all the comforts of modern life within the environs of a beautiful old Pembrokeshire …
Previous

Next

property
$68
3 BR / 1 BA / Sleeps 5
Inquire
3 BR
/
1 BA
/
Sleeps 5
|

Quick view
This single storey detached cabin near Llanrhian and St Davids sleeps five people in three bedrooms. Ty Pren is a detached single storey cabin on a quiet site on the edge of Llanrhian, seven miles from St Davids. The cabin has an open plan living area, three bedrooms - a double, a twin and a single - and a bathroom …
Washing Machine

Linens Provided

Towels Provided

Dishwasher

Refrigerator
Pet friendly

Suitable for children

Suitable for the elderly - ask

Wheelchair accessible - ask
Tranquility
Left on Dec 02, 2013 for a stay in September 2013
Myself, husband and my Mum spent a fantastic week at Ty Pren enjoying the tranquil location and total away from it all feel. Harbour only 10 minutes walk across the fields, and this lodge had a good view across to the sea. Total home from home as lodge has all the modcons that we use. Cleanliness fantastic, and lovely to get a welcome tray and boquet of flowers on arrival. Only downside was the …
Previous

Next

property
$155
2 BR / 1 BA / Sleeps 4
Inquire
2 BR
/
1 BA
/
Sleeps 4
|

Quick view
Tastefully converted barn conversion within 2 minutes walk of magnificent Pembrokeshire Coast Path, 5 minutes walk to Porthclais harbour and 5 minutes walk to sheltered Porthllisky Beach with safe bathing and fascinating rock pools. Free use of our sit on top kayaks, perfect for messing about and exploring in the Bay…
Waterfront

Wireless Internet

Fireplace

Washing Machine

Clothes Dryer
Pet friendly

Suitable for children

Suitable for the elderly

Wheelchair accessible
Why have we been going abroad all these years when we could have
Left on Mar 29, 2010 for a stay in April 2009
We have stayed at Porthlisky 3 times and each one has been a memorable ocasion. The accomodation is comfortable, modern, clean and the location couldn't be better. You can walk straight over the farm fields to the coastal path down to what seems like your own private beach (because it is so isolated) in 5 minutes. Jan and Rob, the owners are always around the corner if you need their friendly …
Previous

Next

property
$73
4 BR / 1 BA / Sleeps 6
Inquire
4 BR
/
1 BA
/
Sleeps 6
|

Quick view
Y Wern is a traditional Welsh farm house, recently renovated to an exactingly high standard, retaining many original features. Y Wern is off the beaten track surrounded by heath land and National Trust common some of which is designated Site of Special Scientific Interest. It's location affords spectacular views of …
Housekeeping Optional

Washing Machine

Clothes Dryer

Outdoor Dining Area

Central heating
Pet friendly

Suitable for children

Suitable for the elderly - ask
Home from home, fantastic cottage, wonderful area
Left on Nov 08, 2011 for a stay in April 2011
Great cottage, very well maintained, delightful decor. Garden was a real bonus. We loved the whole area around St Davids and did a lot of coastal path walking and found some beautiful beaches. We enjoyed the peace and quiet of the cottage, it was a very comfortable place to stay and very well equipped.
Previous

Next

property
$60
3 BR / 1 BA / Sleeps 6
Inquire
3 BR
/
1 BA
/
Sleeps 6
|

Quick view
This terraced cottage is situated in the heart of St Davids and can sleep six people in three bedrooms. Y Bwthyn is a terraced cottage located in the centre of St Davids, the smallest city in Wales. The cottage has two twin bedrooms and one double, which with the addition of a family shower room, makes it suitable …
Washing Machine

Linens Provided

Towels Provided

Dishwasher

Refrigerator
Pet friendly

Suitable for children

Suitable for the elderly - ask

Wheelchair accessible - ask
Lovely friendly cottage, nice people
Left on Dec 05, 2012 for a stay in September 2012
Great welcome, very helpful people - owner's cafe, next door. Cottage was lovely, clean and tidy and nicely furnished. Planned improvements should make it even better next year. So handy to be able to walk to shops, supermarket, local pubs and restaurants, and not far to drive to other places of interest, galleries and beaches, etc. Wonderful place for a holiday. Only tiny problem was slight …
Previous

Next

property
$96
4 BR / 1 BA / Sleeps 8
Inquire
4 BR
/
1 BA
/
Sleeps 8
|

Quick view
This detached cottage situated near to the city of St Davids sleeps eight people in four bedrooms. Glan-yr-Afon is a detached cottage situated in a hamlet location, 1.5 miles from the city of St Davids. This cottage sleeps eight people in four bedrooms, consisting of a king-size double, a ground floor king-size …
Internet Access

Washing Machine

Linens Provided

Towels Provided

Dishwasher
Pet friendly

Suitable for children

Suitable for the elderly - ask

Wheelchair accessible - ask
Previous

Next

property
$114
5 BR / 2 BA / Sleeps 11
Inquire
5 BR
/
2 BA
/
Sleeps 11
|

Quick view
This spacious detached cottage near St Davids sleeps eleven people in five bedrooms. Gwryd Bach Farmhouse is a detached cottage a mile from St Davids. The cottage has two twin rooms, a double, a bunks room and a family room, along with two bathrooms, one on the ground floor. There is a kitchen with breakfast bar, a …
Internet Access

Washing Machine

Linens Provided

Towels Provided

Dishwasher
Pet friendly

Suitable for children

Suitable for the elderly - ask

Wheelchair accessible - ask
Previous

Next

property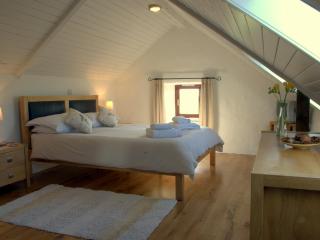 $171
3 BR / 4 BA / Sleeps 6
Inquire
3 BR
/
4 BA
/
Sleeps 6
|

Quick view
Stay at our unique traditional stone barn conversions in beautiful Pembrokeshire.Situated just over a mile from historic St.Davids, birthplace of David, Patron Saint of Wales and home to majestic St.Davids Cathedral. St.Davids is Britains smallest city(population less than 3,000) It is a quaint litle village in …
Wireless Internet

Fireplace

Washing Machine

Clothes Dryer

Outdoor Dining Area
Pet friendly

Suitable for children

Suitable for the elderly

Wheelchair accessible
Idyllic cottage in idyllic location
Left on Mar 11, 2010 for a stay in February 2010
All of the cottages are beautifully finished, very comfortable and in a beautiful location. We have returned here year after year since Jan and Rob converted their barns to a very high standard. Our children, two dogs and several other families who have holidayed here with us have all loved it and much fun and relaxation has been shared by all. If you enjoy British coastal holidays then don't …
Previous

Next

property
$149
3 BR / 1 BA / Sleeps 6
$149
Book
3 BR
/
1 BA
/
Sleeps 6
|

Quick view
This character beamed 18th century cottage is situated in the quiet hamlet of Whitchurch, Solva. On the edge of the old St David's airfield nature reserve and only 4.5 miles from one of the best surfing beaches in Wales, it is ideal for walkers, birdwatchers, surfers and families just wanting to get away from it all…
Fireplace

Washing Machine

Central heating

Patio

Parking
Pet friendly

Suitable for children

Suitable for the elderly

Wheelchair accessible
---
---