Previous

Next

property
$74
1 BR / 1 BA / Sleeps 4
$74
Book
1 BR
/
1 BA
/
Sleeps 4
|

Quick view
Our beautiful rustic house is situated in the old town romantic Selce, just 30 m from the sea and 100 m from the center. Just 2 km from the city center and the Crikvenica famous sandy beach. Apartment "Lavanda" is located at 3rd floor, 36 m2. It consists of the following rooms: one bedroom / living room with a …
Ocean or water views

Internet Access

A/C or climate control

Balcony or terrace

Grill
Pet friendly

Smoking allowed

Suitable for children

Suitable for the elderly
Previous

Next

property
$62
1 BR / 1 BA / Sleeps 4
$62
Book
1 BR
/
1 BA
/
Sleeps 4
|

Quick view
Apartment "Melissa" is located on the 2nd floor, size of 32 m2 and consists of the following rooms: a bedroom / living room with TV,air-condition, a double bed and a sofa with a function stretching for 1-2 persons. In addition to the room there is a fully equipped kitchen and a bathroom with a toilet and shower. …
Pet friendly

Smoking allowed

Suitable for children

Suitable for the elderly
Previous

Next

property
$62
1 BR / 1 BA / Sleeps 4
$62
Book
1 BR
/
1 BA
/
Sleeps 4
|

Quick view
Apartment "Amarilis" is located on the ground floor, size of 30 m2 and consists of the following rooms: a living room / dining room with TV, a double bed and a sofa with a function stretching for 1-2 persons. In addition to the room there is a fully equipped kitchen and a small bathroom with a toilet and shower. …
Pet friendly

Smoking allowed

Suitable for children

Suitable for the elderly

Wheelchair accessible - ask
Previous

Next

property
$181
3 BR / 2 BA / Sleeps 8
$181
Book
3 BR
/
2 BA
/
Sleeps 8
|

Quick view
Lovely Seaside house in small village Selce, 30min from town Rijeka. Open space house, Mediterranean shabby chic style. House area 120m2, 2 flors, 3 bedrooms, 2 bathrooms, living room, dining room, kitchen, 2 sun terrace, grill terrace with outdoor shower, fenced big garden with pine trees, hammocks included, 3 …
Ocean or water views

Internet Access

Fireplace

Outdoor Dining Area

Balcony or terrace
Pet friendly

Smoking allowed

Suitable for children

Suitable for the elderly
Previous

Next

property
$82
0 BR / 4 BA / Sleeps 8
$82
Book
0 BR
/
4 BA
/
Sleeps 8
|

Quick view
N/A
Internet Access

Grill

Linens Provided

Microwave

Refrigerator
Pet friendly

Suitable for children - ask

Suitable for the elderly - ask
Previous

Next

property
$82
0 BR / 4 BA / Sleeps 8
$82
Book
0 BR
/
4 BA
/
Sleeps 8
|

Quick view
N/A
Internet Access

Grill

Linens Provided

Microwave

Refrigerator
Pet friendly

Suitable for children - ask

Suitable for the elderly - ask
Previous

Next

property
$85
1 BR / 2 BA / Sleeps 5
$85
Book
1 BR
/
2 BA
/
Sleeps 5
|

Quick view
Duplex apartment "Camellia" is located at 1+2 floor, 40 m2. It consists of the following rooms: one bedroom with double bed and air conditioning ,small galery with sofa bed. Fully equipped kitchen with dining area ,TV, one sofa bed with a function stretching for 1-2 persons. Two bathrooms and a with stove, oven…
Pet friendly

Smoking allowed

Suitable for children

Suitable for the elderly

Wheelchair accessible - ask
Previous

Next

property
$85
1 BR / 1 BA / Sleeps 4
$85
Book
1 BR
/
1 BA
/
Sleeps 4
|

Quick view
Our beautiful house is in old town in Selce,just 30 m from the sea and town centre. Apartment "Amarilis" is on the ground flour,has 1 bedroom with double bed and 1 extra bed for 1-2 persons,kitchen and bathroom. TV and free Wi-Fi . Terase with table and chairs for relaxing and enyojing.
Ocean or water views

Internet Access

Housekeeping Optional

Outdoor Dining Area

A/C or climate control
Pet friendly

Smoking allowed

Suitable for children

Suitable for the elderly

Wheelchair accessible - ask
Previous

Next

property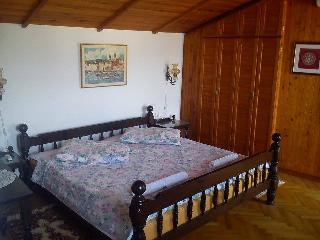 $91
3 BR / 2 BA / Sleeps 6
$91
Book
3 BR
/
2 BA
/
Sleeps 6
|

Quick view
The property is a 3 star categorized house, located in the center of Povlja and 30m distant from sea. It has 70 m2 of living area + 20 m2 terrace, and is spread over two floors both airconditioned. Ideal quite place for family vacation!
Ocean or water views

Mountain Views

Internet Access

Outdoor Dining Area

A/C or climate control
Pet friendly

Smoking allowed

Suitable for children
---
---