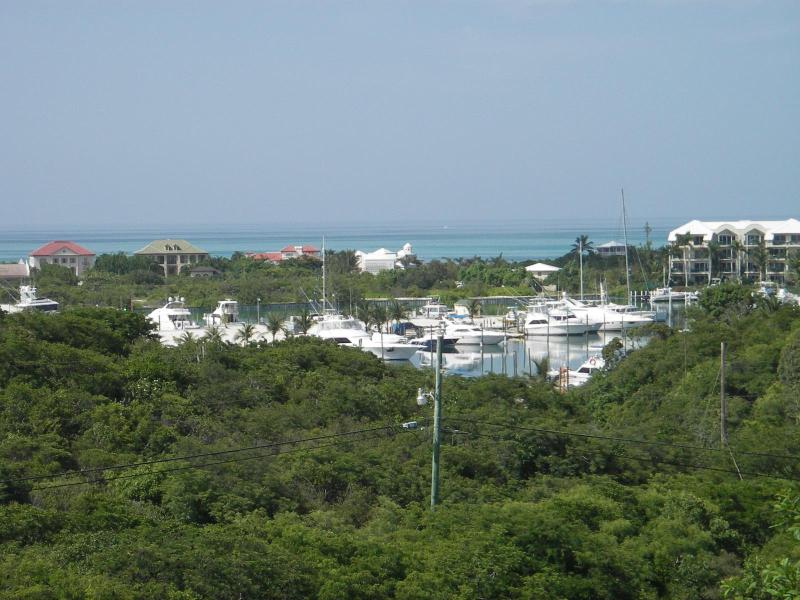 1 bedrooms
1 bathrooms
Sleeps 4
Apartment
Description from the owner
Are you looking for an affordable, convenient and pretty vacation spot on Providenciales?

Welcome to Villa Daisanadu, a central, breezy, hilltop location overlooking Turtle Cove Marina and the Atlantic Ocean. This entirely self-contained one bedroom apartment occupies the lower level of our home in Providenciales. Amenities include spacious bedroom with king-sized bed and a/c, living room with LCD TV, fully-equipped kitchen, bathroom and private laundry room. The large deck, with it's sweeping views, is designed for your relaxation and privacy. Cable and wi-fi are provided for your convenience.

With it's native vegetation and xeriscaping, our 2-acre garden boasts some of the island's oldest and most beautiful Lignum Vitae trees, many of them over 500 years old. It has been photographed by the Turks & Caicos National Trust, scouted as a location for numerous photo shoots, and featured on an international website.

The house is a short walk (less than 2 minutes, all... downhill)to the many restaurants and bars of Turtle Cove, yet is private and quiet. A little farther away, but still within easy walking distance (less than 10 minutes), begins the western end of world-famous Grace Bay beach and the great snorkeling of Smith's Reef. With the Marina right at the doorstep, the spot is ideal for people wishing to dive, deep sea fish or just take one of the many excursions that leave from the dock.

Turtle Cove is the perfect location for your holiday. Situated more or less in the middle of Providenciales, it's a great spot to easily access the numerous sights of the island. There are 5 restaurants, 2 dive operators, 2 fishing charters, and 2 snorkeling charters located right in the Marina! A bike, scooter and car rental shop is also on-site, should you decide to explore other parts of the island. A gym and tennis court lie just across the road. IGA, the main grocery store, is 1.6 miles away. The airport is 4.5 miles (a $15 cab ride) away. The ferry to North Caicos is a 15 minute drive.

Feel free to contact us for additional photos or with any questions you may have. ...Read more
About the owner
Villa Daisanadu, Providenciales
Response time

A few hours

Calendar updated

5 days ago

Overall rating

4.9

/ 5.0

based on 71 reviews
Map
Million Dollar View - Affordable Cost

Providenciales, Turks and Caicos
What's Nearby:
Additional Location Information
More About This Location
Beach or lakeside relaxation, Warm winter getaways
Getting There
Nearest airport: PLS, 4 miles
Car is not necessary
Availability
Last updated on February 26, 2015
Amenities
A/C or climate control
Alarm Clock
Washing Machine
Safe
Linens Provided
Ceiling Fans
Iron
Hair dryer
Towels Provided
Local Guides/Maps
Telephone
Internet Access
Secure parking space
Ocean or water views
Microwave
Paper Towels Provided
Blender
Grill
Refrigerator
Toaster
Freezer
Stove or Oven
Kettle
Stereo or CD player
DVD Player
Books
Satellite or cable TV
Outdoor Dining Area
Porch
Balcony or terrace
Garden
Patio
Deck
Pet friendly - no
Smoking allowed - no
Suitable for children - ask
Suitable for the elderly - ask
Wheelchair accessible - no
What Past Guests Are Saying
100% of guests would stay again
---
Overall Rating
Excellent
62
Very Good
2
Average
1
Below Average
0
Poor
0
scwabbles
Canada

Like a little slice of Paradise

Left on

04/25/2014

for a stay in January 2014

| scwabbles

If you want peace and quiet, with a beautiful view, Villa Daisanadu is for you.

Pros:
Great weather (unaffected by the polar vortex in North america).
Beautiful view (of Turtle Cove Marina + turquoise waters in the distance)
It's a Big one bedroom villa,
It has a Very large deck out front.
(In addition, for sun worshipers, there's a separate deck with lounge chairs on the West side of the villa).
It's quiet.
It's close to paved roads.
Ceiling fans in bedroom, and living room.
It has a washing machine + clothesline outside.
There are 5 restaurants just a short walk away:
1)The Green Bean (coffee bar, breakfast and lunch),
2) The Tiki Hut,
3) The Shark Bite Bar & Grill,
4) Magnolia Wine Bar & Restaurant,
5) and Baci Ristorante .
It also has nice décor.

Cons:
A) Cistern water.
B) Some of the gravel roads on parts of Providenciales can be really rough.
C) There's no in room safe.
D) Aggressive speed bumps in some places.

To See How To Minimize "The Cons" Please Read The Following:

A) Water is cheap. Refills at the liquor store are only 60 cents/gallon, and buying water at the local IGa is only $1.80/Gallon, both of which are Close to Villa Daisanadu.

In addition the villa fridge is large enough to hold 4 gallons on the top shelf, so you'll always have a lot of chilled water available.

B) (*Note - the grocery/liquor stores, and all of the resorts are along paved roads), but if you decide to go off the beaten path exploring the rest of the island, you'll run into some gravel roads that can be really bumpy.

If I had to do it over again I would have rented a Suzuki Grand Vitara from avis, instead we rented a Suzuki Celerio.

C) The villa is large, and if you're worried about your passports, iPod, laptop or something being stolen there are plenty of hiding places. Like the laundry room, in the kitchen, bathroom etc...

D) Keep your eyes peeled when you're driving around, some of the speed bumps are Really big, and might damage your rental car.

DMT
GA USA

Villa Daisanadu

Left on

07/28/2013

for a stay in January 2013

| DMT

Very pleasant and comfortable accomodations. Barb was very helpful and friendly but never intrusive.

Love the Island Life
PA

Paradise and Privacy

Left on

06/10/2013

for a stay in May 2013

| Love the Island Life

This was my third visit to Villa Daisanadu. I love the location. It's close to the beach, the grocery store, the Wine Cellar, restaurants and bars but not too close to the touristy area of Grace Bay if you like your privacy. At the same time, you can get to the trendy shops and restaurants in Grace Bay in about 5 minutes or so if you like. The closest beach has Smith's Reef to snorkel right off shore - no charge!! If you like to snorkel, this is a great place to go. Snorkel as often as you want for as long as you want!
My favorite things about the villa are the comfortable king bed and the huge deck along with the view. It's totally private and extremely clean.
You can't beat the price. It is truly a bargain.

KER1212
South Carolina

Relaxation...

Left on

06/08/2013

for a stay in May 2013

| KER1212

What a wonderful trip!
From the first inquiry about Villa Daisanadu, Barb was so helpful, friendly, and full of life! The renting and check-in process was so quick/easy. The villa was beautifully decorated, it is the perfect size for two people that want pure relaxation! My favorite was sitting in the comfy king size bed looking out at the amazing view!! There is also a storage room with all the beach supplies you may need: Umbrella (needed that after we got burnt the first sunny day), beach chairs, snorkel gear, beach balls, etc. We were so thankful for those beach items!! The location was perfect for us, it was close to all the great beaches, snorkeling, and turtle cove marina for a quick happy hour :)
My husband and I cannot wait to plan our next trip to Villa Daisanadu. Thank you Barb for providing such a wonderful villa that is so inviting and relaxing. It really felt like home :)

ColumbiaBud
SC

Love it.

Left on

05/30/2013

for a stay in May 2013

| ColumbiaBud

This was our third visit to Daisanadu. Barb has designed a lovely apartment with garden surroundings overlooking the marina and the beautiful atlantic. You will immediately feel at home and at peace. The deck alone is worth the price of the stay. It's like a magnet - it's sometimes hard to leave and go to the beach. We eat many meals on the deck and often come back from the beach during the heat of the day just so we can enjoy the breezes and take a nap. Barb will kindly help with any request - directions, suggestions, trash bags, etc. Likewise, Dolly and Butter will visit if encouraged, and enjoy playing with the tennis ball. For dog-people, they add definite charm to the property. The apartment itself is totally perfect for 2 people. You get plenty of towels - for both the bath and the beach. The bathroom has a large vanity with plenty of storage space and there is always hot water. The bedroom is large and the bed is perfectly placed for the view. The king bed is comfortable and extra linens are available if needed. The kitchen has the plates, bowls, silverware, glasses, pots, pans, etc., you might need to cook and enjoy island meals. We mostly do simple things like spaghetti and rotisserie chicken from the IGa - because, really, who wants to spend time cleaning the kitchen when you could be on the deck or the beach?! The location in Turtle Cove is excellent and convenient for going all over the island if you have a rental car. It's also convenient for walking to several nearby restaurants at the marina and Scooter Bob's car rental.

A FlipKey verified reviewer
Ottawa

The Villa Daisanadu was a charming and beautiful haven; we reall

Left on

04/15/2013

for a stay in April 2013

| A FlipKey verified reviewer

The Villa itself is well-located with easy access to both the Leeward Highway and the Lower Bight Road. We found our way there from the airport with no difficulty and it was an easy drive to all of the beaches/activities on the island.

A rental car is a must, not so much because of the Villa's location but because the island itself is fairly large and the amenities, including shopping districts and beaches, are quite spread out.

My daughter and I loved the setting: the view over Turtle Cove really is lovely, the gardens are pretty and the geckos are numerous. The apartment is quite spacious with its own verandah and patio, and we found it to be very comfortable for the two of us. The interior is designed to welcome and encourage relaxation, with lots of attractive personal touches that make it feel like a home away from home. Barb has clearly taken the time to create a cosy and welcoming spot.

There were loads of towels in the bathroom, extra sheets and covers in the bedroom, etc. We really appreciated the complimentary snorkels/masks/fins and visitor information provided by Barb. The kitchen was fully functional, which was a high priority for us: we cooked almost all of our meals at the apartment due to my daughter's numerous food allergies. One of the very few improvements I would suggest is a sprucing-up of the wall cabinet interiors and that only because we have to be so careful of food residues.

We really enjoyed our stay at the Villa Daisanadu. Some of the things that really stood out for us were: Dolly and Butter (so sweet!), Barb (so relaxed and welcoming!), the geckos, the beautiful tilework in the bathroom, the a/C (!!), the fridge (cold drinks, popsicles), the towels and the glass fish in the kitchen window.

Our stay at the Villa Daisanadu helped us to feel as though we belonged, even though we were only there for a week.

Thanks very much Barb!

A FlipKey verified reviewer
Ontario/Nova Scotia

Lovely Easter Weekend Stay

Left on

04/05/2013

for a stay in March 2013

| A FlipKey verified reviewer

We spent a lovely extended Easter weekend at Daisanadu in Provo! Barb was super helpful in the weeks leading up to our stay and for periodic check-ins when we were there. The house has a lovely cottage charm with - yes - a million-dollar view. The apartment is bright, quiet, and clean with lots of modern furnishings. The house is located in the hills behind the Turtle Cove marina - which is behind a row of beautiful beach mansions. The neighbourhood is impressive and convenient and we felt completely safe. We brought our own coffee and spent the morning lazily waking up to the view on the porch sprawled out on a super comfortable day bed (which I miss!). My partner is anxious around dogs and it was not a problem, they stayed upstairs. The house is a 1 minute drive and 5 minute walk from the marina where all tours will pick you up by bus or boat. There is also the Tiki Hut and Sharkbite for cheaper fare (and Turk's head on tap!). Daisanadu is just up the road from a few public access beach roads and some pretty stunning resorts. We went to the community fish fry on the Wednesday night (good mix of locals and tourists) on the public beach nearby. We rented a car for our full time there after asking about bikes and reading about cycling in provo. It's dangerous unless you are just interested in short jaunts up and down the beach road. Cycling on Leeward is out of the question. A lot of roads are still gravel, so even in a Honda fit, we at times could have used more traction. It was nice to have a car and travel around - even if to the IGa or wine cellar. The weather was kind of windy and chilly when we were there and we were happy to have the house to rest at away from the beach - we spent a day there lounging and napping! Pure bliss. It was super convenient to have the cell phone to book snorkelling tours etc. If your looking for a peaceful retreat a bit away from the action but with everything you need close by - you won't be dissapointed!!

A FlipKey verified reviewer
Pine Brook

Best location...so many shades of blue!

Left on

03/16/2013

for a stay in March 2013

| A FlipKey verified reviewer

After exploring Provo and the two sister islands, my wife and I decided that this is the perfect location.
Ten minutes fm the airport, but you don't know it's there.
You can easily get to the pricey hotels for lunch and dinner, or kick back and eat in.
After a long day at the beach, this is a wonderful retreat away from the crowds.
Started each day on the deck watching the sun come up with coffee, ended the day in the same place with a glass of wine.
Don't over pack...shorts and flip flops will do nicely!

A FlipKey verified reviewer
Massachusetts

Been three times and going back for a fourth!

Left on

03/10/2013

for a stay in February 2013

| A FlipKey verified reviewer

This was the third year in a row that we stayed at Daisanadu. And we have already reserved for next year. That should be enough of a review right there! It certainly lets you know we are satisfied!

A FlipKey verified reviewer
Canada

Comfortable living

Left on

02/10/2013

for a stay in January 2013

| A FlipKey verified reviewer

Perfect get away location, central to everything. We did need to rent a vehicle as there are only a few restaurants and sights within walking distance. We loved the quiet and solitude of being away from the resorts. Perfect place for families.

A FlipKey verified reviewer
Philadelphia

Perfect Spot - Will Visit again.

Left on

01/19/2013

for a stay in November 2012

| A FlipKey verified reviewer

Villa Daisanadu is wonderful base to explore Provo. We spent most of our days on Taylor Bay (10min Drive away) or Coral Gardens (10min in the other direction.) For the most part, if you want to see the island, I recommend renting a car. Villa Daisanadu is right in the middle of everything, however you will need a car to get to beaches/grocery store.

The wrap-around porch was nothing short of epic. We spent every single morning out on the porch with a coffee and breakfast. (The grocery story is a 3-5 Minute drive away and the kitchen is fully stocked, so we cooked breakfast each morning and packed a picnic lunch for lazy days on the beach - saving a ton of money on food-costs.) The grounds were awesome - naturally landscaped, without being "overly landscaped" if you know what I mean.

Barb has two lovely dogs who visited us often, but no worries if you're not a dog person. They're very well behaved and will not "bother" you. (They would visit us because we'd dote on them and throw the tennis ball whenever "asked.") If you're a dog-person there is a wonderful rescue (Potcake Place - Google it) that you can volunteer to spring a dog from the shelter for a day on the beach. Yes, you can volunteer while sitting on the beach. (PP is located in the back of the Salt Mills Plaza.)

Oh yeah - and if you'd prefer "real" island food vs. tourist trap stuff - talk to Barb. She gives great food recommendations and one of her favorites became our favorite. (3 Queens - go find it. Sooo worth the drive! We also loved Sailing Paradise.)

While you can go on snorkeling "tours" - there is also epic snorkeling (for free) from Coral Gardens. We actually never paid to go on a tour. We rented a car, drove to all of the beaches, and spent our days lazing around on the beach. I love Provo and Villa Daisanadu.

Bottom Line: The apartment was lovely, the bed was comfy, location was central, hosts were awesome. If we come back to Provo, there is no question where we'll stay.

A FlipKey verified reviewer
Orrington Maine

Beautiful view, relaxing and very peaceful

Left on

01/10/2013

for a stay in June 2012

| A FlipKey verified reviewer

My husband and I visited at the end of June for two weeks. Barb made us feel very welcome and was helpful with any questions we had. The Villa was clean and the kitchen was well stocked for any cooking you might want to do. There was a washing machine which was a nice feature. The loaction is great and the view is fantastic. We really enjoyed the view from the deck and watching the boats come and go from Turtle Cove. We were able to get food and drinks within easy walking distance. We really enjoyed the drinks at Shark Bite. The Villa is in a very private location which we loved and it allowed us to have a restful holiday. We had a wonderful visit and would highly recommend Villa Daisanadu.

A FlipKey verified reviewer
Yarmouth

Very comfortable home away from home in a beautiful setting.

Left on

01/08/2013

for a stay in December 2012

| A FlipKey verified reviewer

We loved staying at Villa Daisanadu. The accommodations were very comfortable; Barb was very responsive and helpful without being intrusive; the porch is very nice in the afternoon after hours at the beach have baked you enough for the day; the bed was comfortable; and having a kitchen is great for simple breakfasts and lunches. Be aware that the driveway and road in to the Villa is a bit rough for driving purposes, but certainly does not require 4-wd (just going slowly and carefully). The dogs Butter and Dolly were polite (especially if you threw the old tennis ball) and nice. The view from the porch is super, overlooking Turtle Cove, and you are not far from the ocean, restaurants, and a surprisingly good video store (there is a DVD player in the Villa). So my wife and I would definitely recommend the Villa to others!

Dobegurl
AR

A peaceful, affordable, beautiful place to relax in Provo!

Left on

11/18/2012

for a stay in October 2012

| Dobegurl

The Villa Daisanadu was everything as advertised and more! Barb and Martin are awesome hosts and have thought of everything!!! Comfy bed and slept like a rock with the windows open most nights. Has a/C in bedroom which had a small issue but Barb took care of it immediately. Best location to beach, food, and fun. Do rent a car to get the most of your visit to T&C.; If you want a resort with a pool, this is not your place but if you are up for peace, quiet, gorgeous views, and a place to unplug, book it! You will not be sorry. Can't wait to go back. Hugs to Butter and Hot Mamma :)

A FlipKey verified reviewer
CALGARY

Great view and value, really laid back...

Left on

05/21/2012

for a stay in April 2012

| A FlipKey verified reviewer

Terrific value for Provo. Great views from a private wrap-around deck. Very clean. Owner (Barb) was very helpful/available but low-key (they live upstairs but you would hardly know it given their own private entrance etc). Very good restaurants within walking distance as was a beatiful white sand beach (a few minutes by car...10 minute walk).

A FlipKey verified reviewer
Chicago

More than we expected!

Left on

05/07/2012

for a stay in April 2012

| A FlipKey verified reviewer

We went to TCI for the first time with our 8-year-old son, and loved staying at Daisanadu. It was tucked away on a beautiful hill above Turtle Grove, and all the amenities are just as described, but better! The porch is something I will never forget, it runs the length of the house and sitting on it, enjoying the view and the peaceful surroundings was probably the highlight of our stay. We took a cab in and got perfect directions to the house from Barb. We then ordered a car from Hertz, and used it to explore the island. Barb was a great hostess, gave us a lot of privacy, and was there if we needed her. The apt. is much bigger than I expected, and the view from the bedroom is incredible too! The island breezes were enough for us, but there is a/C if you need it. We enjoyed the romance of the breezes, and lit candles every night in the living room, which doubled as a bedroom for our son. We plenty of space, and Barb had pulled out the sofa bed for us and had it all ready to go when we arrived. Barb gave us great beach towels, and had a few beach chairs, an umbrella, and floaties, a boogie board, sand toys, and coolers in the apt. for us to use. Turtle Cove is close by, has a great coffee shop/eatery, and lots of restaurant choices. We visited the resort's pools (Somerset pool is lovely). Many welcome non-residents. If you are looking for a home away from home in TCI, and appreciate privacy and charm, just a step away from Turtle Cove, you've found your place!

Jose
Arizona

Excellent!

Left on

05/07/2012

for a stay in April 2012

| Jose

My wife and I went to T&C; to dive so we wanted a conveniently located place to stay to serve as a base-camp---we also wanted nice views and a fully equipped kitchen to prepare meals. The house provided this and more: it is charming, comfortable, spacious, excellently located and the name of the house does justice to the views. The bed is firm and comfortable. And Barb is friendly, helpful and unobtrusive. If you are visiting T&C; to dive and don't need all of the peripherals of a resort, Villa Daisanadu is an excellent value.

Kathy and Brian
Iowa

At home in paradise!

Left on

04/08/2012

for a stay in March 2012

| Kathy and Brian

After reading numerous reviews we chose Villa Daisanadu as our vacation rental. We are now converts to self catering vacation rentals instead of the all-inclusive resorts.

We found the location of Villa Daisanadu to be attractive to us. Tiki Hut and Sharkbite are nearby, within walking distance. The rental is well away from the beach resorts (we liked that aspect), you have a view of the marina and the ocean from the deck. One morning we woke up, made coffee, and contented ourselves watching the ocean waves breaking on the barrier reef from the comfort of bed.

We felt right at home in this rental, on arrival at the rental Barb met us and showed us everything we needed to know. Before arrival Barb sent to us all the detailed information we would need at the airport and driving directions (very helpful!).

Once we settled in, we found a nicely equipped kitchen with everything we would need, coffee maker, toaster, blender, stove, microwave, frig, dishes, glasses, tableware, it's all there. As advertised, the king size bed we found to be very comfortable.

We rented a car from Grace Bay rentals making travel on the island easy (once you get used to driving on the left side of the road) and allowing us the freedom to come and go anywhere we wanted to.

We loved Provo, the beaches, the snorkeling, restaurants (favorites include Da Conch Shack and Mango Reef), and the friendly island people. Big Blue Unlimited and Ocean Vibes offer great excursions. We can't wait to return to Provo and Villa Daisanadu!

A FlipKey verified reviewer
Ohio

Very relaxing, enjoyable vacation

Left on

02/19/2012

for a stay in February 2012

| A FlipKey verified reviewer

We picked this as our place to stay based on all the awesome reviews that are on Trip advisor for it. Everything that was noted on these reviews were true. It was a fantastic place to stay - quiet, private, relaxing, beautiful decks to relax on, clean. It was a plus to be able to walk to restaurants and having a pre-paid cell phone to use. Barb is very friendly and enjoys helping her guests have a great time while they are visiting Provo.

J & J
Tn

Perfect Location

Left on

02/06/2012

for a stay in January 2012

| J & J

Spent 6 nights at Villa Daisanadu and it was a central location for snorkeling, restaurants, etc. with a truly Millionaire view.

The villa met all our needs. A nice,clean,comfortable place to call home while visiting the area. Barb was easy to work with and made very good recommendations. Felt safe at all times.

Favorite snorkeling--Coral Gardens near the roped off area.
Favorite eats--Sharkbite, DaConch Shack, & Green Bean. Good sandwiches
Favorite car rental--Grace Bay

schwarztravelers
Ohio

Holiday vacation

Left on

12/28/2011

for a stay in December 2011

| schwarztravelers

My husband and I just returned from our week long stay in Turks & Caicos. After much research and back and forth emails with Barb, we decided on Daisanadu. It was a cute house with a spectacular view, and was clean and tidy. The bed was comfortable and the kitchen was equipped with everything that we could have needed, Barb even helped us with the charcoal grill. Barb was so welcoming, as were Dolly (with her tennis balls) and Butter (to get some rubs).

There was a cold front that moved through, and Barb offered me a Pashmina to use while we were there so that I didn't freeze. Thank goodness!

As everyone's mentioned before, the beaches are great and the food was amazing! We did rent a car, which was most helpful to visit the various beaches and go to the restaurants.

Beav112
NC

Paradise in Provo

Left on

12/07/2011

for a stay in November 2011

| Beav112

Great reviews from the past not to duplicate but dead on. My wife and I stayed 6 nights and enjoyed the incredible view from the porch every morning/evening as well as the nice accommodations. Since the previous reviews tell it all - I'll digress to what the others I believe miss:

-Although many guest's did not rent a car, I'm not sure how one would explore the island without one. Yes - The marina and a few restaurants/bars are within walking distance, but you will need a car if you would like to really take in the culture.
-Scuba Diving - As an active Dive professional, bar none, the best group to dive with is Flamingo Divers, owners Jayne & Micky are awesome with only 8 divers on board and are the best that I've seen in the world! Their Dive shop is off of Venetian Rd. about 5 minutes from Daisandu on the other side of the coast, most dives are in West Caicos where the best diving is. Book early before you arrive, fallback would be DiveProvo out of Turtle Cove Marina.
-Dinner - Best dinner we had was at Coco Bistro, awesome ambiance, drinks, and food. Hemingway's..Ok, on a deck by the ocean, they provided bug spray since we were getting eaten alive. Live music really sucked but food was good. Shark Bite was a nice place to have a late night drink and snack- several nights. Tiki Hut - Thought the service and food sucked.
-Beach - We had friends staying at Ocean Club West and spent most of the time on their beach. We found that as long as we ordered from the beach bar, they welcomed us staying and using their beach chairs and enjoying the beautiful beach. I do recommend taking a day trip to Sappidillo Beach - We found all directions were wrong from the magazines etc...Take the first dirt road left after the police station and you will find it.
-Car Rental - Grace Bay Car Rental worked well with meeting you at the airport and providing a car. Other's had higher fees due to airport tax.

A FlipKey verified reviewer
San Diego

Rest & Relaxation...complete

Left on

11/21/2011

for a stay in November 2011

| A FlipKey verified reviewer

Wonderful experience! Barb has created a relaxing, quiet and peaceful home away from home. Wonderful accommodations, well stocked. Location is fantastic, close to beaches all around the island. Snorkel in the am, home for lunch and read, snorkel in the afternoon, who could ask for more? Great dive locations within minutes. Geckos abundant, good resturants nearby, beautiful views.

A FlipKey verified reviewer
CT

Can't wait to go back!

Left on

11/08/2011

for a stay in November 2011

| A FlipKey verified reviewer

My husband and I just returned from 6 nights at cozy Villa Daisanadu. The view from the villa was amazing! It was clean and nicely decorated, the bed was very comfortable. Barb has the villa well stocked...from a hairdryer to snorkel gear.
I would recommend renting a car. The beach is very close but you definitely need one if you want to explore the island. We spent our days snorkeling and relaxing at the villa in the evening...grilling on the deck.
We did dine at the Tikki Hut, Sharkebite and atlantic Bar and Grill, would definitely recommend them.
Barb and the dogs were great!
If you are looking for a place to relax, surrounded by nature and amazing views, this is the place!
We can't wait to go back!

A FlipKey verified reviewer
vancouver

place of refuge

Left on

11/02/2011

for a stay in October 2011

| A FlipKey verified reviewer

wonderful spot,away from the resorts of grace bay!!Barb very helpful,and caring.serene,quiet spot,to enjoy.Wonderful,highly recommend!

Ohio Couple
USA

Turks & Caicos

Left on

10/25/2011

for a stay in October 2011

| Ohio Couple

We stayed for a week and enjoyed the quiet, comfortable , convenient apartment / condo. It was a short walk to the Turtle Cove area. We enjoyed the Teki Hut, the Green Bean, the Undersea Explorer, and Shark Bites, all a half mile or less from our lodging. The IGa, best place on the island for food and spirits, was a short drive away.

The apartment was quiet, clean, and convenient and abour half the price of the bigger hotels.

Nicki and Brian
KY

Just like home, but with a better view!

Left on

10/13/2011

for a stay in October 2011

| Nicki and Brian

The place is hard to find in the pitch black of night, but when we did we were warmly greeted by Barb, the homeowner. She brought us in the apartment and showed us the amenities, which is just about everything you'd have at home. She also gave us some tourist tips and a phone. We found the apartment very clean and comfy, and the king size bed slept great. The apartment is pretty well stocked, from shampoo to bug spray; all that lacked were toothpaste, sunscreen, & a hairdryer. The apartment also came with snorkel gear which was an awesome perk. The only thing that could be a concern is what the weather is like during your stay. There is no central air in the unit, but there is a small portable a/c in the bedroom. And since the electric costs so much, they ask that you not run the a/c unless you're in the unit. It takes a bit to cool down the bedroom for comfort while sleeping. The a/c unit wasn't strong enough to cool the whole apartment, so we left the bedroom door closed to just cool the room, and left the windows open to keep the air circulating in the rest of the unit. When we were there it was nice, 85-90, and low humidity; so we were lucky. That is something I would consider if staying here. In the living room, there is a small sofa & a chair. We rearranged the furniture for the chair to be an ottoman for the sofa; otherwise there wasn't enough seating for us to both watch TV comfortably. The location is perfect if you're going to tour all of Provo, as we did. So I say you need a car. Many of the roads are barely that, and are not conducive for walking in my opinion. And the only place you could walk (Turtle Cove Marina area), I still wouldn't. And since there are no street lights you couldn't see to get back. Other tourists told us cabs were expensive, so I felt we got a great deal through avis. They were by far the cheapest when I looked. This place is an absolute gem if you're looking to go to Provo on a budget: clean, comfortable, and what a view!

M. Leary
VA

Spacious, Comfortable apartment with Great Views

Left on

08/29/2011

for a stay in August 2011

| M. Leary

My husband and I spent four nights at Villa Daisanadu during a dive trip to Provo. We were very pleased with the accommodations. We thought this apartment was the perfect spot for divers, and we would definitely rent it again. We cooked numerous meals in the well-equipped kitchen and had plenty of space on the deck to spread out our dive gear to dry it before returning home. We loved the views of the Marina and the water from the three decks. Barb, the owner, was very helpful to us before and throughout our trip. Staying at a non-beachfront location was worth it to have all the extra space and the great rental rate. The apartment is also incredibly convenient to Turtle Cove Marina, where we spent a lot of time at both the dive shop and the restaurants. I would not hesitate to recommend this rental to anyone and I hope my husband and I make it back someday!

A FlipKey verified reviewer
san francisco

Great stay!

Left on

08/15/2011

for a stay in August 2011

| A FlipKey verified reviewer

My husband and I spent a relaxing 10-day stay at Villa Daisanadu in July.

The apartment is spacious, clean and had all the comforts of home.
The house is pretty and located a short walk away from all of Turtle
Cove's restaurants and Grace Bay beach. The owner's were attentive but
unobtrusive (Dolly and Butter were too :) )

Within walking distance, we particularly enjoyed Baci (Vegas'
chocolate martini) and Shark Bite (Simone's Bloody Caesar). Coco
Bistro is a short cab ride away, and provides a very romantic setting.
For our next stay, we will be renting a car, as it was not easy
finding a cab the one day it rained. We did use Sonny Taxi for a tour
of the island and he was great. Looking forward to returning in april
2012.

Michelle and Gord, San Francisco

A FlipKey verified reviewer
Fargo

Affordable lodging for a week in paradise!

Left on

08/13/2011

for a stay in August 2011

| A FlipKey verified reviewer

My boyfriend and I just returned from a wonderful week at Villa Daisanadu in Providenciales. The accommodations were *perfect* for us. On arrival, the apartment was clean and fresh smelling. The king size bed was nicely done up and provided a comfortable night's rest. The villa is within walking distance of several places to eat, as well as the Turtle Cove Marina, the beach, and convenience stores. Barb was a great, unobtrusive host with lots of insight for first time visitors. If you have questions, feel free to ask! Returning to an air conditioned apartment was a relief after our full days walking around the island or swimming at the beach. Having access to a full kitchen, washer, and private deck made us feel right at home. Although we cooked at the apartment for breakfast and some dinners, our favorite places to eat were Green Bean (for breakfast and coffee), Sharkbite (for cracked conch and other fried goodies), as well as the new Steak House (across the street from Green Bean.) We used the taxi services of Sonny and Gloria while on the island as well as renting a car from Scooter Bob's for a day of further island exploration. We were impressed with our half day boat tour with Caicos Dream Tours. If you have questions/concerns about navigating the island, stop into the tourist bureau for a more detailed map and the advice of their staff. Providenciales and Villa Daisanadu are now on our list of places we'd love to return to.

AmyLou
Utah

Couldn't Have Been More Perfect!

Left on

07/24/2011

for a stay in June 2011

| AmyLou

We stayed for a week at Villa Daisanadu and enjoyed every minute of it. Barb was so friendly and welcoming. We especially loved all of the extra beach gear that she had in the apartment. We were able to use snorkels, chairs, beach tent and flippers from the apartment. We went to a different beach everyday and found so many things to explore. The apartment is close enough to walk to a few restaurants and the Turtle Cove Marina but we would recommend a rental car. It gives you so many more options!

A FlipKey verified reviewer
Los Angeles

Everything we expected and then some...

Left on

05/26/2011

for a stay in May 2011

| A FlipKey verified reviewer

My boyfriend and I just returned from a 10-day stay in Provo. Villa Daisanadu exceeded both of our expectations - the deck is even more awesome than the photos suggest. The Villa is located near the Turtle Cove Marina and in walking distance to one of the island's better snorkeling spots (Smith's reef). Also conveniently located to the wine store, IGa supermarket and southside marina (used by most of the dive operators).

Renting a car is essential. Although you can walk to Grace Bay beach in 10 minutes, you'll probably prefer to explore different sections of Grace Bay, not to mention the island's other equally-fabulous beaches.

Kasey & Joe
NY

Amazing in every way!

Left on

05/18/2011

for a stay in May 2011

| Kasey & Joe

My husband and I booked our Honeymoon @ Daisanadu for several reasons... 1: we stayed at an all inclusive for 12 days in october and did not want the 'resort' feel 2: we wanted to bum around like locals.. I could not be happier with our decision and must be honest - the reviews are what lead me to this little slice of heaven.

The apartment is amazing - clean, spacious and stocked with the necessities of home. We alternated eating out and found ourselves eating breakfast every morning on the deck and either eating out for lunch or dinner.

The proximity of the apartment to dining, snorkeling, etc.. is literally down the block. You don't need a car but we had one so we could venture out and I would highly recommend you do the same because there are soo many beautiful little sports all over the island.

Barb (and cousin Betty who was in town) were wonderful hosts - along w/ our furry companions who would come for a visit now and again :)

Reviews/Recommendations for TCI:
We really loved the Tiki Hut (I think it was the crazy banana frozen cocktails). We dined once at anacaona - beautiful views but the food wasn't worth the $. I regret not taking Barb's advice and going to amanyara but that just gives us reason to return! There's a good Italian place about a 5 min walk from the apt - I think the name is Baci? (next to Shark Bite)

We went on a private sailing adventure with Captain Tim aboard the Beluga - it was worth every penny.. knowing it was our honeymoon he had a bottle of champagne all ready for us :)

Our favorite beach was Sapodilla Bay.. absolutely incredible.

We did venture to the casino on two separate occasions and enjoyed ourselves both times.

I know this review is lengthy but I hope it helps you decide, if you are reading this review, to look no further. You will not be disappointed and if you are...well then you're just not human because it's not humanly possible not to love everything about your stay here!!

A FlipKey verified reviewer
Texas

Ultimate Relaxation

Left on

05/17/2011

for a stay in May 2011

| A FlipKey verified reviewer

This is the perfect location for a relaxing get away. The view of the water is the best way to wake up each morning. I would recommend getting a rental car to really get around to see the island but if you would prefer to use taxi services Sunny is the best driver around. This was an excellent vacation!

A FlipKey verified reviewer
South Carolina

Exceeded expectations!

Left on

05/02/2011

for a stay in April 2011

| A FlipKey verified reviewer

This place is terrific! The large porch offers stunning views of the nearby marina and the emerald and turquoise waters of the atlantic ocean! We found the location fine for early morning walks to the beach but used our rental car when carting 'stuff'. We do recommend a rental car given the flexibility it offers to sample different snorkeling sites or other beaches all over the island. ['Scooter Bob Rentals' in nearby Turtle Cove (easy walking distance) worked great for us at a good price.] Barb is friendly, very helpful and not at all intrusive. Also, she has 2 large, friendly Golden Retrievers that serve as unofficial greeters but they won't bother you unless you encourage them to visit! This place is perfect for a couple looking for something other than resort crowds - it's quiet, clean and breezy with views from every window. A lovely choice! We would definitely go back!

Scott
TN

Great Place

Left on

04/24/2011

for a stay in April 2011

| Scott

All the positive reviews of this property are accurate. We had a great week on out first visit to TCI. The villa is private, clean, and perfect if you do not like the big hotels. While not on the beach, there is easy access and if you are a snorkeler, the best beach access snorkeling (Smith's reef) is very close by.

A FlipKey verified reviewer
California

Live in the moment...

Left on

04/11/2011

for a stay in March 2011

| A FlipKey verified reviewer

I'm sad to be home. I miss Villa Daisanadu and I miss the Island. This was by far the best vacation we've ever taken! Villa Daisanadu is perfectly located; away from the big hotels and just a few minutes away from one of the most beautiful beaches on the Island. The apartment is perfect for two and can easily accommodate three. The view from the bedroom was quite a sight to wake up to every morning. Breathtaking. The apartment is fully equipped, clean and comfortable. We cooked breakfast every morning, and only ate out twice. The kitchen is fully equipped. After our sunbathing sessions (at the beach); we'd come "home" and hang out on the porch, sip on bloody mary's, check out the view and listen to some tunes. Perfection. The nearest beach is an 8 minute walk (Princess alexandria). Most of the time my husband and I were the only one's in sight. The beach is pristine. Coral white sand...and teal blue ocean. I hate to gush but this was truly a very memorable vacation. We never went into "town" aka Grace Bay. We didn't have to. Everything we needed/wanted was at the Villa. Barb, thanks for sharing your home with us. You've thought of everything to make a home away from home. We'll be back!

Just a couple of recommendations for those of you that plan to visit. Call Sunny when you need a taxi; Barb has his number programmed in the cell phone she provides with the apartment (an excellent and handy perk). He's a gentlemen and very helpful. Check out Sapodilla Bay. Spend a whole day there. If your looking for a place to eat check out Lemon Cafe; the food was exquisite and the ambiance was very romantic. Iga one of the main grocery stores is less then a mile and a half from the Villa (walking distance). Enjoy the Island for it's beauty!

MrsC
MA

Even nicer than advertised!

Left on

02/28/2011

for a stay in February 2011

| MrsC

When you rent a place, you hope it is as good as they say. Well, Daisanadu was better than advertised! The owner greeted us upon our arrival and gave us a quick tour, pointing out things we should know. Everything you could want was there for us - coolers, beach chairs & umbrellas, corkscrews, saran wrap, pots and pans, cutting board, beach towels, scissors, etc. She thought of everything. We are already planning our trip back to the island next year and would no want to stay anywhere else!

Ted and Arlene
Ontario, Canada

Great Vacation accommodations

Left on

02/27/2011

for a stay in February 2011

| Ted and Arlene

We stayed at Daisanadu in Feb 2011. Our first impression was how clean the apartment was. It is located within walking distance to restaurants, the beach, car rental and snorkeling but we really enjoyed having a car to see the rest of the island. There always seems to be a breeze blowing so the bedroom a/C was needed only rarely. Nice views from the decks! We spent many hours searching for our accommodations for Turks and Caicos and feel that Daisanadu is a great spot at a great price.

Manette
TX

A Gem

Left on

01/26/2011

for a stay in December 2010

| Manette

For a quarter of the cost of a hotel in Grace Bay, we enjoyed the local feel, quiet atmosphere, and convenience of being able to walk to local watering holes and eateries in Turtle Cove. We had access to the beaches and hotel amenities of Grace Bay, so we didn't miss out on anything. Villa Daisanadu is simple, elegant, and very clean. Barb and Martin and helpful and kind hosts who allow guests their privacy. We would stay at Villa Daisanadu again and again.

Laura
IA

Private, luxurious, affordable

Left on

01/15/2011

for a stay in January 2011

| Laura

My boyfriend and I just returned from staying at the Million Dollar View. It was amazing!!! We enjoyed breathtaking views from the private shaded deck. We don't do well in the heat so we hung out on the shaded deck in the mornings and relaxed, ate lunch, then grabbed the snorkeling gear and headed to the beach in the early afternoon. In the evenings we'd relax, watch some TV, and cook dinner. The full service kitchenette made eating on the island affordable. (Bars and restaurants are a short walk away for those wishing to indulge). Bring comfy tennis shoes and you can walk almost anywhere. Taxis are pricey. Barb was a great host. She let us ride along to the grocery store and gave us a tour of nearby attractions (beach, video store, car rental, restaurants). She knows the island well and gave us great advice on where to eat and shop. We hope to be back some day.

A FlipKey verified reviewer
Toronto

Great View, Affordable Luxury, Privacy, Convenience

Left on

12/29/2010

for a stay in December 2010

| A FlipKey verified reviewer

We are so glad we chose Villa Daisanadau for our stay in Provo. The accommodation was luxurious and affordable, and very private and quiet. The apartment was very roomy and had every amenity - huge bedroom with comfortable king bed, complete kitchen, living room with large satellite TV, wi-fi internet, laundry machine, and large porch from which to watch the beautiful ocean view. The owner was very nice and most helpful, and thoughtfully provided a cell phone with a $10 prepaid card, snorkelling gear, coolers and thermoses, beach towels.

And convenient - just a few minutes walk and you are at Turtle Cove Marina where there are several restaurants, fishing and dive boat operators, and a car rental place. A couple minutes more and you are at the start of Grace Bay Beach where you practically have the beach to yourself and there is great snorkelling. And the further you keep walking along this beautiful beach, the more resorts you'll pass by, where you can see tons of people and choose from many different restaurants, knowing that you'll be able to go back to the privacy that few can enjoy.

We really enjoyed our stay at Villa Daisanadu. I'd go back again, and would highly recommend it for anyone who is looking for relaxation and privacy away from the crowds, and who wants the flexibility of an having an apartment rather than a hotel room, and who wants to see and experience different areas of the island rather than being tied down to one resort.

JAG
NY

Romantic paradise!

Left on

12/28/2010

for a stay in December 2010

| JAG

This was the most amazing place...so amazing that my fiancee and I got engaged while staying here! Barb and Martin are such lovely warm hosts, giving great tips for locals on the island. The space is beautiful and the location central as well. We stayed at a 5 star resort at Grace Bay before Villa Daisanadu and loved Villa D so much more...the porch is the perfect view and place for breakfast outside or reading in the shade. I cannot say enough great things to describe this place and I cannot wait to go back again and again! So thankful that it exists!!!

A FlipKey verified reviewer
NYC

We got engaged here

Left on

12/28/2010

for a stay in December 2010

| A FlipKey verified reviewer

"What can i say. This place is amazing. We stayed the first week at a resort in Grace Bay and the second week here at Villa Daisandu. The first week was great but we really enjoyed the Villa so much more. Barb and Martin are great and the place is really well kept. The views are amazing and you really feel like you are away from the tourist bustle- which is really nice for us coming from the city.

It was great for diving as i could just walk down the street 2 mins in the morning to go diving with the dive company at the marina.

The place is really great.

Oh and we loved it so much here that we got engaged.

I thoroughly recommend this place to anyone."

Jadey & Gonzo
Maryland

Amazing value for an amazing experience!

Left on

11/24/2010

for a stay in November 2010

| Jadey & Gonzo

We just returned from our week long vacation in Turks and Caicos at Daisanadu. What an amazing experience. We were greeted by Barb upon arrival and given a quick tour of our home for the week. The apartment was clean, comforting, and well stocked with all basic needs. The outside decks were perfect for reading, relaxing, sunbathing, or taking an afternoon nap (which I did several times). Barb was more than helpful with all our questions and provided us with recommendations for dinner and activities. Overall, our trip was amazing. If you're looking for a great, affordable place to stay in Providenciales, book Daisanadu today! You'll be so happy you did.

Adrian
Ontario

Fantastic View, Fantastic Value!

Left on

10/31/2010

for a stay in October 2010

| Adrian

We just finished a week long vacation to Providenciales, TCI. We spent the first six nights at Villa Daisanadu and the seventh night at the Veranda. Barb (the owner of Daisanadu) was extremely helpful and timely when it came to inquiries and booking her villa. When we arrived she was there to greet us and was very helpful in explaining all the little details of the rental. She then gave us a tour of the turtle cove area as well as showed us where the beaches were and some lovely restaurants. The beach is about a 10 minute walk from the property and is absolutely beautiful. The white sand and turquoise water looked like they would be on a postcard and not a single other person on the beach! The turtle cove area is mainly villas and it was extremely nice to be away from the congested resort beaches. The walk to and from the beach also happens to pass right by the Tiki Hut bar and restaurant which is one of the more reasonably priced places to stop for a snack or a quick drink. We ate in at the villa three of the nights and ate out the other three. The wrap around deck also provides for some beautiful ocean views and a wonderful view of the turtle cove marina. There is also a lovely spot outside to sunbathe and have a BBQ. As far as value, the price of this rental is superb for all of the amenities that are included. Barb provides a cell phone, many small things that would be a pain to purchase if only on a short vacation (ie condiments, dish soap, etc). If your planning on going to the Turks and Caicos and are looking for an affordable place this is definitely it!!! Thanks again Barb for everything!!

Barry and Patti B.
B.C. Canada

Stellar in Every Way!! A Home You'll Remember.

Left on

10/22/2010

for a stay in October 2010

| Barry and Patti B.

At Villa Daisanadu, our vacation started the minute we opened the front door. The decor is fresh, clean, well laid out, and roomy. The website pics show you what you can expect. The bedroom felt like an oasis of rest, complete with view. The comfy big bed was the favoured spot to unwind under the cooling fan or to a blast of aircon, all while remenising about the days adventures. Every room was stocked with unexpected treasures. The bathroom had full shampoo and conditioner, cream, sunscreen, etc. We enjoyed bright fluffy towels both bath size and beach size. The kitchen was stocked with condiments, spices, oil, and even wrap for left overs. We've done vrbo's before and this was far and beyond the best one we've stayed in. Barb is as helpful a host as you'll come across and if she doesn't make you laugh or smile, well you're just not in vacation mode. hehe The Turtle Cove area was very central on the Island with lots of amenities. The marina has a personality of its own, lots of boating and fishing business', some waterside restaurants, and boardwalks to enjoy a stroll. Not much further and you are at the beach, one end of the famous Grace Bay beach. The snorkelling there, was fantastic, and only a few feet off the shore. I was amazed at how often we came back and forth to our homebase and just chilled on the deck, read, took countless photos of the gardens, dogs, geckos, etc. and still had time to head out again for another beach walk or dinner and a sunset. We did use a car and found it useful to fully explore Provo. We loved the privacy that was awarded us but still enjoyed interacting with our hosts if and when our paths crossed. We live in Central BC Canada, on a beautiful lake, but after only a week back home we still wish we were drinking our morning coffee on the big blue deck, and making plans for another great day together on Provo. This vacation surpassed all our expectations and staying at Villa Daisanadu was a big part of making that happen.

Steveo1
Ontario

Fantastic Stay

Left on

09/19/2010

for a stay in September 2010

| Steveo1

We have just returned from our first vacation rental experience, and our third trip, in the Turks & Caicos Islands. Although we were hesitant to stay outside of a hotel, friends had sworn by the vacation rental experience and recommended we try it ourselves. Going by photos (numerous, lovely), reviews (glowing), and cost (ofcourse) we chose Daisanadu. The experience was more than excellent. All correspondence was responded to promptly. Any questions were answered fully. All concerns were addressed completely. On arrival, we were pleased to find the property was as nice as shown in the photos (if not nicer, as the panorama is difficult to capture in one photo, and boy did we try!!!) and the apartment was comfortable, clean and well-appointed. Better than that, we felt like we were in a home-away-from-home, immediately at ease, relaxed and in vacation-mode. The apartment was stocked with all the comforts of home, tv, wi-fi, great bed, nice linens. In addition, we found some things we had not expected like paper towels, condiments, charcoal for the bbq. Maps and quide books were also provided. The house is within walking distance of so many things that we actually regretted having rented a car for the full week, but did use it to drive around and see the island and to go to Sapodilla Bay one day. The beach access by the house has some great snorkeling and was beautiful and virtually empty. We are now vacation rental converts and would recommend Daisanadu to anyone. Steve and Janette Marlowe, Toronto.

Brent
Ontario, Canada

Great place to stay!

Left on

08/24/2010

for a stay in August 2010

| Brent

Loved it! My girlfriend and I stayed here for a week in august. Prior to arriving, Barb answered all my questions quickly, and when we arrived, made us feel comfortable immediately. The house is easy to find by car and an easy walk to restaurants and activities in Turtle Cove. The main tourist area at Grace Bay is only a few minutes' drive away, as are grocery stores. We loved the apartment, with a fully-equipped kitchen, comfortable sitting area, and very nice king-sized bed. All were very clean. Both a/C and ceiling fans are available depending on your tastes and the weather. The outside deck is lovely and we enjoyed relaxing there for the breeze and the view. At the end of each day, we sat outside and uploaded photos to the web over the included wi-fi internet. Perfect!

Overall, we were extremely pleased with the accommodation and the excellent value offered, and won't hesitate to book it again when we return. If you're considering staying here, don't hesitate - it books up very quickly for a reason!

sunlover
Utah

One word... fabulous!

Left on

08/23/2010

for a stay in August 2010

| sunlover

My husband and I stayed at Villa Daisanadu and had the most relaxing vacation of our lives. If you are looking at a few different rentals on this site, trying to decide... Stop, this is the place you should be! It has all the comforts of home on a tropical island. The Villa was immaculate, and the owners Barb and Martin really went out of their way to make sure we had everything we needed. This was our first visit to the Turks and Caicos Islands. We are huge foodies and weren't sure what the restaurants were going to be like, but they well surpassed our expectations... Coco Bistro, Coyaba, O'Soliel and Lemon were our favorites. We are looking forward to our next visit to Providenciales and will definitely stay at Villa Daisanadu!"

Paula
Canada

Idyllic Turks and Caicos Villa!

Left on

08/03/2010

for a stay in July 2010

| Paula

We have vacationed in Turks and Caicos for four holidays over a period of 15 years. For this vacation, we were looking for a pied-à-terre on this beautiful island where we could live as locals, making our own breakfasts and lunches and have the luxury of trying different restaurants on the island for dinners. The photos provided were very accurate - the bedroom was outfitted with hotel-like linens and a very comfortable bed, lots of closet space and beautiful views; the living room has a beautiful sitting area, small library of great holiday reads, iPod docking station/stereo, flat-screen tv and a small eating area; the kitchen, although small, has everything you might need - full fridge, oven, microwave and you are provided with a large container of filtered water cooling in the fridge along with lots of ice; the bathroom is large and very clean (linens provided) with shower stall (great water pressure!). We enjoyed our very own wrap-around porch with loungers and deck chairs and beautiful views. We were within walking distance of restaurants in Turtle Cove and a very short hop to beautiful beaches! My husband and I would highly recommend this spot for a vacation. Barb (the owner) gave us many wonderful recommendations on restaurants and excursions and was always available for any question. Barb and her husband Martin were wonderful hosts in that for the 10 days of our stay we felt that the place was our own to cherish. The property is secluded, quiet and very safe - it was a great addition to our list of stays in Turks and Caicos!

Lori Gibb
AZ

The whole vacation experience in one stop

Left on

07/23/2010

for a stay in July 2010

| Lori Gibb

First of all, my husband and I could not have picked a more welcomed greeting. We both felt at home immediatly in the privacy of our apartment. The accommodations exceeded our expectations. We would definitely return without hesitation.

Ken & Kathy
New York

Wonderful location

Left on

07/02/2010

for a stay in June 2010

| Ken & Kathy

My wife and I stayed at Villa Daisanadu for 4 days. I have nothing but good things to say about this place. Its in a central location, close to restaurants, Grace Bay, rental car places and the Marina. The apartment is comfortable, clean and stylishly appointed. We felt like we had the run of the place and the owners Barb and Martin were close by to attend to our needs and questions. You can't find a better value for your money, with the quality of accomidations provided to you. There is room for you and the kids. I would stay here again, when we come back to the Turks.

Megan2010
ON

Best Vacation Ever

Left on

06/29/2010

for a stay in January 2010

| Megan2010

Great vacation spot! Apartment was spotless and comfy, owners quiet and helpful. Close to the beach and all the bars, but chances are you won't want to leave the deck. We got a lot of use out of the blender and lounge chairs. Photos don't capture how panoramic the view really is. We loved it and would highly recommend.

Patrick and Jennifer
USA

Wonderful and affordable!

Left on

06/28/2010

for a stay in June 2010

| Patrick and Jennifer

My wife and I stayed at the apartment 6/3 for a week and we loved the place. The pictures accurately show the apartment. Bedroom was comfortable and had an air conditioning unit that was glorious. The apartment had beach chairs, an umbrella, cooler and some floats that you could take to any one of the public beach access points. Nice tv with lots of channels and good wireless internet. Kitchen had everything except a dishwasher but that didn't matter. Barb was a great host and made sure to offer any help and gave us some great tips on food and places to go but she never imposed herself. Everything was separate from their house upstairs so it is very private. Would stay here again.

A FlipKey verified reviewer
Chicago

Tranquil Bliss

Left on

06/28/2010

for a stay in March 2010

| A FlipKey verified reviewer

My boyfriend and I spent a lovely week here. The apartment was comfortable and clean. The deck was private and relaxing. The view was gorgeous. Everything we need was really close by. We would highly recommend it to anyone who doesn't mind not being right on the beach, but doesn't want to skimp on any other amenities.

Kevin S.
PA

Spectacular Place to Stay

Left on

06/08/2010

for a stay in May 2010

| Kevin S.

I stayed at the Villa Daisanada (Million Dollar View) in Turtle Cove and had a spectacular time. The view was great and the apartment was super clean, very roomy and comfortable. The pictures posted are recent and show exactly what you are getting, but it's even better in person. The owners were very friendly and helpful. Was within walking distance of the marina, shops and restaurants in Turtle Cove. I have the most relaxing vacation that I've had in a while thanks to the pleasant apartment and host. I would definitely stay here again and highly recommend it to anyone. You won't be disappointed.

Beth
PA

Pefect Getaway!

Left on

05/28/2010

for a stay in May 2010

| Beth

I walked into a beautiful, spotless apartment and knew my vacation was going to be a good one. The kitchen was great, the bathroom was roomy and the bedroom was awesome with a huge king size bed, beautiful linens and plenty of closet space. Everything I needed was there. But the very large private deck overlooking the marina was the highlight!!! I spent many hours out there reading, sipping a drink and taking in the view. I loved the privacy but was so close to Turtle Cove I could go there and eat, drink and socialize. Barb and her two dogs, Dolly and Butter were fantastic. For a large spacious apartment, a gorgeous view and close to Turtle Cove this place was a bargain!!

A FlipKey verified reviewer
Montreal

The best view ever!!

Left on

05/11/2010

for a stay in January 2010

| A FlipKey verified reviewer

Better than the pictures!
Our 2 week stay at Villa Daisanadu was peaceful and so replenishing. The appartment could not have been more comfortable...a home away from home.
Thanks Barb for your advice and discretion. We will be back!

Jan
Alberta

Great Place

Left on

04/23/2010

for a stay in March 2010

| Jan

My husband & I spent a lovely relaxing week at Villa Daisanadu. It was lovely and clean and had everything we needed. Great value for the cost. We enjoyed sitting on the deck with the great view each morning and evening. We did rent a car to get around, but also enjoyed the short walk to Turtle Cove and Grace Bay Beach (and longer walk far down the beach...). There are a few nice restaurants withing walking distance, we only drove once to dinner. A cell phone was provided which proved very useful to reserve dinner and tours. If we make it back to Providenciales we would definitely stay here again.

breckert05
MN

Amazing Place at an Amazing Price! Can't Wait to go Back!

Left on

03/18/2010

for a stay in March 2010

| breckert05

My family and I stayed at Villa Daisanadu from March 10th - 17th in 2010 and it was our first time to Provo. Everything at the villa was simply amazing and it was very affordable. The place is so well maintained and clean, and it was in the perfect location. We rented a car to travel to some of the other beaches on the island but this place was within walking distance to everything you need. We especially enjoyed being so close to turtle cove where by walking 2 mins (downhill) you could get to some great restaurants for dinner or lunch. Also staying here was great because there were amazing views from the porch and it was very relaxing to sit out there and just watch the ocean and marina. Overall it was perfect because you are very close to everything, yet you are just far enough away to have a peaceful place. Thank you again very much for welcoming us into your home and I will definitely return there in the future!

Betty
Ontario, Canada

When visiting Turks & Caicos, you have to stay a Villa Daisanadu

Left on

03/17/2010

for a stay in December 2009

| Betty

I have travelled to various places throughout Australia, Europe, U.S., Caribbean & Canada but it is this piece of paradise in Turks & Caicos that I keep coming back to!!! It has a million dollar view, the beaches are superb and the hospitality & accomodations are the best you can ask for.

The only way to experience Turks and Caicos is to stay at Villa Daisanadu, it is the only place where I stay. I highly recommend it!!

A FlipKey verified reviewer
Chicago

Can't wait to go back!

Left on

03/16/2010

for a stay in November 2009

| A FlipKey verified reviewer

This was our first trip to Provo. My husband and I were looking for an affordable place to stay near or on the beach but still wanted someplace nice, clean, and with a view. This was the perfect place for us! We could have spent twice as much at a hotel on the beach, but why bother when the beach is less than a few minutes away by car? By staying here, we saved enough to pay for a car for the week (we wanted to tour the island), some very nice dinners, groceries, and still had money left over vs. staying at a hotel!! We were so lucky to have found Barb and her wonderful space. It is definitely more of a home than a "rental," and it was indeed clean with comfortable and stylish furnishings in line with the tropical setting, as well as a spacious bedroom with direct access to the fantastic porch. What a wonderful view of the beautiful ocean! During our trip, there was a meteor shower, so we sat under the stars with the cool ocean breeze and watched the show with a nice glass of wine. Perfect! I must admit, I was a little unsure whether I would be disappointed without a pool on site, but honestly, the beaches are so clean and the water calm and clear, so we did not miss having a pool at all. Actually, some of the hotels are so anxious for business that they told us we could use their pool in exchange for buying cocktails and such, but we didn't feel the need. We did, however, use empty beach chairs in front of the resorts all week, and no one ever said anything to us about it. However, Barb does provide beach chairs and a beach umbrella, beach towels, snorkel fins, an ice chest, and we left a pool float there, so you can pack light. She even gave us a cell phone to use during the week. Also, Barb was very helpful with dining and excursion recommendations, providing maps, etc. (but only when asked - she didn't come down and bother us uninvited at all). Will definitely return. :)

MuskokaLady
Ontario, Canada

More than expected!!!

Left on

03/15/2010

for a stay in November 2009

| MuskokaLady

I really enjoyed my stay in Turks and Caicos. Villa Daisanadu is even more picturesque than the photos provided. The photos do not due the view justice at all. The home is well appointed. Comfy bed, well equiped kitchen plenty of towels for bathing and beaching.
The deck was awesome!! A coffee, a book and a glorious view what more can one ask for while on a relaxing vacation.
The location is perfect. It was a short walk down to the Marina, which has a few little restaurants, Shark Bite and Tiki Hut. (Love the Nachos at the Hut). The IGA was a short jaunt down the main road, a car or cab would be required. A little to far for a walk with groceries in tow.
The beach is so lovely, powder white sand and very quiet. Beach chairs were provided along with a cooler for a picnic.
I would recommend Villa Daisanadu without hesitation. As the caption states....A Million Dollar View with an affordable cost. It is true!! Stretch your travel dollars and check out their calendar see if their availability will work for you!!!

A FlipKey verified reviewer
New Lowell Ontario Canada

If you're looking for quiet, this is the place.

Left on

03/15/2010

for a stay in January 2010

| A FlipKey verified reviewer

Villa Daisanadu is a quiet out of the way place, but not far from Turtle cove(a 2 minute walk). You are provided with the necessities and the apartment is priced accordingly. The Host and Hostess are pleasant and helpful. The residents dogs Dolly and Butter are friendly and always happy to see you.
Also Consider
FlipKey has rentals in over 11,000 destinations around the world: