Previous

Next

property
$128
3 BR / 1 BA / Sleeps 6
$128
Book
3 BR
/
1 BA
/
Sleeps 6
|

Quick view
Welcome to "Le Spigaou de Rognes" a Villa in the Heart of Provence, Luberon, a relaxing and peacefully place. The Villa with its large 35 ft. swimming pool, can host up to six people and is located in a property of over one hectare surrounded by olive trees and pines and it is nearby the charming village of Rognes…
Internet Access

Fireplace

Housekeeping Optional

Washing Machine

Outdoor Dining Area
Pet friendly - ask

Smoking allowed - ask

Suitable for children

Suitable for the elderly

Wheelchair accessible - ask
Previous

Next

property
$1,599
8 BR / 0 BA / Sleeps 16
Inquire
8 BR
/
Sleeps 16
|

Quick view
Provence property holiday rental. Beautiful renovated countryhouse on 7 acres land with a 16x5, 5m swimming pool and private tennis. Located near the charming village of Rognes between Aix en Provence and the Luberon hills. Ideal for a large family looking for good comfort near the cultural activities. Additional …
Shared outdoor pool (unheated)
Pet friendly - ask

Smoking allowed - ask

Suitable for children - ask

Suitable for the elderly - ask

Wheelchair accessible - ask
Previous

Next

property
$1,399
6 BR / 1 BA / Sleeps 12
Inquire
6 BR
/
1 BA
/
Sleeps 12
|

Quick view
Luxury villa rental in Aix-en-Provence country-side 20 minutes away from Aix-en-Provence, this beautiful property is located in a gourgeous pine forest in the hills. The 400 sqm house was built and decorated with taste : Spanish stones, woodwork and custom-made furniture, ethnical pieces of furniture from Asia and …
Shared outdoor pool (unheated)
Pet friendly - ask

Smoking allowed - ask

Suitable for children - ask

Suitable for the elderly - ask

Wheelchair accessible - ask
Previous

Next

property
$880
6 BR / 1 BA / Sleeps 12
Inquire
6 BR
/
1 BA
/
Sleeps 12
|

Quick view
Very nice villa in Rognes, a charming village 20km from Aix-en-Provence. The villa is located on a beautiful flat garden of one hectare with a heatable pool, large terrace overlooking the countryside and a covered dining area. It is elegantly constructed using high quality materials: clay, wood, custom millwork. The …
Shared outdoor pool (unheated)
Pet friendly - ask

Smoking allowed - ask

Suitable for children - ask

Suitable for the elderly - ask

Wheelchair accessible - ask
Previous

Next

property
$904
5 BR / 0 BA / Sleeps 10
Inquire
5 BR
/
Sleeps 10
|

Quick view
Very nice house with stone walls on land not enclosed by three hectares, a 14 x7 m swimming pool and a jacuzzi. Because of its location near the southern Luberon, this villa is ideal for vacationers looking for a very comfortable inside and outside in the pine forest of Provence. Capacity 10 people (can not rent …
Shared outdoor pool (unheated)
Pet friendly - ask

Smoking allowed - ask

Suitable for children - ask

Suitable for the elderly - ask

Wheelchair accessible - ask
Previous

Next

property
$420
6 BR / 5 BA / Sleeps 12
$420
Book
6 BR
/
5 BA
/
Sleeps 12
|

Quick view
Located at the gates of the Lubéron, and 20 kilometres away from Aix-en-Provence, this Provencal-coloured villa offers a very pleasant quality of life. We favoured comfort and conviviality: almost all the rooms are at garden level and open up on the garden or on the pool. It truly is an easy-going place, where …
Waterfront

Internet Access

Fireplace

Washing Machine

Clothes Dryer
Smoking allowed - ask

Suitable for children

Suitable for the elderly - ask
Previous

Next

property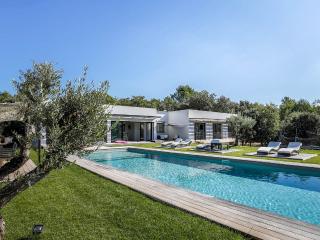 $560
4 BR / 3 BA / Sleeps 8
$560
Book
4 BR
/
3 BA
/
Sleeps 8
|

Quick view
The following hotel services are included in your stay: a welcome basket with a selection of teas and coffees, fresh bed linens and bath towels, toiletries, concierge services, complete cleaning before your arrival and after your departure, and weekly housekeeping for longer stays. Space and large volumes define …
Internet Access

Washing Machine

Clothes Dryer

A/C or climate control

Central heating
Smoking allowed - ask

Suitable for children

Suitable for the elderly - ask
Previous

Next

property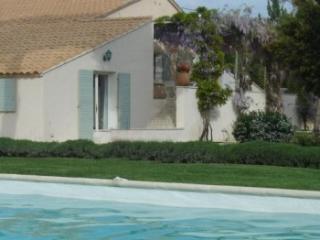 $257
5 BR / 3 BA / Sleeps 8
$257
Book
5 BR
/
3 BA
/
Sleeps 8
|

Quick view
You will enjoy the sun, the pool and birdsong ... In an environment of hills and vineyards, overlooking an ancient valley of the lower valley of the Durance, the Tangana villa welcomes you in a house 200 M2 tastefully decorated, terrace overlooks landscaped grounds and a large swimming pool, facing south, on the west…
Pet friendly - ask

Smoking allowed

Suitable for children

Suitable for the elderly - ask

Wheelchair accessible
Previous

Next

property
Inquire for rates.
7 BR / 0 BA / Sleeps 13
Inquire
7 BR
/
Sleeps 13
|

Quick view
A recently renovated manor house nestling amongst the hills with wide shuttered windows and French windows on its golden coloured façade, facing south under the watchful gaze of large trees. A small country road winds its way through the vineyards, away from the village of Lambesc which is almost walking distance …
Smoking allowed - ask

Suitable for the elderly - ask
Previous

Next

property
Inquire for rates.
4294967295 BR / 0 BA / Sleeps 0
N/A
Internet Access

Fireplace

A/C or climate control

Satellite or cable TV

DVD Player
Pet friendly - ask

Smoking allowed - ask

Suitable for children - ask

Suitable for the elderly - ask

Wheelchair accessible - ask
---
---