Previous

Next

property
$65
2 BR / 1 BA / Sleeps 6
$65
Book
2 BR
/
1 BA
/
Sleeps 6
|

Quick view
Relax in beautiful Rose Hall away from the hustle and bustle of the city. Just a few minutes walk and you are at the beach where you can spend all day swimming, tanning, eating and just relaxing for free every single day. There are small bars nearby, places to get food and if you need anything else taxis are available…
Ocean or water views

Mountain Views

Internet Access

Outdoor Dining Area

Balcony or terrace
Smoking allowed - ask

Suitable for children

Suitable for the elderly - ask
Great place to just relax!
Left on Jan 30, 2015 for a stay in December 2014
I enjoyed my 7 nights at Sherika's place. The finigh night I was there I woke up at around 6 in the morning because I wasn't feeling well and when I heard those birds chirping and calling outside I was in awe. The apartment itself has everything you need to feel comfortable and at home. There's cable tv, strong Wi-Fi signal in both rooms and a kitchen where I made most of my meals. I paid to have…
Previous

Next

property
$187
2 BR / 2 BA / Sleeps 4
$187
Book
2 BR
/
2 BA
/
Sleeps 4
|

Quick view
A very nice two bedroom penthouse with private loft on the roof, this apartment is located on the beach with 24 hour security and is nicely laid out, the apartment has Ac, hot and cold water , and all the necessary amenities. This property has its own private beach, Pool Side bar, Restaurant and Jerk restaurant on the…
Mountain Views

Shared outdoor pool (unheated)

Wireless Internet

A/C or climate control

Balcony or terrace
Previous

Next

property
$550
7 BR / 0 BA / Sleeps 14
Inquire
7 BR
/
Sleeps 14
|

Quick view
Thomas House was featured in the Walt Disney film, Cool Runnings. This is a most spacious ocean view villa with spectacular golf views and Caribbean sea views. It is an ideal house for weddings, family gatherings or large reunions. The great room is the center of activity with a spacious living area, dining area with …
Waterfront

Ocean or water views

Wireless Internet

Washing Machine

Outdoor Dining Area
Suitable for children

Suitable for the elderly - ask
A must stay!
Left on Dec 18, 2011 for a stay in December 2011
The Thomas house is amazing! This was my first time in Jamaica, and staying at this house made it one of the best trips ever! Not only is the house beautiful with breathtaking views, but the staff gives you a red carpet treatment that makes you never want to leave! I would recommend this house to anyone who wants to have a dream vacation!
Previous

Next

property
$950
5 BR / 0 BA / Sleeps 10
Inquire
5 BR
/
Sleeps 10
|

Quick view
Large private white sand beach & chaises! Wonderful protected swimming water! 5 minutes from the villa! The newest luxury development on Jamaica's north coast! Nutmeg offer complimentary beach club membership at The Palmyra Resort and Spa just a 5 minute drive away. Palmyra has a large private white sand beach, …
Waterfront

Ocean or water views

Mountain Views

Wireless Internet

Washing Machine
Suitable for children

Suitable for the elderly

Wheelchair accessible
Previous

Next

property
$1,000
4 BR / 0 BA / Sleeps 8
Inquire
4 BR
/
Sleeps 8
|

Quick view
Casa Bella villa in Jamaica is a 4 bedroom villa -Nestled in the foothills of exotic Montego Bay, Jamaica lies your hidden treasure… Casa Bella. We will host you with consummate elegance in our lush, tropical and exquisite ambiance. Tucked away in the Highlands Community of Springfarm, this sprawling new villa …
Waterfront

Ocean or water views

Mountain Views

Wireless Internet

Washing Machine
Suitable for children

Suitable for the elderly - ask
Previous

Next

property
$1,540
5 BR / 0 BA / Sleeps 10
Inquire
5 BR
/
Sleeps 10
|

Quick view
Over 8,000 sq ft of new luxury villa! Absolute luxury! One of our newest villas in our villa collections with 24/7 gated security, prestigious neighbourhood. Nestled on the golf course of the prestigious Rose Hall Estate this luxurious villa offers spectacular views of the turquoise waters of the Caribbean Sea and …
Waterfront

Wireless Internet

Washing Machine

Clothes Dryer

Outdoor Dining Area
Suitable for children

Suitable for the elderly - ask
Previous

Next

property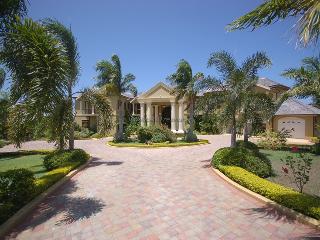 $1,500
12 BR / 0 BA / Sleeps 24
Inquire
12 BR
/
Sleeps 24
|

Quick view
12 bedroom, 12 bathroom luxury mansion in Montego Bay. Located in one of the most prestigious neighbours in Montego Bay, Jamaica lies your fantasy escape. The Golden Castle Golf & Spa will host you with consummate elegance in our lush, tropical and exquisite ambiance. Nestled on the majestic Cinnamon Hill Golf …
Smoking allowed - ask

Suitable for the elderly - ask
Previous

Next

property
$1,350
9 BR / 0 BA / Sleeps 18
Inquire
9 BR
/
Sleeps 18
|

Quick view
Summerhill Villa is one of the newest villas in the prestigious Springfarm, Montego Bay area. This spacious three story villa boasts 10,000 square feet of elegant living and 9 spacious bedrooms. Resort Membership to Half Moon Resort for all guests staying at Summerhil Villa. FAMILY FRIENDLY - Keeping the kids …
Waterfront

Wireless Internet

Housekeeping Optional

Washing Machine

A/C or climate control
Suitable for children

Suitable for the elderly - ask
Previous

Next

property
$1,350
9 BR / 0 BA / Sleeps 18
Inquire
9 BR
/
Sleeps 18
|

Quick view
Summerhill Villa is one of the newest villas in the prestigious Springfarm, Montego Bay area. This spacious three story villa boasts 10,000 square feet of elegant living and 9 spacious bedrooms. Large private white sand beach & chaises! Wonderful protected swimming water! 5 minutes from the villa! The newest …
Waterfront

Wireless Internet

Washing Machine

Clothes Dryer

Outdoor Dining Area
Suitable for children

Suitable for the elderly
---
---