Previous

Next

property
$100
3 BR / 1 BA / Sleeps 7
$100
Book
3 BR
/
1 BA
/
Sleeps 7
|

Quick view
First or Second floor unit is available with great views of the Black River Estuary. This hidden gem, with wonderful westerly breezes and sunsets, is tucked away in a quiet serene setting while being minutes away from restaurants, ice cream and the beach. This unit has been newly refurbished with carpets, all new …
Ocean or water views

Internet Access

Washing Machine

Clothes Dryer

Outdoor Dining Area
Suitable for children

Suitable for the elderly
Nice location; low level of equipment
Left on Jul 09, 2012 for a stay in June 2012
Been there for a week with my baby, wife, and my parents'wife.

Everything went fine except a problem of heating in the bathroom that Susan fixed in about 2 days.

3 stars instead of 5 because the furniture is very basic; (yet comfy, but you may think you are stuck in the 1980's) the internet connection advertised in the description is some neighbour's and not reliable at all (disconnecting every…
Previous

Next

property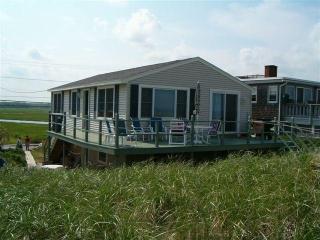 $236
3 BR / 1 BA / Sleeps 7
$236
Book
3 BR
/
1 BA
/
Sleeps 7
|

Quick view
Second Floor is rented through Oct 1. First Floor is open Aug 23 to Labor Day and then post season. It includes 2 BR with a Den. Sleeps 6 - 8 with pull out couch. Just steps away from beautiful Salisbury Beach, this up to date oceanfront cottage includes a gas grill, a washer and dryer and a large wrap around …
Waterfront

Ocean or water views

Outdoor Dining Area

Patio

Grill
Suitable for children

Suitable for the elderly
On the waterfront for an excellent value
Left on Mar 29, 2011 for a stay in July 2010
Me and my family spent 3 weeks in July 2010 at the Salisbury Beach cottage own by the Gallahue's. The Gallahue's were very responsive to any issues, the location on the water was excellent location for my children ages 8 & 12 no crossing the street to get to the beach. I would recommend staying at any property owned by the Gallahue's and we are looking forward to repeating our stay again in the …
Previous

Next

property
$300
6 BR / 2 BA / Sleeps 16
$300
Book
6 BR
/
2 BA
/
Sleeps 16
|

Quick view
Rent this 6 BR/2 Bath house with a beautiful view of the River from your back porch deck. This unit is tucked into a private road with two other like houses, each a duplex with 3 bedrooms in each unit. Includes 2 upper decks, lower deck and patio area, and gas grills at each unit. Just 3 blocks from the ocean or a 5 …
Ocean or water views

Internet Access

Outdoor Dining Area

Deck

Parking
Suitable for children

Suitable for the elderly
My family was extremely happy!!
Left on Jun 24, 2011 for a stay in May 2011
My family and I stayed here the last 2 Memorial Day weekends. The house was very clean and well equipped with everything you need from kitchen supplies to a gas grill. The beds appear to be brand new and very comfortable. The beach is just a short distance across the street and there are stores within walking distance for all your needs! Exceptional!
Previous

Next

property
$200
3 BR / 1 BA / Sleeps 8
$200
Book
3 BR
/
1 BA
/
Sleeps 8
|

Quick view
3 BR, sleeps 8 (2 queens, 2 bunks). Modern Kitchen and Bath with Washer and Dryer. Tiled floors throughout. Outside patio with Gas Grill. Just a stones throw to the beach. View of marsh from back bedrooms. Discount for first two weeks of the summer if you take both weeks. Call for info. (phone: hidden)
Waterfront

Ocean or water views

Washing Machine

Clothes Dryer

Outdoor Dining Area
Suitable for children

Suitable for the elderly
Ocean Front Condo was Great!!
Left on Jul 09, 2012 for a stay in June 2012
Joan was very nice and the accomodations were great. My entire family loved it. We need to do this again next year.
Previous

Next

property
$136
3 BR / 2 BA / Sleeps 6
Inquire
3 BR
/
2 BA
/
Sleeps 6
|

Quick view
Spectacular Oceanfront 3BR, 2BA house on Salisbury Beach, beautiful direct ocean view, sleeps 6, sunroom, immaculate, spacious 2nd floor deck, outdoor heated shower, washer/dryer, 2 car parking, $2600.00/week for 2 wks or $2800.00 per/ for 1 am, NO pets please, 2 weeks minimum preferred. Beds: 2 Double Beds, 2 …
Waterfront

Ocean or water views

Washing Machine

Clothes Dryer

Central heating
Suitable for children - ask

Suitable for the elderly - ask
Previous

Next

property
$200
4 BR / 2 BA / Sleeps 8
Inquire
4 BR
/
2 BA
/
Sleeps 8
|

Quick view
Location! Location! Location! Step off your porch into the sand. Oceanfront beach house on Salisbury Beach, Massachusetts. The front house on the beach is split down the middle into two units (one four-bedroom and one three-bedroom each renting for $2300 per week). The master bedroom in each unit has a queen-size …
Waterfront

Ocean or water views

Deck

Parking

Grill
Pet friendly

Suitable for children - ask

Suitable for the elderly - ask
Previous

Next

property
$314
2 BR / 1 BA / Sleeps 5
Inquire
2 BR
/
1 BA
/
Sleeps 5
|

Quick view
Do you love the beach? Want to be close to arcades, restaurants, and other entertainment but far enough away so you can sleep soundly at night? If so this Salisbury Beach rental is for you. Located right on the sand, just north of the Salisbury Beach center means beach pizza and entertainment is a 5 minute walk…
Waterfront

Ocean or water views

Internet Access

A/C or climate control

Central heating
Suitable for children - ask

Suitable for the elderly - ask
Previous

Next

property
$257
3 BR / 1 BA / Sleeps 6
Inquire
3 BR
/
1 BA
/
Sleeps 6
|

Quick view
The Atlantic Ocean is just steps from the door of this seaside 2-family cottage located directly on Salisbury Beach. Enjoy swimming, sunbathing, beach combing, building sandcastles, and unsurpassed views. There are 2 apartment units in this cottage (First floor and second floor). Each unit has 3 bedrooms,1 bathroom, …
Waterfront

Ocean or water views

Deck

Grill

Refrigerator
Suitable for children - ask

Suitable for the elderly - ask
---
---