Previous

Next

property
$36
3 BR / 2 BA / Sleeps 6
$36
Book
Ribeira da Barca condo – 6.6 mi away
3 BR
/
2 BA
/
Sleeps 6
|

Quick view
This apartment has a beautiful view of the bay, the beach Laginha and the surrounding area . It´s a very nice place for a couple or groups with children or friends. Beautiful, calm and relaxing . Great value for money
Ocean or water views

Mountain Views

Housekeeping Optional

Washing Machine

A/C or climate control
Smoking allowed - ask

Suitable for children

Suitable for the elderly - elevator access

Wheelchair accessible
Previous

Next

property
$72
3 BR / 2 BA / Sleeps 6
$72
Book
Sao Vicente house
3 BR
/
2 BA
/
Sleeps 6
|

Quick view
A Fully furnished stunning sea frontline 3 bedrooms and 2 bathrooms townhouse in the area of North Baia on the magical island of Sao Vicente. There are unspoiled sea views from both the large open-plan living area and the upstairs bedrooms. You have your own private roof terrace for barbeques. The house comes …
Linens Provided

Towels Provided

Safe

Paper Towels Provided
Suitable for children - ask

Suitable for the elderly - ask

Wheelchair accessible - ask
Previous

Next

property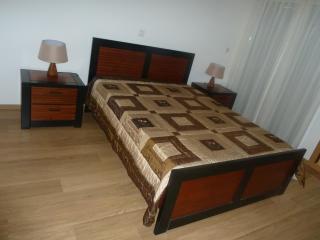 $102
2 BR / 2 BA / Sleeps 4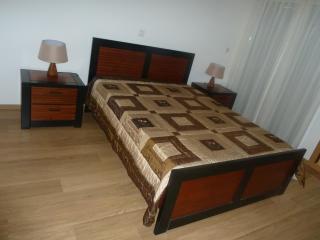 1 / 26
(2)
" Excellent "
$102
Book
Mindelo condo
2 BR
/
2 BA
/
Sleeps 4
|

Quick view
Luxury Copacabana 2 bedroom apartment with 1 bathrooms and a toilet, in the heart of the lovely city of Mindelo with just 3 minute walking distance to the Laginha beach Luxuries: Flat Screen TV, DVD player Blue Ray, Air Conditions, . Utilities: Cooker, Microwave, Fridge, Washing machine, Kettle, Toaster, Iron Rooms: …
Waterfront

Mountain Views

Washing Machine

A/C or climate control

Balcony or terrace
Pet friendly - ask

Smoking allowed - ask

Suitable for children

Suitable for the elderly - ask

Wheelchair accessible - ask
The best location in Mindelo
Left on Mar 05, 2013 for a stay in February 2013
Like everywhere else in the world real estate is all about location location location. And if you're in Mindelo there's pretty much no better location than Copacabana.
In front of the beach and 5 min walk to the city so you have everything 'around the corner' without any noise.
The apartment is -for Capeverdean standards- very luxurious, with 3 bedrooms, 2.5 bathrooms a large kitchen and …
Previous

Next

property
$49
1 BR / 1 BA / Sleeps 2
1 / 19
(1)
" Average "
$49
Book
Porto Novo chalet – 16.1 mi away
1 BR
/
1 BA
/
Sleeps 2
|

Quick view
Two retired people happy and wishing to share their little corner of paradise with people looking for exoticism and adventure. We built a dependence to receive outdoor enthusiasts who would recognize themselves in this environment. So, our business card can be summarized as follows: Seashore, Kitchen fully …
Waterfront

Ocean or water views

Mountain Views

Internet Access

Washing Machine
Pet friendly

Smoking allowed

Suitable for the elderly
Nice place if you have a car
Left on Sep 01, 2014 for a stay in August 2014
Considering that the island is itself already isolated this place is even more so if you are looking to relax in a nice place near the sea but away from the center then this is your place. The wifi works fine ( but don't use it too much or the owner will be sad ) and you have access to a small pool or the beach of black sand.
Previous

Next

property
$38
5 BR / 5 BA / Sleeps 11
1 / 16
(2)
" Excellent "
$38
Book
Mindelo house
5 BR
/
5 BA
/
Sleeps 11
|

Quick view
A easy way to stay in Mindelo the nicest city in Cape Verde. From the property you have a very good starting point for your stay in São Vicente. With his ocean and mountain view, less than 3 minutes from the beach and 7 minutes from historical centre you are close from what is most important. The house is located …
Ocean or water views

Mountain Views

Internet Access

Washing Machine

A/C or climate control
Smoking allowed - ask

Suitable for children

Suitable for the elderly - ask
Spacieux, proche centre ville et plage
Left on Mar 14, 2013 for a stay in February 2013
Nous avons passés avec deux familles (4 adultes et 3 enfants) un agréable séjour dans cette maison très spacieuse.
Previous

Next

property
$60
3 BR / 3 BA / Sleeps 7
$60
Book
Mindelo B&B
3 BR
/
3 BA
/
Sleeps 7
|

Quick view
3 KM from the center of Mindelo, in an oasis of greenery, we offer, in a independant patio : - one suite of 45 m2 that can accommodate three people - 2 rooms of 25 m2 each, independent bathroom, for 2 persons each A pool (pool 12 meters) a grill, and a location to eat in the garden are at your disposal - Possibility …
Mountain Views

Internet Access

Washing Machine

Outdoor Dining Area

Patio
Smoking allowed

Suitable for children

Suitable for the elderly

Wheelchair accessible
Previous

Next

property
$40
1 BR / 1 BA / Sleeps 2
$40
Book
Mindelo condo
1 BR
/
1 BA
/
Sleeps 2
|

Quick view
A cozy one bedroom apartment that will make you feel right at home! Only a 10 min walk from the city's famous beach "Laginha"!. Enjoy an fully furnished apt including hot water and easy access to all major bus lines. Bus Lines pass by every 10 minutes, Bus-stops located along the main road which is right outside of …
Smoking allowed - ask

Suitable for children

Suitable for the elderly
Previous

Next

property
$80
2 BR / 2 BA / Sleeps 4
2 bed and 2 bath apartment, located in the city of Mindelo of the island of Sao Vicente. Immerse yourself in the culture of Sao Vicente and indulge in days of sun and relaxation. Experience the warm sea at the many beaches as it crashes on the rocky landscape or a sandy shore. Drag your toes through the warm and …
Pet friendly - ask

Smoking allowed - ask

Suitable for children - ask

Suitable for the elderly - ask

Wheelchair accessible - ask
Previous

Next

property
$87
2 BR / 2 BA / Sleeps 4
$87
Book
Mindelo condo
2 BR
/
2 BA
/
Sleeps 4
|

Quick view
Luxury Rui - a luxury 3 bed apartment on the hill top with few minute drive to Leginha beach. A very quite place to stay for holiday in Sao Vicente, the silent on the hill is uncomparable. If you are looking to have a lovely pictures of the city on your holiday, this location is the best. Taking a taxi to the top of …
Mountain Views

Housekeeping Optional

Washing Machine

A/C or climate control

Balcony or terrace
Pet friendly - ask

Smoking allowed - ask

Suitable for children

Suitable for the elderly - ask
---
---