Previous

Next

property
$83
0 BR / 1 BA / Sleeps 4
$83
Book
0 BR
/
1 BA
/
Sleeps 4
|

Quick view
Relax in a spacious studio apartment surrounded by a one-acre yard and garden, in a semi-rural setting. Spectacular views of the Olympic mountains from the yard, and framed between trees through the window over your bed. The Garden Room is attached to, but completely separate from our home. It has its own entrance, …
Mountain Views

Internet Access

Washing Machine

Clothes Dryer

Parking
Suitable for children

Suitable for the elderly
Previous

Next

property
$120
2 BR / 3 BA / Sleeps 4
$120
Book
2 BR
/
3 BA
/
Sleeps 4
|

Quick view
Historic vacation rental/ B&B; (website: hidden) When staying at Williams Manor you get the whole house. An original homestead of Dungeness built in the 1870's, it has been remodeled to reflect the craftsmanship and feel of the period. The 1400sq ft home includes 2 bedrooms, 3 baths, living room, spacious …
Ocean or water views

Mountain Views

Internet Access

Fireplace

Washing Machine
Suitable for children

Suitable for the elderly
Fantastic! Wonderful place & people.
Left on Aug 10, 2013 for a stay in August 2013
The owner made us feel like home. He was ready for us. The place was clean. There were even various prepared food for us in the fridge. Check out the fruit trees & the garden as a bonus!
Previous

Next

property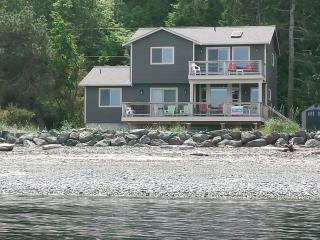 $180
3 BR / 2 BA / Sleeps 6
$180
Book
3 BR
/
2 BA
/
Sleeps 6
|

Quick view
Beautiful view new home with an ENCLOSED SUNPORCH on deck just a few feet from the water located right on the beach in Diamond Point. Convenient location for day trips to Olympic National Forest,Port Townsend, Port Angeles. Cresent lake, Sol Duc Falls, HOH rainforest, Forks, Hurricane Ridge & Dungeness spit. Our…
Waterfront

Ocean or water views

Mountain Views

Internet Access

Housekeeping Optional
Suitable for children

Suitable for the elderly
Gorgeous home with stunning views!
Left on Jun 08, 2013 for a stay in May 2013
My husband and I spent a long weekend at this beautiful property in May. I cannot say enough about how great our stay was! The home is lovely with all the amenities one could need and lots of extra "little touches"--a telescope for viewing, a tea service with an assortment of teas, coffee,etc. The home is spacious with stunning views of The Strait of Juan de Fuca and nature from every window, …
Previous

Next

property
$200
4 BR / 3 BA / Sleeps 8
$200
Book
4 BR
/
3 BA
/
Sleeps 8
|

Quick view
The Forest Ridge Guesthouse is the perfect oasis! Completely remodeled in 2012, come and relax where the days move a bit slower. We take pride in our attention to detail and invite you to come find out for yourself! Upon arrival, you'll discover a rocking bench on the front porch with beautiful planters – the …
Pet friendly

Suitable for children
Wonderful and peaceful house
Left on Oct 04, 2014 for a stay in September 2014
This is a beautiful home. Lots of room. There are lots of toys for young children in the house. Baby gates were available for the top and bottom of the stairs. A pack n play and booster seat is also in the house for use. The yard is huge with some outside games and toys. The beds are super comfortable.. The master bedroom is quite large with a great size bathroom and super size shower. The …
Previous

Next

property
$125
2 BR / 3 BA / Sleeps 4
$125
Book
2 BR
/
3 BA
/
Sleeps 4
|

Quick view
1800 sq ft, double story, elegant, well furnished, antique furniture, doors and furnishings from India. Spectacular views of Mt. Baker, the Olympics and the lighthouse. Ducks on the canal, bird life around the property. Stone waterfall, genuine wooden sauna and cedar hot tub on the deck. Garden with rhododendrons, …
Waterfront

Ocean or water views

Mountain Views

Hot Tub/Jacuzzi

Sauna
Pet friendly

Suitable for children
Previous

Next

property
$79
2 BR / 1 BA / Sleeps 8
$79
Book
2 BR
/
1 BA
/
Sleeps 8
|

Quick view
Cute 2 bedroom home 1/2 block from beach on Discovery Bay outside of Sequim, WA - 2 bedrooms with 2 hide a beds in living room, 1 bath, free Wi-Fi, cable, access to beach club and miles of beach combing, forest hiking trails and close to Port Townsend and Sequim. We are less than an hour from Port Angeles/ Canada …
Ocean or water views

Internet Access

Housekeeping Optional

Washing Machine

Clothes Dryer
Smoking allowed - ask

Suitable for children

Suitable for the elderly

Wheelchair accessible - ask
Previous

Next

property
$140
2 BR / 2 BA / Sleeps 6
$140
Book
2 BR
/
2 BA
/
Sleeps 6
|

Quick view
Stay at the Cottage in Beautiful Sunny Sequim! This is a modern vacation dwelling catering to honeymooning couples, family vacationeers and for the busy vacationing professionals looking to get away with all the amenities of home in a beautifully cozy environment contemporary environment. Newly updated with high end …
Ocean or water views

Mountain Views

Internet Access

Fireplace

Washing Machine
Pet friendly

Suitable for children

Suitable for the elderly

Wheelchair accessible
Comfortable and convenient stay on Olympic Peninsula
Left on Aug 14, 2013 for a stay in August 2013
A great place to stay in the country area of Sequim, WA, quiet and convenient for a quick drive to the beach, or discovering the Olympic National Park/Forest area nearby. A well appointed rental with enough room for 6 or more to sleep, watch movies, cook meals and dine. The owners were gracious and generous to deal with, giving us restaurant suggestions and the location of a local produce store…
Previous

Next

property
$200
2 BR / 2 BA / Sleeps 6
$200
Book
2 BR
/
2 BA
/
Sleeps 6
|

Quick view
Serenity Shores is a lovely beachfront home on Diamond Point located between Port Townsend & Sequim with incredible views of the Strait of Juan de Fuca, Protection Island (wildlife sanctuary tours), Mt. Baker, Victoria and the most beautiful sunsets ever. Wake up to deer in the yard, baby seals on the beach, seagulls…
Waterfront

Ocean or water views

Mountain Views

Internet Access

Fireplace
Pet friendly

Smoking allowed

Suitable for children

Suitable for the elderly

Wheelchair accessible
Beautiful ocean views-spacious/comfortable we return every year
Left on Oct 12, 2011 for a stay in September 2011
I've had the pleasure of staying at the lovely Serenity Shores beach house on Diamond Point with a group of friends for the past several years. We always have a great time taking in the waterviews ,marine life, sea foul,and enjoying walks on the beach, and the spacious, well appointed yet cozy and comfortable Serenity Shores beach house.

Serenity Shores is located right on the beach and every …
Previous

Next

property
$150
1 BR / 1 BA / Sleeps 2
$150
Book
1 BR
/
1 BA
/
Sleeps 2
|

Quick view
*5*Stunning Water & Mtn Views, Private, Romantic! First, an excerpt from a guests comments: ['Dangerously comfortable' is about the best we can do to describe this getaway...it was tough to push ourselves out the door every morning to go hiking. We've stayed in many VRBO listed accommodations and this is by far the…
Ocean or water views

Mountain Views

Hot Tub/Jacuzzi

Internet Access

Fireplace
Smoking allowed - ask

Suitable for the elderly
Simply The Best...Words Can't adequately Describe It
Left on Jun 25, 2010 for a stay in June 2010
My wife and I just completed a fantastic stay at The Loft. Words cannot adequately describe our wonderful experience. It was better than our expectations and our expectations were very high because of the photos and the other reviews. This is perfect for 2 people. Cheri and Kemp have done an amazing job of building and furnishing this wonderful retreat for two. We have stayed at many, many Vrbo …
Previous

Next

property
$225
3 BR / 2 BA / Sleeps 8
Inquire
3 BR
/
2 BA
/
Sleeps 8
|

Quick view
Private beach and tidelands located on Washington State's North Olympic Peninsula Coast - gateway to Olympic National Park and Dungeness Spit National Wildlife Refuge. This shore front cabin is perched on the edge of Dungeness Harbor next to Dungeness Spit National Wildlife Refuge. Enjoy listening to the ocean …
Waterfront

Ocean or water views

Internet Access

Fireplace

Washing Machine
Suitable for children - ask

Suitable for the elderly - ask
Previous

Next

property
$265
3 BR / 2 BA / Sleeps 6
Inquire
3 BR
/
2 BA
/
Sleeps 6
|

Quick view
Experience Purple Haze Lavender as our personal guest in the Farm House. Enjoy Agri-tourism, where you not only stay in a beautiful rural setting, you can also watch firsthand the operations of a working Lavender Farm. Drive down through the fields of lavender on your personal driveway to the charming farmhouse. …
Mountain Views

Hot Tub/Jacuzzi

Sauna

Internet Access

Fireplace
Pet friendly

Suitable for the elderly - ask
A great family get away
Left on Jul 02, 2009 for a stay in August 2008
This house is ideally set up for a large family group. It has a seperate tv room, a huge kitchen, eating areas inside and out. Everything is well maintained and the owner is available to help, like when we goofed up the tv set. We had a great stay the weather was good, there is a casino close and lots of lavender farms. It is a great restful peaceful place and we greatly under utilized the …
Previous

Next

property
$225
3 BR / 1 BA / Sleeps 6
Inquire
3 BR
/
1 BA
/
Sleeps 6
|

Quick view
No-bank beachfront home with large deck and HOT TUB located on 3 Crabs Road in Sequim. Private beach and tidelands. Incredible views of the Strait of Juan de Fuca, Dungeness Lighthouse, Mount Baker, Olympic Mountains, nighttime lights of Victoria BC Canada, passing ships, and beautiful sunrises and sunsets. Enjoy the …
Waterfront

Ocean or water views

Hot Tub/Jacuzzi

Internet Access

Fireplace
Suitable for children - ask

Suitable for the elderly - ask
Previous

Next

property
$199
4 BR / 4 BA / Sleeps 12
Inquire
4 BR
/
4 BA
/
Sleeps 12
|

Quick view
This breathtaking beach retreat will truly take your breath away. It is a rare vacation rental find. The Sequim Beach House sits on 1.3 acres of flat no-bank waterfront. The beach is sandy and perfect for walks, sand castles, kite flying or just relaxing and gazing out. The Sequim Beach House has a view out …
Waterfront

Ocean or water views

Hot Tub/Jacuzzi

Internet Access

Fireplace
Pet friendly

Suitable for children - ask

Suitable for the elderly - ask
Previous

Next

property
$189
5 BR / 4 BA / Sleeps 20
Inquire
5 BR
/
4 BA
/
Sleeps 20
|

Quick view
Open the doors to your own rustic retreat nestled in the hills and surrounded by trees and open pasture. overlook the Strait of Juan de Fuca and see what it really means to be where the mountains meet the sea. At Call of the Wild Lodge you can experience the warmth of summer, the green pastures of spring, the orange…
Hot Tub/Jacuzzi

Internet Access

Fireplace

Washing Machine

Clothes Dryer
Pet friendly

Suitable for children - ask

Suitable for the elderly - ask
Great place for a reunion
Left on Oct 30, 2014 for a stay in October 2014
We had a family reunion at Martha's Call of the Wild Lodge outside of Sequim, WA for 3 days. Beautiful and serene, her vacation home was spacious and well appointed. I spent most of the time in the kitchen which has an open design so you can talk to people sitting at the large table provided. There is also a formal dining table that hold around 13 in the main living room. The hot tub is large…
---
---