Previous

Next

property
$76
1 BR / 1 BA / Sleeps 4
Inquire
1 BR
/
1 BA
/
Sleeps 4
|

Quick view
Casa Pegaso B is a characteristic apartment surrounded by meadows and by green hills. It sleeps four people. It is appoximately 45 square meters (485 square feet). It features a shared swimming pool, a small shared terrace, a shared garden, air conditioning (please read description below to check in which rooms the …
Shared outdoor pool (unheated)

Internet Access

A/C or climate control

Balcony or terrace

Parking
Smoking allowed - ask

Suitable for the elderly - ask
Previous

Next

property
$85
1 BR / 1 BA / Sleeps 4
2-room apartment 45 m2, nice and stylish furnishings: living room with 1 double sofa bed, dining table and satellite-TV. Exit to the garden. 1 double room with 2 beds. Exit to the garden. Kitchen (4 hotplates, oven, dishwasher). Shower / bidet / WC. Air conditioning. Garden 15 m2. Facilities: telephone, hairdryer. …
Internet Access

A/C or climate control

Balcony or terrace

Dishwasher

Television
Smoking allowed - ask

Suitable for children - ask

Suitable for the elderly - ask
Previous

Next

property
$389
4 BR / 4 BA / Sleeps 8
Inquire
4 BR
/
4 BA
/
Sleeps 8
|

Quick view
Villa Fiordaliso is located within an exclusive resort with a spa pool and Olympic pool. It is perfect for those who want to enjoy the hot springs and local products in Sorano in Maremma. It has 4 bedrooms and 4 bathrooms all complete with shower. External description: Villa Fiordaliso offers the opportunity to stay …
Shared outdoor pool (unheated)

Internet Access

Housekeeping Optional

Washing Machine

Linens Provided
Pet friendly

Suitable for the elderly - ask
Previous

Next

property
$130
7 BR / 7 BA / Sleeps 18
$130
Book
7 BR
/
7 BA
/
Sleeps 18
|

Quick view
This historic home was a Customs House in the 17th century where those who crossed the border between the Papal State and the Grand Duchy of Tuscany, stopped in search of refreshment. Sant'Egle therefore has remained so- a place to rest, seek refreshment, meet friends, and have interesting encounters between …
Hot Tub/Jacuzzi

Internet Access

Fireplace

Outdoor Dining Area

Central heating
Pet friendly

Smoking allowed - ask

Suitable for children - ask

Suitable for the elderly - ask

Wheelchair accessible - ask
Previous

Next

property
$119
5 BR / 4 BA / Sleeps 9
Inquire
5 BR
/
4 BA
/
Sleeps 9
|

Quick view
Villa Lavanda is a welcoming two-story age-old farm house surrounded by the greenery. It sleeps nine people. From Villa Lavanda you will enjoy a fascinating view of the Tuscan hills and of the greenery. Villa Lavanda is 160 square meters (1720 square feet). It features a private swimming pool, a private patio, a …
Shared outdoor pool (unheated)

Washing Machine

A/C or climate control

Deck

Parking
Smoking allowed - ask

Suitable for the elderly - ask
Previous

Next

property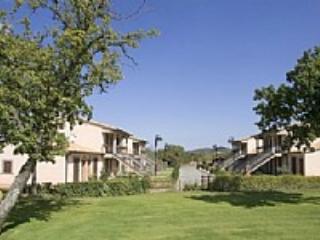 $76
1 BR / 1 BA / Sleeps 4
Inquire
1 BR
/
1 BA
/
Sleeps 4
|

Quick view
Casa Pegaso C is a characteristic apartment surrounded by meadows and by green hills. It sleeps four people. It is appoximately 45 square meters (485 square feet). It features a shared swimming pool, a shared garden, air conditioning (please read description below to check in which rooms the units are installed), …
Shared outdoor pool (unheated)

Internet Access

A/C or climate control

Deck

Parking
Smoking allowed - ask

Suitable for the elderly - ask
Previous

Next

property
$103
3 BR / 2 BA / Sleeps 8
Inquire
3 BR
/
2 BA
/
Sleeps 8
|

Quick view
Casa Pegaso A is a welcoming apartment built on a hillside, surrounded by meadows and woods. It sleeps ten people. It is appoximately 80 square meters (860 square feet). It features a shared swimming pool, a shared garden, air conditioning (please read description below to check in which rooms the units are installed…
Shared outdoor pool (unheated)

Internet Access

A/C or climate control

Deck

Parking
Smoking allowed - ask

Suitable for the elderly - ask
Previous

Next

property
Inquire for rates.
4294967295 BR / 0 BA / Sleeps 0
N/A
Internet Access

A/C or climate control

Satellite or cable TV
Pet friendly - ask

Smoking allowed - ask

Suitable for children - ask

Suitable for the elderly - ask

Wheelchair accessible - ask
---
Looking for more rentals?
We're showing only results that match your dates and preferences.
See all 25 Sorano rentals, all 0 Tuscany rentals, or start a new search.
---