Previous

Next

property
$450
6 BR / 3 BA / Sleeps 22
Inquire
6 BR
/
3 BA
/
Sleeps 22
|

Quick view
Enjoy a family vacation on a small resort community in a luxury 3100 sq ft home. There are 5 different homes to choose from at the same location that will fit everyone's needs. All of the resort amenities are included with the rental of this home so you do get kayaks, canoes, paddle boats, water trampolines, swimming…
Waterfront

Ocean or water views

Hot Tub/Jacuzzi

Internet Access

Fireplace
Suitable for children - ask

Suitable for the elderly - ask
Previous

Next

property
$190
3 BR / 1 BA / Sleeps 10
$190
Book
3 BR
/
1 BA
/
Sleeps 10
|

Quick view
A whole bay on the lake to yourself and 20 acres with 2000 feet of lake shore. A clean rustic cedar sided cabin rented prime summer on a weekly basis / May & Sept 3 night min... no exceptions. Enjoy the Chippewa National Forest in our private rustic cabin. You will find yourself on a bay with no other cabins …
Waterfront

Ocean or water views

Fireplace

Outdoor Dining Area

Balcony or terrace
Pet friendly

Smoking allowed - ask

Suitable for children

Suitable for the elderly
Restores the soul with peace and beauty through nature in unpopu
Left on Jan 24, 2014 for a stay in October 2013
After experiencing a life changing event, I needed a place to restore and renew myself. The cabin is in a quiet and secluded area, adjacent to an undeveloped lake where one can fish for walleyes or canoe at sunset. Walks in the woods and exploring nature relieved the stress at the time. The beds were comfortable, the cabin was clean and the warmth of the fire took the chill of the evening away. …
Previous

Next

property
$175
1 BR / 1 BA / Sleeps 5
$175
Book
1 BR
/
1 BA
/
Sleeps 5
|

Quick view
This is a modern lake side loft style guesthouse with aspen tongue and groove through out. ( 520 SF) . Modern and decorated with that rustic on the lake charm. There are 3 beds, a pillow top queen, double & single which includes all bedding and extra blankets. All the kitchen needs include a gas stove, large …
Waterfront

Ocean or water views

Sauna

Internet Access

Outdoor Dining Area
Pet friendly

Suitable for children - ask

Suitable for the elderly - ask
Secluded, quiet, Awesome
Left on Mar 17, 2014 for a stay in August 2013
My girlfriends & I rented this great place on Dixon lake and loved it. It is very modern and nice and was super clean and fresh. No odors, no critters or any of that yuk one can get with a cabin. We lounged around on the lovely beach, used the paddleboat and kayaks and went for long walks in the woods. The place is ideal anyone wanting a pristine lake stay, we even caught fish off the dock, …
Previous

Next

property
$199
2 BR / 1 BA / Sleeps 7
$199
Book
2 BR
/
1 BA
/
Sleeps 7
|

Quick view
A must see place on the lake, many places talk of peace and quiet but this is the real thing. This is an all new very unique estate, I rent out the entire lake side level (2000 square feet) to groups of 2-7 people. All the comforts of home and many I bet you don't have at home or maybe you do & this is what your …
Waterfront

Ocean or water views

Sauna

Internet Access

Outdoor Dining Area
Pet friendly - ask

Suitable for children

Suitable for the elderly - ask
Previous

Next

property
$150
1 BR / 1 BA / Sleeps 5
$150
Book
1 BR
/
1 BA
/
Sleeps 5
|

Quick view
Looking for something quiet and remote? That is what you will get here, lots of space and privacy too. In the Chippewa National Forest on the waters edge. This is a modern Inn renting a 520 square foot Guest house with knotty aspen thru out. The space is all new and has views of beautiful undeveloped Dixon Lake and …
Waterfront

Ocean or water views

Internet Access

Outdoor Dining Area

A/C or climate control
Pet friendly

Smoking allowed - ask

Suitable for the elderly - ask
Wonderful place on the lake.
Left on Mar 12, 2014 for a stay in June 2013
A nice quiet fishing vacation with good memories and good walleye fishing. We also caught some nice crappies and lots of pike. The accommodations were perfect, everything is new and clean with everything you need. If there's something you forgot all you have to do is ask and the owners can help you out. The grounds and entire place is immaculate and super quiet. We loved it
Previous

Next

property
$140
3 BR / 3 BA / Sleeps 12
$140
Book
3 BR
/
3 BA
/
Sleeps 12
|

Quick view
Welcome to My Lake Home B&B on Dixon Lake in the Chippewa National Forest. A visually stunning round bed and breakfast with cabin rentals. The modern home is round with panoramic views and many amenities on an undeveloped lake. PRICES VARY DEPENDING ON WHICH ROOMS YOU CHOOSE. When inquiring be sure to …
Waterfront

Ocean or water views

Sauna

Internet Access

Fireplace
Pet friendly

Smoking allowed - ask

Suitable for children - ask

Suitable for the elderly - ask
Wonderful
Left on Mar 06, 2010 for a stay in February 2009
What an amazing home! Werth the trip just to see the house. We had a blast skiing, snowmobeling, fishing, and just reading by the fire place. Lyle and Kathryn were wonderful hosts. Food was great. The only thing I did not like was leaving. I can't wait to go back!
Previous

Next

property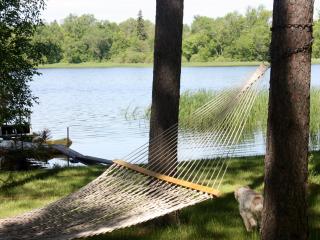 $155
1 BR / 1 BA / Sleeps 5
$155
Book
1 BR
/
1 BA
/
Sleeps 5
|

Quick view
What a quiet lake and lovely lodging too! This is a modern lake side loft style guesthouse with aspen tongue and groove through out. ( 520 SF), Located at an 3 room inn and decorated with that rustic on the lake charm. There are 3 beds, a pillow top queen, double & single which includes all bedding and extra …
Waterfront

Ocean or water views

Sauna

Internet Access

Outdoor Dining Area
Pet friendly

Suitable for the elderly - ask
Previous

Next

property
$399
2 BR / 1 BA / Sleeps 12
$399
Book
2 BR
/
1 BA
/
Sleeps 12
|

Quick view
This is an all new very unique ROUND INN on the waters edge of a fantastic undeveloped fishing lake. All the comforts of home and more. The home is all new with a glass front and panoramic views facing an undeveloped lake. This is a very elegant private spacious great room with 2 theme bedrooms, a guest house and …
Waterfront

Ocean or water views

Sauna

Internet Access

Fireplace
Pet friendly

Smoking allowed - ask

Suitable for children - ask

Suitable for the elderly - ask
Previous

Next

property
$250
2 BR / 3 BA / Sleeps 6
$250
Book
2 BR
/
3 BA
/
Sleeps 6
|

Quick view
Welcome to our lake home, sitting on over 560' of pine-studded lakeshore at the end of a point on Sand Lake (40 miles NW of Grand Rapids). The 1800 SF rustic-modern cedar home sits on a low bluff with stunning views of lake, island, and forest in all directions. Early risers can catch the sunrise through the bedroom…
Ocean or water views

Hot Tub/Jacuzzi

Internet Access

Fireplace

Washing Machine
Pet friendly - ask

Suitable for children - ask

Suitable for the elderly

Wheelchair accessible
A wonderful house in a wonderful setting
Left on Apr 10, 2011 for a stay in July 2008
My wife and I so enjoyed our time in the Stones' house on a lake. It is beautiful with all the needs any visitor could want.
I enjoyed boating on the lake, seeing eagles and other creatures. The folk we encountered in the area were all friendly and helpful. We enjoyed the local church. We would return to that house in a heartbeat. Joey and Brenda Jeter
---
---