Previous

Next

property
$194
3 BR / 3 BA / Sleeps 8
Inquire
Destin condo
3 BR
/
3 BA
/
Sleeps 8
|

Quick view
WELCOME TO ST. LUCIA 201 AT SILVER SHELLS THE BEACH IS 1100 feet of sugar white sand with a back drop of emerald green water. Relax and enjoy the sun while on the beach with the drink and food service from the Tike Hut. The service extends to you at the lagoon pool with its water fall, hot tub and kiddies' pool…
Suitable for children - ask

Suitable for the elderly - ask

Wheelchair accessible - ask
Previous

Next

property
$273
3 BR / 3 BA / Sleeps 8
Inquire
Destin condo
3 BR
/
3 BA
/
Sleeps 8
|

Quick view
This beautiful corner condominium unit offers upscale style and elegance as well as spectacular Gulf and coastline views from a private ninth floor balcony. You will find the living room has fine furnishings, upscale art and décor, and a flat screen TV. The master bedroom features beautiful upscale king bedding, high…
Shared outdoor pool (unheated)

Hot Tub/Jacuzzi

Internet Access

DVD Player
Pet friendly - ask

Suitable for children - ask

Suitable for the elderly - ask

Wheelchair accessible - ask
Previous

Next

property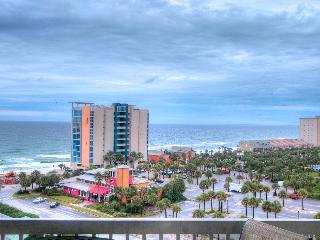 $99
2 BR / 2 BA / Sleeps 6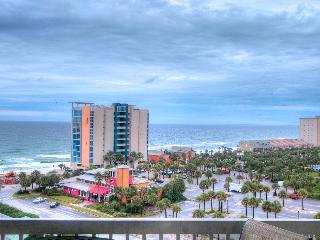 1 / 37
(11)
" Excellent "
Inquire
Destin condo
2 BR
/
2 BA
/
Sleeps 6
|

Quick view
Top Reasons to Book This Lovely Condo! 1. Gorgeous Gulf Views from the Massive Balcony! Picture yourself lounging with a good book right here, or catching the sunset with your beverage of choice! 2. Lovely furnishings in this unit. Master Bedroom Suite has King sized bed, Flatscreen Tv, Massive Closet and Bath with …
Waterfront

Ocean or water views

Shared outdoor pool (unheated)

Hot Tub/Jacuzzi

Internet Access
Suitable for children - ask

Suitable for the elderly - ask

Wheelchair accessible - ask
We had an awesome vacation in beautiful Destin.
Left on May 03, 2013 for a stay in April 2013
We loved our 5 day stay at St. Lucia! The condo was just as described. It was clean, comfortable and quiet...exactly what we were looking for. It was also very convenient to everything we needed for our stay. We especially enjoyed the beautiful, private beach and sunsets from our balcony. We will definitely return.
Previous

Next

property
$195
2 BR / 3 BA / Sleeps 6
1 / 25
(16)
" Excellent "
Inquire
Destin condo
2 BR
/
3 BA
/
Sleeps 6
|

Quick view
Utopia is the finest gulf front vacation condo in the Silver Shells resort. This condo is located in St. Maarten, the only true gulf front rental capable building in the Silver Shells resort. This is a very large two bedroom, two bath condo that sleeps 6 comfortably. Utopia is a ground floor lanai unit. Walk out your …
Shared outdoor pool (unheated)

Hot Tub/Jacuzzi

Fitness Room

Grill
Pet friendly - ask

Smoking allowed - ask

Suitable for children - ask

Suitable for the elderly - ask

Wheelchair accessible - ask
Great Place
Left on Jul 10, 2010 for a stay in June 2010
We had a wonderful time in Destin and the Utopia condo. Awesome place!
Previous

Next

property
$230
2 BR / 2 BA / Sleeps 6
Inquire
Destin condo
2 BR
/
2 BA
/
Sleeps 6
|

Quick view
This breathtaking, beach condo is brand new and professionally decorated with luxurious furnishings and incredible gulf views from every room. Once you check in you will not want to leave! The master bedroom suite is very private, arranged with a king bed with custom linens and drapes, a walk-in closet, large jacuzzi …
Ocean or water views

Shared outdoor pool (unheated)

Hot Tub/Jacuzzi

Internet Access

Washing Machine
Suitable for children

Suitable for the elderly - ask
Previous

Next

property
$195
2 BR / 2 BA / Sleeps 6
Inquire
Destin condo
2 BR
/
2 BA
/
Sleeps 6
|

Quick view
This condominium offers style and elegance as well as spectacular Gulf and coastline views. You will find the living room has a upscale dark wood and tropical décor and access to an expansive balcony. The master bedroom features beautiful upscale bedding, dark wood furnishings, access to a large master bathroom …
Shared outdoor pool (unheated)

Hot Tub/Jacuzzi

Internet Access

DVD Player
Pet friendly - ask

Suitable for children - ask

Suitable for the elderly - ask

Wheelchair accessible - ask
Previous

Next

property
$380
5 BR / 4 BA / Sleeps 14
Inquire
Destin condo
5 BR
/
4 BA
/
Sleeps 14
|

Quick view
From the beach views to the Choctawhatchee Bay views- this Destin vacation rental will have you seeing the world through aquamarine colored glasses! This corner unit is larger than most people's homes and tops the charts for the best views in all of Destin. The northerly facing rooms are quite spacious featuring …
Shared outdoor pool (unheated)

Hot Tub/Jacuzzi

Balcony or terrace

Fitness Room

Parking
Suitable for children - ask

Suitable for the elderly - ask
Previous

Next

property
$345
4 BR / 3 BA / Sleeps 12
Inquire
Destin condo
4 BR
/
3 BA
/
Sleeps 12
|

Quick view
Reminiscent of a luxurious Mediterranean villa, Penthouse 5 at Silver Shells is a perfect introduction to the finer things in life. Once inside an interior so spacious that you're sure to lose your worries, take in all the inviting upgrades-designer linens and coordinated décor in classic Italian patterns, granite …
Shared outdoor pool (unheated)

Hot Tub/Jacuzzi

Balcony or terrace

Fitness Room

Parking
Suitable for children - ask

Suitable for the elderly - ask
Previous

Next

property
$195
2 BR / 2 BA / Sleeps 6
Inquire
Destin condo
2 BR
/
2 BA
/
Sleeps 6
|

Quick view
This condominium offers style and southern charm as well as spectacular Gulf and coastline views. You will find the living room has a nice casual elegance and access to the expansive balcony. The master bedroom features beautiful upscale bedding, nice furnishings, access to a large master bathroom complete with a …
Shared outdoor pool (unheated)

Hot Tub/Jacuzzi

Internet Access

DVD Player
Pet friendly - ask

Suitable for children - ask

Suitable for the elderly - ask

Wheelchair accessible - ask
Previous

Next

property
$195
2 BR / 2 BA / Sleeps 8
Inquire
Destin condo
2 BR
/
2 BA
/
Sleeps 8
|

Quick view
General Information: 2 Bedrooms, 2 Bathrooms, Sleeps 8, Coastline View Condo Features: This condominium has been professionally decorated with an upscale contemporary style and offers a fabulous view of the coastline as well as views of the Gulf waters. You will find that the living room has access to the spacious …
Shared outdoor pool (unheated)

Hot Tub/Jacuzzi

Internet Access

DVD Player
Pet friendly - ask

Suitable for children - ask

Suitable for the elderly - ask

Wheelchair accessible - ask
Previous

Next

property
$230
2 BR / 2 BA / Sleeps 6
Inquire
Destin condo
2 BR
/
2 BA
/
Sleeps 6
|

Quick view
As clean as the white sands of the Emerald Coast, as calming as the aqua waves rolling in and as refreshing as the Gulf breeze- 604 Silver Shells is the ideal complement to the beaches just a few steps away. Whether you are watching the pelicans soar over the waves from the private balcony with beach views, making a …
Ocean or water views

Shared outdoor pool (unheated)

Hot Tub/Jacuzzi

Balcony or terrace

Fitness Room
Suitable for children - ask

Suitable for the elderly - ask
---
---