View larger map
Don't let other travelers get your favorite vacation rental. You're so close to securing your perfect getaway. Book today.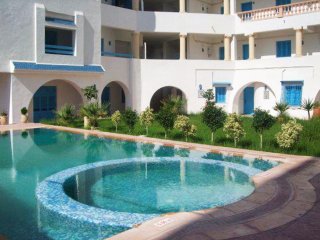 About Tunisia
With pure white sands and soft sea breezes wafting in from the azure Mediterranean coast, you could be forgiven for thinking of Tunisia as just another beach vacation destination.
But there's so much more to love about this forgotten country on the northernmost point of Africa. Start by looking at FlipKey's properties, then you can explore the whole region!
About Tunisia
Tunisia has a rich history that dates back centuries. Ancient tribes began farming in the area way back in 5000 BC.
Fast forward to the 9th century BC, and the Phoenicians founded the famous ancient city of Carthage. Remnants of the ancient city still stand today. You can explore the Amphitheatre of El Je, and the neighboring market city of Thysdrus.
Tunisia was occupied by France from 1881 to 1956, so has a real European flavor. Though the official language is Arabic, many of the locals still speak fluent French, so it might be worth dusting off your old French homework!
The balmy Mediterranean climate brings hot dry summers and mild rainy winters, while the sea laps up against the country's many idyllic beaches.The north-eastern coast is peppered with peaceful bays for you to relax and unwind in.
What more could you want from a vacation destination?
What to do
Tunisia has several lavish beach resorts, where you'll find everything you need for a perfect beach holiday.
These resorts offer plenty to keep the whole family entertained; from aqua aerobics to giant waterslides.
If that's not enough excitement, you can also try the local theme parks. When the sun goes down, head to the clubs where the best local and international DJs play!
You must check out Tunis, the capital city, too. It's a cosmopolitan hive of activity. Shop for luxury items at low prices, and see what surprises are hidden in the ancient buildings.
Sfax Medina is also a great destination (and it even looks like a sandcastle from the outside!). Here, you'll experience the real Tunisia. A Tunisia that hasn't just been designed for tourists!
Work your way through the narrow winding lanes and head for the main souq, the famous Souq des Etoffes. You may recognize it because it was used as a set for the Cairo markets in the film, The English Patient.
Before you leave, don't forget to get a glimpse of the Grande Mosque and its iconic 9th century minaret.
If you're wondering what to eat in Tunisia, you can never go wrong with the fish. It's caught fresh every day by local fishermen and expertly cooked in the local style. Try Harissa, a spicy chili and garlic paste, and Merguez, a spiced beef sausage. They're delicious!
Top travel tips
For such a small country, there's a lot of airports. 30 in fact! Chances are you'll fly in via Tunis Carthage International, or Djerba-Zarzis International. However, if you want to explore other parts of the country, you may have to look at the regional airports.
You won't need to worry about tipping in Tunisia. Only waiters in the tourist districts tend to expect a conventional 10% tip. However, taxi drivers will appreciate a couple of coins if you were to offer.
Whether you want to spend your trip hiking in the mountainous north, relaxing on the crystal shores, venturing out into the Sahara or exploring the local history, Tunisia is an unforgettable holiday destination and FlipKey has the property for you!
Payment Protection
Your payment for this rental is protected when you pay through FlipKey.
Learn more
See only the properties that can be booked online with
Payment Protection.
Learn more