Previous

Next

property
$141
4 BR / 3 BA / Sleeps 10
$141
Book
4 BR
/
3 BA
/
Sleeps 10
|

Quick view
Guest house for rent. Situated on the slopes of Fruška gora, 15 km from Novi Sad. Surrounded by pine and deciduous trees on a 10000 m2 country estate providing a quiet and peaceful retreat, waking up by birds chirping and listening to the music with no limitations. Set in the area called Veliki vrhovi, it offers …
Mountain Views

Internet Access

Fireplace

Washing Machine

Outdoor Dining Area
Pet friendly

Smoking allowed - ask

Suitable for children
Previous

Next

property
$38
2 BR / 1 BA / Sleeps 4
$38
Book
2 BR
/
1 BA
/
Sleeps 4
|

Quick view
I would like to welcome you to my home which is located in Novi Sad, Liman, Shakespeare Street. * The flat is located on the second floor of a building with elevator. It is surrounded by many old green trees and singing birds. The Apartment comprises of * Two bright and spacious bedrooms (Double bed; Single …
Smoking allowed

Suitable for children

Suitable for the elderly

Wheelchair accessible
Best experience ever with flat rentals in Europe
Left on Nov 28, 2013 for a stay in November 2013
The owner is very kind and an easy going person, he welcomed us very so warmly and with a welcome chocolate on on pillows like in the best hotels! He also let us find the fridge full of drinks and snacks! The house is wide and fully furnished. There's a desktop PC, a large flat screen TV and a really good wifi. We found dozens of towels, hangers, slippers, soaps, k-ways and the hairdryer (not so …
Previous

Next

property
$40
1 BR / 1 BA / Sleeps 2
$40
Book
1 BR
/
1 BA
/
Sleeps 2
|

Quick view
This stylish property is truly a one of a kind. Fully renovated, recreated and restored, you can be one of the first people to reside in this zen oasis. Located in the heart of Novi Sad, Ballard Residence combines style and comfort, peace & quiet and accessibility to the most desirable spots in the city - only a …
Internet Access

A/C or climate control

Central heating

Linens Provided

Towels Provided
Previous

Next

property
$22
1 BR / 3 BA / Sleeps 4
$22
Book
1 BR
/
3 BA
/
Sleeps 4
|

Quick view
WELCOME TO FABULOUS NOVI SAD... Our motel style apartment is located on the main street that takes you directly to center of Novi Sad. Studio has a real LUX mattress bed, full kitchen and bathroom with a wash machine. Plenty of free parking in front of the window, WiFi internet & cable TV. We do speak english &amp…
Internet Access

Washing Machine

A/C or climate control

Central heating

Parking
Pet friendly - ask

Smoking allowed

Suitable for children

Suitable for the elderly - ask
Previous

Next

property
$40
1 BR / 3 BA / Sleeps 4
$40
Book
1 BR
/
3 BA
/
Sleeps 4
|

Quick view
Green room with 4 beds is in the floor of Guest House VIDMAR, which is situated in the mountain Fruska Gora on the 10 000m2 so you can use large parking for the car and closed garage for bicycles. Guests can use big living room where is TV with satellite program and where smoking is allowed, minibar
Mountain Views

Internet Access

Fireplace

Washing Machine

Outdoor Dining Area
Pet friendly - ask

Smoking allowed - ask

Suitable for children

Suitable for the elderly - ask

Wheelchair accessible - ask
Previous

Next

property
$16
3 BR / 2 BA / Sleeps 5
$16
Book
3 BR
/
2 BA
/
Sleeps 5
|

Quick view
Our house is situated in the center of the old town so it is in the middle of the events, for example you can arrive to Petrovaradin Fortress for 10 minutes by foot. House has two private rooms (one with double bed another with single bed) one transient room with sofa that pulls out,kitchen, shared bathroom and …
Internet Access

Washing Machine

Clothes Dryer

Central heating

Parking
Pet friendly - ask

Smoking allowed - ask

Suitable for children - over five

Suitable for the elderly - ask

Wheelchair accessible - ask
Previous

Next

property
$26
1 BR / 1 BA / Sleeps 3
$26
Book
1 BR
/
1 BA
/
Sleeps 3
|

Quick view
Blue room with extra large bed (200x210) and sofa, with own bathroom and mountain view is in the flour of the Guest House VIDMAR. Our guests may use the kitchen and living room in the ground. The large own parking is in front of the house and garage for bicycle is available . The crib is available. I is comfortable …
Mountain Views

Internet Access

Fireplace

Washing Machine

Outdoor Dining Area
Pet friendly - ask

Smoking allowed - ask

Suitable for children

Suitable for the elderly - ask

Wheelchair accessible - ask
Previous

Next

property
$33
2 BR / 1 BA / Sleeps 6
$33
Book
2 BR
/
1 BA
/
Sleeps 6
|

Quick view
Log cabin Vrdnik ECO House on occasion a run u Banja Vrdnik creatures to eat. I wanted to 50m from thermal, adhered to the swimming pool, fully equipped, pružiće you nezaboravne moments break. Log cabin, the whole issue i just jednoj group. Capacity up to 6 persons. Price for 2 PERSONS 30 eur, coils, additional …
Mountain Views

Internet Access

A/C or climate control

Central heating

Balcony or terrace
Pet friendly - ask

Smoking allowed - ask

Suitable for children

Suitable for the elderly - ask
Previous

Next

property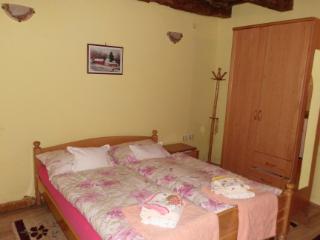 $27
4 BR / 3 BA / Sleeps 4
$27
Book
4 BR
/
3 BA
/
Sleeps 4
|

Quick view
Plesent ambience, complete comfort in summer and winter, discrete hosts, excellent cuisine and beautiful nature of mountine Fruska up reasons to visit us with your loved ones and experience the moments that you will surely rate five stars
Pet friendly - ask

Smoking allowed

Suitable for children
Previous

Next

property
$27
4 BR / 1 BA / Sleeps 10
$27
Book
4 BR
/
1 BA
/
Sleeps 10
|

Quick view
I rent a flor of house in Petrovaradin for Exit 2013. House is only 600 meters from Fortress, and 800 meters from the Danube beach in Petrovaradin. House has 4 rooms and suitable for 8 -10 people. House has kitchen, bathroom, air conditioner and big terrace whit chairs and table. Kitchen equipped with fridge-freezer, …
A/C or climate control

Balcony or terrace

Parking

Garden

Satellite or cable TV
Pet friendly - ask

Smoking allowed

Suitable for children - ask

Suitable for the elderly - ask

Wheelchair accessible - ask
Previous

Next

property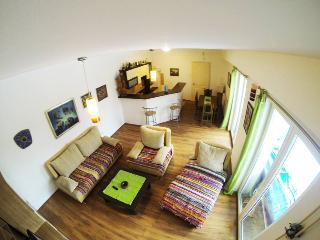 $38
3 BR / 2 BA / Sleeps 7
$38
Book
3 BR
/
2 BA
/
Sleeps 7
|

Quick view
House is located in a small, quiet and charming street in Novi Sad, Serbia (somewhere in central - southeastern Europe). House property: 3 bedrooms, living room with kitchen, 2 bathrooms, garden with BBQ. House best features: big park infront of our property, summer CINEMA, safe neighborhood with family houses …
Outdoor Dining Area

A/C or climate control

Central heating

Patio

Parking
Pet friendly - ask

Smoking allowed

Suitable for children

Suitable for the elderly - ask
Previous

Next

property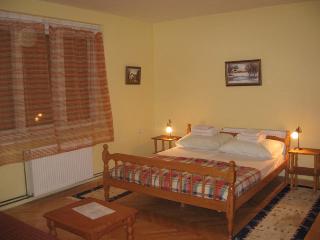 $71
2 BR / 1 BA / Sleeps 5
$71
Book
2 BR
/
1 BA
/
Sleeps 5
|

Quick view
This is nice two bedroom ( 5 beds) big and comfort apartment located closely( 3-4 minute light walk) to town center of Sremski Karlovci, and 100m from main road Novi Sad-Belgrade ( part of Eurovelo6 tour), as main bus and railway station. Apartment is on the second floor of small building , in a kind of park ( …
Internet Access

Housekeeping Optional

A/C or climate control

Central heating

Balcony or terrace
Pet friendly

Suitable for children

Suitable for the elderly
Highly recommend
Left on Sep 04, 2013 for a stay in August 2013
Our stay at Apartment Zeravica was very pleasant. Apartment was very clean and spacious. Mrs. Zeravica was very helpfull and our overall experience was wonderfull!
Previous

Next

property
$24
1 BR / 3 BA / Sleeps 8
$24
Book
1 BR
/
3 BA
/
Sleeps 8
|

Quick view
Ground level apartment that has its own entrance, separate entrance from the rest of the building for maximum privacy. It accommodates up to 8 guests and has plenty of free parking in front of the window. Apartment has free WiFi and cable TV. Supermarket 1 min. away and a great city bus connection to the center …
Wireless Internet

A/C or climate control

Parking

Linens Provided

Towels Provided
---
Looking for more rentals?
We're showing only results that match your dates and preferences.
See all 13 Vrdnik rentals, all 256 Serbia rentals, or start a new search.
---