Previous

Next

property
$75
1 BR / 1 BA / Sleeps 2
Inquire
Alamo cottage – 10.0 mi away
1 BR
/
1 BA
/
Sleeps 2
|

Quick view
Our one bedroom, one bathroom cottage is located on a beautiful 55+ RV Resort. Casa del Valle is centrally located in the Rio Grande Valley, with easy access to attractions, shopping and restaurants. The cottage features a bedroom with a queen bed, living area with a flat screen TV, a fully equipped kitchen, with …
Internet Access

A/C or climate control

Central heating

Parking

Linens Provided
Suitable for children - ask

Suitable for the elderly - ask
Previous

Next

property
$110
3 BR / 2 BA / Sleeps 8
1 / 15
(2)
" Excellent "
$110
Book
McAllen house – 17.2 mi away
3 BR
/
2 BA
/
Sleeps 8
|

Quick view
This newly-remodeled home, located in upscale North McAllen, provides a full kitchen, washer & dyer, cable TV and wireless internet. Two of the bedrooms have queen-size beds. A third bedroom has a day bed and trundle bed (both twin size mattresses). And for those extra guests, the sleeper sofa in the living room …
Internet Access

Housekeeping Optional

Washing Machine

Clothes Dryer

A/C or climate control
Pet friendly

Suitable for children

Suitable for the elderly

Wheelchair accessible
Comfortable and user friiendly
Left on Jun 27, 2014 for a stay in June 2014
The house was very nice with good amenities. Very comfortable. Two problems: 1. person sleeping in 2nd BR kept getting bitten by something; we could not see what. 2. 3rd BR ceiling fan light had broken switch and we had to take out bulb to run fan without light being on. Fixture globe fell and broke 1st night. Except for these 2 problems we really enjoyed our stay. Would stay there again …
Previous

Next

property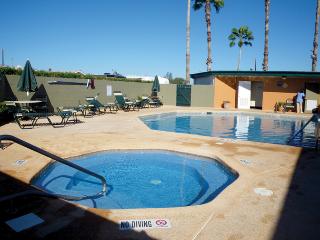 $75
1 BR / 1 BA / Sleeps 2
Inquire
Weslaco cottage
1 BR
/
1 BA
/
Sleeps 2
|

Quick view
Our one bedroom vacation rental is perfect for up to two guests. We are located on a beautiful 55+ RV resort in the Rio Grande Valley. The rental features a bedroom with a queen bed, living area with a flat screen TV and a fully equipped kitchen. It is fully furnished with all cookware, dinnerware and linens. Beds: 1 …
A/C or climate control

Central heating

Parking

Linens Provided

Microwave
Suitable for children - ask

Suitable for the elderly - ask
Previous

Next

property
$75
1 BR / 1 BA / Sleeps 2
Inquire
La Feria cottage – 8.4 mi away
1 BR
/
1 BA
/
Sleeps 2
|

Quick view
Our one bedroom, one bathroom rental is located on the Kenwood RV Resort in La Feria, Texas. Our brand new one bedroom cottage includes a queen bed and private bathroom for your comfort and convenience. Fully furnished with a modern décor, this beautiful rental can comfortably accommodate up to two people and …
Internet Access

A/C or climate control

Central heating

Parking

Linens Provided
Suitable for children - ask

Suitable for the elderly - ask
Previous

Next

property
$135
3 BR / 2 BA / Sleeps 6
$135
Book
Pharr condo – 15.3 mi away
3 BR
/
2 BA
/
Sleeps 6
|

Quick view
Beautifully furnished condominium in gated community in McAllen Texas, Rio Grande Valley region. 1194 sq ft bungalow, private entrance, professionally decorated, 3 bedrooms, 2 bathrooms, walk-in closet, 4 TV's, all appliances, extremely clean, 2 parking stalls close to entrance. Ideal for seniors! Everything is on …
Wireless Internet

Washing Machine

Clothes Dryer

A/C or climate control

Central heating
Suitable for children

Suitable for the elderly

Wheelchair accessible - ask
Previous

Next

property
$60
1 BR / 1 BA / Sleeps 4
$60
Book
San Benito house – 18.0 mi away
1 BR
/
1 BA
/
Sleeps 4
|

Quick view
Beautiful park model in Fun n Sun RV Resort. Trailer comes fully furnished and can sleep 4 comfortably. Fun n Sun is known as "the RV Resort" in the Rio Grande Valley with so many amenities. Guest will be able to use the gym, heated pool, hot tub, shuffle board, pool hall, library, music room, computer room, sand …
Hot Tub/Jacuzzi

A/C or climate control

Central heating

Fitness Room

Parking
Pet friendly

Smoking allowed - ask

Suitable for the elderly

Wheelchair accessible - ask
Previous

Next

property
$140
3 BR / 2 BA / Sleeps 10
$140
Book
McAllen condo – 16.8 mi away
3 BR
/
2 BA
/
Sleeps 10
|

Quick view
1991 sqft of luxury living. This fourth story apartment at the Fairway Condominiums complex faces the McAllen Country Club and the golf course. You have an incredible view - especially at night - of the city lights, McAllen and Reynosa, MX. The Staybridge Hotel is our neighbor and the condo is adjacent to the McAllen …
Shared outdoor pool (unheated)

Internet Access

A/C or climate control

Central heating

Balcony or terrace
Pet friendly

Smoking allowed

Suitable for children

Suitable for the elderly - elevator access

Wheelchair accessible - ask
Previous

Next

property
$100
2 BR / 1 BA / Sleeps 6
1 / 6
(1)
" Excellent "
$100
Book
McAllen B&B – 16.2 mi away
2 BR
/
1 BA
/
Sleeps 6
|

Quick view
We have a spacious and lovely ranch style home in a quiet upscale neighborhood. We have a beautiful fenced in and a private backyard with a very nice inground pool. Two private bedrooms with queen beds and a office/den room with small sleeper sofa and microwave,fridge,toaster, and coffeemaker to use. Guests have full…
Internet Access

Washing Machine

Clothes Dryer

Outdoor Dining Area

A/C or climate control
Suitable for the elderly - ask

Wheelchair accessible - ask
Comfy nest away from home
Left on Jan 26, 2015 for a stay in December 2014
My brother and I stayed at the Sparrow's Nest when we visited the Rio Grande Valley for a family reunion. Julie and Scott are the owners and they are fantastic people. Scott is quiet, yet warm, and Julie is full of life and fun! They are respectful of space and gave us as much or as little interaction as we wanted. The house is big enough to feel like you're alone even when they're home.

We had…
Previous

Next

property
$55
1 BR / 1 BA / Sleeps 4
$55
Book
Harlingen resort – 15.3 mi away
1 BR
/
1 BA
/
Sleeps 4
|

Quick view
620 sq Ft living area in a 55+ gated Resort. Sunshine RV resort in Harlingen Texas has large kidney shaped pool and extra large hot tub along with many organized activities in 3 recreational halls. Mobile has large carport, BBQ, & patio table and chairs. Unit is complete with linens, bedding, bath towels, …
Hot Tub/Jacuzzi

Wireless Internet

Washing Machine

Clothes Dryer

Outdoor Dining Area
Pet friendly

Suitable for the elderly
Previous

Next

property
$110
3 BR / 2 BA / Sleeps 6
1 / 27
(5)
" Excellent "
$110
Book
McAllen condo – 16.8 mi away
3 BR
/
2 BA
/
Sleeps 6
|

Quick view
Over 1400 sqft of luxury living. This second story apartment at the Fairway Condominiums complex faces the McAllen Country Club and overlooks the 18th hole. The Staybridge Hotel is our neighbor and the condo is adjacent to the McAllen Miller International Airport. Its within walking distance of La Plaza Mall - a Simon…
Shared outdoor pool (unheated)

Internet Access

Housekeeping Optional

A/C or climate control

Central heating
Pet friendly

Smoking allowed

Suitable for children

Suitable for the elderly

Wheelchair accessible
This property was clean, spacious, convenient, well stocked - the owner, Patricia, was very helpful,
Left on Dec 09, 2013 for a stay in November 2013
We travelled from Austin and stayed in McAllen for a family gathering. This condo/apartment was situated in a nice area and was very convenient to restaurants and shopping. The owners/staff had the pool heated for us and the grounds were clean, green and well maintained. We actually played a little ball in the front lawn - very nice for our family. The interior was old, but well taken care of, …
Previous

Next

property
$325
6 BR / 6 BA / Sleeps 12
1 / 14
(1)
" Very Good "
$325
Book
Harlingen house – 18.8 mi away
6 BR
/
6 BA
/
Sleeps 12
|

Quick view
6,000 sq ft home on 3 levels. Pool with specatular view of lake. Biliard room with amenities. Golf within walking distance, Padre Island and Mexico 40 minutes away. Airport only 10 minutes away. Great for large families, reunions or couples that enjoy sharing their winters with others.
Waterfront

Ocean or water views

Sauna

Internet Access

Fireplace
Suitable for children

Suitable for the elderly
Beautiful, Spacious home
Left on Apr 10, 2015 for a stay in March 2015
This home is very lovely and well cared for. The owners, who live out of state, have a local woman that manages this property for them. She was very responsive to any questions or concerns we had throughout our 8 day stay. The owners were also quick to respond via email to any questions prior to our stay.

THE GOOD-The location is close to restaurants, medical facilities, major roads and …
---
---