Previous

Next

property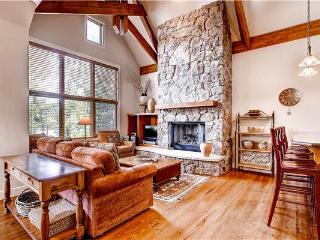 $369
4 BR / 4 BA / Sleeps 11
Inquire
4 BR
/
4 BA
/
Sleeps 11
|

Quick view
A 4-bedroom, 4.5-bath townhome located within walking distance of the Breckenridge ski slopes, Westridge 49 encompasses 2,646 square feet over three levels. The living area has a lovely gas fireplace and flat-screen TV, as well as large windows and vaulted ceilings that bring plenty of mountain sunlight into the space…
Mountain Views

Hot Tub/Jacuzzi

Internet Access

Fireplace

Balcony or terrace
Pet friendly - ask

Suitable for children - ask

Suitable for the elderly - ask

Wheelchair accessible - ask
Previous

Next

property
$1,100
6 BR / 6 BA / Sleeps 18
Inquire
6 BR
/
6 BA
/
Sleeps 18
|

Quick view
Ski-In/Ski-Out on Snowflake Run - Sleeps up to 18 – Watch the Skiers Ski by Right from the Patio! This stunning ski-in/ski-out modern mountain home was crafted with specialty reclaimed barn wood and Canadian wood beams accenting its rustic luxury furnishings. The gorgeous floor-to-ceiling stone fireplace, rustic …
Hot Tub/Jacuzzi

Internet Access

Fireplace

Balcony or terrace

Parking
Pet friendly - ask

Smoking allowed - ask

Suitable for children - ask

Suitable for the elderly - ask

Wheelchair accessible - ask
Previous

Next

property
$369
4 BR / 4 BA / Sleeps 11
Inquire
4 BR
/
4 BA
/
Sleeps 11
|

Quick view
A 4-bedroom, 4.5-bath townhome within walking distance of the Breckenridge ski slopes, Westridge 29 encompasses 2,646 square feet over three levels. A 2-car private garage connects to the entryway of the home. The living area has a gas fireplace and flat-screen TV, with large windows and vaulted ceilings bringing …
Mountain Views

Hot Tub/Jacuzzi

Internet Access

Fireplace

Balcony or terrace
Pet friendly - ask

Suitable for children - ask

Suitable for the elderly - ask

Wheelchair accessible - ask
Previous

Next

property
$1,299
6 BR / 6 BA / Sleeps 20
Inquire
6 BR
/
6 BA
/
Sleeps 20
|

Quick view
The Westridge Lodge home has three levels and 5,044 square feet, with all the amenities expected in a luxury mountain vacation home. On a quiet, forested residential street close to the ski runs, Westridge Lodge is an easy drive or complimentary shuttle ride from Main Street or any of the base areas. Westridge Lodge …
Mountain Views

Hot Tub/Jacuzzi

Fireplace

Balcony or terrace
Pet friendly - ask

Suitable for children - ask

Suitable for the elderly - ask

Wheelchair accessible - ask
Previous

Next

property
$469
4 BR / 5 BA / Sleeps 14
Inquire
4 BR
/
5 BA
/
Sleeps 14
|

Quick view
You will fall in love with this majestic 3,940 square foot home located only one block to the Breckenridge Free Ride shuttle stop and is just a short drive to Downtown Breckenridge. This is an ideal property in Breckenridge, especially if you are visiting with a large group of people as this house can sleep up to 14 …
Hot Tub/Jacuzzi

Fireplace

Deck

Garage

Grill
Pet friendly - ask

Smoking allowed - ask

Suitable for children - ask

Suitable for the elderly - ask

Wheelchair accessible - ask
Exceptional vacation and quality service
Left on Feb 03, 2010 for a stay in January 2010
We had an excellent stay this past weekend. I stayed in the Westridge Chalet with 8 friends. The house was cozy and everyone had a great time. The staff at Ski Country were all very friendly and helpful. We had to rent skis early one morning. We got there at 8 and were still on the mountain by 8:45. I would recommend this place to anyone and we've already started looking into next year's trip.
Previous

Next

property
$369
4 BR / 5 BA / Sleeps 8
Inquire
4 BR
/
5 BA
/
Sleeps 8
|

Quick view
You will fall in love with this majestic 2,502 square foot Westridge Townhome located only one block to the Breckenridge Free Ride shuttle stop and is just a short drive to Downtown Breckenridge. This is an ideal property in Breckenridge, especially if you are visiting with a large group of people as this house can …
Hot Tub/Jacuzzi

Fireplace

Deck

Garage

Grill
Pet friendly - ask

Smoking allowed - ask

Suitable for children - ask

Suitable for the elderly - ask

Wheelchair accessible - ask
Good sized family home. Excellent management services.
Left on Feb 20, 2014 for a stay in February 2014
Nice home. Good location but not reasonably ski in/out. Great concierge shuttle service, quickly responsive, although not happy if any wait so be ready! Streets always plowed. Easy check in and out. Kitchen could be better equipped.
Previous

Next

property
$1,299
6 BR / 6 BA / Sleeps 12
Inquire
6 BR
/
6 BA
/
Sleeps 12
|

Quick view
The Westridge Lodge home has three levels and 5,044 square feet, with all the amenities expected in a luxury mountain vacation home. On a quiet, forested residential street close to the ski runs, Westridge Lodge is an easy drive or complimentary shuttle ride from Main Street or any of the base areas. Westridge Lodge …
Pet friendly - ask

Smoking allowed - ask

Suitable for children - ask

Suitable for the elderly - ask

Wheelchair accessible - ask
Previous

Next

property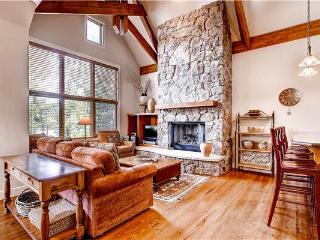 $369
4 BR / 4 BA / Sleeps 8
Inquire
4 BR
/
4 BA
/
Sleeps 8
|

Quick view
A 4-bedroom, 4.5-bath townhome located within walking distance of the Breckenridge ski slopes, Westridge 49 encompasses 2,646 square feet over three levels. The living area has a lovely gas fireplace and flat-screen TV, as well as large windows and vaulted ceilings that bring plenty of mountain sunlight into the space…
Pet friendly - ask

Smoking allowed - ask

Suitable for children - ask

Suitable for the elderly - ask

Wheelchair accessible - ask
Previous

Next

property
$369
4 BR / 4 BA / Sleeps 8
Inquire
4 BR
/
4 BA
/
Sleeps 8
|

Quick view
A 4-bedroom, 4.5-bath townhome within walking distance of the Breckenridge ski slopes, Westridge 29 encompasses 2,646 square feet over three levels. A 2-car private garage connects to the entryway of the home. The living area has a gas fireplace and flat-screen TV, with large windows and vaulted ceilings bringing …
Pet friendly - ask

Smoking allowed - ask

Suitable for children - ask

Suitable for the elderly - ask

Wheelchair accessible - ask
---
---