Previous

Next

property
$95
1 BR / 1 BA / Sleeps 4
$95
Book
1 BR
/
1 BA
/
Sleeps 4
|

Quick view
Come and get away from it all on this beautiful quiet lakefront property. Only 10 hp engines allowed. This lake is 1 mile across from our dock to the other shore. There are trout in the lake for your fishing enjoyment for the evening. The town of Willow is centrally located to (Hatcher Pass, Independence Mine, …
Waterfront

Ocean or water views

Deck

Grill

Linens Provided
Pet friendly

Suitable for children

Suitable for the elderly
Wonderful place
Left on Aug 18, 2014 for a stay in July 2014
I stayed here for 2 weeks the end of july. It's great place to stay quiet and private. A nice cabin overlooking a small lake with grayling and trout stocked by the state. There is a dock bbq grill and a fire pit (w/firewood) down near the lake. In the morning I would go out on the deck for coffee and not a sound but the loons and grebes out on the lake. Every thing I needed was there and Kris was…
Previous

Next

property
$100
2 BR / 1 BA / Sleeps 6
$100
Book
2 BR
/
1 BA
/
Sleeps 6
|

Quick view
New log home located in Houston Alaska on 2 acres of land. Houston Alaska is 45 miles north of Anchorage in the Matsu Valley area. Nearby towns include: Houston, Wasilla, Big Lake, Palmer, Anchorage and Willow Alaska. This home is centrally located to all the major sightseeing areas of Alaska such as: Anchorage, …
Mountain Views

Internet Access

Fireplace

Housekeeping Optional

Washing Machine
Pet friendly

Smoking allowed - ask

Suitable for children

Suitable for the elderly
Previous

Next

property
$1,485
6 BR / 6 BA / Sleeps 16
$1,485
Book
6 BR
/
6 BA
/
Sleeps 16
|

Quick view
New 3 story log building Nestled alongside Meadow creek with lots of wildlife for viewing There is 6 bedrooms and 6 bathrooms, with deep soaker tubs, one features a stunning claw foot tub and another with a round jacuzzi. It has a wonderful wrap around deck to view Pioneer Peak or Sleeping lady and capture the …
Mountain Views

Hot Tub/Jacuzzi

Internet Access

Fireplace

Housekeeping Optional
Suitable for children - ask

Suitable for the elderly - ask

Wheelchair accessible - ask
Previous

Next

property
$175
2 BR / 2 BA / Sleeps 6
$175
Book
2 BR
/
2 BA
/
Sleeps 6
|

Quick view
Duplex cabin finished by master carpenter/owner in 2012. Beautiful 22 acre forest with a 12 acre private lake on the property. Located on Parks highway, 50 miles northwest of Anchorage AK and 200 miles from Denali State Park.. Willow AK. home to the official start of the Iditarod dogsled race. Check out website …
Ocean or water views

Mountain Views

Internet Access

Washing Machine

Clothes Dryer
Pet friendly

Suitable for children

Suitable for the elderly - ask
Previous

Next

property
$105
1 BR / 1 BA / Sleeps 2
$105
Book
1 BR
/
1 BA
/
Sleeps 2
|

Quick view
Quiet comfortable room only 100 feet from the popular Nancy Lake. 1 queen bed and private bath on lower level. Large deck with partial Lake view and Mountain view to watch wonderful sunsets and sun rises. Fishing, Kayaking, Boating, Snowmobiling, hiking, the possibilities are endless. Complimentary continental …
Mountain Views

Wireless Internet

Balcony or terrace

Parking

Linens Provided
Previous

Next

property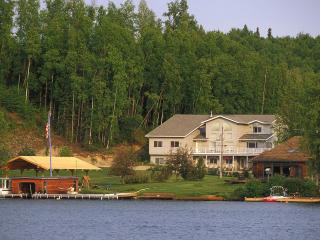 $3,080
11 BR / 11 BA / Sleeps 24
$3,080
Book
11 BR
/
11 BA
/
Sleeps 24
|

Quick view
This lakefront property has magnificent views of Mt McKinley and the Alaskan Sunsets. It features 5 bedrooms, 6 1/2 baths all having jacuzzi tubs. There is 6000 sq ft of living space with elegant accomodations. Three king size beds and two queen size beds. A couple roll-a-ways and (2) cots. Each room has its own …
Ocean or water views

Mountain Views

Hot Tub/Jacuzzi

Internet Access

Fireplace
Suitable for children

Suitable for the elderly - ask

Wheelchair accessible - ask
A relaxing escape
Left on Nov 13, 2012 for a stay in September 2012
I recently stayed at the McKinley home at the Sunset View resort in BIg Lake, AK. THe home was beautiful, with all the amenities you could imagine. I needed a weekend escape from Anchorage, and found it there! My room was lovely, with complete access to the rest of the house. There was a reading room at the top of the house, with a view of the lake. The living room was cozy, with various sitting …
Previous

Next

property
$249
3 BR / 3 BA / Sleeps 8
$249
Book
3 BR
/
3 BA
/
Sleeps 8
|

Quick view
Beautiful 2800 sq ft 3 bedroom / 3 bath lakeside log cabin that sleeps 6-8. 1 1/2 hours north of Anchorage in the heart of amazing salmon and trout fishing, with loads of summer and winter activities right outside your door and an easy drive to Hatcher's Pass, Talkeetna or Denali. The cabin is 2800 sq ft and has 3 bd…
Waterfront

Ocean or water views

Mountain Views

Wireless Internet

Fireplace
Suitable for children

Suitable for the elderly
Previous

Next

property
$875
3 BR / 3 BA / Sleeps 8
$875
Book
3 BR
/
3 BA
/
Sleeps 8
|

Quick view
As architecturally provocative as it is breathtaking on the edge of the water, the Cedar house provides spacious and refined living for those who seek fine living. A rugged indoor basalt fireplace and water fountain greet you in the large entryway. The spacious, open-concept U-shaped gourmet kitchen faces lakeside …
Waterfront

Mountain Views

Hot Tub/Jacuzzi

Internet Access

Fireplace
Suitable for children

Suitable for the elderly - ask

Wheelchair accessible - ask
Previous

Next

property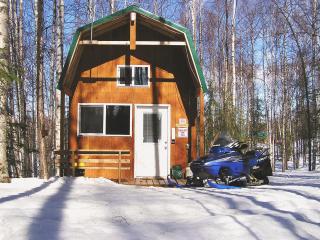 $120
1 BR / 1 BA / Sleeps 6
Inquire
1 BR
/
1 BA
/
Sleeps 6
|

Quick view
Located in Willow in a Quiet Place Set Apart! We are on a lake with 22 acres to roam with all our cabins set so 1 does not see the others. In the summer we have a private beach and swiming area wih paddle boats and canoes. Trails to stoll and fishing in all the local lakes and streams. In the winter we have over 100 …
Waterfront

Ocean or water views

Hot Tub/Jacuzzi

Internet Access

Washing Machine
Pet friendly

Suitable for children

Suitable for the elderly - ask
Rustic cabins in a beautiful area with helpful host
Left on May 02, 2011 for a stay in April 2011
We rented a couple of cabins from Bill in mid-April for four nights. Bill went out of his way to make our stay memorable by grooming some of the local ski trails and giving us some great tips. The hottub that comes with the smaller cabin was fantastic after a day of skiing. The cabins are rustic, but very comfortable, with great kerosene heaters. Fantastic for the price.
---
Looking for more rentals?
We're showing only results that match your dates and preferences.
See all 9 Willow rentals, all 274 Alaska rentals, or start a new search.
---