Previous

Next

property
$170
3 BR / 2 BA / Sleeps 6
Inquire
3 BR
/
2 BA
/
Sleeps 6
|

Quick view
Strand Beachside is centrally located, being an easy walk distance to shops, restaurants and cafes. Strand boasts stylish architecture, oversized apartments, refined interiors with deluxe finishes and fittings, making it the ultimate holiday accommodation in Forster. The first floor of the penthouse features 2 …
Waterfront

Ocean or water views

Mountain Views

Shared outdoor pool (unheated)

Hot Tub/Jacuzzi
Suitable for children - ask

Suitable for the elderly - ask
The best at Forster Beach!
Left on Jul 13, 2012 for a stay in September 2011
have had several family holidays here as we just love this apartment!- luxury whilst still having a 'family' feel about it... walk across the road to the beach, two minutes walk to town... even bad weather doesn't spoil a beach holiday here as it is so restful looking out over the ocean. Highly recommended+++
Previous

Next

property
$136
2 BR / 1 BA / Sleeps 6
Inquire
2 BR
/
1 BA
/
Sleeps 6
|

Quick view
These lovely 2br holiday flats are in what is seen to be the best position in North Haven, on the NSW Mid Nth Coast. The beach is 300m one way, the river 200m the other way! Bring your friends or family to experience a classic Australian beachside holiday in these quiet (NO COMMON WALLS!), spacious and relaxed 2 …
Waterfront

Housekeeping Optional

Washing Machine

Outdoor Dining Area

Parking
Suitable for children

Suitable for the elderly
I love staying at this place
Left on Nov 05, 2011 for a stay in October 2011
This must be the 5th or 6th time we have stayed at Frangipani Flats. My husband and I love it here. It is clean,comfortable in a great location. Convenient to beach bike/walking track, fishing, good food. Great place to just relax or have an active holiday. We will be back!
Previous

Next

property
$105
4 BR / 3 BA / Sleeps 8
$105
Book
4 BR
/
3 BA
/
Sleeps 8
|

Quick view
Holiday rentals in Forster, Pacific Palms or NSW don't get much better than this. As the name of the property suggests, Lakes' Edge is just steps away from the shore of beautiful Wallis Lake where you can see pelicans every day, watch the fishermen go about their daily business or, for the more adventurous, take a…
Suitable for children

Suitable for the elderly

Wheelchair accessible
Previous

Next

property
$163
5 BR / 3 BA / Sleeps 10
$163
Book
5 BR
/
3 BA
/
Sleeps 10
|

Quick view
Serendipity is right at smiths lake in northern nsw australia. Swimming, boating, water skiing, and fishing in the lake. Just a few minutes away are some of the most beautiful surf beaches in the world. The house has four bedrooms in the main house and a flat in the backyard has two single beds and a third bathroom…
Waterfront

Ocean or water views

Washing Machine

Outdoor Dining Area

A/C or climate control
Pet friendly

Smoking allowed

Suitable for children

Suitable for the elderly

Wheelchair accessible - ask
Previous

Next

property
$216
3 BR / 4 BA / Sleeps 6
$216
Book
3 BR
/
4 BA
/
Sleeps 6
|

Quick view
Three-Bedroom Holiday Home Situated 120 metres from One Mile Beach. This air-conditioned holiday home features a private courtyard, a secluded swimming pool. B B Q and outside entertaining area and a fully equipped kitchen with a dishwasher. It has 3 queen beds. 2 lounge rooms, 2 dining rooms. 2 large LCD TV's. …
Mountain Views

Sauna

Wireless Internet

Washing Machine

Clothes Dryer
Pet friendly

Suitable for children
Previous

Next

property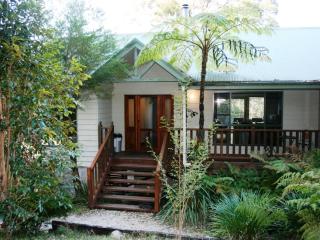 $155
4 BR / 3 BA / Sleeps 8
$155
Book
4 BR
/
3 BA
/
Sleeps 8
|

Quick view
Topi Gums Bush Retreat is a holiday house for those who love nature and seek a tranquil environment in an out of the way location. It accommodates 2-8 people. Well behaved adult dogs are welcome. Set on 100 acres Topi Gums is a unique bush experience that will refresh and recharge you...every aspect absorbs you in …
Fireplace

Washing Machine

Outdoor Dining Area

Deck

Parking
Previous

Next

property
$77
3 BR / 2 BA / Sleeps 6
$77
Book
3 BR
/
2 BA
/
Sleeps 6
|

Quick view
Kookaburra Cottage is a new home 20 minutes south of Forster in the suburb of Pacific Palms (Tarbuck Bay). For a romantic weekend or family holiday, this three bedroom home is just minutes to pristine beaches and beautiful waterways that you can enjoy. This peaceful location is set on the edge of Wallingat State …
Washing Machine

Clothes Dryer

Outdoor Dining Area

Balcony or terrace

Parking
Pet friendly

Suitable for children
Previous

Next

property
$89
2 BR / 1 BA / Sleeps 4
$89
Book
2 BR
/
1 BA
/
Sleeps 4
|

Quick view
For a holiday rental only minutes away from Forster or Pacific Palms, Lakeview Cottage is naturally light, airy and yet warm in winter with its position facing due east and west that takes advantage of early morning and late afternoon sunshine and sea breezes. Entertainment includes DVD player, movie library and radio…
Ocean or water views

Mountain Views

Internet Access

Washing Machine

Outdoor Dining Area
Suitable for children

Suitable for the elderly
Previous

Next

property
$232
5 BR / 2 BA / Sleeps 12
Bluebell is a spacious, well-furnished newly-built 5 bedroom home with spectacular sweeping views to the West and East across Wallis Lake and the surrounding hills. The house sleeps 10-12 people and is ideally suited to accommodate 2 families. Upstairs comprises a large open-plan living space including kitchen and …
Suitable for children

Suitable for the elderly
Previous

Next

property
$89
2 BR / 2 BA / Sleeps 8
$89
Book
2 BR
/
2 BA
/
Sleeps 8
|

Quick view
The whole Top Floor of the house to yourself 126 sq metres of living space! ~1260 sq ft Golf Course across the road & a 300m walk to One Mile Beach! Includes: 2 bedrooms, bathroom, kitchen, lounge, dining room & shared downstairs laundry. Sleeps a maximum 6 ADULTS OR 4 ADULTS + 4 KIDS with 2 Kids on single …
Housekeeping Optional

Washing Machine

Patio

Parking

Garden
Pet friendly

Smoking allowed - ask

Suitable for children

Suitable for the elderly
Previous

Next

property
$220
4 BR / 4 BA / Sleeps 8
A large four bedroomed house, ideal for couples or families, located on Wallis Lake with direct access to the water's edge. The Folly has the most amazing views any time of the day. Ceiling to floor glass windows bring the outside into this modern, airy, comfortable and well designed home. The Folly's close …
Suitable for children

Suitable for the elderly - ask
Previous

Next

property
$116
3 BR / 2 BA / Sleeps 6
$116
Book
3 BR
/
2 BA
/
Sleeps 6
|

Quick view
Holiday rental in Forster or Pacific Palms doesn't come any better. Lakeview Lodge is a stand-alone holiday cottage 8 minutes' drive from Forster or Pacific Palms in the small fishing village of Green Point and yet a world away from the bustle of town.. It has a wraparound sun-deck overlooking Wallis Lake with a …
Ocean or water views

Internet Access

Fireplace

Washing Machine

Outdoor Dining Area
Pet friendly - ask

Suitable for children

Suitable for the elderly
---
---