Previous

Next

property
$144
2 BR / 2 BA / Sleeps 7
$144
Book
2 BR
/
2 BA
/
Sleeps 7
|

Quick view
Te Vai Moana is a Polynesian styled villa has been beautifully appointed and has a relaxed yet luxurious style. It provides the perfect environment from which to enjoy the island paradise of Aitutaki. The villa has a minimum stay of 3 nights, and discounts apply to stays of a week or more. It is highly suitable for …
Ocean or water views

Mountain Views

Internet Access

Housekeeping Optional

Washing Machine
Perfect place to stay on the perfect holiday destination island-
Left on Apr 24, 2014 for a stay in April 2014
Very new and modern self catering accommodation when staying on aitutaki. This Villa has everything you need to ensure you leave with a smile on your face. Louvre windows allow the beautiful breeze to flow through as well as ceiling fans and and air conditioner to cool you down. A large deck area for Bbqs and entertaining or to sit and read a book as you look out toward the most beautiful blue …
Previous

Next

property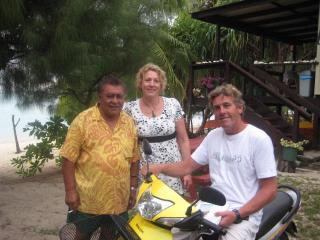 $148
4 BR / 1 BA / Sleeps 3
Inquire
4 BR
/
1 BA
/
Sleeps 3
|

Quick view
Excellent vacational self-contained beach bungalows facing an amazing blue lagoon and stunning-view of evening sunsets from your balcony. Just a few steps from your room to the waters edge. If it is for honeymoon, family or travelling with friends and looking for a home away from home...this is your home. Excellent …
Waterfront

Ocean or water views

Outdoor Dining Area

Deck

Linens Provided
Smoking allowed - ask

Suitable for children - ask

Suitable for the elderly - ask

Wheelchair accessible - ask
Paradise found, total relaxation and sunsets to die for.
Left on Jun 26, 2011 for a stay in June 2011
We have just returned from our first visit to the Cook Islands and it won't be our last. We loved Aitutaki for its unspoiled beauty and laid back ambience. We stayed at Aretai Beach Villas for 4 nights,(not long enough),which was the perfect place for us to chill out and enjoy the beachside position. We loved our hostess and her gentle way of making us feel welcome. The paw paw and bananas from …
Previous

Next

property
$160
2 BR / 1 BA / Sleeps 4
$160
Book
2 BR
/
1 BA
/
Sleeps 4
|

Quick view
Comfortable, Clean and well appointed. In walking distance of swimming beach. Excellent value for money. In a private setting on the Nth/ West side of Aitutaki. Not on the beach front but close to the stunning turquoise lagoon.Open plan, spacious kitchen/living area, two separate double bedrooms. Non Smoking, fully …
Internet Access

Washing Machine

Patio

Books

Garden
Suitable for children

Suitable for the elderly
Been twice, certainly going again!
Left on Apr 09, 2013 for a stay in August 2012
Are Kapakapa is a great place to stay in aitutaki. Quiet and private, and one of the best snorkelling spots on the island is just over the road. It has all the amenities you could want, even a dishwasher! Also over the road is the araura Marine Research station where you can see the beautifully coloured giant clams (see pic). Also a great spot for sunset photos (see pic). Miles and Emma are …
Previous

Next

property
$164
4 BR / 2 BA / Sleeps 8
Inquire
4 BR
/
2 BA
/
Sleeps 8
|

Quick view
Amuri pool villa is a four bedroom home, locally designed and built,with a 200meter private coral driveway that leads from the main road up a slight incline through a hedged tropical fruit and flower garden to end in a turnaround area that has an all weather carport. which then leads onto the comfortable hardwood …
Smoking allowed - ask

Suitable for children - ask

Suitable for the elderly - ask

Wheelchair accessible - ask
Breathtaking veiws up high on a hill with the best sunsets.
Left on Mar 01, 2011 for a stay in November 2010
Your host Paul and Twin live right next door and are the most wonderful
& welcoming people you could ever meet.
Amuri Pool Villa is a 3 bedroom self contained home which is set up high
on the hill .It is a very private getaway especially if you just want to
laze around the pool enjoying the seaview whilst sipping a cocktail or
enjoying a
nice cold beer.
Paul and Twin are very popular on the …
Previous

Next

property
$164
2 BR / 2 BA / Sleeps 6
Inquire
2 BR
/
2 BA
/
Sleeps 6
|

Quick view
Ootu Beach house is a great villa, that has huge outdoor area for relaxing and taking in the amazing panoramic views of the lagoon. The villa is comfortable and self contained, and the lagoon is only a few steps away. The villa is within walking distance of restaurants, cafe, and rental companies. Cancellation and …
Waterfront

Ocean or water views

Housekeeping Optional

Washing Machine

Deck
Smoking allowed

Suitable for children

Suitable for the elderly
Too Hot- Lots of Bugs
Left on Jan 21, 2014 for a stay in September 2013
This was my second trip to Aitutaki- the first time I went by myself and stayed at Samade Resort which is next door. This time I traveled with my Dad so we were looking for multi-room accommodation, and because of my previous stay, I knew I wanted to be on the lagoon side. Our arrival started off well with being picked up at the airport with handmade ei's (flower lei's) however, after that I …
Previous

Next

property
$180
2 BR / 1 BA / Sleeps 4
Inquire
2 BR
/
1 BA
/
Sleeps 4
|

Quick view
WE ALSO MANAGE ANOTHER VILLA RIGHT NEXT DOOR TO AITUTAKI OOTU VILLA!! Aitutaki Ootu Villa is a brand new Villa, located on one of the most beautiful beaches on the island of Aitutaki. Sit on the balcony and enjoy the panoramic views of the lagoon, eastern side of the main island, and in the evening watch the sunset, …
Ocean or water views

Internet Access

Housekeeping Optional

Washing Machine

Outdoor Dining Area
Pet friendly - ask

Smoking allowed

Suitable for children

Suitable for the elderly
Best spot in aitutaki
Left on Aug 18, 2011 for a stay in August 2011
Ootu Villa is a beautiful three bedroom property that we stayed at. The view is absolutely priceless! It was so nice to wake up and go for a swim first thing in the morning with literally no one at the beach. Accommodation is simple and modern, had everything we needed to cook meals for our little one and ourselves. I'd definitely recommend to our friends and family :)
---
---