Previous

Next

property
$200
4 BR / 2 BA / Sleeps 8
Inquire
4 BR
/
2 BA
/
Sleeps 8
|

Quick view
Cottage Profile Picturesque 4 bedroom, 1000 square foot Grand Bend cottage located just 300 metres from the shores of beautiful Lake Huron! The cottage is located in a peaceful cottage/residential area known as Southcott Pines where you can enjoy some rest and relaxation while also being close (just 1.5 km, a very …
Washing Machine

Clothes Dryer

Grill

Microwave

Satellite or cable TV
Suitable for the elderly - ask
Previous

Next

property
$492
3 BR / 3 BA / Sleeps 6
Inquire
3 BR
/
3 BA
/
Sleeps 6
|

Quick view
Cottage Profile ***Guests receive a complimentary unlimited pass for The Pinery Provincial Park*** Quite possibly one of the most exquisite & luxurious Vacation Homes within the village of Grand Bend!! You've driven a long way and you want to be pampered. THIS is Sand Castle. A gorgeous vacation home located within …
Hot Tub/Jacuzzi

Wireless Internet

Fireplace

Washing Machine

Clothes Dryer
Suitable for the elderly - ask
Great location for rest
Left on Jan 23, 2009 for a stay in August 2007
It was very nice to stay one week in this home. House located around 100 m from Hope bay but beach is not perfect, may be just for fishing. We drove every day to Sable beach (just 30 min away). Nearest big grosery store (IGA) is located at Wiarton (15 min to drive).

Everything was in order when we arrived and we have only positive memories except kitchen staff. Teflon frying pans and pans were …
Previous

Next

property
$118
2 BR / 2 BA / Sleeps 4
Inquire
2 BR
/
2 BA
/
Sleeps 4
|

Quick view
Cottage Profile Picturesque two bedroom cottage located on a beautiful treed street in the historic village of Bayfield. A perfect getaway for a group of gals or a family of four. It is a short walk to the main street for restaurants, art galleries, coffee shops, and boutiques. Take a picnic to Pioneer Park and enjoy …
Fireplace

Washing Machine

Clothes Dryer

Grill

Microwave
Smoking allowed

Suitable for the elderly - ask
Previous

Next

property
$83
3 BR / 1 BA / Sleeps 6
Inquire
3 BR
/
1 BA
/
Sleeps 6
|

Quick view
Cottage Profile Quaint, newly constructed (in 2011) 950 square foot, 3 bedroom cottage located 500 metres from the shores of Lake Huron just south of the community of Goderich. The cottage is nestled in a private setting on a well-treed lot on a quiet lane. Pull up to the cottage and feel welcomed by the charming …
Suitable for the elderly - ask
Previous

Next

property
$205
3 BR / 1 BA / Sleeps 6
Inquire
3 BR
/
1 BA
/
Sleeps 6
|

Quick view
LAST MINUTE PRICING MAY BE AVAILABLE PLEASE INQUIRE THREE DIFFERENT UNITS AVAILABLE. Property has 2 Full sized units (3 bedrooms each) plus Third Unit En-suite (1 bedroom) Each of these 3 units is a separate rental. We have the biggest piece of rental property in Grand Bend. The cottage is on 5 acres of land. We are…
Ocean or water views

Wireless Internet

Outdoor Dining Area

A/C or climate control

Central heating
Suitable for children

Suitable for the elderly - ask

Wheelchair accessible - ask
Amazing Weekend
Left on Jun 03, 2012 for a stay in June 2012
We were very impressed by how good the cottage looked and how amazing the service we got from Mr. Best was. We plan on making this an annual vacation spot. It did not feel like a cottage it felt like a home.
Previous

Next

property
$98
2 BR / 1 BA / Sleeps 4
$98
Book
2 BR
/
1 BA
/
Sleeps 4
|

Quick view
Cozy 2 bedroom cottage located just minutes from Bayfield Ontario, Canada. 1/2 minute walk to the beach stairs that lead you to a sandy beach. The water is shallow with a sandy bottom, some stones for the first couple of steps, then sandy. Large lot for backyard games. Backyard amenities include, firepit for …
Outdoor Dining Area

A/C or climate control

Parking

Swing set or jungle gym

Books
Suitable for children

Suitable for the elderly - ask
Close to the Beach, Cozy and Comfy
Left on Jul 12, 2011 for a stay in July 2011
We had a great time the week we stayed at the Cottage... The girls had fun playing in the huge yard and we went to the beach every day!!! Bayfield and Grand Bend were close by so if we ran out of milk or muchies, it was a quick trip to the store...
Previous

Next

property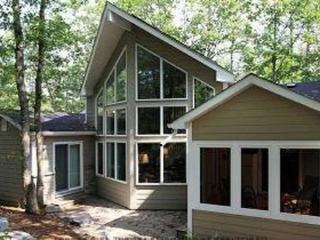 $451
3 BR / 3 BA / Sleeps 6
Inquire
3 BR
/
3 BA
/
Sleeps 6
|

Quick view
Cottage Profile Additional amenities include: cottage must be left clean at the end of rental, maximum number of people: 4 adults or up to 6 with 2 children, individuals 16 years of age or older count as adults, smoking not permitted on the property, linens and towels not supplied.
Suitable for the elderly - ask
Enjoyable
Left on Oct 21, 2011 for a stay in August 2011
The place was nice and had a lot of the comforts of home. It was clean. There were a few things on the info sheet that I couldn't find such as a blender and it said bikes but I think there was only one in the garage.(not a big deal) There was no container for the garbage so I could not put it out the night before (big inconvenience). Overall it was very nice and we enjoyed our stay.
Previous

Next

property
$123
3 BR / 2 BA / Sleeps 7
$123
Book
3 BR
/
2 BA
/
Sleeps 7
|

Quick view
Beautiful Executive rental with stunning views of Lake Huron and its famous sunsets. Completely renovated and updated. Just bring food, drink and yourselves, everything else is supplied. Located in a quiet area. Direct access to a wide sandy beach that stretches for miles. Large private lot with all amenities. Fully …
Ocean or water views

Wireless Internet

Fireplace

Outdoor Dining Area

Central heating
Pet friendly - ask

Suitable for children - over five

Suitable for the elderly
Previous

Next

property
$204
3 BR / 1 BA / Sleeps 8
$204
Book
3 BR
/
1 BA
/
Sleeps 8
|

Quick view
WELCOME TO BEACH WALK COTTAGE Welcome to Ontario's West Coast. Enjoy beautiful beach walks and breath taking sunsets! 3 Lakeside Circle, Gibbs Park Grand Bend, is your home away from home. Relax on your oversized deck and enjoy a partial view of the lake. This cottage has been completely updated but maintains its '…
Ocean or water views

Internet Access

Fireplace

Washing Machine

Clothes Dryer
Suitable for children

Suitable for the elderly

Wheelchair accessible
Previous

Next

property
$74
1 BR / 1 BA / Sleeps 4
$74
Book
1 BR
/
1 BA
/
Sleeps 4
|

Quick view
I have a 31ft Jayco trailer for rent in a great park. My trailer is fairly new and in immaculate condition. It comfortably suits 2 people but there is a pullout couch if you have little ones. The park has many amenities including a pool, basketball courts, volleyball courts, clubhouse, horseshoe pit and a variety of …
Pet friendly - ask

Suitable for children

Suitable for the elderly
Previous

Next

property
$246
4 BR / 3 BA / Sleeps 10
Inquire
4 BR
/
3 BA
/
Sleeps 10
|

Quick view
Welcome to Maplewood Cottage, our much loved family home in the private community of Southcott Pines, only a three minute walk from your private access to the sparkling shores of Lake Huron, Ontario's West Coast. Although the 2015 summer season is just about filled we have a couple of prime summer weeks left. And …
Internet Access

Fireplace

Washing Machine

Clothes Dryer

A/C or climate control
Pet friendly

Suitable for children - ask

Suitable for the elderly - ask
Previous

Next

property
$123
2 BR / 1 BA / Sleeps 6
$123
Book
2 BR
/
1 BA
/
Sleeps 6
|

Quick view
Enjoy all the benefits of the village of Bayfield...our cottage is located half a block from the Main Street many shops and restaurants and one block from pioneer park with access to the sandy beach and enjoy award winning sunsets. Two bedroom and pull out couch in the living room Cable TV , entertainment centre and …
Wireless Internet

Washing Machine

Clothes Dryer

Outdoor Dining Area

Central heating
Pet friendly

Suitable for children
Previous

Next

property
$141
3 BR / 1 BA / Sleeps 8
Inquire
3 BR
/
1 BA
/
Sleeps 8
|

Quick view
Cottage Profile Four bedroom, 1200 square foot cottage that is attached to the Point Farms General Store, across the road from Point Farms Provinicial Park, and located just 6 km north of the pretty town of Goderich. The cottage is also just 4 km away from Lake Huron Resort, a resort community that you have access to …
Outdoor Dining Area

Grill

Dishwasher

Microwave

Ceiling Fans
Suitable for the elderly - ask
---
---