Enter dates for more accurate prices
Payment Protection
Your payment for this rental is protected when you pay through FlipKey.
Learn more
Texas / Ruidosa
Ruidosa guest house
2 6 1 night min
2 bedrooms
sleeps 6

1 night min
Child Friendly
Air conditioning
Pet Friendly
Price per night from
$138
Price per night from
$138
Great rentals within 20 miles that match your search
Distance approx 9.59 km from Ruidosa Show on Map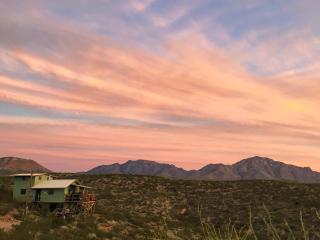 Texas / Marfa
Marfa log cabin
1 6 2 nights min
1 bedroom
sleeps 6

2 nights min
Nearest beach 15 mi
Suitable for children age 5+
Air conditioning
"100% recommendable!" We tremendously enjoyed our stay at the cabin. It was as promised, remote (but not very difficult to get to) , isolated from the daily assault of internet and cell phone services and surrounded by 100% beautiful nature with the Ch
…see more
Certificate of Excellence
Map
Price per night from
$103
Responds fast!
avg. 1 hour 33 minutes
Price per night from
$103
What is Certificate of Excellence?
TripAdvisor gives a Certificate of Excellence to accommodations, attractions and restaurants that consistently earn great reviews from travelers.