Previous

Next

property
$65
3 BR / 1 BA / Sleeps 5
$65
Book
3 BR
/
1 BA
/
Sleeps 5
|

Quick view
In our experience the succes of a holiday to a large extent depends on the quality of your holiday home. We hope to offer you everything you would expect from a holiday appartment. Up till now our guests have given us the impression that we have succeeded. (hetgroenehuismonschau) The most exciting aspect of this …
Mountain Views

Internet Access

Housekeeping Optional

Outdoor Dining Area

Central heating
Suitable for children

Suitable for the elderly - ask
Fantastic holiday home
Left on Sep 10, 2014 for a stay in September 2014
So happy we booked the Home with a View apartment for our holiday. Very clean and very well equipped plus free WiFi. Plenty of parking out front and the view from the lounge was magnificent. Thank you Marten.
Previous

Next

property
$180
6 BR / 3 BA / Sleeps 12
$180
Book
6 BR
/
3 BA
/
Sleeps 12
|

Quick view
(Please Ask for availability or view the calendars of each of the three appartments) The Green House, our Holiday Home, with three apartments with stunning views over the 'Rurtal' and the hills of the Eifel. (hetgroenehuismonschau) The apartments are fully equipped. All rooms of the fully insulated house are centrally…
Mountain Views

Internet Access

Outdoor Dining Area

Central heating

Balcony or terrace
Suitable for children

Suitable for the elderly

Wheelchair accessible - ask
Oergezellig en comfortabel
Left on Oct 06, 2013 for a stay in September 2011
We verbleven met een groep vrienden in het prachtig ingerichte huis. Het is royaal opgezet, gezellig ingericht en van alle gemakken voorzien. Monschau ligt op loopafstand en in de omgeving is het goed wandelen. De ligging is heerlijk rustig. Kortom: een prima plek!
Previous

Next

property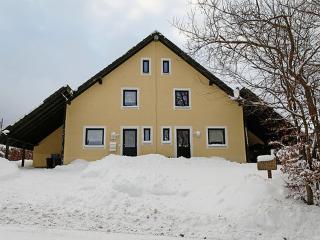 $115
3 BR / 2 BA / Sleeps 8
$115
Book
3 BR
/
2 BA
/
Sleeps 8
|

Quick view
Please note these Check-in Day Requirements for this property: Apr 20 - Apr 22 : Monday, Tuesday and Wednesday check-out required.; Apr 28 - Apr 30 : Tuesday, Wednesday and Thursday check-out required.; May 12 - May 14 : Tuesday, Wednesday and Thursday check-out required.; May 20 - May 22 : Wednesday, Thursday and …
Internet Access

Washing Machine

Balcony or terrace

Parking

Garden
Smoking allowed

Suitable for children

Suitable for the elderly - ask

Wheelchair accessible - ask
Previous

Next

property
$115
3 BR / 2 BA / Sleeps 8
$115
Book
3 BR
/
2 BA
/
Sleeps 8
|

Quick view
Please note these Check-in Day Requirements for this property: Apr 22 - Apr 24 : Wednesday, Thursday and Friday check-out required.; Apr 29 - May 01 : Wednesday, Thursday and Friday check-out required.; May 06 - May 08 : Wednesday, Thursday and Friday check-out required.; May 10 - May 13 : Sunday check-in required, …
Internet Access

Washing Machine

Balcony or terrace

Parking

Garden
Smoking allowed

Suitable for children

Suitable for the elderly - ask

Wheelchair accessible - ask
Previous

Next

property
$281
5 BR / 3 BA / Sleeps 8
Inquire
5 BR
/
3 BA
/
Sleeps 8
|

Quick view
Only 200 m from the historic town center, this 4-star property has 5 bedrooms and can sleep up to 10 guests. The house's numerous features include a sauna, access to a garden and terrace area, and a fully equipped kitchen., key advantages: spacious, includes sauna, free internet, 1 large living/family room, 1 separate…
Sauna

Internet Access

Washing Machine

Clothes Dryer

Central heating
Suitable for children - ask

Suitable for the elderly - ask

Wheelchair accessible - ask
Previous

Next

property
$65
2 BR / 1 BA / Sleeps 4
$65
Book
2 BR
/
1 BA
/
Sleeps 4
|

Quick view
Die Sonnenseite is the appartment of hetgroenehuismonschau, directly connected with the large garden of 60m downhill. As you might expect from the name, the terrace is on the southside of the House. From here you have a beautiful view over the hills and the valley where the old town of Monschau is located. We have …
Mountain Views

Internet Access

Central heating

Balcony or terrace

Parking
Suitable for children

Suitable for the elderly - ask
Clean, Modern, Comfortable, Quiet and Lovely View
Left on Aug 29, 2014 for a stay in August 2014
Stayed for a week with my wife and 2 grown up children. The apartment is on the ground floor with 2 further rental properties on the other stories of the house. You have your own access out on to a private patio which overlooks a somewhat 'unfinished', but secluded garden. The property itself is furnished to a very high standard with everything you could possibly need in the kitchen (accept a …
Previous

Next

property
$65
2 BR / 1 BA / Sleeps 4
$65
Book
2 BR
/
1 BA
/
Sleeps 4
|

Quick view
Maison Mont Joie is the largest and most luxurious of three appartments in hetgroenehuismonschau (The Green House in Monschau). The large living/diningroom is furnished with quality furniture and offers a spectacular view on the hills surrounding the Old town of Monschau. From the living you have entrance to the …
Mountain Views

Internet Access

Central heating

Balcony or terrace

Parking
Suitable for children

Suitable for the elderly
---
---