Previous

Next

property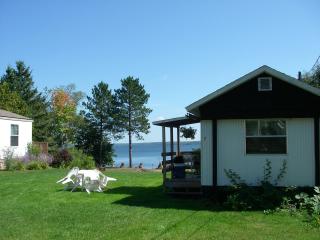 $75
2 BR / 1 BA / Sleeps 6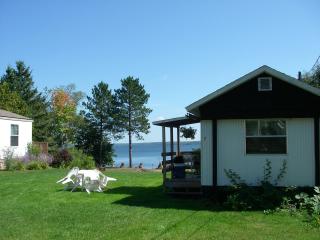 1 / 9
(2)
" Excellent "
$75
Book
Chassell cabin – 16.6 mi away
2 BR
/
1 BA
/
Sleeps 6
|

Quick view
Enjoy fishing? Looking for a place to stay on beautiful Portage Lake where there are many outdoor activities to enjoy with your family and friends? You found the right place! Located 3 miles South of Houghton, we are just minutes away from dining, golfing, shopping, Michigan Technological University, and the gateway…
Waterfront

Ocean or water views

Sauna

Internet Access

Fireplace
Pet friendly - ask

Smoking allowed - ask

Suitable for children - ask

Suitable for the elderly - ask
Northwood's Resort is an excellant spot for summer activities -
Left on Mar 10, 2013 for a stay in June 2012
The Kirkish's provide a resort in a wonderful location for those who enjoy outdoor activities. Located on the west side of Portage Lake, known for its excellent walleye and northern pike fishing, this resort is well suited for those who would like to explore the sights of the Keweenaw Peninsula or take advantage of resort based activities. We enjoyed the clean and comfortable lodging, the long …
Previous

Next

property
$120
5 BR / 1 BA / Sleeps 6
$120
Book
Calumet house – 5.0 mi away
5 BR
/
1 BA
/
Sleeps 6
|

Quick view
Looking for a single family home for your vacation in Calumet, Michigan? House is located 1/4 mile from the Swedetown Ski Trails and snowmobile trails and near downtown Calumet where the Copper Dog 150 will be taking place. Ripley Ski Hill is 13 miles South and Mount Bohemia ski hill is about 25 miles north. Kitchen …
Pet friendly

Suitable for children

Suitable for the elderly - ask

Wheelchair accessible - ask
Previous

Next

property
$125
4 BR / 2 BA / Sleeps 12
1 / 18
(1)
" Excellent "
$125
Book
Calumet house – 4.8 mi away
4 BR
/
2 BA
/
Sleeps 12
|

Quick view
Large 4 bedroom home that sleeps up to 12 people. Great for snowmobilers, large families or a group. Situated close to downtown Calumet. Large kitchen and open dining room area. Two living rooms. Plenty of space. Enough room for your trailers. Pet Friendly! Close to Hancock and Houghton. Mount Ripley and Mount…
Internet Access

Washing Machine

Clothes Dryer

Patio

Parking
Pet friendly

Suitable for children

Suitable for the elderly
Perfect
Left on Jul 07, 2014 for a stay in July 2014
We were a group of 4 families with kids from 1-12 years old, graduates of Michigan Tech staying for a mini-reunion extended holiday weekend. Perfectly situated in Calumet to make trips to Tech, Copper Harbour, and places throughout the Keweenaw easy to get to. Excellent value, priced right, well furnished and stocked with linens, kitchen appliances and cooking items, and wireless internet …
Previous

Next

property
$125
2 BR / 1 BA / Sleeps 7
$125
Book
Ahmeek condo
2 BR
/
1 BA
/
Sleeps 7
|

Quick view
Ahmeek Streetcar Station Vacation Rental is great for families and groups. The historic Streetcar Station has been completely remodeled, and features the upstairs vacation rental: a bedroom with 2 queens, a bedroom with 1 king, a complete kitchen and lovely tiled bathroom. Also large living room with 2 couches and…
Internet Access

Central heating

Patio

Parking

Books
Previous

Next

property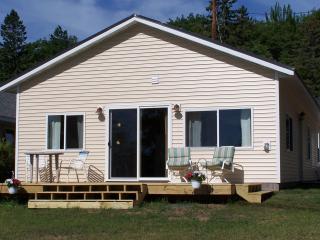 $200
4 BR / 2 BA / Sleeps 12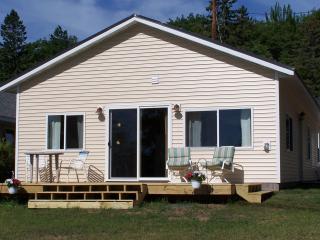 1 / 15
(1)
" Excellent "
$200
Book
Chassell cabin – 16.6 mi away
4 BR
/
2 BA
/
Sleeps 12
|

Quick view
Just four miles away from the city of Houghton, is a brand new cabin located on beautiful Portage Lake in Michigan's Upper Peninsula. The cabin is conveniently located next to a 7 mile walking/biking trail. The cabin has four bedrooms and two baths. The beds are fullsize and one bathroom has a shower, while the …
Waterfront

Ocean or water views

Internet Access

Central heating

Deck
Pet friendly

Suitable for children

Suitable for the elderly
Great place for a relaxing getaway!!!
Left on Feb 08, 2012 for a stay in November 2011
I love visiting the U.P. of Michigan and getting away from the hustle and bustle of everyday life. I have stayed at Sunrise Cabins three times in the past 2 years, twice in the summer and once in the fall. All the people I have met at the cabins while I was there were just great, very friendly and a pleasure to get to know. They had a 4th of July potluck picnic that everyone was invited to …
Previous

Next

property
$120
3 BR / 5 BA / Sleeps 6
$120
Book
Hubbell condo – 13.7 mi away
3 BR
/
5 BA
/
Sleeps 6
|

Quick view
Luxurious 2 floosr furnished penthouse apartment in dreamland 417 sq mtrs with 3 bedrooms with 4 bathrooms, reception, dining room, den and American kitchen with washer dryer and refrigerator and maids room with own shower and bathroom, marble floors lots of terraces gated community with pool, golf course and parking …
Shared outdoor pool (unheated)

Internet Access

Washing Machine

Clothes Dryer

A/C or climate control
Suitable for children

Suitable for the elderly - elevator access

Wheelchair accessible
Previous

Next

property
$50
1 BR / 2 BA / Sleeps 4
1 / 5
(1)
" Excellent "
$50
Book
Allouez cabin – 3.0 mi away
1 BR
/
2 BA
/
Sleeps 4
|

Quick view
Great fishing, bird watching, hiking, and bow hunting from this charming, rustic off the grid cabin at the Gratiot River Upper Falls and Conglomerate Hole in Keweenaw County Michigan. One room cabin with double bed, queen sleeper couch, table with 2 chairs, and room to set up extra cots. Propane cook stove and …
Ocean or water views

Fireplace

Central heating

Parking

Stove or Oven
Pet friendly

Suitable for children
Peaceful, rustic, and perfect.
Left on Jun 08, 2013 for a stay in May 2013
We loved the Conglomerate Falls cabin! The pictures don't quite give it due justice, because it's what's outside that really counts. That said, though, the cabin itself is neat, charming, and ingeniously organized -- and solar powered to boot! Large picture windows help to keep the place bright, and provide a sweeping view of the woods and environs. If you're willing to trade convenience for …
---
Looking for more rentals?
We're showing only results that match your dates and preferences.
See all 7 Ahmeek rentals, all 881 Michigan rentals, or start a new search.
---