Previous

Next

property
$74
2 BR / 1 BA / Sleeps 4
$74
Book
2 BR
/
1 BA
/
Sleeps 4
|

Quick view
This Ground Floor Apartment with Private Garden Set within a Gated and Secure Community Located in Playa Flamenca and Overlooking Large Communal Pool Nearest Airport Murcia - 30 mins is the closest and then Alicante 50 mins The Apartment has modern open plan living theme Wi-Fi - Fee €20.00 per week Air Con - …
Shared outdoor pool (unheated)

Wireless Internet

Washing Machine

Clothes Dryer

Outdoor Dining Area
Suitable for children

Suitable for the elderly
Previous

Next

property
$104
3 BR / 2 BA / Sleeps 6
$104
Book
3 BR
/
2 BA
/
Sleeps 6
|

Quick view
This lovely house is situated on the Beach side of the main N332 - only 2 minutes walk to the beach, bars, restaurants and supermarkets - ideal if you don't wish to hire a car! The house is modern in decoration and feel and benefits from the following Quite location, over looking large communal pool almost live …
Shared outdoor pool (unheated)

Washing Machine

Clothes Dryer

Outdoor Dining Area

A/C or climate control
Previous

Next

property
$89
2 BR / 1 BA / Sleeps 4
$89
Book
2 BR
/
1 BA
/
Sleeps 4
|

Quick view
Lovely House situated on the exclusive Valencia Community in Villamartin 2 Double Bedrooms, comprises of 1 Bedroom with Double Bed and the Other has 2 X Twin Single Beds 1 Bathrooms with Walk in Waterfall Shower Ceiling Fans in All Room - Dual Fan is Lounge - Due to the construction no need for Air-Con house …
Shared outdoor pool (unheated)

Internet Access

Fireplace

Washing Machine

A/C or climate control
Smoking allowed

Suitable for children

Suitable for the elderly
Previous

Next

property
$89
3 BR / 2 BA / Sleeps 6
$89
Book
3 BR
/
2 BA
/
Sleeps 6
|

Quick view
This House Set in Playa Flamenca Overlooking the Communal Pool - a very quite area yet only a few walk to the La Zenia Boulevard and the Wonderful Saturday Street Market. Located in Playa Flamenca on the Costa Blanca South - Nearest Airport Murcia - 20mins is the closest and then Alicante 45 mins Extra Large Front…
Shared outdoor pool (unheated)

Washing Machine

Outdoor Dining Area

A/C or climate control

Balcony or terrace
Suitable for children

Suitable for the elderly
Previous

Next

property
$1,486
12 BR / 5 BA / Sleeps 24
$1,486
Book
12 BR
/
5 BA
/
Sleeps 24
|

Quick view
The Costa Blanca is renowned for its turquoise waters, miles of white sandy beaches, fiery fiestas and sizzling nightlife. Visitors adore the ease of its home comforts and family-friendly amenities, while many more are seduced by unexplored valleys, pretty hilltop hamlets and unspoilt fishing villages. Year-round …
Wireless Internet

A/C or climate control

Balcony or terrace

Parking

Grill
Previous

Next

property
$104
1 BR / 1 BA / Sleeps 2
$104
Book
1 BR
/
1 BA
/
Sleeps 2
|

Quick view
This Luxury Apartment is a real and true "Pied De Terre" The Apartment is set in a quiet location parking to the front of the property to with a large enclosed balcony for those warm autumn/winter sunny days, The property also benefits from a new red bespoke kitchen with gas hob, new oven. High end …
Washing Machine

A/C or climate control

Microwave

Refrigerator

Stove or Oven
Previous

Next

property
$104
2 BR / 1 BA / Sleeps 4
$104
Book
2 BR
/
1 BA
/
Sleeps 4
|

Quick view
Lovely House situated on the exclusive Valencia Community in Villamartin 2 Double Bedrooms, comprises of 1 Bedroom with Double Bed and the Other has 2 X Twin Single Beds 1 Bathrooms with Walk in Waterfall Shower Ceiling Fans in All Room - Dual Fans is Lounge Portable Air-Con The House remains Cool in Summer & …
Shared outdoor pool (unheated)

Fireplace

Washing Machine

Outdoor Dining Area

A/C or climate control
Previous

Next

property
$65
3 BR / 1 BA / Sleeps 7
$65
Book
3 BR
/
1 BA
/
Sleeps 7
|

Quick view
The accommodation Nice apartment, wooden floors, air conditioning, heating, security door. Very comfortable, quiet residential area. 4th no lift. Last plant. Environment Very close to the train station. Just 9 km from the airport. With all services, supermarkets, pharmacies, restaurants, bus stop. Easy …
Housekeeping Optional

Washing Machine

Outdoor Dining Area

A/C or climate control

Balcony or terrace
Previous

Next

property
$37
2 BR / 2 BA / Sleeps 4
$37
Book
2 BR
/
2 BA
/
Sleeps 4
|

Quick view
A mere half hour drive from Alicante sits our apartment surrounded by mountains. 20 minutes from the airport, 10 minutes from the beach and 2 seconds from the pool, this apartment is also set on a Championship golf course. La Finca is located near the towns of Algorfa and Orihuela and is only a short journey from …
Mountain Views

Shared outdoor pool (unheated)

Internet Access

Fireplace

Housekeeping Optional
Pet friendly - ask

Smoking allowed - ask

Suitable for children

Suitable for the elderly

Wheelchair accessible - ask
Wonderful apartment in peaceful location
Left on Jul 21, 2010 for a stay in July 2007
We stayed in the apartment with a child and baby and there was all the facilities you would need. The pool is a few steps away from the apartment so perfect to nip and get anything you need. There wasn't a restaurant open within walking distance when we stayed, so we drove to the nearest small town most evenings where there were restuarants and local bars which were great. Am sure there were …
Previous

Next

property
$67
4 BR / 1 BA / Sleeps 8
Large 4 bedroom villa with 3 bathrooms. Situated on Lo Crispin, Algorfa close to lovely sandy beaches and fanastic golf courses. Villa has childrens playroom and satellite television. A large themed communal swimming pool, suitable for all ages is within 30 metres. Ideal location on quiet estate, with local bars, …
Mountain Views

Shared outdoor pool (unheated)

Housekeeping Optional

Washing Machine

Clothes Dryer
Smoking allowed - ask

Suitable for children

Suitable for the elderly
Amazing
Left on Jun 03, 2013 for a stay in April 2012
We decided on a girls holiday & the villa was perfect, we were there for a week & there is enough space to chill out without being disturbed. the communal areas were great, every night we had food outside on the patio followed by a few games of cards. The local bar was entertaining & there are more then enough supermarkets a very short drive away. The closest beach is really beautiful. I would …
Previous

Next

property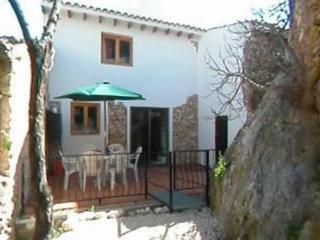 $87
3 BR / 3 BA / Sleeps 6
$87
Book
3 BR
/
3 BA
/
Sleeps 6
|

Quick view
Traditional town house in the village of Abdet, near Guadalest, surrounded by beautiful mountain scenery, yet only 20 kms from Benidorm. Feature well appointed bathrooms (one ensuite), and spacious bedrooms. Private garden/patio, Wood pellet stove for those cool winter evenings in this peaceful mountain village. …
Mountain Views

Internet Access

Fireplace

Washing Machine

Outdoor Dining Area
Pet friendly - ask

Smoking allowed - ask

Suitable for children
Exceeded expectations
Left on Oct 22, 2010 for a stay in April 2010
A great experience, house was very homely, full of character and very clean.
Fantastic base for the cycling holiday, great weather and lots of smooth tarmac without any traffic to speak of; brill!
Previous

Next

property
$51
2 BR / 2 BA / Sleeps 5
$51
Book
2 BR
/
2 BA
/
Sleeps 5
|

Quick view
Apartment of 70 m2 - duplex with living room, 2 bedrooms (1 double bed and two singles) 3 fitted wardrobes and two bathrooms. Totamente furnished. Satellite TV and Air conditioning. Kitchen with appliances (washing machine, refrigerator, coffee maker, microwave). Loggia of 12 m2 and private solarium on the top floor …
Ocean or water views

Mountain Views

Outdoor Dining Area

A/C or climate control

Balcony or terrace
Pet friendly

Smoking allowed - ask

Suitable for children

Suitable for the elderly - ask
Previous

Next

property
$33
1 BR / 1 BA / Sleeps 4
$33
Book
1 BR
/
1 BA
/
Sleeps 4
|

Quick view
Set in beautiful mature gardens with large swimming pool and small baby pool. Near all facilities bars restuarants and shops. 4 km to beach .. golf and tennis.
Shared outdoor pool (unheated)

Internet Access

Washing Machine

Outdoor Dining Area

Patio
Pet friendly - ask

Smoking allowed - ask

Suitable for children

Suitable for the elderly - ask

Wheelchair accessible - ask
Previous

Next

property
$187
4 BR / 3 BA / Sleeps 8
$187
Book
4 BR
/
3 BA
/
Sleeps 8
|

Quick view
The Villa is situated in a guiet neighbourhood and has several terraces, 4 bedrooms with 3 bathrooms 4 toilets. The main house is comfortable and has a living room, dining room, kitchen 2 bedrooms (4 single beds) and 1 big bathroom with separate shower and bath, toilet and bidet, there is also a separate extra toilet…
Mountain Views

Internet Access

Fireplace

Housekeeping Optional

Washing Machine
Pet friendly

Suitable for children

Suitable for the elderly
vacation
Left on Jul 31, 2011 for a stay in July 2011
We really enjouyed our stay in altea La Vella. The location is great, the property is full of charm and caracter. Marian was the perfect host, she made us feel that nothing was too much trouble, a relaxed warm welcome with a good glas of wine. Marian has put together an array of literature and leaflets covering altea and surrouning area`s. Next year we will come again
Previous

Next

property
$19
2 BR / 1 BA / Sleeps 6
$19
Book
2 BR
/
1 BA
/
Sleeps 6
|

Quick view
This lovely ground floor apartment is situated on the attractive low rise gated Pueblo Marino Complex in the Urbanisation of Torreblanca . The complex has the benefit of being placed in a quieter residential area but still conveniently situated between Torrevieja (5 mins drive) and La Mata (5 mins drive), on the South…
Shared outdoor pool (unheated)

Washing Machine

Outdoor Dining Area

A/C or climate control

Balcony or terrace
Pet friendly - ask

Smoking allowed - ask

Suitable for children - ask

Suitable for the elderly - ask
---
---