8 Results
Relevance
Price: low to high
Price: high to low
Number of reviews
8 apartments in St. Simons Island with hot tubs
Saint Simons Island apartment
2 bedrooms / 2 bathrooms / sleeps 5
"Great time!" Place was nice, clean and convenient! The pool was right there by the unit. Price was great!! Had a couple of minor issues with supplies in the unit but that was okay since the price was reasonable. Would definitely stay here again. Owner was great to work with and answered all my questions!!! Will recommend this unit to friends.
Responds fast! avg. 2 hours 14 minutes
Match: Jacuzzi or hot tub
All filters match
Price per night from
$112
Saint Simons Island apartment
2 bedrooms / 2 bathrooms / sleeps 8
"Stay here! Great view, walking or biking distance to everything." We stayed here on our honeymoon. It was perfect. The place is huge. You could easily fit 6-8 people comfortably. The kitchen was large and accessible and the balcony had a great view of the water. It's an easy drive to Jekyll Island for a great day trip. The condo is walking distance (about a 45 second walk) to the Beach. If you rent bikes at the beginning of your stay from one of the local bike shops you can leave your car parked and just bike everywhere. Restaurants, the lighthouse, the boardwalk, all the cool stuff on St. Simons island. Great restaurants, ice cream places, you name it. There's a grocery store nearby that you can stock up for your stay (plenty of room in the fridge and cupboards!) There's a great seafood market in the next town over. You can buy some seafood and cook it right in the condo for a great dinner. This place is very secure, the people at the place you go to pick up your key are so easy to work with. We'd recommend this place to anyone. Stay here for a great relaxing vacation. No pressure to do anything, but plenty to do if you want.
Match: Jacuzzi or hot tub
All filters match
Price per night from
$320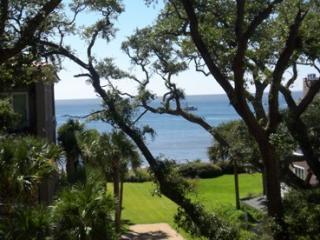 Saint Simons Island condo
3 bedrooms / 3 bathrooms / sleeps 8
Responds fast! avg. 3 hours 41 minutes
Match: Jacuzzi or hot tub
All filters match
Price per night from
$228
Saint Simons Island apartment
3 bedrooms / 3 bathrooms / sleeps 7
Match: Jacuzzi or hot tub
All filters match
Price per night from
$453
Great rentals within 20 miles that match your search
Brunswick hotel apartment
1 bedroom / 2 bathrooms / sleeps 5
Match: Jacuzzi or hot tub
All filters match
Price per night from
$365
Brunswick house
4 bedrooms / 4 bathrooms / sleeps 6
Match: Jacuzzi or hot tub
All filters match
Price per night from
$548
Brunswick house
4 bedrooms / 3 bathrooms / sleeps 8
Match: Jacuzzi or hot tub
All filters match
Price per night from
$455
Brunswick house
4 bedrooms / 3 bathrooms / sleeps 12
Match: Jacuzzi or hot tub
All filters match
Price per night from
$552