Previous

Next

property
$279
5 BR / 3 BA / Sleeps 12
1 / 20
(2)
" Excellent "
$279
Book
Montagnole cottage – 19.5 mi away
5 BR
/
3 BA
/
Sleeps 12
|

Quick view
Holiday cottage of certified, new charm of construction Ecogite (healthy materials, renewable energies), referenced 4 stars in furnished flat of tourism and 4 ears ' Gites of France ' in 7km of the center of Chambéry, historic capital of Dukes de Savoie, city of Arts and History(Story). The holiday cottage is …
Ocean or water views

Mountain Views

Internet Access

Housekeeping Optional

Washing Machine
Pet friendly - ask

Suitable for children

Suitable for the elderly

Wheelchair accessible
Fabulous Experience
Left on Nov 05, 2014 for a stay in September 2014
We travelled throughout France for a month, this is one of the nicest places we stayed at. The view is stunning and the area is peaceful. Stephane is a wonderful host, he is always available to make your stay exceptional. He is a wealth of information and eager to share his expertise on the construction of this magnificent Eco friendly and healthy environment. This is by far the CLEANEST place we…
Previous

Next

property
$85
2 BR / 1 BA / Sleeps 4
1 / 30
(30)
" Excellent "
Inquire
Grenoble condo – 17.6 mi away
2 BR
/
1 BA
/
Sleeps 4
|

Quick view
High quality rental property apartment in Grenoble downtown. The apartment is ideal for both rental holidays and business rental apartment, and as well for pleasure rental property, rental apartment for healthy thermal relaxation or apart hotel for ski travels in the alpes. This apartment has a flexible configuration …
Mountain Views

Shared outdoor pool (unheated)

Internet Access

Housekeeping Optional

Washing Machine
Suitable for children

Suitable for the elderly

Wheelchair accessible
Great comfort
Left on Dec 28, 2009 for a stay in December 2009
Very nice kitchen, big bathroom, good furnitures and equipments,
very good quality-price ratio
Previous

Next

property
$183
3 BR / 4 BA / Sleeps 12
$183
Book
Saint-Meme d'en Haut house – 15.8 mi away
3 BR
/
4 BA
/
Sleeps 12
|

Quick view
La Grange is a converted barn (built in 1830) situated in a small and authentic Alpine hamlet just south of Chambery and right at the heart of the Chartreuse National Nature Park, France. The surrounding pre-alps top out at 6500 ft and provide stunning views, skiing and other mountain sports in winter plus some of the…
Mountain Views

Wireless Internet

Fireplace

Housekeeping Optional

Washing Machine
Pet friendly - ask

Smoking allowed - ask

Suitable for children

Suitable for the elderly - ask
Previous

Next

property
$71
3 BR / 3 BA / Sleeps 9
$71
Book
Rhone-Alpes B&B – 12.5 mi away
3 BR
/
3 BA
/
Sleeps 9
|

Quick view
Change of scenery in a rural community ideally located between Lake Aiguebelette the mountains of the Chartreuse. It is a warm and friendly atmosphere that you find all the natural values ​​. From the decor to your plate , you 're not at your surprises ... 3 guest rooms 3 ears Gites de France and referenced guide …
Internet Access

Housekeeping Optional

Outdoor Dining Area

Central heating

Balcony or terrace
Suitable for children

Suitable for the elderly - ask
Previous

Next

property
$89
1 BR / 1 BA / Sleeps 4
$89
Book
La Tour-du-Pin condo – 12.0 mi away
1 BR
/
1 BA
/
Sleeps 4
|

Quick view
For full details and pictures go to www.yourfrenchapartment.com You will be staying is a beautiful fully restored apartment in a 17th century Historical Citadel. Situated right in the center of La Tour Du Pin, France. 5 minutes walk to shops, French Markets, Bakeries, Patisseries, Restaurants etc. 8 minutes …
Pet friendly - ask

Suitable for children

Suitable for the elderly

Wheelchair accessible - ask
Previous

Next

property
$91
1 BR / 1 BA / Sleeps 4
$91
Book
Grenoble condo – 17.4 mi away
1 BR
/
1 BA
/
Sleeps 4
|

Quick view
Apartment with character in a late XIXth century building for 1 to 4 persons. Enjoy your stay in this apartment with character in an authentic Haussmann building ideally located in the very city centre of Grenoble, the capital of the Alps, in the residential area of the Prefecture. The recent renovation (2011) and …
Internet Access

Housekeeping Optional

Washing Machine

Clothes Dryer

Central heating
Suitable for children - ask

Suitable for the elderly - elevator access
Previous

Next

property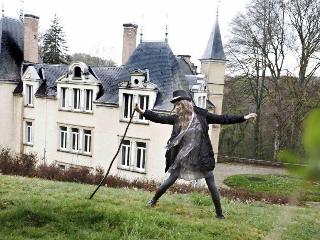 $84
4 BR / 5 BA / Sleeps 14
$84
Book
Villeneuve-de-Marc castle – 19.7 mi away
4 BR
/
5 BA
/
Sleeps 14
|

Quick view
Featuring a swimming pool in the manicured gardens, Chateau de Bonnevaux is located in Bonnevaux Forest. Homemade jams are served for breakfast and you can dine on the terrace. With a view of the park, the guest rooms are decorated in a traditional style with antique furniture and original fireplaces. Free Wi-Fi is …
Shared outdoor pool (unheated)

Internet Access

Fireplace

Housekeeping Optional

Outdoor Dining Area
Pet friendly - ask

Suitable for children

Suitable for the elderly

Wheelchair accessible
Previous

Next

property
$54
1 BR / 1 BA / Sleeps 4
$54
Book
Rhone-Alpes condo – 15.0 mi away
1 BR
/
1 BA
/
Sleeps 4
|

Quick view
Located between Lyon, and Grenoble, in the country of nut of GRENOBLE near to Voiron (cellars of CHARTREUSE), the coast St Andre (museum and festival BERLIOZ, palate of the chocolate, castle Louis XI, nautical Center, distilling cherry-Rocher), St Antoine Abbey (medieval city), Bressieux (classified castle, panoramic…
Suitable for children

Suitable for the elderly - ask
Previous

Next

property
$105
1 BR / 1 BA / Sleeps 3
1 / 29
(2)
" Excellent "
$105
Book
Grenoble condo – 17.2 mi away
1 BR
/
1 BA
/
Sleeps 3
|

Quick view
In Grenoble, in the heart of the antique area, beautiful flat tastefully renovated, in the 1st floor of a XVII century building house. Kitchen, living room with fireplace, alcove with sofa bed 1 pers and library, bedroom (double four-poster bed), nice bathroom with Italian shower stone spa spacious. Electric heating. …
Internet Access

Fireplace

Housekeeping Optional

Washing Machine

Central heating
Suitable for children - ask

Suitable for the elderly - ask
Comfortable apartment in la vieille ville.
Left on Dec 29, 2014 for a stay in September 2014
This is a perfect apartment for two people in the heart of the old town and antique district of Grenoble. It is a great location for walking to shops and close to public transportation. The apartment is very comfortable and convenient with all the amenities and lovely furnishings. The owner is very nice and willing to help you in any way he can. There are two drawbacks to this apartment, but …
Previous

Next

property
$100
1 BR / 1 BA / Sleeps 4
$100
Book
Grenoble condo – 17.2 mi away
1 BR
/
1 BA
/
Sleeps 4
|

Quick view
Spacious and sunlit apartment ( 69m2) in Grenoble's center, offers high windows, large living room, built-in kitchen and breakfast bar. The loft includes a bedroom, a walk-in dressing room and a bathroom.
Suitable for children

Suitable for the elderly
Previous

Next

property
$59
2 BR / 2 BA / Sleeps 4
1 / 11
(1)
" Excellent "
$59
Book
Chirens B&B
2 BR
/
2 BA
/
Sleeps 4
|

Quick view
For a charming and a relaxing stay in foothills of the village of Chirens, we warmly welcome you to our authentic 19th century farmhouse, lovingly restored. In summer, breakfast lunch and dinner are served on the covered terrace facing the garden with a swimming pool natural (5mx10m) ecological filtration by aquatic …
Mountain Views

Internet Access

Outdoor Dining Area

Balcony or terrace

Parking
Pet friendly - ask

Smoking allowed - ask

Suitable for children - ask

Suitable for the elderly - ask

Wheelchair accessible - ask
A wonderful B&B
Left on Apr 28, 2014 for a stay in April 2014
We had a wonderful stay with the Hahn family in Chirens. The house is beautifully decorated, very cosy and comfortable. Denise and her husband are lovely people who make you feel at home immediately. Denise is a wonderful cook and both the breakfast and the dinner were absolutely delicious, with home-made products from the garden and inventive recipes! I would recommend this place to anyone want …
---
---