Previous

Next

property
$69
4 BR / 2 BA / Sleeps 7
$69
Book
4 BR
/
2 BA
/
Sleeps 7
|

Quick view
Renting a luxury apartment of 130m2 with a total capacity of 7 people, very sunny all day, with 4 bedrooms, spacious kitchen, 2 bathrooms, 2 large terraces with stunning views over the Mediterranean and mountains. The accommodation includes: - A master bedroom with private bathroom and terrace overlooking the sea …
Waterfront

Ocean or water views

Mountain Views

Shared outdoor pool (unheated)

Internet Access
Smoking allowed - ask

Suitable for children

Suitable for the elderly
Previous

Next

property
$90
2 BR / 1 BA / Sleeps 6
$90
Book
2 BR
/
1 BA
/
Sleeps 6
|

Quick view
The complex set in a green basin of hills close to the golden beaches of the warm Meditteranean sea at Cabo Negro has secure parking, pool, tennis court, gardens and playground. This very comfortable spacious flat, with air conditioning, also has shuttered windows both sides, which can be left open securely for …
Mountain Views

Shared outdoor pool (unheated)

Housekeeping Optional

Washing Machine

Clothes Dryer
Previous

Next

property
$60
2 BR / 1 BA / Sleeps 4
$60
Book
2 BR
/
1 BA
/
Sleeps 4
|

Quick view
LUXURY 2 BEDROOM 3RD FLOOR APARTMENT WITH STUNNING SEA,POOL,MOUNTAIN VIEWS FROM BALCONY,LOOKING TOWARDS CEUTA AND TANGIERS,CENTRALLY LOCATED IN TAMUDA BAY(MOROCCOS GOLDEN MILE)ON THE MED COAST OF MOROCCO MIDWAY BETWEEN TETOUAN AND THE SPANISH ENCLAVE OF CEUTA,THIS IS ONE OF THE MOST SOUGHT AFTER VACATION LOCATIONS IN …
Ocean or water views

Mountain Views

Shared outdoor pool (unheated)

Washing Machine

A/C or climate control
Smoking allowed

Suitable for children

Suitable for the elderly - ask
OK, but was it too early in the year ?
Left on Apr 02, 2010 for a stay in March 2010
We visited in March when it's still a bit chilly in the evening/night and not too hot on a cloudy day. It's also north facing, so gets no direct sun shining in. All of this, plus we understand we were the first renters of the year, meant that the apartment felt a bit damp. However, hopefully once the season gets underway, the apartment will be more regularly aired and the hotter temperatures will…
Previous

Next

property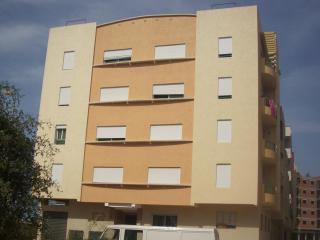 $88
2 BR / 2 BA / Sleeps 5
$88
Book
2 BR
/
2 BA
/
Sleeps 5
|

Quick view
About 80 m², 1st floor, 800 m to the beach, in calm new building area (2009). Big living room, TV, equipped kitchen, 2 balcons, optionnally garage. Terrasse on the top of the building. 7 km to Tetuan, 30 km to Ceuta, 50 km to Tanger.
Pet friendly - ask

Smoking allowed - ask

Suitable for children

Suitable for the elderly

Wheelchair accessible - ask
Previous

Next

property
$459
3 BR / 4 BA / Sleeps 10
$459
Book
3 BR
/
4 BA
/
Sleeps 10
|

Quick view
Private rented villa of 305m2 well furnished to the sea in the north of Morocco, Tangier-Tetouan region BAHIA SMIR complex located 3 km and 5 km from FNIDEQ BAB Ceuta (CEUTA), 29 km from Tangier Med, and surrounded by beautiful gardens. The villa is composed of a ground floor with a large reception and terrace, …
Waterfront

Ocean or water views

Internet Access

Washing Machine

Outdoor Dining Area
Smoking allowed - ask

Suitable for children

Suitable for the elderly - ask

Wheelchair accessible - ask
Previous

Next

property
$44
2 BR / 1 BA / Sleeps 4
$44
Book
2 BR
/
1 BA
/
Sleeps 4
|

Quick view
Two bedroomed comfortably furnished apartment with balcony facing the gorgeous pool with well kept gardens and stunning views of the Rif mountains. It is Peaceful and very safe. Sleeps 4 to 5. The stunning Mediterranean beach and coastline is a 15 minute walk away or few minutes drive. You can see the sea from the …
Ocean or water views

Mountain Views

Shared outdoor pool (unheated)

Housekeeping Optional

Washing Machine
Pet friendly - ask

Smoking allowed - ask

Suitable for children

Suitable for the elderly

Wheelchair accessible
Previous

Next

property
$73
1 BR / 1 BA / Sleeps 6
$73
Book
1 BR
/
1 BA
/
Sleeps 6
|

Quick view
Very roomy for a couple, you get all the living space of a two bedroom apartment at a price not much more than an aparthotel room! This is also a popular budget choice for families, and for groups who are happy piling in together, using the full size bunk beds in the hall , as well as the bedroom. The living room …
Shared outdoor pool (unheated)

Housekeeping Optional

Washing Machine

Clothes Dryer

A/C or climate control
---
---