Previous

Next

property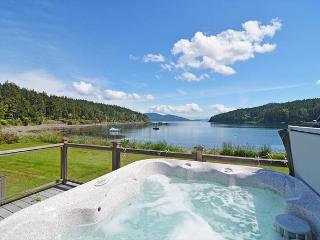 $495
4 BR / 3 BA / Sleeps 8
Inquire
4 BR
/
3 BA
/
Sleeps 8
|

Quick view
This Beachfront home on has a mooring buoy, hot tub, and is dog friendly! Your family can wade in the water, launch kayaks from the beach, play board games by the fire, and make memories that last a lifetime in "A Sailor's Rest." (Do confirm that the mooring buoy is needed when you book so that it remains …
Waterfront

Hot Tub/Jacuzzi

Internet Access

Fireplace

Housekeeping Optional
Suitable for the elderly - ask
Previous

Next

property
$395
2 BR / 2 BA / Sleeps 6
Inquire
2 BR
/
2 BA
/
Sleeps 6
|

Quick view
This Orcas Island waterfront vacation home is perched on a medium bank bluff adjacent to The Resort at Doe Bay. With jaw-dropping 180 degree views from almost EVERY window, Water's Edge at Doe Bay is a magical setting - you cannot imagine a better environment for a romantic getaway or small family vacation! …
Waterfront

Wireless Internet

Washing Machine

Clothes Dryer

Deck
Suitable for the elderly - ask
Will return again and again
Left on Oct 19, 2009 for a stay in October 2009
We stayed in the same beautiful house last year and saw no reason why we should not return. We always have the most wonderful and relaxing time at this house, not matter what the weather!
Previous

Next

property
$200
1 BR / 1 BA / Sleeps 2
Inquire
1 BR
/
1 BA
/
Sleeps 2
|

Quick view
Waterfront one bedroom cabin with fantastic view and a small garden one bedroom cabin on Orcas Island in the quiet village of Olga. Access to pebble cove beach. Walking distance to Olga Artworks, a local artist cooperative and the Cafe Olga, known for it's blackberry pie. Undeniably the most beautiful of the …
Waterfront

Ocean or water views

Mountain Views

Hot Tub/Jacuzzi

Internet Access
Pet friendly - ask

Suitable for children - ask

Suitable for the elderly - ask
Charming cottage with water view.
Left on Jan 03, 2012 for a stay in September 2011
This was our first trip to any of theSanJuan Islands, but it won't be our last. We all fell in love with Orcas Island,especially the town of Olga where Blackberry Cottages are. Carol Jo, the proprietor, was so friendly...I only booked the cottage the day before arrival & she worked hard to accommodate us. She is also very knowledgeable about the island & gave us great information on sightseeing…
Previous

Next

property
$105
1 BR / 1 BA / Sleeps 3
$105
Book
1 BR
/
1 BA
/
Sleeps 3
|

Quick view
Buck Bay Getaway is located within 100' of low-bank waterfront. Enjoy a beach walk, a cup of coffee on the deck with views of the San Juan Islands, or enjoy the beautiful sunsets in the evenings. This is a wonderful place to relax. There are several locations to take hikes nearby, build a beach fire, or go gather …
Waterfront

Ocean or water views

Mountain Views

Wireless Internet

Outdoor Dining Area
Smoking allowed

Suitable for children - ask

Suitable for the elderly
Previous

Next

property
$525
3 BR / 4 BA / Sleeps 9
Inquire
3 BR
/
4 BA
/
Sleeps 9
|

Quick view
Envision your dream Orcas Island vacation home and you're likely imagining Deer Point Paradise! Homes of this caliber are rarely offered for vacation rental. Located in one of the most desirable enclaves on Orcas Island,you'll find this heavenly property at the end of a wooded lane, nestled into a sunny acre with …
Waterfront

Internet Access

Fireplace

Housekeeping Optional

Washing Machine
Suitable for the elderly - ask
Previous

Next

property
$300
1 BR / 1 BA / Sleeps 4
Inquire
1 BR
/
1 BA
/
Sleeps 4
|

Quick view
When your tastes run to the contemporary, you'll find this sophisticated Doe Bay cabin a jewel of design integrity (To learn about the architect's concept, go to www.archdaily/157449 - Nami an is the featured property!) Nami An has a distinctive minimal esthetic with Asian influences. This "cabin" on Doe Bay is a …
Waterfront

Internet Access

Housekeeping Optional

Washing Machine

Clothes Dryer
Suitable for the elderly - ask
Generally Good
Left on Sep 29, 2010 for a stay in September 2010
Generally, I enjoyed the stay. The view of the water is beautiful but the property is quite a distance from the village of Eastsound. The house is cute but very small. I agree with another reviewer that the pictures imply more privacy than actually exists. Off season nights were cool and wet so it would have been nice to have fire wood supplied for the wood stove, or at least told where to source…
Previous

Next

property
$195
3 BR / 1 BA / Sleeps 6
Inquire
3 BR
/
1 BA
/
Sleeps 6
|

Quick view
Relax and enjoy the peaceful surroundings at the Cherry Hill Cottage. The cottage is situated on nearly 10 acres overlooking Buck Bay where you can watch the boats and ferries go by. Cherry Hill offers great outdoor space including trails to meander and watch the deer and other native wildlife, a beautiful garden, and…
Internet Access

Washing Machine

Clothes Dryer

Grill

Linens Provided
Suitable for children - ask

Suitable for the elderly - ask

Wheelchair accessible - ask
Previous

Next

property
$165
6 BR / 7 BA / Sleeps 12
$165
Book
6 BR
/
7 BA
/
Sleeps 12
|

Quick view
Otters Pond Bed and Breakfast is located on the eastern, mountainous side of Orcas Island close to Moran State Park at the base of Mt. Constitution and 4 miles from Eastsound Village. The lodging property is a protected wetland and special retreat for birds, birders and Orcas Island wildlife. There are lots of …
Ocean or water views

Mountain Views

Hot Tub/Jacuzzi

Internet Access

Fireplace
Suitable for the elderly - ask
---
---