Previous

Next

property
$93
4 BR / 2 BA / Sleeps 6
$93
Book
4 BR
/
2 BA
/
Sleeps 6
|

Quick view
Spend time unwinding in a character French property. Four good sized bedrooms (3 double beds, one single bed), 2 bathrooms, WC, and four rooms downstairs - double aspect drawing room with large open fireplace, dining room with fireplace, kitchen and study/bed 5/children's TV room. Situated in a peaceful small village …
Previous

Next

property
$141
2 BR / 1 BA / Sleeps 5
$141
Book
2 BR
/
1 BA
/
Sleeps 5
|

Quick view
Nestled in the heart of The Seven Valleys lies the tranquil village of Willeman, home of "Le Petit Chateau". Willeman is a beautiful village with a small stream "La Rivierette" and an abundance of wildlife. It boasts a superb chateau and two historical monuments," The Pigeonerie" and the…
Internet Access

Fireplace

Outdoor Dining Area

Central heating

Patio
Suitable for children

Suitable for the elderly
Excellent B&B;, welcoming hosts, superb food
Left on May 02, 2014 for a stay in April 2014
We can highly recommend this B&B.; The hosts, an English and French couple, and their family were very welcoming and relaxed, making us feel at home. We had a large comfortable ground floor bedroom, a large bathroom with great shower and bath, as well as a lounge and dining table, for our own use. All rooms overlook the lovely large garden with stream running around it. Breakfasts were served at …
Previous

Next

property
$65
2 BR / 1 BA / Sleeps 5
$65
Book
2 BR
/
1 BA
/
Sleeps 5
|

Quick view
Between Calais and Saint-Omer, 20 minutes from the Tunnel and Car Ferry, Mimi and Jean-Jacques welcome you in a small cottage 5 people comfortably in the countryside and quiet in a property of 15ha. Private parking on the property. Entre Calais et Saint-Omer, à 20 minutes du Tunnel et Car Ferry, Mimi et Jean-…
Internet Access

Housekeeping Optional

Washing Machine

Books

Garden
Suitable for children

Suitable for the elderly - ask

Wheelchair accessible - ask
Tranquility, nature, hospitality
Left on Apr 18, 2014 for a stay in April 2014
After a rather hectic start to 2014, my husband and I were in need of an escape to the country, just us and our two small children. Our plan was to find a place in the middle of nature where we could go for long walks in fresh air taking in some beautiful views.

At Wolphus we found that and more. We stayed in a newly refurbished attic which had pretty much everything we could possibly need to…
Previous

Next

property
$71
2 BR / 1 BA / Sleeps 4
$71
Book
2 BR
/
1 BA
/
Sleeps 4
|

Quick view
Entre Calais et Saint-Omer, à 20km du tunnel et du Car Ferry, Mimi et Jean-Jacques vous accueillent à la campagne et au calme dans une propriété de 15ha. Loft très lumineux au 1er étage avec balcon. Draps et serviettes de toilette fournis. Réservation pour 3 nuits minimum Au 1er étage, dans un ancien …
Internet Access

Fireplace

Washing Machine

Clothes Dryer

Outdoor Dining Area
Suitable for children - over five
Previous

Next

property
$65
3 BR / 1 BA / Sleeps 8
$65
Book
3 BR
/
1 BA
/
Sleeps 8
|

Quick view
RIVIERE AT RENT NEAR ARRAS A COTTAGE ON THE ROAD OF REMEMBRANCE OF THE FIRST WORLD WAR 1914-1918 Rent a cottage with a capacity of 8 people RIVIERE at 9 kilometers from Arras and hills of Artois (Vimy, Lorette and Ablain Saint Nazaire) on the road path memory of the conflict of the First World War 1914 -1918. The …
Internet Access

Fireplace

Housekeeping Optional

Washing Machine

Clothes Dryer
Pet friendly

Smoking allowed

Suitable for children
Previous

Next

property
$54
1 BR / 1 BA / Sleeps 5
$54
Book
1 BR
/
1 BA
/
Sleeps 5
|

Quick view
Looking for an unusual accommodation, there Artois 4 miles from the historic town of Arras, whose seats and the belfry are listed as World Heritage by UNESCO. You will have a real gypsy caravan but with all the modern comforts, this gypsy caravan is equipped in the heart of the village of River in a park of 6,000 …
Internet Access

Game Room

Ping Pong Table

Freezer

Microwave
Pet friendly

Smoking allowed

Suitable for children
Previous

Next

property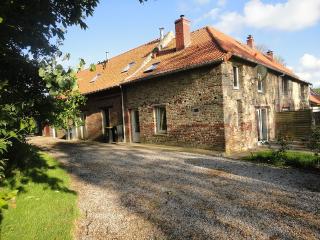 $71
2 BR / 1 BA / Sleeps 4
$71
Book
2 BR
/
1 BA
/
Sleeps 4
|

Quick view
Between Calais and Saint-Omer, 20 minutes from the Tunnel and Car Ferry, Mimi and Jean-Jacques welcome you in a comfortably furnished for 4 people in the countryside and quiet in a property of 15ha. Private parking on the property. Entre Calais et Saint-Omer, à 20 minutes du Tunnel et Car Ferry, Mimi et Jean-Jacques…
Suitable for children

Suitable for the elderly - ask

Wheelchair accessible - ask
Previous

Next

property
$43
1 BR / 2 BA / Sleeps 3
$43
Book
1 BR
/
2 BA
/
Sleeps 3
|

Quick view
Calais, wonderful city located at Eurotunnel, less than 32 kilometers from Dover, England. Calais, the most beautiful city in the North of France. Attractions: International City of Lace and Fashion (temporary OR permanent exhibition) Museum of Fine Arts (AND temporary permanent exhibition) Museum of Memory 39-…
Internet Access

Central heating

Fitness Room

Linens Provided

Towels Provided
Pet friendly - ask

Smoking allowed

Suitable for children

Suitable for the elderly - ask
Great place to Camp out While we waited!
Left on Aug 25, 2014 for a stay in November 2013
My wife and I had mistakenly bought Ferry passes for the next day and our usual hotel was booked solid that night. Staff was very friendly and did the "little extras" that make all the difference when staying at a smaller place. Room was suprisingly bright and cheerful even on a normal wet, dark Calias November day. B&B is located on a very quiet street, and other than some rowdy drunks leaving a…
Previous

Next

property
Inquire for rates.
4294967295 BR / 0 BA / Sleeps 0
N/A
Internet Access

Fireplace

Satellite or cable TV

DVD Player
Pet friendly - ask

Smoking allowed - ask

Suitable for children - ask

Suitable for the elderly - ask

Wheelchair accessible - ask
---
---
There are no more results in Pas-de-Calais.
Top of page