Hide Property Details

Description from the owner
2 bedrooms
2 bathrooms
Sleeps 4
Cottage
Bedrooms: 2
Bathrooms: 2
Sleeps: 4
Type: Cottage
SKOPELOS MAGNISIAS ANANIAS
Description from the owner
Annan ONE KALYVI " TOMPALKONI OF IOULIETAS " & THE OTHER " CAVE OF LOVE " , and the two together Shack Rental

TWO autonomous Kalibia, one bedroom sleeps up to 6 guests in total :

• 2 x A ( double) bedroom in each hut (also available bed sofas for 2 persons in the old hut )

• Fully equipped kitchen

• Oven ,

• Refrigerator Freezer ,

• Laundry ,

• Dishwasher

• Toaster

• kettle and coffee maker

• Air Conditioning / Heating

• TV ,

• DVD & CD player • Private pool dimensions 7.5 x 3.5m, depth 0.9 - 2m

Jacuzzi

• Babekos

• Magnificent view to the nature

• Parking

THE PINEAPPLE PINEAPPLE KALIVIA KALIVIA can be booked with a reservation and not independently so to ensure your privacy . This is actually two one bedroom self-catering cottages , one on top of the pool and the other side and underneath it. The hut at the highest point (higher cottage) is 80 years old as the church and the family in the same place . The house is beautiful both externally and internally that has been restored and diamorothei with all amenities with a small fully air-conditioned living room , kitchen and bathroom with shower on the ground floor and stairs leading up to the bedroom . Diagonal and below the pool is the new hut . This beautiful ground floor properties that have been manufactured in such a way that it blends in with the surrounding environment . Sign in a fully air-conditioned living room , with the kitchen on the right and the bedroom with double bed on the left. The bedroom has a large double bed and a small bathroom shower . The view of the surrounding green mountains and the enchanting nature of Skopelos is idyllic and peaceful . It is impossible to spend your vacation here and not relax . You will need your own transportation that you should hire your own car or bike ( if you can help with this . Pineapple KALIVIA beautiful pool overlooking Skopelos Sporades countryside holidays

communication

Area pineapple Skopelos , Contact: Mr. George Fratzeskos

Annan KALIVIA Prices / night / stay

• CARD / PRICELIST

.

. 01/05 - 02/06 & 23/09 - 31/10 03/06 - 15/7 kai 26/8-22/9 15/07 - 25/08

. 2-6 GUESTS € 100 € 130 170 e

.

•

ΑΝΑΝΙΑ ΤΟ ΕΝΑ ΚΑΛΥΒΙ " ΤΟΜΠΑΛΚΟΝΙ ΤΗΣ ΙΟΥΛΙΕΤΑΣ " & ΤΟ ΑΛΛΟ " Η ΣΠΗΛΙΑ ΤΟΥ ΕΡΩΤΑ " , και τα 2 καλυβια ενοικιάζονται μαζί

ΔΥΟ αυτόνομα Καλύβια , ενός υπνοδωματίου που κοιμίζουν συνολικά ως 6 επισκέπτες:

• 2 x Ενα (διπλό) υπνοδωμάτιο σε κάθε καλύβι (επίσης διαθέσιμος κρεβάτι σοφάς 2 ατόμων στο παλιό καλύβι)

• Κουζίνα πλήρως εξοπλισμένη

• Φούρνο,

• Ψυγείο Καταψύκτη,

• Πλυντήριο ρούχων,

• Πλυντήριο πιάτων

• Τοστιέρα

• Βραστήρα & καφετιέρα

• Κλιματισμός/Θέρμανση

• Τηλεόραση,

• DVD & CD player • Ιδιωτική πισίνα διαστάσεων 7.5 x 3.5m, βάθος 0.9 - 2m

Jacuzzi

• Μπάμπεκιου

• Υπέροχη θεα προς τη φύση

• Χώρος στάθμευσης

ΑΝΑΝΙΑ ΚΑΛΥΒΙΑ ΤΑ ΑΝΑΝΙΑ ΚΑΛΥΒΙΑ μπορούν να κλειστούν μαζί με μια κράτηση και όχι ανεξάρτητα ώστε να διασφαλίζεται ετσι η ιδιωτικότητα σας. Ουσιαστικά πρόκειται για 2 αυτόνομα σπίτια ενος υπνοδωματίου, το ένα πάνω απο την πισίνα και το άλλο δίπλα και κάτω απο αυτή. Το καλύβι στο πιο ψηλό σημείο (higher cottage) ειναι 80 ετών οπως και το εκκλησάκι της οικογένειας στο ίδιο σημείο. Το σπίτι είναι όμορφο τόσο εξωτερικά όσο και εσωτερικά που έχει ανακαινισθεί και διαμορωθεί με όλες τις ανέσεις με ένα μικρό πλήρως κλιματιζόμενο καθιστικό, κουζίνα και μπάνιο με ντούς στο ισόγειο και σκάλες οδηγούν πάνω στο υπνοδωμάτιο. Διαγώνια και κάτω απο την πισίνα βρίσκεται το νέο καλύβι . Αυτο το όμορφο ισόγειο κατάλλυμα έχει κατασκευαστεί με τέτοιο τρόπο ώστε να δένει με το γύρω περιβάλλον. Είσοδος σε ενα πλήρως κλιματιζόμενο καθιστικό, με την κουζίνα στα δεξιά και το υπνοδωμάτιο με το διπλό κρεβάτι στα αριστερά. Το υπνοδωμάτιο έχει ένα πολύ μεγάλο διπλό κρεβάτι και ενα μικρό μπάνιο ντούς. Η θέα προς τα γύρω καταπράσινα βουνα και την μαγευτική φύση της Σκοπέλου είναι ειδυλιακή και ειρηνική. Ειναι αδύνατο να περάσετε τις διακοπές σας εδώ και να μην χαλαρώσετε. Θα χρειαστείτε το δικό σας μέσο μεταφοράς η θα πρέπει να νοικιάσετε το δικό αυτοκίνητο ή μηχανή (αν θέλετε μπορούμε να σας εξυπηρετήσουμε σε αυτό. ΑΝΑΝΙΑ ΚΑΛΥΒΙΑ πισίνα όμορφη θέα Σκόπελος Σποράδες εξοχή διακοπές

Επικοινωνία

Περιοχή Ανανιά Σκοπέλου, Υπεύθυνος: κος Γιώργος Φρατζέσκος

ΑΝΑΝΙΑ ΚΑΛΥΒΙΑ ΤΙΜΕΣ / νύχτα / διαμονή

• ΤΙΜΟΚΑΤΑΛΟΓΟΣ / PRICELIST

.

. 01/05 - 02/06 & 23/09 - 31/10 03/06 – 15/7 kai 26/8-22/9 15/07 - 25/08

. 2-6 GUESTS € 100 € 130 170 e

.

• ...Read more
FRANTZESKOS J.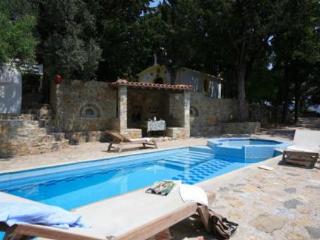 FRANTZESKOS J.
Calendar updated

4 months ago
Map
SKOPELOS MAGNISIAS ANANIAS

Skala Oropou, Mainland & the Saronic Islands, Greece
Additional Location Information
What Past Guests Are Saying
Have you stayed here?
This rental is awaiting reviews from past guests. Help out travelers and the owner by being the first to write a review!