Previous

Next

property
$130
4 BR / 2 BA / Sleeps 9
1 / 13
(12)
" Excellent "
Inquire
Rotonda West house
4 BR
/
2 BA
/
Sleeps 9
|

Quick view
What a great spacious home. So well equipped and as added bonus has games room in garage to keep the kids quiet! On entry there is spacious living room that over looks the front garden with comfortable furniture. Open plan formal dining overlooking the pool through glass sliding doors. The master bedroom is to the …
Suitable for the elderly

Wheelchair accessible
Relaxing after the parks
Left on Jul 26, 2010 for a stay in July 2010
Stayed here for our 2nd week after a hectic first week in orlando.Villa was clean and tidy and contained everything you could wish for . There was a games room,Wii and 4 cycles.Everything is there for the beach and pool and a comfortable house to relax in.Near plenty of beaches and restaurants.
Previous

Next

property
$115
4 BR / 2 BA / Sleeps 10
1 / 25
(2)
" Excellent "
$115
Book
Rotonda West villa
4 BR
/
2 BA
/
Sleeps 10
|

Quick view
Newly built, this luxury pool home sits on the golf course giving spectacular views. Relax and enjoy the peace and quiet of this perfect location. Our home is equipped and furnished to the highest standards throughout and immaculately maintained. Living accommodations include a great room with a 52" LCD flat panel …
Internet Access

Housekeeping Optional

Washing Machine

Clothes Dryer

Outdoor Dining Area
Suitable for children

Suitable for the elderly

Wheelchair accessible
Loved our stay in this beautiful home.
Left on Apr 27, 2014 for a stay in April 2014
This house is awesome, very clean, outstanding. Loved the location, very quiet street. The pool was very nice and relaxing. We went on an airboat ride and saw alligators and manatees. Rented jet skis and saw dolphins. Englewood beach just down the road was very nice with a tiki bar close by. Took my grand daughter to Disney. Would definitely recommend and rent again.
Previous

Next

property
$184
4 BR / 2 BA / Sleeps 8
$184
Book
Rotonda West house
4 BR
/
2 BA
/
Sleeps 8
|

Quick view
Four bedroom, 2 bathroom, electrically heated pool home, with bikes, propane BBQ, cardio equipment, speakers throughout home, TV and refrigerator on the lanai. 4 Bedroom, 2 Bath, House, sleeps 11 Pet-Friendly, Private Hot Tub, Non-Smoking Amenities and Special Features •Private Hot Tub •Private Pool •Full …
Smoking allowed - ask

Suitable for children

Suitable for the elderly

Wheelchair accessible - ask
Previous

Next

property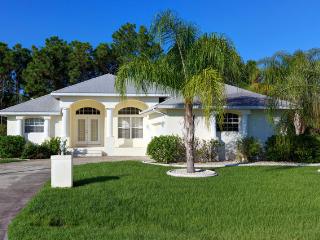 $105
4 BR / 3 BA / Sleeps 8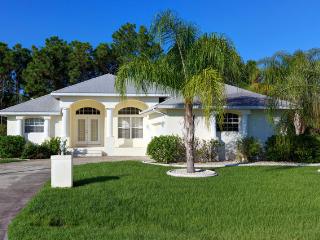 1 / 23
(7)
" Excellent "
$105
Book
Rotonda West villa
4 BR
/
3 BA
/
Sleeps 8
|

Quick view
Our spacious luxury villa is located in the plush and tranquil setting of Rotonda West on Florida's magnificent Gulf Coast. Our professionally furnished 2026 square feet of air conditioned living space, luxury villa comprises of a great room, family room, 4 bedrooms (1 Queen, 1 Double and 2 Twin) 2½ bathrooms and …
Ocean or water views

Internet Access

Washing Machine

Clothes Dryer

Outdoor Dining Area
Suitable for children

Suitable for the elderly
Peacefull retreat
Left on Apr 23, 2012 for a stay in January 2012
A great place to get away from it all, while being close to great amenities. Located in very quiet area of a well-kept upscale neighborhood, backing onto a golf course. Spacious, open-concept, well-furnished with a well-stocked kitchen. The solar heated pool was between 80-85 degrees F during our stay of 3 months. 2 piece pool-side washroom was very convenient. Pool toys, 2 bicycles, beach chairs…
Previous

Next

property
$156
4 BR / 3 BA / Sleeps 8
$156
Book
Rotonda West house
4 BR
/
3 BA
/
Sleeps 8
|

Quick view
This Former show home which is in excellent condition and is well equipped provides the perfect base for your dream Florida vacation. Four bedrooms, three bathrooms, plus den with fold down full bed 4 Bedroom, 3 Bath, House, sleeps 8 Pet-Friendly, Non-Smoking This former show home which is in excellent condition …
Pet friendly - ask

Smoking allowed - ask

Suitable for children - ask

Suitable for the elderly - ask

Wheelchair accessible - ask
Previous

Next

property
$184
4 BR / 4 BA / Sleeps 10
$184
Book
Rotonda West house
4 BR
/
4 BA
/
Sleeps 10
|

Quick view
Peaceful and serene with two master suites, two further bedrooms, plus den, four bathrooms. Electrically heated pool and spa with extended lanai on golf course. 4 Bedroom, 4 Bath, House, sleeps 10 Pet-Friendly, Private Hot Tub, Non-Smoking Four bedrooms, two of which are master suites, four bathrooms plus a den …
Pet friendly - ask

Smoking allowed - ask

Suitable for children - ask

Suitable for the elderly - ask

Wheelchair accessible - ask
Previous

Next

property
$141
4 BR / 2 BA / Sleeps 8
$141
Book
Rotonda West house
4 BR
/
2 BA
/
Sleeps 8
|

Quick view
Professionally decorated four bedroom, two bathroom, with game room and den, backs onto a lake, beautiful views! 4 Bedroom, 2 Bath, House, sleeps 8 No Pets, Non-Smoking This is a professionally decorated 4 bedroom, 2 bathroom home with electrically heated pool, game room and den, overlooking a lake. Brand new to …
Pet friendly - ask

Smoking allowed - ask

Suitable for children - ask

Suitable for the elderly - ask

Wheelchair accessible - ask
Previous

Next

property
$166
4 BR / 3 BA / Sleeps 8
1 / 14
(5)
" Excellent "
Inquire
Rotonda West house
4 BR
/
3 BA
/
Sleeps 8
|

Quick view
A large luxury 4 bedroom, 3 bathroom home with views of a small pond and lush vegetation on the edge of the White Marsh golf course in Rotonda West. This spacious home offers accommodations for 8 people. The living area with cathedral ceilings contains living and dining rooms, separate den (with queen sleeper sofa), …
Hot Tub/Jacuzzi

Internet Access
Pet friendly - ask

Suitable for children - ask

Suitable for the elderly - ask

Wheelchair accessible - ask
Great service makes the difference
Left on Apr 10, 2013 for a stay in February 2013
Although not superbly appointed,(the appliances showed their age,furniture was OK but not great, artwork very basic...) this property was more than adequate for our purposes. We were just two. It would actually be good for a larger family (8 or so) with kids.
The pool and spa were great once some fairly major issues were sorted out. This is where the great service came in...Pits was very prompt…
Previous

Next

property
$201
4 BR / 3 BA / Sleeps 8
Inquire
Rotonda West house
4 BR
/
3 BA
/
Sleeps 8
|

Quick view
SSet on an extra lot this beautifully equipped elite home is furnished to the highest standards. It has 4 bedrooms and 3 bathrooms with private pool overlooking green belt land in Rotonda West. It sleeps 8 adults in comfort. TWO WEEK MINIMUM RENTAL The large and spacious great room contains living room with a wall …
Pet friendly - ask

Suitable for children - ask

Suitable for the elderly - ask

Wheelchair accessible - ask
Previous

Next

property
$166
4 BR / 3 BA / Sleeps 8
Inquire
Rotonda West house
4 BR
/
3 BA
/
Sleeps 8
|

Quick view
A large luxury 4 bedroom, 3 bathroom home on an oversized lot with views of the Rotonda River canal in Rotonda West. This spacious home offers comfortable accommodations for 8 people. The living area with cathedral ceilings contains living and dining rooms, separate den (with queen sleeper sofa), kitchen and nook. …
Pet friendly - ask

Suitable for children - ask

Suitable for the elderly - ask

Wheelchair accessible - ask
Previous

Next

property
$141
4 BR / 2 BA / Sleeps 8
$141
Book
Rotonda West house
4 BR
/
2 BA
/
Sleeps 8
|

Quick view
This beautiful four bedroom, two bathroom, pool home is right next to Long Marsh Golf Course. 4 Bedroom, 2 Bath, House, sleeps 8 Pet-Friendly, Non-Smoking Amenities and Special Features •Private Pool •Full Kitchen •Dishwasher •Microwave •Coffee Maker •Toaster •Washer •Dryer •Gas Grill •Air …
Pet friendly

Suitable for children - ask

Suitable for the elderly - ask

Wheelchair accessible - ask
---
---