12 Results
Relevance
Price: low to high
Price: high to low
Number of reviews
Dunedin chalet
3 bedrooms / 1 bathroom / sleeps 6
"We felt like the only people in the world" Cascade Creek is the perfect retreat if you are looking for some R&R; and real quality time together. The air is clean, it's blissfully quite and the property is immaculate. We loved soaking in the outdoor bath and watching the birds fly by. We relished in the unspoilt walks and enjoyed feeling like we had just discovered the path behind the bath. Though maintained it still has a raw, slightly off-piste feel as you step over tree roots and moss. To me this is the perfect place to come back to with children but wouldn't suit those who are addicted to constant electronic entertainment, this is a place for playing board games together (provided), exploring nature and indulging in your imagination. Dunedin is 45mins to an hour by car but really you won't to leave once you get here.
Match: Rental types
All filters match
Price per night from
$254
Paihia chalet
1 bedroom / 1 bathroom / sleeps 4
Match: Rental types
All filters match
Price per night from
$179
"Beautiful escape, private, modern and relaxing!" My wife and I shared a weekend away with another couple at the Paroa Bay Chalets recently. Claire and Richard were wonderful hosts, providing all the information we needed to enjoy our stay while allowing for a private retreat. The chalets are brand new and make fantastic use of space with everything you need provided. With Russell, Pahia, the Paroa Bay vineyard and some great bushwalking all at your fingertips, we had a wonderful few days of indulgence, pampering and relaxation. Looking forward to a return trip perhaps to escape the Auckland winter, thanks again for having us we will certainly be recommending you.
Match: Rental types
All filters match
Price per night from
$206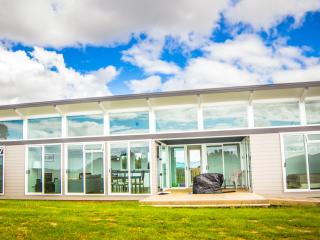 Paihia chalet
1 bedroom / 1 bathroom / sleeps 4
Match: Rental types
All filters match
Price per night from
$162
Match: Rental types
All filters match
Price per night from
$207
Match: Rental types
All filters match
Price per night from
$214
Lake Hayes chalet
1 bedroom / 1 bathroom / sleeps 2
Match: Rental types
All filters match
Price per night from
$342
Hanmer Springs chalet
1 bedroom / 2 bathrooms / sleeps 2
Match: Rental types
All filters match
Price per night from
$186
Auckland Central chalet
1 bedroom / 1 bathroom / sleeps 2
Match: Rental types
All filters match
Price per night from
$133
Upper Moutere chalet
1 bedroom / 1 bathroom / sleeps 2
Match: Rental types
All filters match
Price per night from
$116
Waikino chalet
1 bedroom / 2 bathrooms / sleeps 2
Match: Rental types
All filters match
Price per night from
$136
Waihi Beach chalet
3 bedrooms / 1 bathroom / sleeps 8
Match: Rental types
All filters match
Price per night from
$120