Previous

Next

property
$167
2 BR / 2 BA / Sleeps 4
$167
Book
2 BR
/
2 BA
/
Sleeps 4
|

Quick view
San Martino is an ancient farm ( XIII century ) with three Farm Houses: Villa Bellavista ( 4 sleeps ), unique stone Villa with a relaxing atmosphere, lovingly restored and furnished. The Villa has own Private Pool 12mt x 5mt. The pivacy is guaranted. The property consist of 9 ectares located in an exclusive and …
Mountain Views

Wireless Internet

Washing Machine

Central heating

Parking
Pet friendly - ask

Suitable for children

Suitable for the elderly

Wheelchair accessible
Previous

Next

property
$278
6 BR / 5 BA / Sleeps 12
$278
Book
6 BR
/
5 BA
/
Sleeps 12
|

Quick view
This exceptional, luxurious and impeccable private estate in Castiglion Fiorentino offers seamless indoor-outdoor living in absolute comfort. Extraordinary views of the famed Montechio Castle and, the Etruscan Tuscan hill town of Castiglion Fiorentino can be easily seen from the many terraces that surround the …
Pet friendly - ask

Smoking allowed - ask

Suitable for children

Suitable for the elderly
Previous

Next

property
$490
7 BR / 1 BA / Sleeps 14
$490
Book
7 BR
/
1 BA
/
Sleeps 14
|

Quick view
Please note these Check-in Day Requirements for this property: Feb 04 - Jan 10 : Wednesday check-in required, Saturday and check-out required.; Feb 15 - Jan 10 : Saturday and check-out required.; Feb 22 - Jan 10 : Saturday and check-out required.; Mar 01 - Jan 10 : Saturday and check-out required.; Mar 08 - Jan 10…
Shared outdoor pool (unheated)

Fireplace

Washing Machine

Parking

Grill
Smoking allowed

Suitable for children

Suitable for the elderly - ask

Wheelchair accessible - ask
Previous

Next

property
$56
1 BR / 1 BA / Sleeps 3
$56
Book
1 BR
/
1 BA
/
Sleeps 3
|

Quick view
Big and bright studio apartment in Montecchio Vesponi, Castiglion Fiorentino provence of Arezzo in the midst of the Tuscan Hills consisting of double bedroom with ensuite bathroom including toilet, basin and large spacious shower, eating area with table and chairs, bar fridge, coffee and tea making facilities. This …
Mountain Views

Internet Access

Housekeeping Optional

Outdoor Dining Area

Central heating
Smoking allowed - ask

Suitable for children

Suitable for the elderly
Previous

Next

property
$295
5 BR / 5 BA / Sleeps 10
$295
Book
5 BR
/
5 BA
/
Sleeps 10
|

Quick view
Set in the grounds of Tenuta San Martino sits this lovely stone villa with private pool, gardens and private access road. The villa enjoys amazing views of the historic Valley of Chio and the medieval town of Castiglion Fiorentino. Nestled amongst ancient olive groves, and surrounded by the bucolic splendor of …
Mountain Views

Internet Access

Fireplace

Housekeeping Optional

Washing Machine
Smoking allowed - ask

Suitable for the elderly - ask
exceptional place: Peaceful and our Perfect home form Home
Left on Feb 11, 2013 for a stay in August 2012
We did enjoy our two weeks here. It was home from home. Relaxed and care free.

The property was clean and bright, everything for our needs. Of course, we do not have a pool at home - and this is what makes a holiday - having a special something for us all to enjoy. The views are marvelous and the surrounding just perfect.

The journey down the hill finds the the closest shop and restaurant. a …
Previous

Next

property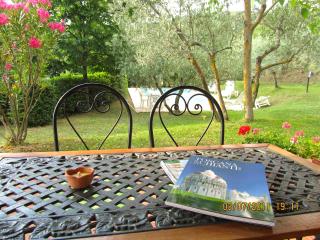 $213
2 BR / 1 BA / Sleeps 4
$213
Book
2 BR
/
1 BA
/
Sleeps 4
|

Quick view
A really charming little cottage/ villa in a very private location with its own private pool. Set along a Tuscan hillside in the middle of olive grove, Casa Serena (Serenity) provides perfect peace and seclusion. From the garden and pool areas, there are spectacular views over the Val di Chio and, some of the most …
Mountain Views

Internet Access

Fireplace

Housekeeping Optional

Washing Machine
Pet friendly

Smoking allowed

Suitable for children

Suitable for the elderly
Relaxation in Tuscany's Countryside
Left on May 20, 2011 for a stay in May 2010
Certainly off the beaten track, this lovely chalet house was just what we needed. Relaxing, secluded with wonderful views across the valley and to the garden and olive trees.

"Charmingl" very comfortable bedrooms, and comfy family room where we relaxed and on the only rainy day, rediscovered chess and some board games left by the owners.

The pool is just there! We sat in the porch for …
Previous

Next

property
$87
2 BR / 1 BA / Sleeps 5
$87
Book
2 BR
/
1 BA
/
Sleeps 5
|

Quick view
Tuscany holiday house between Cortona and Arezzo fantastic location overlooking the Valdichiana. 2 bedrooms, bright and colorful, well furnished, with colors and finishes class style. Living room, kitchen equipped with everything you need, nice bathroom with shower. Each room has its own window, each side of the house…
Washing Machine

Balcony or terrace

Parking

Books

Grill
Smoking allowed - ask

Suitable for children - ask

Suitable for the elderly - ask
Semplice accogliente delizioso: un tuffo nella vera ospitalità t
Left on May 31, 2012 for a stay in May 2012
Casa molto accogliente, semplice, colorata, ideale per una vacanza informale.
I costi sono stati molto corretti, la bellezza dei paesaggi è a portata di mano, molto comoda la localizzazione.
La signora che ci ha accolto è stata molto gentile, ci ha indicato dove andare a comprare la carne di vera chianina e dove poter fare shopping.
Inoltre ci ha procurato brochure ed informazioni sul …
Previous

Next

property
$150
2 BR / 2 BA / Sleeps 5
$150
Book
2 BR
/
2 BA
/
Sleeps 5
|

Quick view
"How lucky the locals are to live in a place as rich in natural beauty as here" Mary-Beth, June 213. Set in one of Tuscany's most pretty valleys you will find this absolutely charming estate and, this lovely cottage with its "gorgeous pool". Close to the famous towns of Cortona, Castiglion Fiorentino and Arezzo…
Mountain Views

Shared outdoor pool (unheated)

Internet Access

Fireplace

Housekeeping Optional
Pet friendly

Smoking allowed - ask

Suitable for children

Suitable for the elderly - ask
The most relaxing and beautifull country holiday .
Left on Nov 17, 2011 for a stay in August 2007
Massimo was ever freindly and helpfull he has a lovely warm family ,ideal hosts .The home was simple and comfortable with stunning views and a large ,clean, pool.We found it a very central location as soon as we had our bearings going as far as Rome or Florence on a day trip no trouble but our favourite place was Cortona.Going in august we found it a little too warm on a couple of days but the …
Previous

Next

property
Inquire for rates.
4294967295 BR / 0 BA / Sleeps 0
N/A
Internet Access

Fireplace

A/C or climate control

Satellite or cable TV

DVD Player
Pet friendly - ask

Smoking allowed - ask

Suitable for children - ask

Suitable for the elderly - ask

Wheelchair accessible - ask
---
---
There are no more results in Castiglion Fiorentino.
Top of page