Previous

Next

property
$60
2 BR / 2 BA / Sleeps 4
$60
Book
Kampala house – 19.2 mi away
2 BR
/
2 BA
/
Sleeps 4
|

Quick view
Fully furnished two-bedroom units in a semi-detached house are available for short-term and long-term rental in Muyenga (less than 10 minutes from Kampala city centre). Each unit has an open-concept living room and dining area, 2 bathrooms (en suite), a fully equipped marble countertop kitchen (with a fridge, gas/…
Wireless Internet

Washing Machine

A/C or climate control

Porch

Parking
Suitable for children

Suitable for the elderly - ask

Wheelchair accessible - ask
Previous

Next

property
$30
2 BR / 1 BA / Sleeps 4
$30
Book
Kampala house – 16.8 mi away
2 BR
/
1 BA
/
Sleeps 4
|

Quick view
2bedroomed well equipped house with cleverly tailored furnishing overlooking rectangular flowerful garden and in a tranquil neighborhood. Comfortably sleeps 4, having 1 full-size bed(not queen but enough for 2), a twin size bed, both with good mattresses and plushy pillows plus a duvet. There is plenty of room for an …
Internet Access

Fireplace

Housekeeping Optional

Clothes Dryer

Outdoor Dining Area
Pet friendly

Smoking allowed

Suitable for children

Suitable for the elderly

Wheelchair accessible - adapted
Previous

Next

property
$65
1 BR / 1 BA / Sleeps 2
$65
Book
Kampala villa – 19.0 mi away
1 BR
/
1 BA
/
Sleeps 2
|

Quick view
Offering stylish authentic African `home from home` accommodation, fully furnished and located in Muyenga, minutes from Kampala City Centre, Hidden Away and a Beautiful Tranquil Retreat! This is our Medium one bedroom villa but we have several one bedroom villas onsite and one two bedroom villa that are Ideal for …
Shared outdoor pool (unheated)

Internet Access

Outdoor Dining Area

Porch

Fitness Room
Pet friendly - ask

Smoking allowed

Suitable for children

Suitable for the elderly - ask
Previous

Next

property
$87
4 BR / 3 BA / Sleeps 7
1 / 29
(9)
" Excellent "
$87
Book
Kampala villa – 13.2 mi away
4 BR
/
3 BA
/
Sleeps 7
|

Quick view
My place has a beautiful big garden, a stunning city view, lots of birds and far away from the hustle and bustle of Kampala city. It is actually a village near Kampala and Entebbe. Because its location on a hill, the temperatures are ever pleasant and comfortable (max 32 C and min 17 C, but most 24-25 C day and 20-22 …
Housekeeping Optional

Washing Machine

Outdoor Dining Area

Balcony or terrace

Parking
Suitable for children

Suitable for the elderly

Wheelchair accessible
Awesome Views of Kampala
Left on Jul 10, 2014 for a stay in May 2014
Already 3 times I stayed at Peter's place on the outskirts of Kampala. Each time I am amazed what a nice place he built. A large, open living room, invites you to while away the time with a book, while the terrace offers awesome views of Kampala. The house is well-equipped. Peter, the owner, always finds lovely people to be around with, so I am sure his manager Juma will make your stay …
Previous

Next

property
$50
12 BR / 12 BA / Sleeps 48
1 / 6
(1)
" Excellent "
$50
Book
Kampala condo – 18.9 mi away
12 BR
/
12 BA
/
Sleeps 48
|

Quick view
Beautiful Andy Mwesigwa Apartments set in the safe and quiet yet secure neighborhood , just 20 minutes away from the city center via Namirembe road, get a great yet modern home. 6 units of Elegant two en-suite bedroom apartments, 1 spare room in built kitchen and wardrobe plus great car hire services. Experience a …
Mountain Views

Central heating

Deck

Parking

Garden
Pet friendly

Smoking allowed - ask

Suitable for children

Suitable for the elderly

Wheelchair accessible - ask
Amazing lovely place
Left on Jan 13, 2015 for a stay in January 2015
We booked through uganda trek the apartments. they picked us from the airport to the apartments, getting there I could not have been more happy about the choice of apartment for our vacation holiday. Once i stepped into the sitting room it was the perfect home away from home. they had wifi so we stayed in touch with our friends. we went on a city tour , at the museum I also saw Uganda wildlife …
Previous

Next

property
$70
1 BR / 1 BA / Sleeps 3
$70
Book
Kampala villa – 19.0 mi away
1 BR
/
1 BA
/
Sleeps 3
|

Quick view
Offering stylish authentic African `home from home` accommodation, fully furnished and located in Muyenga, minutes from Kampala City Centre, Hidden Away and a Beautiful Tranquil Retreat! This is our Large one bedroom villa with kitchen. We have several one bedroom villas onsite and one two bedroom villa that are …
Pet friendly - ask

Smoking allowed

Suitable for children

Suitable for the elderly - ask
Previous

Next

property
$90
2 BR / 2 BA / Sleeps 4
$90
Book
Kampala condo – 19.0 mi away
2 BR
/
2 BA
/
Sleeps 4
|

Quick view
This is our 2 bedroom villa but we have several 1 bedroom properties onsite that are Ideal for family, friends, business persons or travelers. Each villa comes with its own unique style and all the home comforts you need. Enjoy a workout in our gym or unwind with a swim in our pool at your leisure. Fully furnished …
Pet friendly - ask

Smoking allowed

Suitable for children

Suitable for the elderly - ask
Previous

Next

property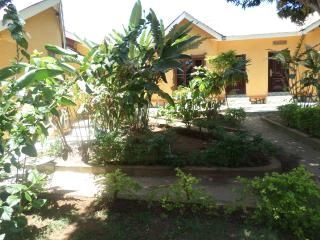 $162
11 BR / 11 BA / Sleeps 15
$162
Book
Entebbe B&B
11 BR
/
11 BA
/
Sleeps 15
|

Quick view
Gorilla African Villa is a unique and beautifull thai style villa located at Plot 14 Jinja Road, Kiwafu in Entebbe Municipaility. Its offers privacy and comfort to single and group visitors. It's located in a secure, serene and residential area of Entebbe away from noise, traffic and crime. The secured villa has …
Internet Access

Housekeeping Optional

Clothes Dryer

Outdoor Dining Area

Patio
Pet friendly

Smoking allowed

Suitable for children

Suitable for the elderly

Wheelchair accessible
Previous

Next

property
$70
1 BR / 1 BA / Sleeps 2
$70
Book
Kampala villa – 19.2 mi away
1 BR
/
1 BA
/
Sleeps 2
|

Quick view
This is our large one bedroom villa but we have several one bedroom properties onsite as well and a two bedroom villa that are Ideal for family, friends, business persons or travelers. Each villa comes with its own unique style and all the home comforts you need. Enjoy a workout in our gym or unwind with a swim in our…
Shared outdoor pool (unheated)

Internet Access

Outdoor Dining Area

Porch

Fitness Room
Pet friendly - ask

Smoking allowed

Suitable for children

Suitable for the elderly - ask
Previous

Next

property
$445
7 BR / 7 BA / Sleeps 13
$445
Book
Kampala B&B – 2.5 mi away
7 BR
/
7 BA
/
Sleeps 13
|

Quick view
Located just 2 kilometers from the city center and within walking distance to Lake Victoria, Botanical Gardens and Uganda Wildlife Education center, African Roots Guest house is conveniently located close to Lake Victoria and its beach side amenities including restaurants and bars. This Guest house offers traditional …
Pet friendly

Smoking allowed

Suitable for children

Suitable for the elderly

Wheelchair accessible
Previous

Next

property
$100
2 BR / 43 BA / Sleeps 12
$100
Book
Kampala condo – 17.2 mi away
2 BR
/
43 BA
/
Sleeps 12
|

Quick view
The Haven Apartments Kampala Uganda, is unique boutique apartments,Gracious and elegant. We ensures a happy stay for today's business and leisure traveller requires. As you get away from the hustle and bustle in the City. Two bedroom apartments & Family apartments. Located in the outskirts of Kampala City (Uganda…
Central heating

Parking

Linens Provided

Towels Provided

Safe
Previous

Next

property
$67
3 BR / 2 BA / Sleeps 5
$67
Book
Kampala house – 19.8 mi away
3 BR
/
2 BA
/
Sleeps 5
|

Quick view
Beautiful Bungalow in a quiet serene location , beautiful pristine garden with visiting Gardner.
Pet friendly

Smoking allowed

Suitable for children

Suitable for the elderly

Wheelchair accessible
Previous

Next

property
$29
1 BR / 1 BA / Sleeps 2
$29
Book
Kampala condo – 13.7 mi away
1 BR
/
1 BA
/
Sleeps 2
|

Quick view
Newly renovated (May, 2014) one bedroom apartment with new furniture, drapes and appliances. There's also a Flat Panel TV, cable and a DVD Player. The apartment is 9 kilometers from city center and 5 minute drive from a shopping mall with over 40 stores, restaurants and services. The International School of Uganda …
Housekeeping Optional

Patio

Garden

Linens Provided

Towels Provided
Suitable for children - ask

Suitable for the elderly - ask
---
Looking for more rentals?
We're showing only results that match your dates and preferences.
See all 13 Entebbe rentals, all 27 Uganda rentals, or start a new search.
---