Previous

Next

property
$74
3 BR / 3 BA / Sleeps 7
$74
Book
3 BR
/
3 BA
/
Sleeps 7
|

Quick view
Exclusive 3 bed apartment this air-conditioned duplex apartment is within a complex of just 4 others with shared pool. Set in the the town of hisaronu, the apartment has some excellent views. The apartment has all the facilities that you need for an enjoyable and relaxing holiday, bedrooms have plenty of wardrobe …
Mountain Views

Shared outdoor pool (unheated)

Internet Access

Housekeeping Optional

Washing Machine
Suitable for children

Suitable for the elderly
Previous

Next

property
$149
2 BR / 4 BA / Sleeps 4
$149
Book
2 BR
/
4 BA
/
Sleeps 4
|

Quick view
Our villa is in the new favourite resort of Fethiye which is Kayaköy. Only 8 minutes away from the city centre and the breath taking Ölüdeniz. Sleeps up to 4 guests and owns 2 bedrooms also a private pool. İf all you need is a nice relaxing peaceful holiday in the pure nature then this is the just the holiday…
Mountain Views

Wireless Internet

Washing Machine

A/C or climate control

Balcony or terrace
Suitable for children

Wheelchair accessible - ask
Previous

Next

property
$233
3 BR / 2 BA / Sleeps 6
$233
Book
3 BR
/
2 BA
/
Sleeps 6
|

Quick view
This Villa is a real stone villa, built in the Mediterranean style, with a large private swimming pool and a beautiful garden. This villa is tastefully furnished throughout with all the comforts of a luxurious home to cater to your every need. Villa Dilek has a fully equiped open plan kitchen and 3 beautifully …
Internet Access

Fireplace

Housekeeping Optional

Washing Machine

Outdoor Dining Area
Suitable for children

Suitable for the elderly
Previous

Next

property
$171
3 BR / 2 BA / Sleeps 6
$171
Book
3 BR
/
2 BA
/
Sleeps 6
|

Quick view
We have a villa near to Fethiye's worldwide famous Ölüdeniz beach and the nightlife areas, because of the closeness to these areas Ovacık is very popular and preferred by many people. Our holiday home has 3 spacious bedrooms and can accomodate up to 6 guests. With transport you can reach Ölüdeniz within 5 minutes…
Mountain Views

Fireplace

Washing Machine

A/C or climate control

Balcony or terrace
Suitable for children

Suitable for the elderly - ask

Wheelchair accessible - ask
Previous

Next

property
$186
3 BR / 6 BA / Sleeps 6
$186
Book
3 BR
/
6 BA
/
Sleeps 6
|

Quick view
Our villa is in the new favourite resort of Fethiye which is Kayaköy. Only 8 minutes away from the city centre and the breathtaking Ölüdeniz. Sleeps up to 6 guests and owns 3 bedrooms also a private pool. İf all you need is a nice relaxing peaceful holiday in the pure nature then this is the just the holiday home …
Mountain Views

Wireless Internet

Washing Machine

A/C or climate control

Balcony or terrace
Suitable for children

Wheelchair accessible - ask
Previous

Next

property
$117
4 BR / 5 BA / Sleeps 8
$117
Book
4 BR
/
5 BA
/
Sleeps 8
|

Quick view
Luxurious four bedroom villa set in a private garden with private swimming pool. Set in the mountain village of Ovacik which is above the resort of Oludeniz and the famous blue lagoon. This villa is finished to a high standard and each of the four bedrooms has its own en-suite bathroom. There is a spacious open plan …
Mountain Views

Washing Machine

A/C or climate control

Patio

Parking
Suitable for children

Suitable for the elderly - ask

Wheelchair accessible - ask
Previous

Next

property
$106
3 BR / 4 BA / Sleeps 6
$106
Book
3 BR
/
4 BA
/
Sleeps 6
|

Quick view
This Stunning three bedroom villas offer affordable luxury, with its own private garden, pool and BBQ area with an outdoor shower and views to die for.... The ground floor has an open plan living dining and kitchen area with patio doors leading to the sun terrace and garden. There is a cloakroom and a sweeping …
Mountain Views

Washing Machine

Outdoor Dining Area

A/C or climate control

Central heating
Suitable for children

Suitable for the elderly - ask

Wheelchair accessible - ask
Previous

Next

property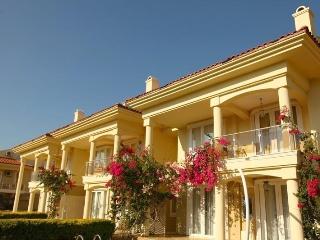 $190
5 BR / 5 BA / Sleeps 10
$190
Book
5 BR
/
5 BA
/
Sleeps 10
|

Quick view
This villa is situated on the Sunset Beach Club complex in Calis, Fethiye. It has its own private pool and BBQ area but visitors can also use all the following complex facilities :- Indoor heated swimming pool for the cooler months 10 shared pools Turkish bath and sauna Bar and restaurant Market shop for the …
Waterfront

Ocean or water views

Sauna

Housekeeping Optional

Washing Machine
Pet friendly

Smoking allowed

Suitable for children

Suitable for the elderly
Previous

Next

property
$104
3 BR / 3 BA / Sleeps 6
$104
Book
3 BR
/
3 BA
/
Sleeps 6
|

Quick view
Seafront 3 bedroom apartment for rental, If you are looking for a quiet holiday destination than this is ideal, it is perfect place to escape and unwind. The local beach is also peaceful. However, if you do want to visit somewhere more livelily than Calis and Fethiye offer plenty of shops, bars and restaurants. …
Previous

Next

property
$96
3 BR / 3 BA / Sleeps 6
$96
Book
3 BR
/
3 BA
/
Sleeps 6
|

Quick view
Villa Becky is a quiet peaceful hideaway at the ft of the Mendos mtns facing acres of protected woodland.This home from home villa has its own private and pretty garden facing the forest and has a large terrace and BBQ for alfresco dining. There is an open plan lounge/diner, fully equipped kitchen and 3 bedrooms, one…
Mountain Views

Shared outdoor pool (unheated)

Fireplace

Housekeeping Optional

Washing Machine
Suitable for children

Suitable for the elderly
Fantastic Villa In a Stunning Location
Left on Feb 14, 2011 for a stay in September 2010
We stayed in this villa for 14 days back in September 2010, we had a truely wonderful time. The villa was immaculate inside & out, it was well appointed & equipped with everything you could possibly need (a real home from home), the decor was fresh & neutral with furnishings to a high standard. The pool area is very pretty, as you laze on your sunbed the vista is of the surrounding mountains & …
Previous

Next

property
$190
5 BR / 5 BA / Sleeps 10
$190
Book
5 BR
/
5 BA
/
Sleeps 10
|

Quick view
Sunset Beach Villas and Apartments has a seafront location and a private area at the sandy Calis Beach. The property offers an outdoor pool, spa centre, gym and fully equipped rooms. The air-conditioned rooms of Sunset Beach include a living room, kitchen and a bathroom. Some rooms offer sea views, whereas others …
Hot Tub/Jacuzzi

Sauna

Internet Access

Fireplace

Housekeeping Optional
Smoking allowed

Suitable for children

Suitable for the elderly

Wheelchair accessible
Previous

Next

property
$89
1 BR / 2 BA / Sleeps 4
$89
Book
1 BR
/
2 BA
/
Sleeps 4
|

Quick view
The Kaya Cottages are two unique, authentic Turkish farm cottages in the idyllic rural village of Kayakoy. The orginal and still one of the the loveliest holiday rentals in the area. The beautifully tiled raised pool area overlooks the picturesque Kaya Valley and surrounding mountains and forest . Each cottage has a…
Mountain Views

Shared outdoor pool (unheated)

Internet Access

Fireplace

Housekeeping Optional
Fantastic
Left on Dec 12, 2010 for a stay in August 2010
We have stayed in Both the "Stables" and the "Smokehouse".

The only reason we will not be staying there 2011 - is because the month that we usually stay has been pre-booked, due to the populatity.

These beautiful cottages are unspoilt and steeped in the tradition of Turkish life.

We will be staying in Kaya at the same time of year in 2011.
---
---