Previous

Next

property
$88
1 BR / 1 BA / Sleeps 5
$88
Book
1 BR
/
1 BA
/
Sleeps 5
|

Quick view
BETWEEN PROVENCE AND LANGUEDOC : The List a cordial house of ideal family for holidays calm and resting, under the Descriptive Mediterranean sun: up to 5 people/61m 2. Ideally located between Provence and Languedoc close to the greatest tourist centers and leisures. Accés WI-FI On this pleasant ground, which got …
Ocean or water views

Shared outdoor pool (unheated)

Internet Access

Housekeeping Optional

Washing Machine
Pet friendly

Smoking allowed - ask

Suitable for children

Suitable for the elderly

Wheelchair accessible - ask
A little gem in the south of France
Left on Sep 15, 2011 for a stay in July 2011
We had a marvellous time at Jasmine's cottage in Comps during July. The accommodation was top class with a swimming pool and all the amenities you could ever wish for, nothing was too much trouble. The cottage was ideally situated for access to the famous Pont du Gard, Avignon, Nimes and arles; besides the Carmarge national park area - noted for its flamingos, white horses and bulls. Jasmine and …
Previous

Next

property
$118
2 BR / 1 BA / Sleeps 4
$118
Book
2 BR
/
1 BA
/
Sleeps 4
|

Quick view
The Sauvanaise a perfect little cottage for 4/6 people, in the beautiful hamlet of Sauvan (18th/19th century), which dominates on one side, the valley of the Cèze and on the other, that of the Ardèche, giving you several bathing options, as well as kayaking or canoeing. In this region, hiking will surprise you, you …
Mountain Views

Internet Access

Fireplace

Housekeeping Optional

Outdoor Dining Area
Pet friendly

Smoking allowed

Suitable for children

Suitable for the elderly - ask
Previous

Next

property
$121
2 BR / 2 BA / Sleeps 7
Inquire
2 BR
/
2 BA
/
Sleeps 7
|

Quick view
Close to Uzes & the Pont du Gard,in the Gardon's Gorges,halfway between Nimes & Avignon, anycomfort and independants holidays lettings (2 selfcatering accomodations: 2 Gites, for 3 and 4 pers.) to rent per week or per night in a charming property with shared swimmingpool,garden and closed carpark,5 mn walking from the…
Mountain Views

Shared outdoor pool (unheated)

Internet Access

Outdoor Dining Area

Central heating
Pet friendly

Smoking allowed

Suitable for children - ask
Good place with warm people
Left on Aug 19, 2010 for a stay in June 2010
Beautiful place, nice and welcoming people. The house has a pleasant décoration and a beautiful garden and view. We fell at home.
One negative point, a little bit too expensive for the prestations.(bed not very comfotable, the adding bedroom with no direct acces to the toilet, some little things missing in the bathroom, kitchen very small for a family, no washing machine)
Previous

Next

property
$76
1 BR / 1 BA / Sleeps 4
$76
Book
1 BR
/
1 BA
/
Sleeps 4
|

Quick view
an ancient silkfactory in well balanced proportions, located in the calm countryside of the cevennes mountains, in a small dale, encircled with woods offers you from all parts a wonderful view on the Cevennes mountains. Across a long arch in stones where, every year, the swallows come to build their nests of loam…
Mountain Views

Internet Access

Fireplace

Housekeeping Optional

Outdoor Dining Area
Pet friendly

Smoking allowed - ask

Suitable for children - ask

Suitable for the elderly
Previous

Next

property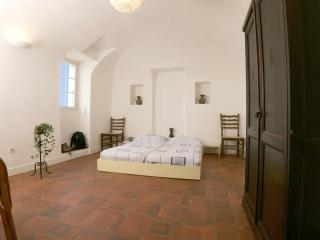 $66
2 BR / 1 BA / Sleeps 5
$66
Book
2 BR
/
1 BA
/
Sleeps 5
|

Quick view
Celebrating a quiet and peaceful holiday on the border of the Provence and Cevennen in South-France? You will experience your dream holiday in a holiday house or holiday apartment with swimming pool. Once you have decided to spend your holiday here, you can start looking forward to it. We offer a 2-, 4-, 6- and 8 …
Mountain Views

Internet Access

Fireplace

Washing Machine

Clothes Dryer
Pet friendly

Smoking allowed

Suitable for children

Suitable for the elderly

Wheelchair accessible - ask
Previous

Next

property
$46
1 BR / 1 BA / Sleeps 3
$46
Book
1 BR
/
1 BA
/
Sleeps 3
|

Quick view
A HOLIDAY in SOUTH-FRANCE you will definitely remember. Celebrating a quiet and peaceful holiday on the border of the Provence and Cevennen in South-France? You will experience your dream holiday in a holiday house or holiday apartment with swimming pool. Once you have decided to spend your holiday here, you can …
Mountain Views

Internet Access

Fireplace

Washing Machine

Outdoor Dining Area
Pet friendly

Smoking allowed

Suitable for children

Suitable for the elderly

Wheelchair accessible - ask
Splendid vacation
Left on Jan 15, 2015 for a stay in June 2014
Thank you Tein for the wonderful holiday we had. We promised we would write and what we promise we do. You promised us a great vacation and you kept word. We spent a week in a very special place in France. We knew that the monks know how to pick the best locations and we assume that the monks who picked the Mas Blanc, had first choice.
Previous

Next

property
$82
3 BR / 1 BA / Sleeps 6
$82
Book
3 BR
/
1 BA
/
Sleeps 6
|

Quick view
Celebrating a quiet and peaceful holiday on the border of the Provence and Cevennen in South-France? You will experience your dream holiday in a holiday house or holiday apartment with swimming pool. Once you have decided to spend your holiday here, you can start looking forward to it. We offer a 2-, 4-, and 6 person …
Mountain Views

Internet Access

Fireplace

Housekeeping Optional

Washing Machine
Pet friendly

Smoking allowed

Suitable for children

Suitable for the elderly

Wheelchair accessible - ask
Perfect french experience
Left on Jan 10, 2015 for a stay in May 2014
Our trip to France would not have been this special without the Mas Blanc.

The location is absolutly amazing and the building alone is worth a visit.

Next to that the food and managers are great aswell. A shame we do not have the Mas Blanc back home.
Previous

Next

property
$228
4 BR / 1 BA / Sleeps 10
$228
Book
4 BR
/
1 BA
/
Sleeps 10
|

Quick view
Villa de 120 m² Habitable sur 1000m² de terrain clos et arboré avec une piscine privé de 8 m par 4 m et un petit bassin pour enfants avec une clôture aux normes (qui n'apparait pas sur les photos). La villa est composée de 4 chambres, d'une salle de bain, d'une cuisine équipée ouverte sur le séjour, d…
Pet friendly

Smoking allowed

Suitable for children

Suitable for the elderly

Wheelchair accessible - ask
---
---