Previous

Next

property
$78
2 BR / 1 BA / Sleeps 5
$78
Book
2 BR
/
1 BA
/
Sleeps 5
|

Quick view
Casa Laura is an independent apartment in a restored farmhouse Agriturismo la Magione that is situated on an agricultural estate on a hilltop at about 300 meters above sea level. It offers a wonderful panorama of the surrounding countryside with fields, olive groves, vineyards and woodlands. The gardens and the …
Internet Access

Housekeeping Optional

Washing Machine

Outdoor Dining Area

Central heating
Pet friendly

Smoking allowed

Suitable for children

Suitable for the elderly
Perfect rental under the Tuscan sun
Left on Jul 09, 2014 for a stay in July 2014
From the get go, Riccardo was very helpful and replied quickly to all of my messages. The location is perfect, very centrally located which allowed us to easily drive to a variety of locations within Tuscany with ease. For the fair price, you couldn't ask for more. The rental itself was very clean, and had all the amenities one could need. We loved coming back "home" after a day out …
Previous

Next

property
$232
3 BR / 3 BA / Sleeps 6
Inquire
3 BR
/
3 BA
/
Sleeps 6
|

Quick view
Three Bedroom Detached Private Villa Monteriggioni near Siena Villa Francis is a superb detached villa in a fantastic position close to Siena. Completely private the villa has its own swimming pool and garden both enjoying with wonderful views of the countryside. The villa is spacious and extremely comfortably …
Shared outdoor pool (unheated)

Fireplace

Washing Machine

Balcony or terrace

Dishwasher
Pet friendly

Smoking allowed - ask

Suitable for children

Suitable for the elderly - ask
Previous

Next

property
$700
6 BR / 4 BA / Sleeps 11
Inquire
6 BR
/
4 BA
/
Sleeps 11
|

Quick view
Villa Rebecca is located on a hill in the center of a large estate which dominates the surrounding countryside covered in vineyards and farmland. The location is excellent for those who want to spend their holiday in the heart of Tuscany. Siena, San Gimignano and Monteriggioni are only just a short distance away. A …
Washing Machine

Central heating

Parking

Grill

Dishwasher
Pet friendly

Suitable for children

Suitable for the elderly
Previous

Next

property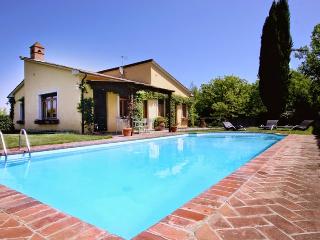 $232
3 BR / 3 BA / Sleeps 6
Inquire
3 BR
/
3 BA
/
Sleeps 6
|

Quick view
Small villa in the countryside between Siena and Monteriggioni, in a small and peaceful residential area in the whereabouts of the town of Santa Colomba. This is one of the most characteristic and much sought-after areas, not only for its gentle landscape but also for its proximity to the city of Siena. Only a few …
Washing Machine

Central heating

Parking

Grill

Dishwasher
Pet friendly

Suitable for children

Suitable for the elderly
Previous

Next

property
$91
2 BR / 1 BA / Sleeps 4
Inquire
2 BR
/
1 BA
/
Sleeps 4
|

Quick view
Le Gallozzole is a 50 ha residence-farm formed by three ancient buildings, divided in a beautiful villa and in 13 comfortable and fully equipped apartments with a total of 27 bedrooms, situated in the historical territory of Chianti, on a sunny position, among green rolling hills, vineyards and olive trees, few miles …
Pet friendly

Smoking allowed

Suitable for children

Suitable for the elderly - ask
Previous

Next

property
$725
6 BR / 4 BA / Sleeps 12
Inquire
6 BR
/
4 BA
/
Sleeps 12
|

Quick view
The two apartments of Volta A and Volta B lend themselves very well to be rented together, and can accommodate up to 12 people. Both are entered through a loggia from a stone patio. Each has private garden space and a barbecue. Although only 2 miles from the Florence-Siena highway, this medieval hamlet with olive …
Outdoor Dining Area

Central heating

Garden

Satellite or cable TV
Pet friendly

Smoking allowed - ask

Suitable for children - ask

Suitable for the elderly - ask

Wheelchair accessible - ask
Previous

Next

property
$251
3 BR / 1 BA / Sleeps 6
Inquire
3 BR
/
1 BA
/
Sleeps 6
|

Quick view
There is nothing like a perfect getaway featuring a homey apartment that's all yours. Apartment Monteriggioni-6 is simply that. It is an accommodation facility that offers both the wondrous sight of the Tuscan countryside and the basic comforts of a home away from home. Situated in Sienna, Apartment Monteriggioni-6 is…
Shared outdoor pool (unheated)

Internet Access

Washing Machine

Balcony or terrace

Parking
Previous

Next

property
$79
2 BR / 1 BA / Sleeps 5
Inquire
2 BR
/
1 BA
/
Sleeps 5
|

Quick view
Apartment Amenities Bicycle(s), Satellite/Cable, Cot, DVD, Elevator/Ground Floor, Fan(s), Garden, Independent Heating, Internet, Private Parking, Ping Pong Table, Swimming Pool, Safe, Solarium, TV, Washer, Hair Dryer, WiFi Living Room Amenities Chair(s), Chest of Drawers, Coffee Table, Cupboard, DVD, Iron / Ironing …
Mountain Views

Shared outdoor pool (unheated)

Internet Access

Washing Machine

Parking
Pet friendly

Smoking allowed

Suitable for children - ask

Suitable for the elderly - ask

Wheelchair accessible - ask
Previous

Next

property
$208
1 BR / 2 BA / Sleeps 6
$208
Book
1 BR
/
2 BA
/
Sleeps 6
|

Quick view
Monteriggioni Suite A suite with a view of Monteriggioni Immersed in the Tuscan countryside next to the city walls of Monteriggioni, in the valley dominated by the imposing shape of Montemaggio next to Chianti vineyards, between fields of grain, sunflowers, vegetables gardens and vines there is the "Monteriggioni …
Mountain Views

Wireless Internet

Housekeeping Optional

Washing Machine

Outdoor Dining Area
Pet friendly

Smoking allowed

Suitable for children

Suitable for the elderly

Wheelchair accessible
Previous

Next

property
$78
1 BR / 1 BA / Sleeps 4
$78
Book
1 BR
/
1 BA
/
Sleeps 4
|

Quick view
The apartment is situated in a residence which represent the perfect Tuscan style. Centuries ago it was a convent, in fact residence's name is "Rocca dei Monaci", then it was inhabited by farmers. They improved and enlarged it in a little village absorbed in typical Tuscan hills, rich of nature and characteristics…
Pet friendly

Smoking allowed - ask

Suitable for children

Suitable for the elderly - ask

Wheelchair accessible - ask
Previous

Next

property
$235
2 BR / 2 BA / Sleeps 4
Inquire
2 BR
/
2 BA
/
Sleeps 4
|

Quick view
Casalino is a fine farmhouse a few kms from the castle of Monteriggioni, less than twenty minutes from Siena. Sitting easily in its beautiful countryside, this large stone farmhouse has been lovingly restored, conserving all the features that give it its special character, including the gated courtyard. Stone walls …
Fireplace

Outdoor Dining Area

Central heating

Balcony or terrace

Garden
Pet friendly

Smoking allowed - ask

Suitable for children - ask

Suitable for the elderly - ask

Wheelchair accessible - ask
The best holiday we have had in Italy !
Left on Nov 18, 2009 for a stay in August 2009
We had the most wonderful time at Il Gatto.

The apartment was absolutely superb with everything you could want to make it as comfortable as possible and the surroundings were just magnificent !! The pool was unbelievable !!!!!

The village of Monterriggioni is such a pretty place and well worth a vist.

You are central to many places to visit and the most glorious eateries ranging from the …
---
---
There are no more results in Monteriggioni.
Top of page