Previous

Next

property
$250
4 BR / 2 BA / Sleeps 8
$250
Book
4 BR
/
2 BA
/
Sleeps 8
|

Quick view
Waterfront house sits on 7 acres of private land overlooking Salmon Reservoir. If you like total privacy, this is the place for you. 3 bedrooms - each room has a double bed and game room has a double futon bed for additional 2 people. Plenty of floor space for air mattress and 2 couches for extra sleeping space. …
Waterfront

Ocean or water views

Fireplace

Washing Machine

Clothes Dryer
Suitable for children

Suitable for the elderly
To Sum Up Our Stay...What a Deal! A True Gem in the Woods
Left on Jul 25, 2014 for a stay in July 2014
I cannot express enough how pleased I am with our experience at this beautiful waterfront home. The house is gorgeous, newly remodeled. The owners went above and beyond to equip the house with the necessary amenities for an extended stay, such as linens, towels, kitchen stocked with pans, pots, dishes, condiments, flat screen tv in living room and one in the master bedroom with balcony …
Previous

Next

property
$75
1 BR / 1 BA / Sleeps 5
$75
Book
1 BR
/
1 BA
/
Sleeps 5
|

Quick view
This is a new listing but booking quickly! This is also the reason that we don't have any reviews yet. But we own other rental properties and are experienced with renting! Come enjoy our beautiful lakefront cabin! This is the perfect place for that romantic getaway that you have been putting off! Cozy, rustic and …
Waterfront

Ocean or water views

Mountain Views

Fireplace

Porch
Suitable for the elderly - ask
Previous

Next

property
$300
3 BR / 3 BA / Sleeps 8
$300
Book
3 BR
/
3 BA
/
Sleeps 8
|

Quick view
We have a beautiful 3 bedroom house available for Rent..you can rent it by the room or the whole house, located on 31 acres in the village of Orwell, Just outside of Pulaski,NY minutes to 4 wheeler trails, snowmobile trails, salmon river falls. Huge wrap around porch with BBQ grill include along with washer/dryer, …
Internet Access

Washing Machine

Clothes Dryer

Outdoor Dining Area

Deck
Suitable for children

Suitable for the elderly - ask

Wheelchair accessible - ask
Previous

Next

property
$150
2 BR / 1 BA / Sleeps 5
$150
Book
2 BR
/
1 BA
/
Sleeps 5
|

Quick view
Cottage for rent in private community just north of Sandy Pond, within 200 yards of Lake Ontario with private beach bordering southern end of Lakeview Wildlife and 1.5 mile stretch of uninhabited beach. 5 miles South of Southwick Beach, 8 miles south of Henderson Harbor, 9 miles north of Salmon River, 45 miles north …
Wireless Internet

Fireplace

Outdoor Dining Area

A/C or climate control

Central heating
Suitable for children

Suitable for the elderly
Wonderful
Left on May 26, 2013 for a stay in May 2013
I rented this cabin for a weekend stay with my boyfriend for his birthday and it was perfect. Comfortable, and extremely clean. Very affordable as well. I have rented cabins with my family before that were much more expensive and not nearly as nice as this one.

The owner was very easy going and nice. There is a beautiful, private beach right near the cabin where you can build a fire and relax…
Previous

Next

property
$142
1 BR / 1 BA / Sleeps 6
$142
Book
1 BR
/
1 BA
/
Sleeps 6
|

Quick view
This adorable waterfront cottage is nestled on the shore of beautiful Lake Ontario on a private road. Located minutes from Pulaski in a very private setting. All the amenities of home while enjoying the tranquility of beautiful sunsets and warm lake breezes. Enjoy the large deck and your own stepped access to the lake…
Waterfront

Ocean or water views

Outdoor Dining Area

Deck

Parking
Pet friendly

Suitable for children

Suitable for the elderly - ask
Beautiful view of the lake
Left on Aug 12, 2014 for a stay in August 2014
The view of the lake was gorgeous. Debbie had a basket of wine, triscuits, and cheese waiting for us. There were other small touches like bottles of water and toothpaste available.
Previous

Next

property
$100
0 BR / 1 BA / Sleeps 4
$100
Book
0 BR
/
1 BA
/
Sleeps 4
|

Quick view
Close to so many outdoor activities! FISHING, BOATING, HIKING, SIGHTSEEING...THIS LITTLE CABIN RETREAT CAN BE YOUR HOME BASE! Sleep 4 adults comfortably. It would be possible, with approval, to include children as well. NEW, CLEAN CABIN GETAWAY in Redfield, NY. This is a remote location, but is a short distance from …
A/C or climate control

Porch

Grill

Freezer

Microwave
Pet friendly

Suitable for children

Suitable for the elderly - ask
Remote but close to the action"
Left on Oct 14, 2013 for a stay in October 2013
We rented for a Salmon River fishing trip and had 7 great days. It was perfect for us in that we never had more than 4 people at any time, you can get up to 7 but I think 4 would be more comfortable for an extended stay. Only 15 minutes from fly zone and 25 minutes from Douglaston Salmon Run on the lower end. Cell service was fine so your not too isolated. I would recommend for anyone looking to …
Previous

Next

property
$329
8 BR / 10 BA / Sleeps 20
$329
Book
8 BR
/
10 BA
/
Sleeps 20
|

Quick view
Welcome to the 1880 House, a large 3 story Victorian overlooking the Salmon River in downtown Pulaski NY. We offer 8 bedrooms with King or twin beds, with 7 full bath and 2 1/2 baths. Enjoy our garden terrace, while having you coffee in the morning or a glass of wine in the evening. The house will comfortably sleep 14…
Ocean or water views

Internet Access

Washing Machine

Clothes Dryer

Outdoor Dining Area
Pet friendly - ask

Suitable for children

Suitable for the elderly
Girlfriend's Reunion - Perfect Lodging
Left on Sep 03, 2013 for a stay in August 2013
We just returned from our annual girlfriend's reunion at the 1880 House in Pulaski, NY, and it was a wonderful week. We rented the entire home which is available in the summer, and later becomes a B & B mainly accommodating the fisherman who come for the abundant salmon fishing in the Salmon River right next to the house. The house is well-equipped for cooking, grilling, TV watching, game …
Previous

Next

property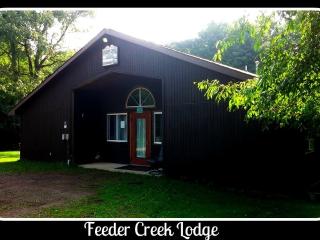 $40
6 BR / 2 BA / Sleeps 14
Inquire
6 BR
/
2 BA
/
Sleeps 14
|

Quick view
Feeder Creek Lodge: Where a country respite includes all the comforts of home. At the lodge, you may rent one of our clean, comfortable rooms (complete with linens) which includes a shared great room, kitchenette, screened in porch, and two modern baths (including towels). Want more privacy? You might enjoy our new …
Waterfront

Ocean or water views

Internet Access

Outdoor Dining Area

A/C or climate control
Suitable for children

Suitable for the elderly

Wheelchair accessible
Poorman's alaska
Left on Mar 09, 2011 for a stay in October 2009
My group loves to fish, I can't take the time and I will not spend the money to go to alaska or BC to flyfish when I can come to Feeder Creek Lodge and catch 30 pound salmon, 10 to 20 pound Steelhead and Browns that are as long as your arm. The fishing is out of this world and so are Bill and Barbra Van Wormer. We have been going to FCL for 20 some years and start looking forward to the next …
Previous

Next

property
$150
2 BR / 1 BA / Sleeps 4
$150
Book
2 BR
/
1 BA
/
Sleeps 4
|

Quick view
Unique Apartment in a Silo consisting of 4 floors and a 2 floor addition New Totally Furnished and Fully Equipped Kitchen 4th floor Silo bedroom with California King Bed 2nd floor room with New queen sleeper with coil spring / air pillow mattress Very quiet and clean with 2nd floor outside deck and many other extras …
Internet Access

Washing Machine

Clothes Dryer

A/C or climate control

Central heating
Suitable for children - ask
Previous

Next

property
$200
4 BR / 2 BA / Sleeps 12
$200
Book
4 BR
/
2 BA
/
Sleeps 12
|

Quick view
Welcome to The King's Gathering, a private 4-bedroom, 2-bathroom log cabin on 63 acres 1.5 miles south of the Salmon River and the famous lower fly zone in Altmar, NY. Host up to 12 ppl in our well-appointed 2,300 sq. ft. vacation home offering antiques and modern day conveniences. After catching your salmon or …
Internet Access

Fireplace

Washing Machine

Clothes Dryer

Outdoor Dining Area
Suitable for children - over five

Suitable for the elderly - ask
---
---