Previous

Next

property
$60
2 BR / 2 BA / Sleeps 5
$60
Book
Tavira condo
2 BR
/
2 BA
/
Sleeps 5
|

Quick view
Private condominium apartment fully equipped and aircon. 2 luxury bedrooms and 2 bathrooms. Swimmingpool, bbq at terrace with ria formosa and sea view. 10 minutes walk to tavira main street. 10 min driving to benamor/quinta da ria/quinta de cima 18 halls golf courses
Waterfront

Ocean or water views

Shared outdoor pool (unheated)

Internet Access

Housekeeping Optional
Smoking allowed - ask

Suitable for children

Suitable for the elderly
Previous

Next

property
$38
1 BR / 1 BA / Sleeps 4
$38
Book
Tavira condo
1 BR
/
1 BA
/
Sleeps 4
|

Quick view
Apt. T1 Offers A Spacious Terrace of 12m2.facing South With Sea View. The apt is on the 2nd floor with the terrace on the 3th. floor, facing south, with BBQ, 2 long chairs, table, four chairs, sink and a fridge for cold drinks. You will want to enjoy the evenings with a nice glass of wine watching the sunset and …
Waterfront

Ocean or water views

Internet Access

Housekeeping Optional

Washing Machine
Pet friendly

Smoking allowed - ask

Suitable for the elderly - ask
Previous

Next

property
$76
1 BR / 1 BA / Sleeps 4
1 / 14
(2)
" Excellent "
$76
Book
Tavira house
1 BR
/
1 BA
/
Sleeps 4
|

Quick view
Casa das Rochas is situated very private at the top of our plot in midden of nature... and at the horizont glistens off the sea. Casa das Rochas got its name because of the stone formation which was existing from the beginning on and which the arquitect my husband,integrated into his building plans for the house, …
Ocean or water views

Mountain Views

Shared outdoor pool (unheated)

Internet Access

Fireplace
Smoking allowed

Suitable for children

Suitable for the elderly - ask
Une maison de rêve
Left on Jan 27, 2014 for a stay in August 2012
Excellent séjour dans Casa das Rochas au sein d'une grande propriété de plusieurs maisons. Le lieu est totalement intime, on peut sans problème utiliser la douche extérieure pour profiter d'un vrai moment nature. Sur la terrasse de devant, on se repose près de la petite mare pleine de grenouilles. A l'intérieur des rochers sont intégrés dans la construction de la maison avec une superbe …
Previous

Next

property
$337
5 BR / 4 BA / Sleeps 12
$337
Book
Tavira villa
5 BR
/
4 BA
/
Sleeps 12
|

Quick view
Casa Funda is a large elegant villa with private pool and terraces sitting on 6000sq metres (roughly 1 acre) of grounds with olive, carob orange and lemon trees, bougainvillea, palms and yuccas. The property has 5 bedrooms, ALL WITH AIR CONDITIONING ( a small charge will be made if used extensively), one of which is…
Internet Access

Fireplace

Washing Machine

Outdoor Dining Area

A/C or climate control
Pet friendly

Smoking allowed - ask

Suitable for children

Suitable for the elderly

Wheelchair accessible - ask
Previous

Next

property
$124
3 BR / 4 BA / Sleeps 6
$124
Book
Tavira villa
3 BR
/
4 BA
/
Sleeps 6
|

Quick view
This luxurious 3- bedroom villa is sited in a private condominium with a lawn and a swimming pool. Located in Conceição de Tavira, Belar is a 5-minute drive from Cabanas Beach. This air-conditioned villa has a living room with sofas, flat-screen satellite TV, DVD player and free WiFi. The spacious unit comes with …
Waterfront

Ocean or water views

Mountain Views

Shared outdoor pool (unheated)

Hot Tub/Jacuzzi
Pet friendly - ask

Smoking allowed - ask

Suitable for children - ask

Suitable for the elderly - ask

Wheelchair accessible - ask
Previous

Next

property
$71
2 BR / 2 BA / Sleeps 6
$71
Book
Tavira house
2 BR
/
2 BA
/
Sleeps 6
|

Quick view
This townhouse is the ideal place for a group of friends or a family to spend their hollidays. A sunny 2 bed townhouse in a nice plot area. Composed of a gourmet kitchen, a living room with fireplace, 2 bedrooms on the first floor, 1 toilet, 1 bathroom, balcony, 1 front garden with terrace, 1 backyard garden with …
Ocean or water views

Mountain Views

Fireplace

Housekeeping Optional

Washing Machine
Pet friendly

Smoking allowed

Suitable for children

Suitable for the elderly

Wheelchair accessible
Previous

Next

property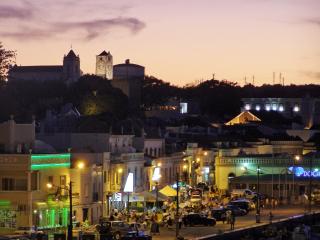 $32
2 BR / 1 BA / Sleeps 4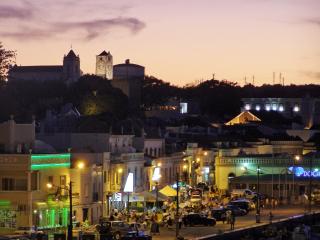 1 / 28
(1)
" Very Good "
$32
Book
Tavira condo
2 BR
/
1 BA
/
Sleeps 4
|

Quick view
Beautiful, independent, ground floor apartment in a villa. New, excellent location, high on a hill in a beautiful Tavira area. Capacity 4 peoples, (two bedrooms, 3 beds). Bedroom 1: Double bed with orthopedic mattress, wardrobe and chest of drawers, with window to outside. Bedroom 2: 2 Single beside beds, wardrobe and…
Internet Access

Fireplace

Housekeeping Optional

Washing Machine

Clothes Dryer
Comfortable and tidy
Left on Apr 16, 2015 for a stay in April 2015
It's a nice apartment 10 minutes away from the historic town centre, up a hill. It has got all the mod cons you might want. It was clean and well equipped. The owner was very welcoming and helpful and went out of her way to make our stay pleasant.

The flat has just one window so it doesn't get a lot of day light, which might be good when it's very hot. We were there in April so I missed the …
Previous

Next

property
$84
1 BR / 2 BA / Sleeps 4
$84
Book
Tavira house
1 BR
/
2 BA
/
Sleeps 4
|

Quick view
Casa do Theatro is one of our four holidays houses at our little paradies calls Quinta da Arte. It is situated in midden of nature around 10km from the sea and the beautyful renaissance city Tavira. Casa do Theatro is a colourful and cosy house with a separate sleeping room with air condition and mosquito net around …
Ocean or water views

Mountain Views

Shared outdoor pool (unheated)

Internet Access

Fireplace
Smoking allowed - ask

Suitable for children

Suitable for the elderly - ask
Previous

Next

property
$258
4 BR / 3 BA / Sleeps 8
1 / 30
(14)
" Excellent "
$258
Book
Tavira villa
4 BR
/
3 BA
/
Sleeps 8
|

Quick view
6 to 8 mins walk from the centre of the old town, Boa Vista is a detached 4-bed, 3-bath villa, part air-con, with panoramic views over the Roman bridge, the Moorish Castle and old Tavira, and out to sea; a car is not essential. With two furnished terraces (wrap-around marble-tiled at ground floor level and a roof …
Ocean or water views

Mountain Views

Internet Access

Fireplace

Housekeeping Optional
Pet friendly

Suitable for children

Suitable for the elderly - ask
Unbelievable value for such peace and tranquility!!
Left on May 13, 2011 for a stay in September 2010
Normally on a two week holiday, by the second week, I'm looking forward to going home but I can honestly say that staying at the Villa Boa Vista in the peaceful Tavira surroundings made we wish we could have stayed a lot longer.

The villa is extremely well equipped and I found sun bathing my own private pool somewhat satisfying!! We enjoyed the open air dining experience most evenings along …
Previous

Next

property
$54
2 BR / 1 BA / Sleeps 4
1 / 61
(2)
" Excellent "
$54
Book
Tavira house
2 BR
/
1 BA
/
Sleeps 4
|

Quick view
Casa de Campo is a old farmhouse from the beginning of the 1900´s, that was carefully restored between 1998 and 2000. During the restoration work we tried to preserve all the old architectural existing elements, and at the same time offer the comfort of a actual holiday house. The house has a big terrace with a …
Mountain Views

Internet Access

Fireplace

Housekeeping Optional

Washing Machine
Smoking allowed - ask

Suitable for children

Suitable for the elderly - ask
Wonderful peaceful days
Left on Mar 08, 2011 for a stay in October 2010
Since 1998 we stayed about seven or eigth times at this place and we will come again! We like the wonderful garden and the peace of that place between orange trees.
Previous

Next

property
$76
2 BR / 2 BA / Sleeps 6
$76
Book
Tavira condo
2 BR
/
2 BA
/
Sleeps 6
|

Quick view
One of four large (1000 to 1200sqft), bright, well furnished/equipped 2-bed apartments which I offer in Tavira Garden, 19B is on the ground floor beside the smaller pool and sleeps 4-6 guests. It includes shaded veranda with gas BBQ, loungers, table/chairs and gated access to pool. One bedroom has double bed and AC, …
Ocean or water views

Mountain Views

Shared outdoor pool (unheated)

Hot Tub/Jacuzzi

Sauna
Pet friendly

Suitable for children

Suitable for the elderly
---
Looking for more rentals?
We're showing only results that match your dates and preferences.
See all 100 Tavira rentals, all 0 Algarve rentals, or start a new search.
---